The Girls With the Dragon Weddings
Among Chinese-American communities, not even half a world's worth of distance can squelch some colorful marriage traditions.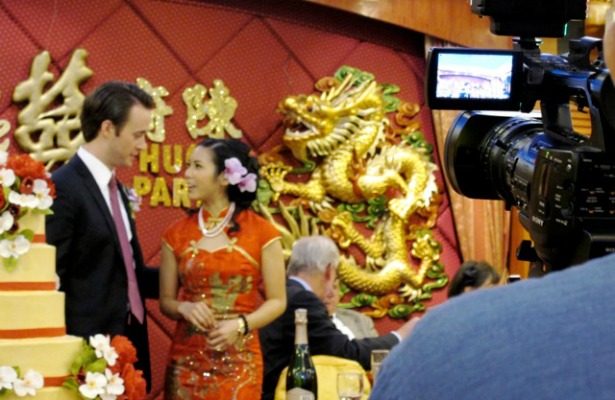 Elizabeth Dilts
In 88 Palace Restaurant , on the third floor of the East Broadway Mall under the Manhattan Bridge in New York City's Chinatown, three Chinese weddings are going on at the exact same time in the exact same room.
Each party has 250 guests at 25 tables of 10 and, with no real walls separating the wedding parties, everyone can hear everyone else's celebration. The walls are red, the chairs are gold, and dragons and phoenix and signs of double happiness are everywhere. The three newlyweds are all recent immigrants from Fujian Province, China, and they are celebrating their weddings on a Sunday last April during the most auspicious year of the Chinese zodiac calendar, the year of the dragon. But the date was oddly significant for another reason: with roughly nine months left in the Year of the Dragon, these couples managed to tie the knot with just enough time to conceive a child before the end of the year.
Related Story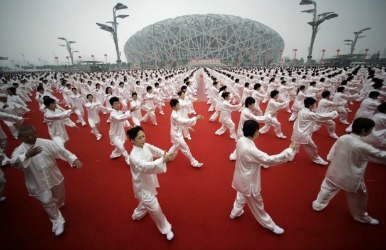 Standing at the front of the rooms for the tea ceremony, a tradition in many Chinese weddings, the couples pour tea for their elders who, in exchange, hand over their wedding gifts: 24-karat gold jewelry and red envelopes of cash. The masters of ceremonies call out each gift like auctioneers.
"From grandma's sister number four, that's $500!"
Guests applaud and continue eating.
"From uncle number three we have $800!" an MC says from another section of the room.
As the gifts get more extravagant, the guests pay more attention.
"From auntie number two, $1,000!"
Each time, the bride and groom bow to their relatives, and the tea and money continues for an hour or more. The larger the gifts, the louder the MCs shout. A thousand dollars, two thousand dollars, and people started jumping out of their seats. Four thousand dollars, five thousand dollars, and people started shouting, "Ai-ya!" (Wow!) And "Jiayou!" (Let's go!) Like it's a competition with the other two weddings. Then, from the wedding located in the middle, the one with the loudest, most crackling sound system, the MC's voice booms so loud that the speakers fuzz.
"From aunt number five, that's ten thousand dollars!" he hollered, sounding like a Spanish soccer announcer calling a goal. "That's ten thousand dollars folks, not renminbi!" There are just over six renminbi for each U.S. dollar.
The ceremony keeps going, but this wedding clearly won the competition in revelry. The groom, a young student at Baruch College in Manhattan and the first-born son to an important Chinatown businessman, will start his marriage tens of thousands of dollars richer.
Welcome to the world of Chinese weddings at the height of dragon-year madness.
Evidence for this surge in auspiciously-timed marriages isn't just anecdotal. According to CBS News, a poll taken at the beginning of the dragon year found that 70 percent of Hong Kong residents wanted to have a baby in the ensuing twelve months, while the Los Angeles Times reported that fertility clinics and surrogacy centers in the city saw an average 250 percent spike in business from Chinese couples wanting dragon babies.
But it's not just babies. This dragon year, which officially lasted from Jan. 23, 2012 to Feb. 9, 2013, was also a good year for marriage, said Laura Lau, author of Wedding Feng Shui, the Chinese Horoscopes Guide to Planning Your Wedding.
"If a marriage has a dragon personality, it could inspire fierce loyalty, passion and ambition," Lau said. This year was particularly special because it was a couple days longer -- meaning the Chinese first day of spring, li chun, came twice. Lau said this is auspicious." "It helps lay a fruitful foundation, ideal for a marriage or new businesses to begin."
Focus studies have found that couples in China are willing to spend up to 90 percent of their life savings on their wedding, according to the Chinese branch of TheKnot.com, named Ai Jie. Asian-Americans, for their part, spend on average 145 percent more on their weddings than any other ethnicity, and account for a $2.9 billion dollar slice of the national industry, according to the Wedding Report, Inc., a trade group.
The surge in weddings from couples like these from Fujian Province represent a part of the diaspora-wide boost to both the Chinese birth rate and its economy. Weddings are never cheap, and the extravagance with which Chinese families are approaching weddings is a telling symbol of the group's growing prosperity.
But it's more than that. What you buy says a lot about who you are. As everything about China is changing, conventional wisdom would follow that traditions, some of which are very costly, would change, too. The dragon year is a year heavy with tradition. Chinese couples across the world still splurge on weddings or rushed to have dragon babies, showing that some traditions -- and superstitions -- persist even as globalization shapes Chinese values.
"There seems to be a lot of connection between economic status and immigration and how a family decides to ritualize," said anthropologist Dale Wilson.
Wilson, an expert on ritual music, spent about a year researching wedding traditions in New York's Fujianese and Cantonese communities for a 2006 article about the refashioning of wedding traditions. He focused on the role of flower shops where customers could find the standard wedding bouquets, but also arrange for traditional wedding musicians and classical Chinese instruments.
Wilson grew up British in Hong Kong and was familiar with many Cantonese wedding traditions. But he got the feeling in Chinatown that many immigrants zealously held onto traditions and superstitions, perhaps because they either couldn't afford to back in China, or just felt far from home.
"I think there was a craving for a sense of tradition because many of them didn't have it in China," Wilson commented. "It's like how [British people] used to say that the British are more British when they're in Hong Kong. All of a sudden, mannerisms are exaggerated."
Weddings also reflect where an immigrant is in his or her personal integration, said Kenneth Guest, a China expert at Baruch College and author of God in Chinatown: Religion and Survival in New York's Evolving Immigrant Community, a book on New York's Chinese immigrants. 
"Weddings are a reflection of who we wish to be and how we wish to be seen," Guest said. "It's a public performance of people's core values, but I also have a sense that in a Chinese wedding, the money is spent as a performance of who people wish to be; their sense of hope and intention, their performance of their status and movement within the different groups of the immigrant community"
Of course, people working in the Chinese wedding business in New York don't bother dissecting the reasons people buy what they do.
Karen Ing, sales director for weddings at the Sheraton La Guardia Hotel in Flushing, Queens, New York's most rapidly growing Chinese community, said business driven by the Year of the Dragon brought a much-needed boost after poor sales during the recession.
"The Year of the Pig was good," Ing said talking about 2008 -- all the weddings were booked in 2007. But in the following three years she saw a devastating slide in the hotel's catering and wedding revenues. "Thank God for the Year of the Dragon."
Candice Chow and Billy Yong became intimately acquainted with the costs of weddings. They were married three times before the end of the dragon year: once at the court house, once for themselves in a Western-style wedding, and once for his parents, Fujianese-style.
Both first-generation Americans, Candice is 29 and Billy is 30. Billy is the first-born son of Fujianese parents and, given the approaching year of the dragon, Candice says they just couldn't escape tradition.
"My father-in-law almost said, 'Forget the wedding, have a [dragon] baby instead,'" Candice said. She's a mellow, tall, graphic designer, and he's a stocky Air Force veteran and engineer with a buzz cut. When the two moved into an apartment in Chinatown, Billy was going to City College on the G.I. Bill, and Candice was a freelance graphic designer. But when the recession hit, she lost most of her contracts, and a short time later Billy got deployed. Worried he couldn't take care of Candice while he was gone, and aware the Air Force wouldn't fly her over unless they were married, he proposed to her as they drove back from Dover Air Force Base in his Toyota Rav 4.
"It was so romantic," Candice said sarcastically, rolling her eyes. That was their first marriage: at the Manhattan City Clerk's office.
After the first marriage, Billy got deployed for four months, so there wasn't time for a party. But once he got back his parents lobbied for months for the two to have a proper, 600-person banquet in a Chinatown restaurant.
"We didn't want the Chinese type of party and I certainly didn't want to pay for it," Billy said. "My parents can pay for that. If that's their tradition, then they can pay for it."
Thus, the other two weddings, held on a Saturday and a Sunday last August: one was at the Flushing Sheraton, American style, at a price of roughly $70 a head, and since few of the Chinese extended family members wanted to attend, the guest list was close to 150. The Chinese wedding was a 10-course grand affair at Jing Fong banquet hall on Elizabeth Street in Chinatown. Though Billy and Candice weren't on the hook for that one, the price tag for a wedding at Jing Fong is often as much as $150 per person -- a cool $9,000 in total.
Candice said she left most of the details to her in-laws because it was more important to them than it was to her. That included the wedding date, August 11: "Good for rituals, meeting friends, families exchanging betrothal gifts and signing contracts," according to the Chinese Almanac. Billy's father chose the date because, he said, the gates of hell open in September according to the traditional Chinese Almanac calendar. When Billy told Candice this roughly three months before the wedding, her jaw dropped.
"Oh my God, you never told me that!" Candice said. These things just don't matter as much to her, she said.
In July, 2011, Pearl Tam walked into fortune teller Meng Syu Tak's "doctor's office" located in the basement of his white clapboard house in Sunset Park, Brooklyn. Her daughter Vivian Chin, who was an NYU medical student at the time, was engaged to marry Hugh Donnelly, an investment banker from JP Morgan Chase. Pearl wanted their lives, so different culturally, to be as fortuitous as possible. She was here to ask Tak to pick dates for them to marry.
Tak is more than 80 years old and so busy that people sleep on the front doorstep of his house. It took Pearl months to get an appointment. A tradition across East Asian cultures, couples often consult a geomancer or a feng shui expert to choose the most appropriate day for the marriage ceremony.
In order to determine when a couple should marry, fortunetellers look at the birth dates, down to the hour and minute, as well as the locations where the bride and groom were born. By finding where the stars sparkled over Vivian when she was born 28 years ago, a fortuneteller derives when in the coming year the gods will be "smiling" for the beginning of her new life.
Pearl had shopped all around Chinatown for a fortuneteller.
"Some of the fortune tellers in Chinatown will charge $2,000 or $3,000 for something and then they tell you to do something," Pearl said, but Tak was affordable. She paid him only $200 for two visits and the wedding date suggestions.
Pearl said that when she entered, the 80-year-old man sat completely straight, as if his energy flowed from his feet through his spine and up to the ceiling. He was meditating. In front of him sat six points of divination -- six trinkets representing different Earth symbols -- and a turtle shell. He opened his eyes only briefly, and Pearl could see a thick membrane covering his old pupils.
"I don't like to do wedding predictions anymore because they take too much of my energy," Tak told Pearl in Mandarin. The ritual required him to recite what seemed like a 30-minute-long mantra in one, single breath. "But if you show persistence, then it is meant to be."
After she left, Pearl pestered Tak with multiple phone calls until he told her that Vivian and Hugh could marry on Feb. 18 or May 12, 2012. The couple decided to do both; on Feb. 18, Hugh and Vivian had a private ceremony at the Four Seasons in Maui, and on May 12, they held a large Chinese-style banquet at the Golden Unicorn in Chinatown.
Waiting for Tak's blessing was a little inconvenient, Vivian admits. But her mom told her that her wedding day is almost like a birthday for the rest of her life; and it's wise to look back at where you were and who you were on your first birth to know when and where to have your second. It was a superstition but it resonated with her.
Vivian smiled. "When she said that, I thought, hmm, that's pretty cool,"