The Coming Android Invasion of China
An glut of cheap cell phones powered by Google's operating system may have big implications for China's economy- and society.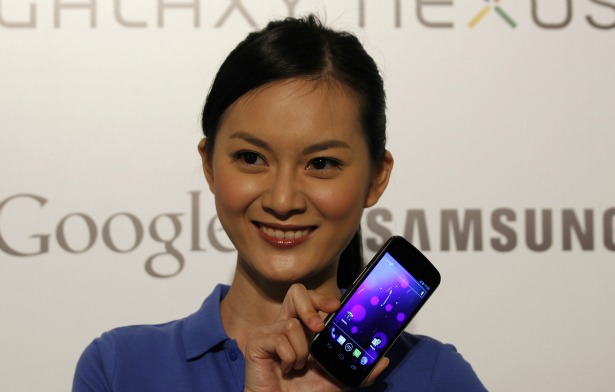 Android phones are about to become much more common in China (Bobby Yip/Reuters)
A massive glut of commodity smartphones running a stripped-down version of Google's Android software is coming to market in China, with the potential to upend the mobile phone marketplace and swamp the country's Internet censors.
Android already accounts for 90 percent of new smartphone purchases in China, a trend that is alarming the government enough that it is complaining about it. The volume of smartphone shipments in China hit 70 million in the fourth quarter --a 112 percent year-on-year increase--and the total number of Chinese smartphones is projected to reach a staggering 240 million this year. (That doesn't include simpler "feature" phones that can't as easily run software or access the Internet.)
Foreign firms like Samsung were the first to bring Android to China, and homegrown manufacturers like Lenovo -- set to become the top-selling Chinese Android handset maker this year -- are coming on strong. But they may all be eventually swamped by cheap commoditized handsets from more than a thousand no-name manufacturers, which TechRice's Kai Lukoff has dubbed "ChinaDroids." They have chipsets from Taiwan's Mediatek, run a heavily modified version of the "Ice Cream Sandwich" series of Android, and come preloaded with Chinese apps. By one estimate they already control 40 percent of the Chinese smartphone market.
These ChinaDroids don't carry any traces of Google's brand or its apps, but that doesn't mean that Google isn't indirectly benefitting. The sheer numbers of these smartphones could make life nearly impossible for China's army of censors. The watchdogs may be numerous, but they're only human: a recent study found the number of government deletions on the Sina Weibo micro-blogging service dipped sharply when censors were watching the evening news.
The idea of pushing censors to the breaking point must be satisfying indeed for Google, which has repeatedly butted heads with China over the country's Internet restrictions. Bill Bishop, who has closely followed these developments on his essential Sinocism blog, concludes: "Android is Google's revenge, powering hundreds of millions of affordable smart phones that are empowering Chinese at almost every level and dramatically increasing the operators' and government's censorship load."
By releasing Android into the wild, Google may have irrevocably tilted the playing field against China's Internet restrictions. Now the same ruthlessly efficient and low-margin companies that transformed China into the world's pre-eminent manufacturer could end up powering a smartphone wave that drowns its censors under billions of Weibo posts.