In China, Digital Activists Are Starting to Meet Up in Person
This could get interesting.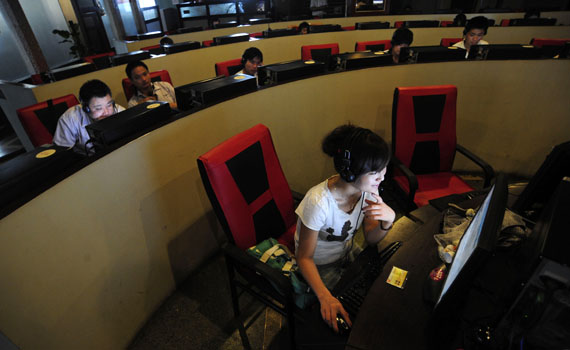 On March 16, inside an old house hidden in a traditional Shanghai nongtang, or alleyway, a meet-up event was in full swing. Dozens of young people gathered and sat around the loft-style room, listening attentively to the speakers sharing lively stories. Most of the speakers came from the fields of education and design, as a perfect fit in to the day's topic --"Open Education and Public Youth Social Space".
It sounds a bit like just another TEDx, yet the event, organized by an online youth organization, was dubbed a "Meet-up with Purpose."
CAPE, a newly established online platform bringing together China's youth both at home and abroad, is garnering increasing attention through its offline meet-up events. In Beijing, Shanghai, Shenzhen, Wuhan, Nanjing, Hangzhou, and other major cities, this new breed of meet-up events is drawing more and more young people. They narrate their stories and raise their doubts, look inward while exploring outward, make friends, and seek business partners with similar interests and motivations. More often than not, they are striving for social causes, as volunteer teachers, environmental advocates, and social entrepreneurs.
CAPE is not alone in leveraging online community to drive offline activities. In January, Black Apple Youth and the FOUR Institute, two online communities with a focus on social engagement by youth, both came up with campaigns for a meaningful winter holiday for social good.
As a response, Weibo micro-blog platform user @女青年R organized a small meet-up in her hometown of Chongqing. She wrote: "When we get back to our hometowns again, we encounter familiarity and strangeness. We want to know what local youth are doing and to exchange our views."
Weibo user @Jesse_Fung graduated from his university in Guangzhou and is now back to his small hometown of Guangning. Tired of the endless roundtable dinners and karaoke nights, he started up a local youth space on February 7, 2013. He wrote: "Thanks to the gift of the FOUR Institute, I have discovered that there are groups of young people out there who are endeavoring to bring change to their hometowns just like I am."
Describing the campaign as an "open action," Oliver Ding, the co-founder of the FOUR Institute, told Tea Leaf Nation, "The focus of the campaign is to create an open platform for encouraging extensive social participation and bringing local change-makers together to make a difference." The campaign is open not only to individuals, but also other organizations. "It would be great for us to join heads and pool our resources," said Ding.
Undoubtedly, the Internet has contributed enormously to the formation of the online youth communities.
China's Internet population increases every year, with a total of 564 million Internet users, and around 309 million micro-blog (Weibo) users as of 2012. Although the Internet is still restricted in China, there remains plenty of room for young people to share information and explore themselves.
Meanwhile, social media plays a key role in spreading information, providing young people with the opportunity to create change for themselves and their culture. As Kevin Lee, COO of China Youthology and creator of genYchina.com points out, with the emergence of new media technologies, youth in China are just as receptive and responsive as youth in other countries to global concepts such as participatory culture and sharism.
Isaac Mao , one of China's earliest bloggers, coined the term "sharism," a concept he believes is "the core spirit of Web 2.0." He has predicted that "sharism will transform the world into an emergent Social Brian: a networked hybrid of people and software."
"Meet-up," "social engagement," "change-maker" -- these were not buzzwords four years ago in China. But things are different now. China's youth are actively engaged in both online and offline social activities, and willing to share, inspire, and mentor others. Still, access to open ideas remains greater in first- and second-tier cities, and grassroots initiatives receiving more support and acceptance in bigger cities.
Weibo user @青年志candy, who works for China Youthology, observes:
In China, where civil society is still in its infancy, web-based youth self-organizations have been around for about ten years - nearly a decade of history. China's youth facilitate the growth of youth social groups by sharing information and redefining social relationships. In recent years, there has been a trend of online self-organizations going offline due to dramatic social changes in China. Youth self-organizations are moving towards real-life action and interaction, and striving for creation and change.
Admittedly, these online youth organizations have only just recently expanded into offline meet-ups and activism. Perhaps another decade is needed to show what kind of ripple effect these small steps can have.
---
This post also appears at Tea Leaf Nation, an Atlantic partner site.