If You're in the Mood to Worry About China
Lots of things are going well there. But not everything.
Here are three bits of fodder:
1)
Nuke risk
. Self-explanatory from the headline below, in
China Dialogue
: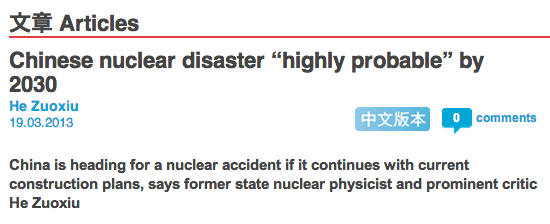 A little bit of the rationale, via a comparison with Japan (which of course had a mid-scale nuclear disaster two years ago):
Chinese nuclear technology can be regarded as approaching global levels, with similar design, safety and operational standards. But to reduce costs, Chinese designs often cut back on safety. In the past, earthquake-resilience was lower than in Japan, for example. China also has much less experience of this sector than Japan.




Qian Shaojun, a member of the Chinese Academy of Engineering, has repeatedly said that nuclear safety relies on experience - you cannot claim something is safe until it has been operating for a certain number of reactor years. Japan has at least 10 times as many reactor-years of experience as China.

2) Dead pigs. Also from China Dialogue, this expansion on the incredible dead-pigs-in-the-river story. This news was just breaking while we were in Shanghai early this month. I've avoided saying anything because ... what can you say? But the story adds detail:

"Dead pigs have always ended up in Shanghai. This time they just went there by river, instead of by truck," said one Shaoxing pig farmer, pointing at a porcine corpse.

Yes, of course, the pigs are by definition dead before they end up on a dinner table. But the story suggests that the cause for the riverine dumping is a crackdown on letting pigs who died from disease into the normal meat supply.
FWIW, from the Atlantic's former staffer Yuxin Gao, a commemorative cake: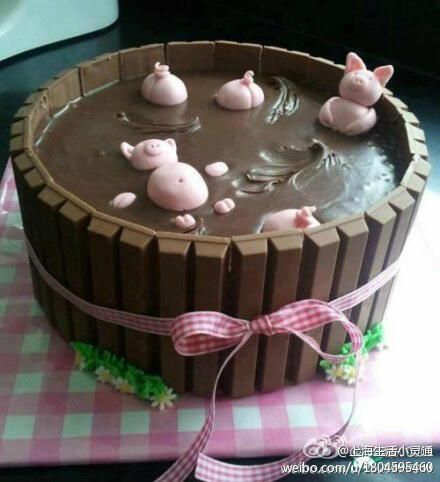 3) Chengguan. Everyone who has lived in a big Chinese city has seen and probably grown to fear or resent the chengguan, 城管, the blue-uniformed quasi-police "urban management" squads that do a lot of the roughing-up enforcement of vendors, migrants, squatters, and others on the wrong side of the law. A horrific video on China Smack shows a member of the chengguan being bludgeoned to (brain) death by a villager incensed that they were interfering with his (illegal) construction project. If you think that China is a perfectly under-control society, you could pass up the video itself, but you will find the comments instructive.