Does Apple Discriminate Against Chinese Consumers?
A prominent television show -- and many web users -- say so.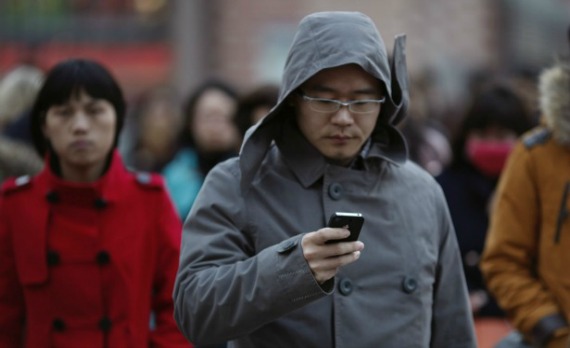 Will accusations of discrimination affect sales in China? (Carlos Barria/Reuters)
March 15 -- the Ides of March -- is a day that strikes fear into the hearts of many of China's corporate bosses. On this day in every year since 1991, China Central Television (CCTV), the state-owned behemoth, runs a live consumer protection show, sometimes known simply as 3.15, that exposes defective products, shady scams, and subpar services from well-known brands.
The show is watched by hundreds of millions of people all over China. An exposé can be devastating to companies doing business in the country, and its effect can linger for years.
And this year, CCTV has the juicy Apple in its cross-hairs.
In the lead segment of 3.15, CCTV accused Apple of shortchanging Chinese consumers. The program revealed that when consumers bring in iPhones for repair, Apple offers to replace the phone instead of repairing specific parts. However, the replacement phone is not new, just a refurbished one with the old back cover. This practice does not exist in the U.S. and Europe, claims CCTV, and thus is discriminatory against Chinese consumers.
The reason for retaining the back cover is to evade Chinese regulations on warranty periods, CCTV went on to claim. Apple does not restart the clock on the warranty period to cover replacement phones because they are not new (hence the refusal to replace back covers). After they receive refurbished iPhones, Chinese consumers only enjoy the warranty periods left on their original iPhones.
CCTV quoted a Mr. Bi, who allegedly had a year-long dispute with Apple on this issue: "The first thing they say is that we will not change. The second thing is that it's because we are Apple."
On Sina Weibo, China's Twitter, many consumers expressed their outrage at Apple's alleged discrimination, and some called for a boycott of Apple products. User @张唯Vivian wrote, "Why does Apple treat Chinese consumers like this? What a bully, looking down on Chinese people!" @泰俊伟 wrote, "Why can't our country stand firmer against these kinds of products? At least we should have treatment equal [to consumers in other countries], otherwise remove them from our shelves!"
Others shared their complaints about Apple products. @sally9805 complained, "Ever since I started using Apple I realized its phones are shoddy. The home key and the lock key break all the time. Less than a year in my case. Their after-sales services are really bad too."
The nationalist sentiment and collective ire are bad news for Apple. Its sales in the Greater China region totaled more than US$6.8 billion in 2012, up from more than $4 billion a year ago. However, its market share sunk far below that of Samsung and Lenovo.
3.15, however, is not without its own detractors. Astute observers have pointed out a more sinister purpose than protecting consumers and encouraging upstanding business practices. Taking out expensive advertisements on CCTV is a good way to ensure that a corporation's name is not included in 3.15′s annual black list. Refusing calls from CCTV's marketing department, on the other hand, may not a smart idea.
The next move appears to be Apple's. If CCTV's marketing department is indeed playing hardball and Apple flinches, Chinese consumers could soon see a wave of Apple advertisements on state television. Alternatively, Apple could stand firm against the accusations. That would risk further backlash, but Apple may calculate that the PR setback and concomitant online venting are more smoke than fire.
Apple would do well to tread carefully. Chinese consumer fashions change fast, and the company's profit margins in China are already declining . If Chinese consumers feel rightly or wrongly that they have been discriminated against, the March ides may prove to be the day the tide finally turned.
Update: Did CCTV hire celebrities to bash Apple on Weibo?
---
This post also appears at 
Tea Leaf Nation
, an
Atlantic
partner site.