China Photo of the Day: Bottoms Up, BRICS!
Xi Jinping's first foreign trip as China's president sees him re-affirming ties with fellow emerging markets.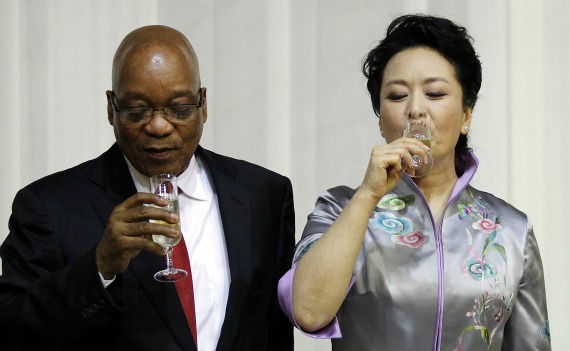 Siphiwe Sibeko/Reuters
China's glamorous First Lady Peng Liyuan (right) shares a toast with South Africa President Jacob Zuma (left), during a summit of the five emerging-market "BRICS" countries: Brazil, Russia, India, China, and South Africa. For Peng's husband, Chinese President Xi Jinping, the summit marks the pinnacle of his well-publicized first foreign trip as president. Peng, for her part, has already emerged as China's most visible First Lady in decades as well as one who, owing to a successful singing career, was until recently better-known in the country than her husband.
On Tuesday, Graham Allison argued that China doesn't belong in the BRICS, and that a more apt acronym for the four rump countries would be "RIBS". Should this schism ever come to light, President Zuma will have to find a new drinking partner ...