'China Didn't See This Coming'
What Burma's opening to the U.S. and the West means for Beijing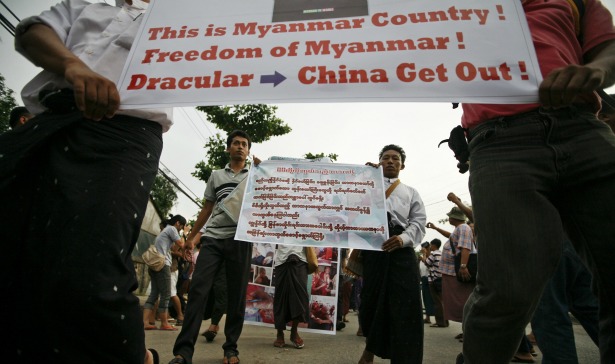 Anti-China demonstrations have become more frequent in Burma. (Soe Zeya Tun/Reuters)
Strolling through the border town of Ruili, one could be forgiven for forgetting they're in China. Palm trees line narrow streets throughout the city. Many signs are in Burmese. Brightly dressed Dai, Jingpo and De'ang locals share the sidewalk with Burmese and the occasional bearded Bangladeshi or Pakistani.
Zhubaojie, or "Jewelry Street", in Ruili's north is one of the best areas to see what drives the city's economy. A pedestrianized four-block strip of road, Zhubaojie is nothing but jewelry shops, most of which specialize in jade.
In a city buzzing with the sounds of the Yunnanese, Burmese, Dai and Jingpo languages, Zhubaojie is one of the few places in Ruili where one is likely to hear Mandarin. These speakers of China's official language are well-to-do tourists from China's cities and business-savvy Burmese traders, many of whom are ethnic Chinese themselves.
Chinese tourists come to Ruili to buy jade and hop across the border into Burma (also known as Myanmar). Some indulge in the prostitution or illegal drugs for which Ruili is known. The Burmese, for their part, are here to sell a precious gemstone which is almost exclusively found in their country.
China and Burma have a history of trade, but it has skyrocketed in recent years. Official Chinese investment in Burma during the fiscal years of 2010 and 2011 exceeded $12 billion, roughly eight times China's total investment in the country from 1988 through 2009, according to statistics in a 2012 paper by Japan External Trade Organization (JETRO). Most of this investment has been focused on energy and mining.
Following the violent repression of civilian protests by the Burma military in 1988, the country - once an economic bright spot in Asia - was hit with sanctions aimed at the ruling State Law and Order Restoration Council (SLORC). A year later, with China isolated by the fallout of its handling of the Tiananmen protests, a SLORC delegation led by Vice Chairman Than Shwe secured military and economic assistance from China, creating the Sino-Burmese special relationship of paukphaw, a Burmese word for brotherhood. By the early 1990s, Chinese engineers were helping the Burma government upgrade civilian ports and naval bases.
Over the following two decades, China was Burma's cash-rich ally with a protective veto in the UN Security Council. For its part, Burma's government, which rebranded itself as the State Peace and Development Council (SPDC) in 1997, provided China with resources, energy and access to the Indian Ocean.
After 2000, Burma approved increasingly ambitious Chinese projects including the massive Myitsone Dam project, a major copper mine near Monywa and twin gas and oil pipelines from Burma's coast to Yunnan's fast-growing capital, Kunming.
These projects all hold major strategic importance for China. Electricity generated by damming the Irrawaddy at Myitsone is earmarked for booming Yunnan. China's construction frenzy hungers for the copper within the large reserves at Monywa. The pipelines connecting Kyaukpyu on the Andaman Sea with landlocked Kunming will provide southwest China with crude oil from Africa and the Middle East, plus natural gas from off the Burmese coast.
In May 2011, China and Burma signed a Comprehensive Strategic Cooperative Partnership, bringing the neighbors even closer. The agreement was signed by Chinese President Hu Jintao and new Burmese president U Thein Sein. China was the largest foreign investor in Burma and would soon surpass Thailand as its biggest trading partner. China's strategic relationship with Burma appeared rock-solid.
On September 30, 2011, Thein Sein shocked China by announcing the five-year suspension of the $3.6 billion Myitsone dam project. The project's suspension --     which lasts the remainder of Thein Sein's presidency -- is viewed by many as the end of Burma's overwhelming reliance on China for revenue and legitimacy.
Thein Sein said his announcement respected the will of the Burmese people. Put another way, the Burmese people could suffer the giant sucking sound of Burmese resources into China no longer. Burma's reliance on China had become domestically untenable. Paukphaw was dead.
"There is a growing anti-China sentiment in Burma because many feel it is too close to China, and China is too obvious," said David Steinberg, an expert on China-Burma relations at Georgetown University. "The Chinese have supported about three dozen dams in Burma, mostly for electricity for Yunnan province. One of the issues at Myitsone was that more than 90 percent of the electricity would go to China, and that was a problem."
A Burmese restaurant manager of Chinese descent working in Ruili, requesting anonymity, said many Burmese feel China cares little for them. He attributed the Myitsone suspension to relaxing of media laws by the Burma government, which ended its advance censorship of media reports in August 2011.
"Before, nobody, not even the Burmese government, could hear the voice of the Burmese people," he said. "Now the voice of our people can be heard."
Press freedom in Burma has improved significantly since 2011. In its assessment of global press freedom for 2011-12, Reporters without Borders ranked Burma 151st in its World Press Freedom Index, 18 places higher than the previous year. Burma's rank in the index was higher than fellow ASEAN members Laos and Vietnam and only two spots behind Singapore. Burma was even 23 places ahead of number 174 China.
These steps forward have not been viewed favorably by all in the Burmese government, as evidenced by a draft law the Ministry of Information submitted to Parliament in early March that would roll back many of the reforms. Fragile the reforms may be, for the moment Burmese media is taking advantage of its newfound freedoms.
An opening for U.S. Engagement
Ending the government stranglehold on media was one of several developments since 2010 suggesting a Burmese transition to civilian democracy might be real. These events include Aung San Suu Kyi's release from house arrest in November 2010 and subsequent election to Parliament, the release of a limited number of other political prisoners and new laws decriminalizing labor unions. Conditions were right for what had been unthinkable for decades: U.S.-Burma rapprochement.
The visits to Burma by Secretary of State Clinton in December 2011 and President Obama in November 2012 followed decades of negligible official contact between the countries. China may not have been the only one caught off-guard.
"The Thein Sein government never expected this level of engagement from the U.S.," said a former high-ranking official in Burma's Ministry of Foreign Affairs involved in economic and political missions during the 1980s and 1990s. He spoke about the recent changes in Burma on condition of anonymity.
According to the former diplomat, Burma's decision-makers, which he says are members of the military rather than civilian government, are only interested in reform as a survival tactic.
"The current government learned a lot from the Arab Spring. It became fearful that a similar uprising could occur in Burma -- they want to be safe and sound, especially Than Shwe," he said. Thein Sein was Than Shwe's handpicked successor.
"Thein Sein is a lifesaver for Than Shwe and has long been one of his favorites. The military needs a good exit strategy; otherwise it will face repercussions if political reform does happen."
Chinese statements have praised the reforms in Burma and the détente between Washington and Naypyidaw, but it is an open secret that Beijing is worried about investment projects being endangered by the will of the Burmese people. U.S. engagement in Burma is unlikely to assuage these concerns.
In early 2012, Wanbao Mining, a subsidiary of arms manufacturer Norinco, one of China's largest state-owned enterprises, took over operations at Monywa copper mine in a joint venture with wholly owned military conglomerate Burma Economics Holding Corp. Norinco released a statement saying the project would assist with "strengthening the strategic reserves of copper resources in our country, and enhancing our influence in Burma."
Three months later, the mine project had become a lightning rod of anti-Chinese sentiment among Burmese for several reasons: alleged forced relocations, destruction of an ancient Buddhist temple, degradation of an important watershed and resentment toward Chinese acquisition of Burmese resources.
Small protests in June gradually gained momentum as monks and farmers were joined by environmental and social activists in demanding cancellation of the mine's billion-dollar expansion project.
In late November, Suu Kyi told reporters that the contracts had been signed and that "if unilaterally canceled, compensation must be made. If Burma wants to stand up as a commensurate country within the international community, it must keep its promises."
Days after her statement, police used tear gas and water cannons to break up protests at Monywa, after which she pledged to meet with both sides and assist with negotiations.
Even more important to China's strategic planning than Monywa is the massive energy corridor being built between the deep-water port at Kyaukpyu and Kunming. The gas pipeline will run from Burma's coast to Kunming and onward to Guangxi and Guizhou with a total length of 1,700 miles. The oil pipeline will terminate at a new refinery in Kunming. The corridor's key strategic value is the reduction of Chinese oil imports through the Strait of Malacca by one-third. Beijing views the U.S. naval presence in the strait as a possible threat to its energy security.
Burma has tried to assure Beijing that its investments are safe. Thein Sein, speaking at the 8th China-ASEAN Business and Investment Summit in China last September, said that there was room for expansion of economic ties with China while touting recent foreign investment legislation, but China remains skeptical.
Safety of investments is not the only concern China has regarding Burma. Fighting in Kachin State between the Burmese army and the Kachin Independence Army (KIA), the armed wing of the Kachin Independence Organization (KIO), is being felt in Yunnan, whether in the form of the 90,000 or so refugees the conflict has created or the four rockets that exploded on Chinese territory around the border areas north of Ruili since December.
Beijing issued Burma a rare public rebuke after the explosions and sent an unspecified number of troops to Yunnan's border with Kachin State. Ruili has also been provided by China as a semi-neutral site for negotiations between Burma and the KIO -- semi-neutral because there are thousands of Kachin living in and around Ruili, where they are known as the Jingpo.
With more than one million Kachin on the Burma side and over 130,000 Jingpo in Yunnan, this is but one of the ethnic groups that further complicates China-Burma relations. In Kunming and Beijing, some officials have advocated strategic support of ethnic rebels in Burma's north, many of which have long had direct ties to China.
In January China denied a report by Jane's Intelligence Review that it had provided two anti-tank vehicles to the United Wa State Army, the country's largest ethnic militia. Regardless of whether it did or didn't, Beijing's obsession with stable borders will likely trump the desire to play too heavy a hand in Burma's north.
"If you look of the ethnic composition of Yunnan -- the Wa, the Shan, the Kachin and the Lisu -- they're all on China's side of the border as well," Georgetown's Steinberg said. "An explosion within Burma would create problems for the minorities in China and officials in Kunming and Beijing. I think China will put pressure on minority groups to make some accommodation with the central government."
U.S. Opportunities -- and Risks
Friendly ties with Burma provide Washington with a golden opportunity to advance its economic and strategic objectives in Asia, but it must tread carefully to avoid exacerbating existing concerns in Beijing that Washington has adopted a 'containment' policy toward China. That is, containment in which the endgame is regime change, as in the U.S. Cold War approach to the U.S.S.R.
"The realpolitik is that China regards Southeast Asia as its territory of influence," Steinberg said. "This is their backyard and they intend to exert high levels of influence. They would be concerned if Burma moved too close to the U.S., I think they are concerned somewhat, they figure that this is the second round of U.S. containment ... That is what the Chinese fear."
Steinberg said private dialogue was needed to allay Chinese concerns about U.S. intentions in Asia, adding that although U.S.-Burma relations were the best they'd been since 1948, he believed that Burma would follow a balanced path that favored neither Washington nor Beijing.
"They don't want to be a client state of the U.S. any more than they want to be a client state of China."
The former Burmese diplomat concurred, suggesting that although a major falling out between Burma and China was unlikely, a return to the old days of paukphaw was improbable.
"Burma will try to keep China happy while allowing the West to become more involved," he said. "In terms of business, China hasn't really lost much since Myitsone. But it lost a lot politically and strategically. China didn't see this coming at all."