China: A Nation Ruled by People With Law Degrees
... and a country whose government has little respect for rule of law. But could that change?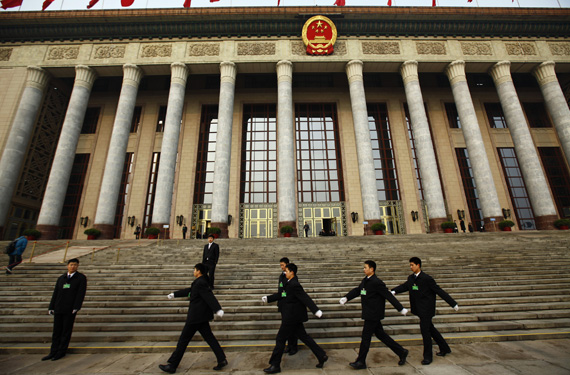 Has China just become a country run by lawyers?
That does appear to be the case at first blush. Three newly-minted top leaders all have legal degrees. President Xi Jinping has an LLD from Tsinghua University, Prime Minister Li Keqiang has an LLB from Peking University, and Vice President Li Yuanchao holds an LLD from the Central Party School (where the Chinese Communist Party trains its cadres).
It is well known that lawyers are over-represented in American politics, but their presence at the pinnacle of Chinese politics is a novelty. On micro-blogging platform Sina Weibo, user @ 老大哥在看着我们 gave a cheeky summary of contemporary Chinese history: "From 1949 to 1976 we were ruled by a tyrant, from 1978 to 1989 by a strongman, from 1990 to 2012 by bureaucrats. I really hope that 2013 is the start of the rule by lawyers."
While some hold high hopes that this means China will usher in a golden age of the rule of law, others are not so optimistic. Many have pointed out that Saddam Hussein and Fidel Castro also had law degrees. User @Joey_Gillatt wrote, "If those who studied law would attach more importance to law, then Hitler would have supported the arts, Mao would have supported education for teachers and Stalin would have supported the Russian Orthodox Church."
Activist Professor Yu Jianrong (@于建嵘) and others have pointed out that the names of the degrees can be deceiving. Even though Xi and Li Yuanchao have LLD degrees, they did not study the law per se, but rather Marxist theory and socialism ideology. None of the leaders have ever practiced law.
User @众里寻他千百度2000 opined:
In my view, whether the leader understands the law is not that important; the more important thing is to have a well designed system, so even those who don't know the law can carry out their duties. We cannot rely on any person, but should think about building the system; otherwise China will forever be a country stuck in the rule of man.
---
This post also appears at Tea Leaf Nation, an Atlantic partner site.