Ai Weiwei, China's Useful Dissident
He's never been more famous. And that's just fine with Beijing.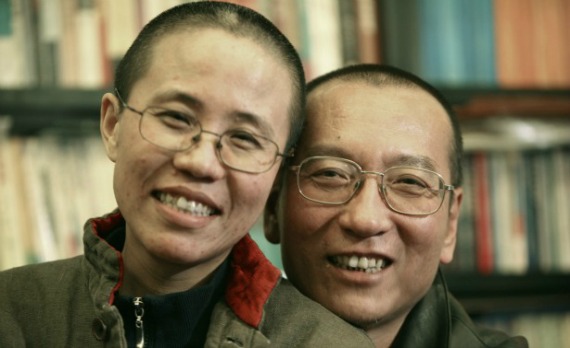 Nobel Laureate Liu Xiaobo (right) is photographed with his wife Liu Xia (left) prior to his arrest. (Reuters)
Ai Weiwei, China's most famous dissident, seems to be everywhere these days. Last October, he was seen dancing to the tune of "Gangnam Style", and two months later the artist communed with British musician -- and admirer -- Elton John. Now, Ai has upped the ante with his latest venture: a heavy-metal album.
All in all, not bad for a man best known for being under detention.
Ai's enhanced celebrity has made him a frequent object of affection in the West, where his quirky individualism seems to conform far more neatly to its cultural values than to his own. In Ai Weiwei Never Sorry, Alison Klayman's excellent 2012 documentary, Ai Weiwei is seen strolling through the streets of New York, a city he called home for 12 years as a young artist. Trailed by a small entourage, Ai praises the city for its cosmopolitanism and even displays an affection for corned beef hash.
Antics aside, Ai's credentials as a dissident are legitimate. Following a devastating 2008 earthquake in China's Sichuan province, Ai embarked on a quest to publish each of the names of the deceased, in the process helping reveal that shoddy schoolhouse construction contributed to the death of many schoolchildren. The Communist Party wasn't amused. Party officials routinely attempted to intimidate the artist into silence, attacking Ai and threatening him with imprisonment -- or worse. Injuries he sustained while conducting research in Sichuan led to a series of headaches that, ultimately, required treatment for a cerebral hemorrhage in Germany. Two years later, when attempting to board a flight to Hong Kong, Ai was detained and held incommunicado for months, after which he was released back to his Beijing compound. Chastened, his career as China's most visible gadfly seemed over.
So the fact that Ai is able to embark on these extracurricular ventures at all is, in its way, something of a triumph. But by enhancing his celebrity through publicity stunts, Ai has unwittingly empowered the Chinese Communist Party by outwardly conforming to its definition of a dissident: a narcissist more attuned to the whims of foreign admirers than to the interests of his own people.
This judgment may be right, but it is also rather unfair to Ai. He is, after all, only an artist and is doing what artists do: being creative and a little bit wacky and displaying a knack for publicity all at the same time. Ai never signed up to be the cross-bearer for China's beleaguered dissident community and he has never claimed to speak for his countrymen. He is simply an artist who, through clever use of celebrity and a fearless disposition, has emerged as the face of China's disorganized opposition.
This phenomenon isn't unique to China. Russia's Pussy Riot, an anti-establishment punk group tossed in prison for performing at a Moscow cathedral, attracted widespread sympathy from the West as symbols of then-Prime Minister (now President) Vladimir Putin's repressive rule.  Yet in a segment of Public Radio International's The World, Russian-American artist Alina Simone argues persuasively that Pussy Riot only strengthens Putin's hand by cheapening Russian norms of dissent. This view is by no means universally held, as the group has divided opinion in Russia. But their story does obscure the fact, that, as in China, many Russians have quietly suffered after challenging their country's authoritarian rule.
So while Ai amuses his admirers, Liu Xiaobo, a Nobel Peace laureate, rots in a prison cell where he is serving an 11-year sentence for "subversion of state power". Liu's wife, Liu Xia, remains under house arrest where she is only occasionally permitted to speak to the media. An AP story from last December described her grim situation:
Liu said she has been confined to her duplex apartment in downtown Beijing with no Internet or outside phone line and is only allowed weekly trips to buy groceries and visit her parents. "We live in such an absurd place," she said. "It is so absurd. I felt I was a person emotionally prepared to respond to the consequences of Liu Xiaobo winning the prize. But after he won the prize, I really never imagined that after he won, I would not be able to leave my home. This is too absurd. I think Kafka could not have written anything more absurd and unbelievable than this."
Recently, two Hong Kong-based journalists were beaten and detained by Chinese authorities while filming an activist's attempt to meet Liu Xia.
Ai Weiwei's cherubic, bearded face is far more familiar to Chinese and foreign audiences than Liu Xiaobo's, a man whose appearance resembles the mild-mannered professor he once was. But it is people like Liu -- and this young man -- whose experience best exemplify the plight of political opposition in China. Ai Weiwei, for all his popular appeal, is an exceptional figure, one who, in spite of all of his tremendous bravery, can still be dismissed as a charlatan.
And that, for the Communist Party, is precisely the point.