A (Very) Brief Recent History of Dead Pigs in Chinese Rivers
Today's discovery of 3,000 dead pigs in Shanghai is shocking- but it isn't the first time this has happened in China.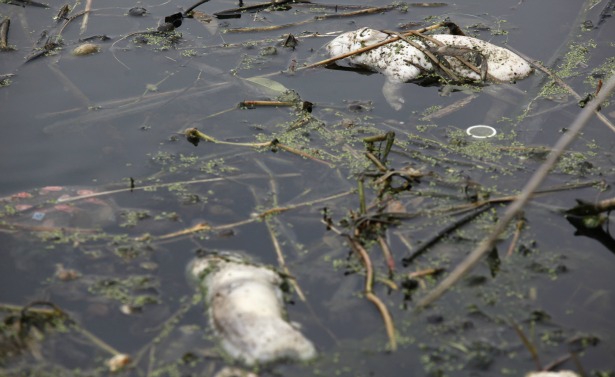 Pig carcasses seen in Guangdong Province, China, in 2007 (Joe Tan/Reuters)
It isn't surprising that a story involving several thousand dead pigs surfacing in a Shanghai river attracted a lot of alarm, not least from the locals who depend on the river for their drinking water. But lost in the shuffle is that this isn't the first time such a "dead pig epidemic" has happened in China. In fact, these cases appear to be happening more frequently than before.
In 2009, the Epoch Times reported that hundreds of dead pigs were found floating in a river near Fuqing, China, consisting mostly of "piglets wrapped in sacks". The next year, in nearby Guangdong Province, 72 dead pigs reportedly contaminated a river near Foshan.
So why does this keep happening? Here's what comes to mind: as pork is a major staple in Chinese diets, there are just a lot of pigs in China. These pigs, being farm animals, are susceptible to illness, and when they die Chinese farmers have a tendency to throw them in a nearby river rather than dispose of them properly. In China, where concern about littering and hazardous waste is a relatively new phenomenon, this practice remains depressingly common.
But the bigger scandal might not be the dead pigs but rather the government's slowness in reacting to them. As Bloomberg's Adam Minter notes, officials have had plenty of time to warn the public of the health scare, but many people still feel like they've been left in the dark. This, more than the sight of the poor pigs themselves, is the true source of outrage in China.