A Hungry China Sets Its Sights on Central Asia
Along its western border, China's influence is only beginning to grow.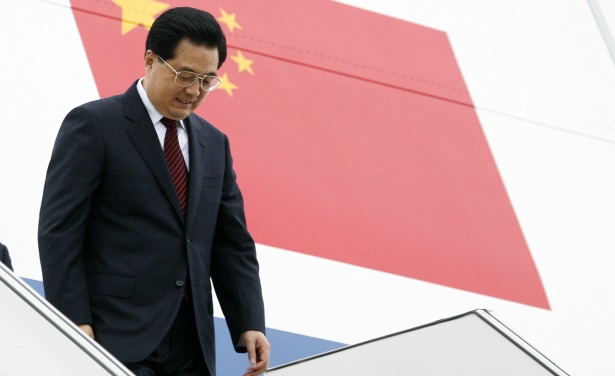 Chinese President Hu Jintao arrives for the Shanghai Cooperation Organization (SCO) summit in the Urals city of Yekaterinburg June 14, 2009 (Sergei Karpukhin/Reuters)
In the gravelly, uncertain road coursing through Kyrgyzstan's picturesque Alay Valley, it does not take long to stumble across the Chinese road workers' camp. Though just a dusty collection of prefab dormitories, the camps nevertheless proudly display the company's name, logo and various slogans in large red Chinese characters. A Kyrgyz security guard is fast asleep on his cot, and the camp is deserted except for a young engineer from Sichuan. He explains that they work six months out of the year, when snow doesn't block the passes. Next year, the road will be finished. He says his friends that work on Chinese-built roads in Africa get a better deal.
Further down the road, amid bulldozers and trucks full of dirt, are the road workers. They're slowly reshaping the mountains, molding them into smooth inclines and regulation grades. Then there are the trucks; hundreds of them, crowding at the Chinese/Kyrgyz border, all engaged in the increasingly active trade between the two countries. One of the truckers, a member of China's Muslim Uighur minority, is eager to chat. The roof of the world is his workplace. It takes three days to drive a 30 ton load from Kashgar, in China's Xinjiang province, through Kyrgyzstan to Uzbekistan. He and his colleagues bring 100 such loads across every week.
Related Story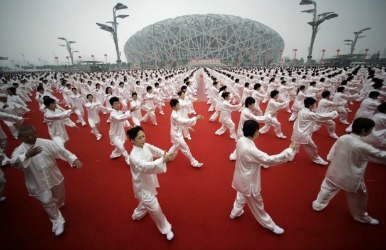 In many ways, China has a stranglehold on Kyrgyzstan's economy, so much so that, in the words of a former Kyrgyz cabinet member, the country's economy would collapse without its giant neighbor to the east. What little wealth that is generated in Kyrgyzstan is due to its role as a re-export center for Chinese goods headed for Kazakhstan and Uzbekistan, its richer neighbors, and Russia.
Kyrgyzstan is not a resource-rich country by most measures, but Chinese mining companies are active throughout its expansive countryside, exploring and extracting, sometimes in disregard of environmental consequences. These mining operations have occasionally been subject to raids from locals on horseback, but these attacks do not deter the Chinese. Kyrgyzstan does have some oil, but until now, it has not had the capacity to refine it into fuel. In the past, Kyrgyz drivers were dependent on their old colonizer, Russia, to refine the oil and ship it back to them for consumption. Not any more. A Chinese company is building a small refinery in Kyrgyzstan, using small-scale projects such as these to increase its influence in the country.
China's behavior in Kyrgyzstan is symptomatic of its wider approach to Central Asia, a remote region that has become central to Beijing's global diplomatic and economic profile. Driven by the Chinese economy's voracious appetite for natural resources, business opportunities along ancient trade routes, and a paramount desire to bring stability through development to a region bordering on China's restive Xinjiang province, these varied Chinese actors are rapidly reshaping a region that was both Russia's back yard and the United States' staging ground for operations in Afghanistan.
Consider one of China's largest firms, energy giant CNPC. Staring in 2007, CNPC built a pipeline connecting China's eastern coast with the immense natural gas fields of Turkmenistan in eighteen months -- a global record -- and is in the process of lengthening it to reach the resource-rich Caspian Sea.
A series of purchases through a Chinese-Kazakhstani joint venture is set to bring China control of 40 percent of Kazakhstan's gargantuan oil wealth. CNPC plans to expand its natural gas network to all six Central Asian states (including Afghanistan) in the next five years, not only sending gas to Chinese consumers, but also distributing it in the region in order to gain political favor.
Meanwhile, China has taken the concept of a "new silk road" -- official if unrealized U.S. policy -- and turned it into reality. The China Road and Bridge Company (CRBC), as well as other contractors, have taken on the region's highway, railroad and electricity transmission challenges, paving over some of the world's most forbidding terrain while creating a new 'Synthetic Road' for Chinese goods to reach Europe, the Middle East and Chinese-built ports in Pakistan and Iran. The new road from Irkeshtam to Osh, containing the lone Sichuan engineer at his camp, is just one of many routes.
But, with such wide-ranging investments, is China concerned about security in a region abutting South Asia and the Middle East?
Beijing has long been reluctant to take on responsibilities for security outside of its borders, yet it remains paranoid about the potential spillover of Islamist extremism or ethnic conflict into Xinjiang. The Shanghai Cooperation Organization (SCO) -- a China-led regional grouping encompassing four Central Asian states and Russia -- serves partly as a coordinator for monitoring Uighurs and other perceived threats. This bloc, which has been called the NATO of the East, is arguably little more than a re-branding of bilateral Chinese initiatives as multilateral legitimacy. In 2012, the SCO served as cover for the offer of $10 billion in Chinese soft loans to members Kazakhstan, Kyrgyzstan, Tajikistan and Uzbekistan. As Western forces prepare leave Afghanistan and the rest of Central Asia by the end of 2014, China may find that it has to upgrade the SCO and other security arrangements to fill the regional security vacuum.
China has never explicitly stated that it seeks hegemony -- economic or otherwise -- over Central Asia. Yet China has become the most consequential actor in the region due to the unmistakable confluence of several actors: state owned enterprises looking for the next big project, shuttle traders seeking new markets, Confucius Institute teachers and overseas Chinese community organizers. These are the rather disorganized shock troops of China's would-be empire in Central Asia.
Remote as the Central Asian region may be, China's geopolitical future lies here. Its vast western land borders provide an outlet to the world's markets that the encircled South China Sea does not. In going west, the droves of Chinese opportunity seekers are repeating history along the old Silk Road. However, China's economic growth is now farther reaching and its global profile greater than even at the height of its imperial history. In Central Asia, China is redrawing the great power map and the consequences will be felt from Moscow, to Brussels to New Delhi and Washington. It is a Manifest Destiny that has only just begun.