LeVar Burton on Pursuing the Priesthood Before Acting
Before Roots, Star Trek, and Reading Rainbow, the actor had chosen to devote his life to the Catholic Church.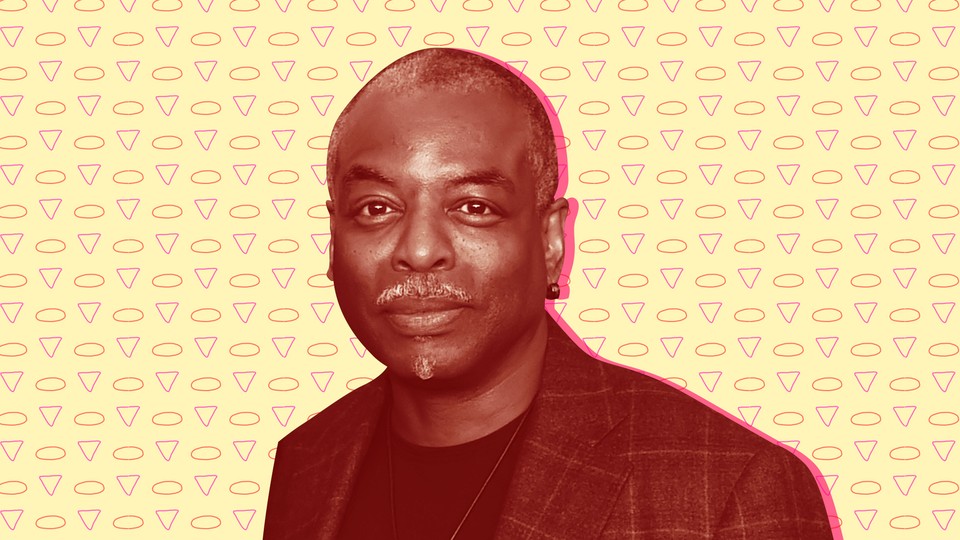 At the age of 17, LeVar Burton was on a path to the priesthood, having entered seminary three years earlier. But Burton began questioning the Catholic point of view, and he did not receive satisfying answers from his elders. He decided to change his trajectory, and landed on acting.
Two years later, as an undergraduate at the University of Southern California, Burton got a role acting alongside Cicely Tyson and Maya Angelou in Roots, the TV miniseries. "They schooled me," he said. He'd go on to act in Star Trek: The Next Generation and to host PBS's Reading Rainbow.
I spoke to Burton recently about serving the greater community, his calling to the priesthood, and his advice for young people dealing with the challenges that can come with extraordinary success. This interview has been lightly edited and condensed for length and clarity.
---
Lola Fadulu: You were born in Germany. How long did you live there?
LeVar Burton: We came back to the States when I was a year old, and then went again when I was in the third and fourth grade for another two years. So it is [my father's] second tour of duty that I actually remember.
Fadulu: What do you remember about it?
Burton: Oh my gosh, I remember so many things. I remember our first apartment, which was what they called "on the economy," which simply meant that it was in town. It wasn't on the military base itself. This was the 1960s and the Allies had been in Germany since the end of World War II, so there was a constant influx of GIs and their families going there. I remember the beer man who came and delivered beer, just like they delivered milk.
Fadulu: Did your parents talk to you about their jobs often?
Burton: My mom talked a lot about not necessarily her job, but her belief that one's life should be a service to the greater community. That was certainly something I picked up and absorbed. Most of the people in my family are in the field of education in one way or another. It's kind of the family business. We are also a family that really values education, puts a very high premium on education and its value in society and for individuals. I personally believe that education is the key to freedom.
Actually, literacy is the key to freedom because you can educate yourself. But my mom didn't talk a lot about her job, because she worked in a [federal program] that at that time was called AFDC. AFDC stood for Aid to Families With Dependent Children, so she worked with a lot of women who were then, as today, escaping situations that involved abuse, and she was really trying to help these women and their families get back on their feet after some catastrophic event that had obviously caused them to lose their balance. She didn't talk about those cases specifically, because, No. 1, it was inappropriate because that's confidential information and, No. 2, it wasn't age-appropriate conversation either.
Fadulu: As a child, you were hearing about the importance of serving the greater community and of education. Did you ever push back on those life philosophies?
Burton: You did not push back where Irma Jean Christian was concerned. I'm sorry, that was just not an option. I don't know how you were raised, but in my family, we did not push back on our mother. My first career choice was the Catholic priesthood.
Fadulu: Can you tell me a little bit about entering the seminary to become a priest?
Burton: It was all initiated by me. I had a calling. I felt like that's how I was destined to spend my life, and so I took steps as early as I could in that direction, and my mom was very supportive. I entered the Catholic seminary at the age of 13 in Northern California. I began my formal training as an initiate into the order of the Society of the Divine Savior. I was there for four years. During my time there it actually shifted its focus from being solely a seminary to also being a college-preparatory program.
Fadulu: What is the most important thing you learned from your four years in seminary?
Burton: That I didn't want to be a priest. I had a lay teacher who was neither a priest nor a brother who taught my favorite subjects, a man named Lee Bartlett. He was the English teacher, he was the drama coach, he also taught philosophy, and he opened up my mind to ways of looking at the world that were separate from the Catholic point of view, and a lot of it made sense to me. I had a lot of questions that the Catholic saints and the dogma of the Church could not answer. So I decided that I needed to find some other focus for my life at the ripe old age of 17.
Fadulu: How did you go about finding that other focus?
Burton: I sort of took inventory: What did I feel like I was good at? Where did I find some passion, some juice, in my life? And the answer was theater arts. It was the not-being-afraid-to-be-onstage part that I found I was good at. I had a natural affinity for acting and public speaking.
Fadulu: Were you nervous at all about finding a job in acting postgraduation or during your summers?
Burton: I wasn't, no. I'm sure my mom was. But I had gone from wanting to be a priest to being an actor. I'm sure she had some concerns about both of those choices, but she never let on. She always showed a face of loving support.
Fadulu: Did you have any jobs in college?
Burton: No. My first day as a Bachelor of Fine Arts major in drama at the University of Southern California in Los Angeles, they made an announcement: "If you want to be a B.F.A., if you want a Bachelor of Fine Arts major"—and there were only two places that really offered a B.F.A. in drama at the time, USC and Carnegie Mellon—"If you want to do this, then you've got to commit to it. You will not have time to hold down a part-time job. You will not have time to go out for a sport. You will not have time to join a fraternity or sorority. You will be spending every waking moment in these environments, and you will be busy." And they were right. But before I went to USC, the two summers before, I worked at Mr. B's Formal Wear in Sacramento, renting tuxedos to wedding parties and proms. I had to wear a tuxedo every day.
Fadulu: What was it like getting Roots in college?
Burton: Are you kidding me? My life was changed forever. My first day as an actor, Cicely Tyson played my mother, Maya Angelou played my grandmother. I was 19, and they embraced me as a peer. They schooled me. They certainly taught me what it meant to be a professional, but they assumed that because I was there I belonged there, and they treated me as such. It was an extraordinary experience for a young person.
Fadulu: What did they teach you about what it meant to be a professional?
Burton: So many things that it's impossible to list. For instance, the importance of being on time; the importance of knowing your dialogue, knowing your lines; the importance of treating everybody with respect. Just things that they don't teach you in college.
Fadulu: Do you have any advice or tips for young people who are dealing with the stresses of extraordinary success?
Burton: Extraordinary success at a young age is incredibly challenging. My advice would be to make knowing yourself, discovering yourself, and engaging in a rigorous process of introspection and personal growth your primary focus because it's only through a foundation of knowing who you are that you'll be able to maintain your balance in a very unstable and destabilizing career.