Her Parents Wanted Her to Land a Cushy Job. She Wanted to Build Their Legacy
Olympia Moy, a 35-year-old activist, on trying to turn her parents' music school into more of a community gathering place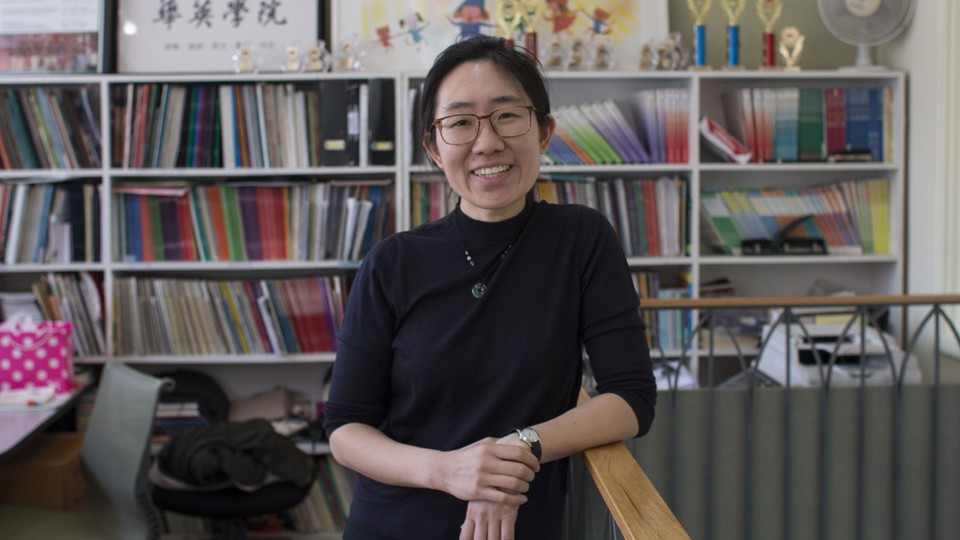 Editor's Note:
This article is part of an oral-history series where Aaron Reiss interviewed the young-adult sons and daughters of Chinatown shopkeepers about how they are helping to keep their families' businesses alive.
Olympia Moy, a 35-year-old with a background in nonprofit work and advocacy who helps manage her parents' music school, shares the struggle of reconciling her legacy with that of her parents. "My parents would have rather I had come back for a cushy job and a steady income," she says. "I came back thinking of their business as fertile ground for civic change."
I spoke with Moy in the spring of 2018. Below is our conversation, lightly edited for clarity.
---
While my mom was studying piano at the Mannes School of Music, she was also teaching English and tutoring piano on the side. She also helped open a little candy shop with her mother on Bayard Street. At that time everyone was hustling. A lot of people here had just been uprooted after the Cultural Revolution in China. Coming here, they had to build something from scratch.
By the time I was born, she had turned her piano tutoring into a small business, which she ran out of a residential apartment in Chinatown. My parents had bought that building and the ground-level medical practice, which my dad took over. In the apartment above, we had an upright piano in the living room, another in the kitchen, and in another room there was a Steinway. My mom gave piano lessons, and we held recitals where 15 or 20 people would pile into the apartment and listen to students play.
When my parents bought an apartment building on Henry Street, my mom started running the Florentine School of Music, Art and Academics out of the storefront space. She was selling upright pianos, and people would come to Chinatown, buy a piano, and take it back to Long Island, or Brooklyn, or wherever. In the back, there were two rooms for piano lessons. Then that grew pretty quickly to the point where there were a couple of hundred students, with three to five classes going on at a single time—classes, not even private lessons. There were so many parents, and kids, and class after class coming and going. That's how I grew up.
This was before cellphones, so if I was around home or the music school, I would be sent to run messages between the office and the violin studio, letting teachers know when students had canceled.
My main instrument is the viola, but I started on the violin at a Florentine class when I was almost 3 years old. My mom had a friend who was teaching a class that had a no-show, so she said, "Okay, just try this out." I ended up staying in the lesson for 30 minutes. My dad heard about it and said, "You're such a pushy mother!"
From then on, I was taking lessons and also participating with my siblings and my dad in the Yamaha music-curriculum courses. Eventually, our teacher at Florentine let us go out beyond the school because we didn't have a symphony or an orchestra at Florentine. We ended up at the Manhattan School of Music. That was the end of my time as a music student at Florentine, but after that, I would help out as an assistant for concerts. In college I would fill in if they needed a substitute, teach a violin class here and there. I would help the teachers coach in larger ensemble classes. As I got older, my responsibilities got bigger. I would fix up our student database or maintain our billing systems, make brochures and printouts.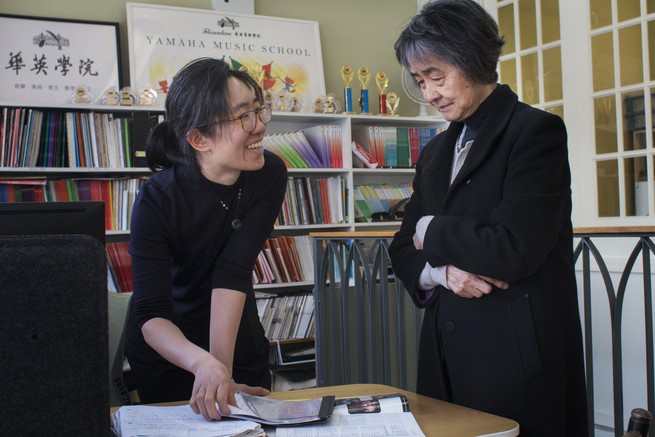 I think children in family businesses naturally become management consultants for their parents, when they hear and see the different issues that the business is going through. Like, you see these black-and-white Xeroxed brochures, and at some point, you're like, This can be better. And you throw in your two cents, and then it gets better, and then you get more involved, and that's how it goes.
In 2001, I went away to college, and then to grad school, and then after that to a public-interest fellowship in Chicago. Obama was just elected; I was looking at all my options in the nonprofit world. I was looking around at my peers and the different ways that they were getting involved with civic society. I remember a friend who took an entry-level job at a nonprofit telling me about how her organization was so underfunded and under-resourced that she was using a filing cabinet as a desk. I started thinking about my family's business, and about how that basic work had already been done. I thought, rather than trying to figure out budget-line items for furniture, I could start this work more quickly from home.
So I saw coming back to Chinatown like fertile ground for the work that I wanted to do—there is so much civic potential, and so much work to be done here. And here is my family business, with a real base in the community and all these resources waiting to be marshaled. I decided I would come back, that I would wear this small-business-owner hat and see where that takes me in terms of understanding how this neighborhood works and how community change happens.
Meanwhile, I think my parents would rather I had come back for a cushy job and a steady income instead of transforming or redefining their legacy, or making them more visible than they want to be. You know, I came back thinking of their business as fertile ground for civic change—and they would rather I not use the family name and not use the family resources. I think my mom feels like she already had a legacy, you know? Quiet, sustained work over time.
Now I've been working here for eight years, doing this work on community building, which has taken on different forms over time. I helped organize the first-ever LGBT contingent to march in Chinatown's Lunar New Year Parade in 2010. I did a lot of that work in the closet, actually. It's common for a lot of queer Asians to be out in the mainstream community—and proud to be queer and Asian. But when they come back to the Chinese community, they go back into the closet. And I was kind of like that. But when this queer group was facing resistance for marching in the Chinatown parade, I kind of took on a more active role to make it happen. I was also working with Q-Wave—an LGBT group for women and trans folk of Asian descent. During that time, I was organizing educational programming, general meetings, and social events. I also worked a lot with the Princeton AlumniCorps, which helps put recent grads in community-based nonprofits. More recently, I've gotten involved with trying to strengthen the resources and organizations that are here in Chinatown—make them more resilient and more connected to the past.
But the reality is that I'm also running these businesses: the school and managing the real estate we own and rent to tenants. My role is elusive. I've never printed business cards—I don't know what I would put on them—but my computer is littered with attempts and drafts.
We deal with the same issues as a lot of family businesses. When people like me come back, having grown up privileged, exposed to other ways of thinking and doing business—thinking strategically and with vision—it isn't always well received, because that's just not how things are done. For the generation that came when my parents did, I think they are inherently in survival and maintenance mode.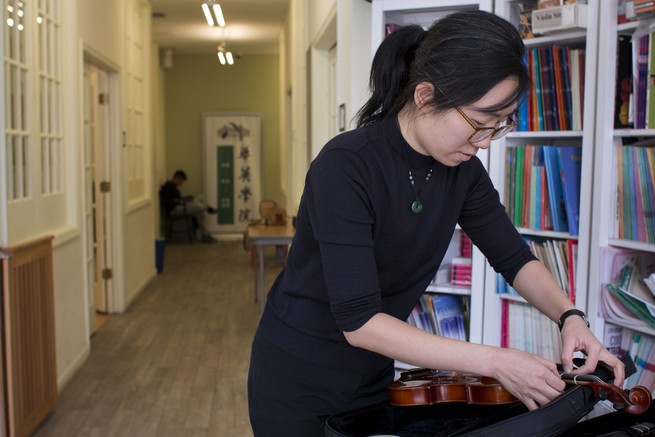 But my personality is very idealistic; I have these big visionary ideas. I had envisioned when I came back that Florentine would organically transform into this community center, this beacon in Chinatown and the Asian community at large. A place where all groups could have a small stage to show and see what Chinatown has to offer.
How that plays out in the day-to-day is that I want to knock down a wall to put in a movable partition so that we could have our traditional tutoring classes on the weekends and black-box theater performances on weeknights. And the measured response I get is, "Why don't you start programming in one room, and once you're running that successfully, then we can talk about knocking down a wall."
When you're talking about a vision for the future, there's this tension, like, "Whose business is this? Whose resources are these?" If you've put three, five, 10 years of your adult life into a business, is it yours now? Is it your legacy? Is it what you've built as well? And that's a tension that we really deal with.