When Being the Boss's Son Isn't Enough
Ken Ma, a 32-year-old M.B.A., on expanding his parents' optical-shop empire.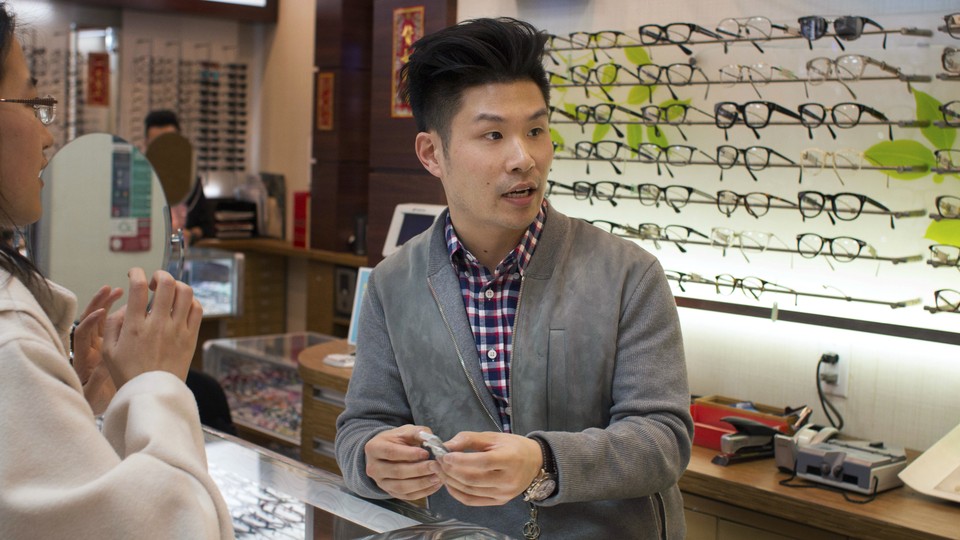 Editor's Note:
This article is part of an oral-history series where Aaron Reiss interviewed the young-adult sons and daughters of Chinatown shopkeepers about how they are helping to keep their families' businesses alive.
Ken Ma, a 32-year-old M.B.A. who is being groomed to become the CEO of his parents' optical empire, Mott Optical Group, recalls the difficulty of taking over as a "boss's son" in a family business: "I thought, I am the son of the owner; I can't make mistakes. People are looking at me—I have to set a good example, I have to be flawless, I have to be knowledgeable about everything."
I spoke with Ma in the spring of 2018. Below is our conversation, lightly edited for clarity.
---
There's a stereotype that you grow up working really hard in Chinatown—and Chinatown is this and that, it's dirty, it's crowded—then you get a good degree and go off to work at McKinsey or a bank or a financial firm or some other white-collar professional job.
My dad was working hard here in the '70s and '80s, when it was relatively dangerous, with gang violence and all that. And when I was born, we moved from here, in Chinatown, to Bergen County, New Jersey.
My dad spent a lot of time at the store, helping customers, establishing himself as a pillar of the community. And we really saw him as a hero of ours. Like you know when people in school are supposed to come dressed like what they want to be when they grow up? Other kids came as a fireman, a police officer, a doctor. I came dressed as my dad, with a little eyeglass lapel pin. I always wanted to be part of the family business.
Growing up, I worked here in the summertime. I was mostly filing. That was the heyday, so I was really, really busy here. Once I graduated from high school, I worked a lot of other jobs. I worked at McDonald's on Chambers Street, behind the counter and in the kitchen. That was my first real job outside the family business. I did sales at Abercrombie & Fitch, different campus jobs. But I really started to become interested in finance and banking.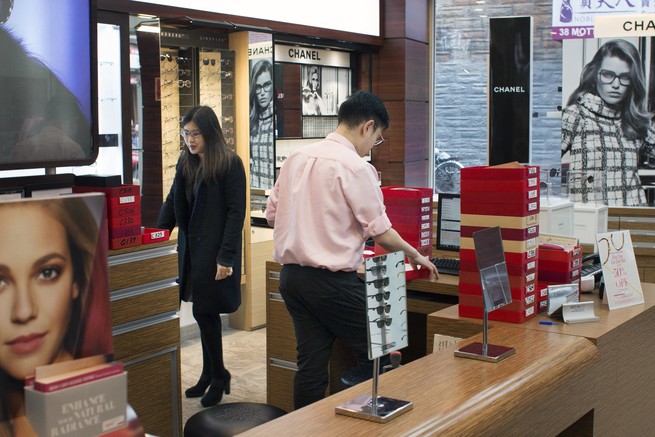 My third summer in college, I got a sales-operations internship on Wall Street, and that world definitely started to have a draw for me; I wanted to go into consulting or investment banking. I think that they create structure and discipline. Also, you know, it's kind of fancy. You work at Goldman Sachs or McKinsey, and you get to travel around different towns and countries. The next summer I went up to an internship at a private-equity firm specializing in family and closely held businesses in Greenwich. After that, I wanted to use that leverage to jump to the Citibanks and Merrill Lynches of the world. But that was during the recession of '07 and '08, and every time I called people, trying to network, there were hiring freezes. So I kind of saw the writing on the wall.
Rather than going back to the family business, I decided to go as far away from it as possible. I thought, I need to experience something more than I know. I was reading The Economist, and every other article is about how China is growing, China's the next dynamic market. And I just wanted to experience it. So I traveled to China through a Christian organization. I taught English in a small town called Zhenjiang (although a small town in China is, like, 2 million people). Zhenjiang is famous for this special vinegar they make—that dark stuff that's fantastic with dumplings—and the whole city just smells like vinegar.
I tried to start my own business in augmented reality, using webcam technology to try on glasses. I tried to copy what Ray-Ban did, but couldn't find a trustworthy tech partner, so it didn't go through. So I kept teaching English and then got a real job at an HR consulting firm in Shanghai. I was doing recruitment consulting, basically headhunting for the Fortune 500 companies that were coming into China, to try to find them local talent.
At this point, I knew I wanted to come back and work at the family business, but my mom was like, "You can't come back to us without proving yourself." Like, getting a promotion or a raise. I got my promotion from associate to senior associate that April, in 2012, and I came back six months later to start at my family's shop.
I moved in with my uncle in Manhattan, and I started studying for the GMAT. I went to NYU's business school in 2014 and finished last May. During that whole time, I was working at the family business.
My role has been overseeing finance and marketing. I set budgetary goals for each store, I look over profit and losses, salaries, inventory, all of that. I also deal a lot with our house brands. After I finished my M.B.A., I gave myself a promotion from manager to business-development director. It's just a title bump. I gave my sister the title Kaleena the Konqueror, with a "K." I work six days a week. That's not enough! My sister works seven days—she calls me lazy! (Editor's note: Kaleena is being groomed to take over for their uncle, as COO.)
The big shiny object in the distance was Warby Parker—like, Oh, why can't we be like Warby Parker? And I thought that was where the industry was heading. I built an in-house brand for us, called Mott and Bayard Eyewear, after the intersection that our store, Mott Street Optical, is on. It was my brainchild, and my response to Warby Parker, with an Asian fit. The idea was to make affordable, Warby Parker–style plastic frames that are made for Asian faces. I would see all my friends from church—it's, like, 30 percent Asian, a lot of young professionals—buying Warby Parker, and they love them, but they don't fit them well. We need to have more substantial nose pads to prevent them from slipping down. We have elevated nose pads that are about 30 percent higher than on most designer eyewear frames. Often the nose pads are nonexistent to three millimeters. Ours are 11 millimeters.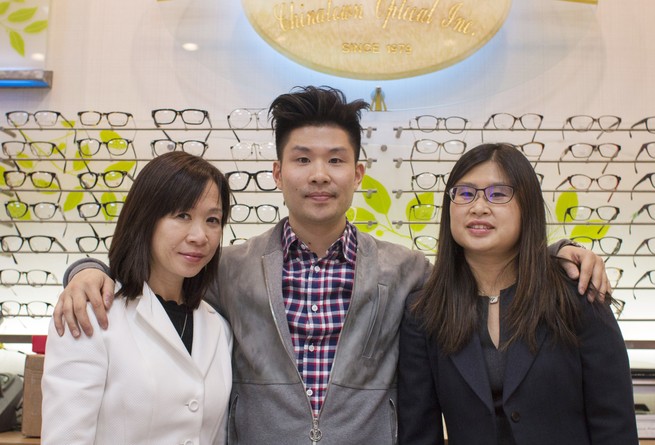 The No. 1 obligation I feel is to maintain our family standing. I was hearing problems through emails or chats with my mom and sister: That employee left, or that competitor opened a shop nearby. My cousin actually opened a shop down the street, with our old manager. My dad's old apprentice opened a shop right across the street from us, Eye Solutions. It's like Game of Thrones. The basic idea is that if you don't grow, if you don't get better, then another person will do it better than you.
At first, it was definitely hard. I felt like I didn't really know much about the business. A lot of things I proposed and tried to implement didn't work out. And it was just very discouraging. I also took things like employee turnover really personally—I would be thinking, What could I have done differently? There is something wrong with me if they are leaving. If I ever didn't know how some aspect of the business worked—like what was different between these two lenses or frames—I took it to heart. I thought, I am the son of the owner; I can't make mistakes. People are looking at me—I have to set a good example, I have to be flawless, I have to be knowledgeable about everything. Also, a lot of people are seeing you only as the boss's son. They don't call me by my name—they used to just say, like, "boss's son." I mean, they used to call me that. It's kind of disparaging, kind of disrespectful. I'm more than that; I have other interests. I'm very involved in my church—I'm a Christian. I feel that my identity is through Christ, not being the son of the owner.