Why Aren't There More Indra Nooyis?
The CEO of PepsiCo is stepping down after spending 12 years of ushering the brand into the future. But the landscape for female executives hasn't changed all that much.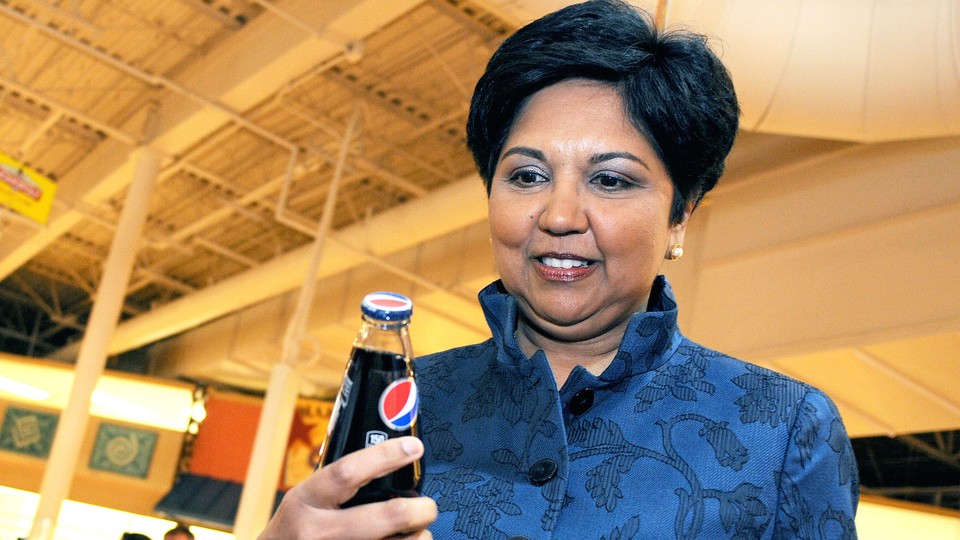 When the PepsiCo CEO Indra Nooyi's younger daughter, Tara, was a child, she would call her mother's office to ask for permission to play Nintendo. The receptionist would answer the phone and run down a list of questions Nooyi had prepared—"Have you finished your homework?" and so on. "She goes through the questions and she says, 'Okay, you can play Nintendo half an hour,' Nooyi recalled in a 2014 interview with The Atlantic. "[My receptionist] leaves me a message, 'Tara called at 5, this is the sequence of questions I went through, I've given her permission.'" She added, a bit archly, "It's seamless parenting."
In that interview, Nooyi had been discussing whether women can "have it all"—successful careers, personal lives, and the rest. To outside observers, it may have seemed that she did: During her tenure at Pepsi, one of the largest and most influential food-and-beverage companies in world, the company's revenue increased from $35 billion to $63.5 billion, as it added healthier drinks and snacks to its previous repertoire of largely sodas and junk food. Nooyi accomplished this while parenting two daughters—one of whom ended up attending Yale's business school, Nooyi's alma mater. Still Nooyi had concluded that "having it all" is illusory, though there are nonetheless some "coping mechanisms" involving, in part, a more creative approach to managing family and work.
When Nooyi announced Monday morning, at the age of 62, that she will step down from Pepsi this fall after a 12-year-run as its chief executive, she became the latest of several female leaders to leave companies on the S&P 500, including Campbell Soup's Denise Morrison, Hewlett-Packard's Meg Whitman, and Mondelez International's Irene Rosenfeld. Nooyi will be replaced by a male Pepsi executive named Ramon Laguarta, at which point the S&P 500 will include 24 female CEOs (assuming no other changes in their ranks), according to the nonprofit Catalyst, which advocates for inclusive workplaces for women. The tally will return to 25 early next year, when Kathy Warden becomes CEO of the aerospace and defense company Northrop Grumman. The percentage of female CEOs has been on an upward trend for many years, but the progress has been uncomfortably slow.
On an episode of the podcast Freakonomics earlier this year, the host, Stephen J. Dubner, asked Nooyi whether she believes there are so few female CEOs because of a gendered cultural understanding of how a leader should behave. Nooyi told him, "I don't think that's the issue." Instead, she said, there's a pipeline problem. There are plenty of women in entry-level positions, but the period when people typically begin to move up the career ladder—their thirties and forties—coincides with the child-rearing years (not to mention the years in which one's parents are aging and more likely to need extra care).
The imperative to work long, hard hours in order to move ahead competes with responsibilities at home; and something has to give. "How are you going to attract women to the workforce, where we need them, but allow them to balance having a family and taking care of aging parents … and still allow them to contribute productively to the workforce?" she asked. "I don't have an answer to that. It's got to be a concerted effort on the part of governments, societies, families, companies—all of us coming together."
Nooyi's assessment is backed by evidence. Women make up 44 percent of employees of S&P 500 companies; they also make up 37 percent of first-level and mid-level officials and managers, and 27 percent of executive and senior-level officials and managers. A similar pattern exists in other fields—law, medicine, politics. "Women have gotten into entry-level positions very successfully, and then they get to middle management, and things stall out," Ilene Lang, the interim CEO of Catalyst, told me.
Research suggests that workplace policies that reward time spent at the office (and penalize time away), in a culture in which women often expected to be primary caregivers at home, have played a role; so have more overt forms of bias, such as gendered assumptions about what leaders should look like. On top of that, the relatively few women who make it to the executive suite aren't often in positions in which they might make decisions directly related to how the company makes, or loses, money—the kinds of roles that lead to 90 percent of CEO appointments; instead, they're in jobs such as chief financial officer that don't provide the operational experience desired in a CEO.
Silicon Valley, with all its millennial-led startups going public, would seem to offer something of a workaround to all this, and yet, according to Catalyst, a severe underrepresentation of women among venture capitalists and the CEOs they back, combined with bias against female leaders by potential IPO investors, has meant that virtually all of the recent Silicon Valley public offerings have been led by male CEOs.
It appears that while research on what keeps women from becoming CEOs has gotten more sophisticated, attitudes have not fully caught up. Women, on average, still spend far more time on childcare and housework than men. (Single motherhood is also far more common than single fatherhood.) American corporate culture continues to value—even fetishize—long hours at the office. People in management positions, followed by lawyers, are likeliest to spend more than 40 hours a week working. One of the habits for which Indra Nooyi is most admired is that she wakes up at four o'clock in the morning and works until midnight.
Two years ago, the Rockefeller Campaign launched a campaign called 100 X 25, aimed at getting the Fortune 500 to include 100 women, up from 21 at the time, by 2025. Later that year, a small number of female executives spearheaded the creation of Paradigm for Parity, a pledge, signed by the CEOs of more than two dozen prominent companies, to increase the proportion of women in senior "operating roles"—the kind that lead to CEO positions—so that they fill half of them by 2030. The pledge's backers created a five-point plan to get there, including basing employee's career progress on their results, rather than their presence at the office. Both group's goals are ambitious. But Nooyi's departure is the latest reminder that, based on current progress, they seem unlikely to be met.