Why Is It So Hard to Find an Umpire Uniform for Women?
Women are starting to break into a male-dominated field, but the attire isn't quite catching up.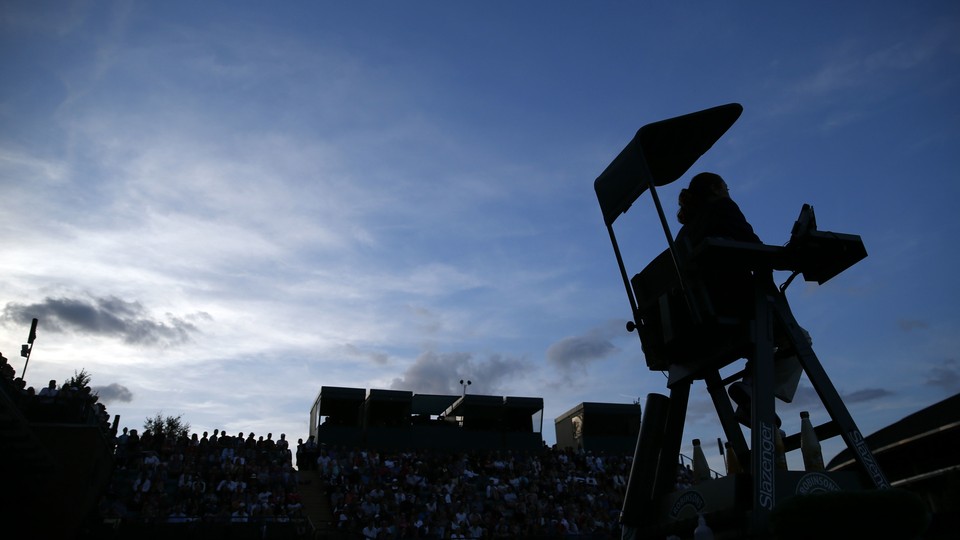 About 20 years ago, an attorney named Kitty Grubb saw an advertisement in her local paper that said the basketball referees' association in Pinellas County, Florida, was looking for officials. Grubb, 65 years old, had first hoped to become a referee in 1977, having played basketball in high school and college. By the time she saw the advertisement, she had a successful career as a lawyer and extra time on her hands.
Grubb's officiating career would eventually span about two decades and three sports: basketball, rowing, and football. Early on, she began reading the Florida High School Athletic Association Officials Guidebook. On page two, one guideline reads: "Officials shall … dress neatly and appropriately."
There was one problem with that: The FHSAA's official supplier, Gerry Davis Sports, didn't provide much clothing in women's sizes. Grubb tried to have her referee clothing tailored to fit, but it can cost a lot of money to try to adjust men's clothing to fit a woman's body, and even with tailoring, she told me, her clothes looked "less than ideal."
This went on until last year, when Grubb—who is now a scoreboard and clock operator for football games—decided to complain. She had made a name for herself as a top arbitration and mediation attorney in Alabama and Tennessee, taking on high-profile gender-discrimination cases. Now, she began to see the uniform issue as another example of gender discrimination. Grubb emailed the FHSAA in June 2017 to complain: "Your female officials, myself included, grow weary of looking baggy, saggy in ill-fitting men's apparel."
Jeremy Hernandez, the assistant director of officials for the FHSAA, told me the association "will be doing our best to work with the vendors moving forward to ensure our official's uniform concerns are being heard." When Hernandez first received Grubb's email, he said he would look into the matter. But when Hernandez looked around to see if he could find other vendors who had more options for women—and for football officials, specifically—he found that they didn't exist.
The lack of appropriate clothing for female sports officials is a widespread problem. When Sarah Thomas, the first female NFL referee, was hired in 2015, the league had to figure out what uniform she would wear, since they only made them in men's sizes. And not having appropriate uniforms hinders female officials in significant ways. Having pants that fit properly can help add height, which matters when a 5'6 female official is trying to establish on-field authority with a 6'2 male player. And if a woman doesn't look as polished as the men on her officiating team, she can immediately appear out of place—a perception women are already trying to shake. "It's hard enough being a female and walking out on that ball field and giving everybody the impression you belong there," Ila Valcarcel, a baseball umpire, told me. "They don't know you, so your impression is what they get to see and if what they see is equipment and clothing that don't fit, you already have one strike against you."
Valcarcel, who has umpired Major League Baseball spring-training games and now works as an umpire supervisor for Perfect Game USA, an organization that promotes baseball, found that the chest plates and shin guards meant to fit men tended to leave gaps where balls could hit her. She began teaching women how to take apart and mold their chest plates, which are built for flatter, wider, male chests, so that they "don't look like Ninja Turtles." She heats up shin guards with a heat gun and remolds them to fit the women's legs.*
In the male-dominated field of professional baseball umpiring, there are few mentors who can help women dress: Only eight women have ever umpired in the minor leagues, and there has never been a woman umpire at the major-league level. "For us, that's half the battle right away, just presenting as polished and professional," said Perry Barber, who has been an umpire for 38 years.
Sports officiating isn't the only field that has failed to consider women's bodies when making uniforms. Some women who play sports themselves find it difficult to find the right equipment. While there are shoulder pads made explicitly for women who play tackle football, some smaller players have trouble finding pads that both fit and are constructed to withstand adult impact; junior-sized shoulder pads may fit adult women well, but they aren't built to take the kind of hits dished out in an adult league like the Women's Football Alliance.
Female professionals in non-sports fields contend with ill-fitting attire, too. With women making up more than half of all medical-school students in the U.S., it makes sense that they should be able to find lab coats that fit. Having a properly fitting coat is also important for scientists, who sometimes work with dangerous chemicals and are put at risk if parts of their skin are exposed. In a story for Racked last year, though, Alexandra Bausch wrote that most lab coats aren't designed with women in mind. Even when lab coats are made specifically for women, they're often a smaller version of men's coats, which fail to take into consideration differences in women's wardrobes, such as lower cuts on the necklines of shirts.
The dearth of women's clothing for certain professions reflects a broader numbers issue: The fields with limited clothing choices for women—sports, science—tend to be ones in which women are underrepresented. While women have made leaps in many fields, they still have a long way to go when it comes to officiating. And for many apparel companies, it doesn't make business sense to carry items that don't seem likely to sell well. Scott Kennedy, a business-development specialist at Ump-Attire.com, which provides uniforms for Minor League Baseball as well as other sports attire, said in an email, "We make multiple requests with manufacturers to fill the female's industry needs, but the minimums"—the number of items required in a bulk order—"are so high that it's not economically feasible" to offer many options for women.
The FHSAA began a new contracting partnership with multiple uniform suppliers, as opposed to the single supplier it had worked with in the past. Of the uniform suppliers from which FHSAA officials can now purchase logoed clothing, a couple of their websites advertise women's shirt sizes for some FHSAA sports, and some items can be made upon request. Still, no FHSAA-logoed pants, or umpire equipment, seem to be available in women's sizes. It's an improvement, but, as far as Grubb is concerned, not a big enough one.
Not long ago, Grubb followed up with Hernandez, of the FHSAA, to ask that the absence of women's clothing be addressed at the association's annual conference. Hernandez promised a discussion but added, "We tried to base our decision on what was best for our associations as a whole and not based on a specific gender." Refereeing is a shrinking field, though, and it's hard to recruit women when there isn't clothing available that fits them.
---
    * This article originally stated that Ila Valcarcel heats up shin guards with a hot-glue gun. We regret the error.