A Crack in the Ivanka Trump Brand
The president's daughter is closing her ailing fashion line—further proof that nothing is apolitical in the Trump era.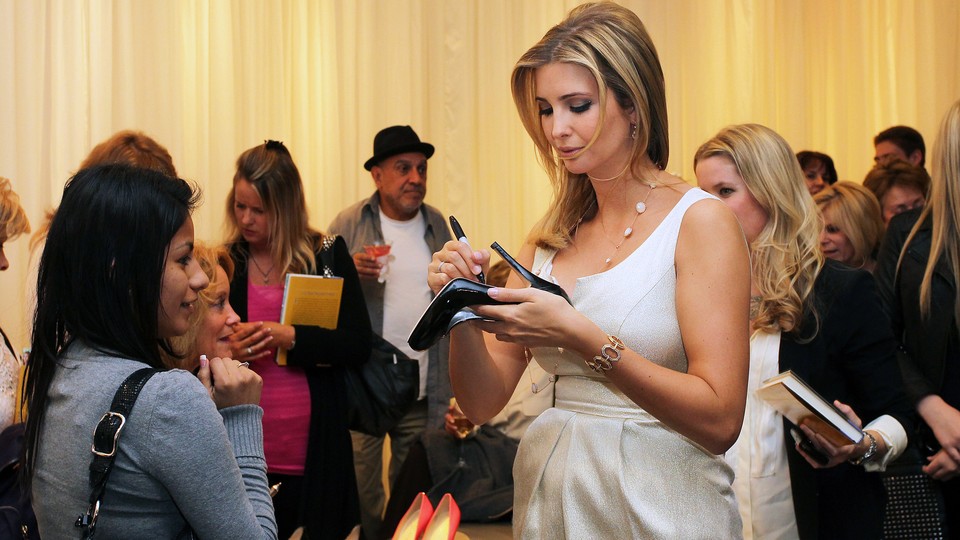 On Tuesday night, a visit to the website of the Ivanka Trump brand turned up a sharply cut floral dress and a pair of suede sandals on broad, three-inch heels. "Bring on the heat" unspooled in elegant italics across the site's landing page. By then, the message had acquired an awkward dual meaning. Earlier in the day, Ivanka Trump had acknowledged that she would be closing her apparel-and-accessories business, IT Collection, and laying off its employees. Trump publicly blamed her hectic schedule as an adviser to her father, President Donald Trump: "After 17 months in Washington, I do not know when or if I will ever return to the business," she said, "but I do know that my focus for the foreseeable future will be the work I am doing here in Washington." But the closure also comes at the end of an undeniably bad run for the fashion line, during which Nordstrom and other retailers stopped selling it, citing poor performance. In the end, it seemed, Ivanka Trump could not handle the heat.
Every Trump needs a personal brand, and, for the longest time, Ivanka's has been as the Platonic ideal of the modern working woman—one who, through sheer determination, will have it all. She has been known to post photos to Instagram in which she poses in elegant evening wear, clearly about to depart for a night out, while one or another of her children frolic at her feet wearing pajamas; her Twitter profile advertises that she identifies as a "wife, mother, sister, daughter" as well as an "advisor to POTUS." Shortly after Trump introduced her fashion brand, in 2014, she launched a hashtag campaign, #WomenWhoWork, organized around "content that inspires and empowers women to create the multidimensional lives they want to live." Her 2017 book is called Women Who Work: Rewriting the Rules for Success. In it, Trump writes that when she engaged New York ad agencies to refine her brand's message, the admen cautioned her against overdoing the language around working, what with its associations with "professional tedium."
One sees the admen's point. Trump's message—online, in person, in her books—is one of constant, indefatigable self-improvement: "We're training for marathons and learning to code. We're planning adventures with our kids and weekend getaways with our friends," she writes in her book. Whatever one thinks of this approach to life—we are, are we?—Trump has been an exemplar of it. There's nothing wrong with being good at multitasking, except when one of your tasks is to profit from a Trump-branded business, and another is to help run a Trump-branded White House. Trump made her first high-profile faux pas as the president's daughter days after Donald Trump won the election, in November 2016, when she appeared on 60 Minutes wearing a $10,800 gold-and-diamond bangle from her own jewelry line, and, a day later, her brand's marketing department sent an email blast publicizing the bracelet's cameo.
Abigail Klem, the president of the Ivanka Trump brand, blamed a "well-intentioned marketing employee." Trump's company issued an apology, and then, soon after, got caught up in another series of ethical mishaps. A hashtag campaign called #GrabYourWallet had been urging people to boycott retailers that sold Trump family–connected goods. People particularly targeted Nordstrom for stocking the Ivanka Trump brand, and by February 2017, Nordstrom had dropped the line, a decision it described as being "based on the brand's performance." Soon, President Trump was tweeting that Nordstrom had treated his daughter "so unfairly," and his adviser Kellyanne Conway was telling viewers of Fox News to "go buy Ivanka's stuff," adding, "I'm going to give a free commercial here: Go buy it today, everybody; you can find it online." To avoid the appearance of a conflict of interest, Ivanka Trump had earlier handed day-to-day control of her brand to Klem and in March 2017 transferred its assets to a trust, but, according to The Wall Street Journal, she still received certain financial information and a share of the company's profits. Now, with the closure of her company, Ivanka Trump's working-woman brand has been further fractured.
All this comes at a moment when the line between politics and culture, if there ever was one, has utterly vanished. Corporations have demonstrated that they are susceptible to hashtag campaigns and public outcry. Ordinary people continue to leverage this fact to get attention for the causes that stir them, and the fallout is often swift. See also: ABC's cancellation of Roseanne Barr's  TV show due to a racist tweet she posted about a former Obama adviser, and the departures of Elon Musk, the CEO of Tesla, and Kenneth C. Frazier, the CEO of Merck, from Donald Trump's business councils, in response, respectively, to the president's withdrawal from the Paris climate-change agreement and his lukewarm response to the violent white-supremacist rally in Charlottesville.
Ivanka Trump, of course, could never have distanced herself from the Trump administration the way these other businesspeople did, as she's an active participant in it. Instead, the slow fallout of #GrabYourWallet-style activism appears to have forced her hand. The Journal reported that Trump had closed her brand because she had grown "frustrated" by the restrictions she had been forced to impose to avoid the appearance of a conflict of interest. If that's one factor, though, it's likely not the only one. Rakuten Intelligence, a research firm that tracks online sales, estimates that sales of the Ivanka Trump brand, on the websites for Amazon, Macy's, Bloomingdale's and others, fell 27 percent in the year ending June 2017, compared with the previous year. In the year ending June 2018, they fell another 55 percent. A spokeswoman for Rakuten said that while the data is somewhat limited—it is based on a sample of thousands of customer receipts, and covers only online sales on certain sites—it likely tracks with overall sales trends for the brand. It would seem that the death of the fashion line represents, at least in part, Trump's decision as a businesswoman to maximize profit and minimize losses, within the political constraints inherent in being a Trump. In this, at least, she remains as on brand as ever.