When a Job Is Just Too Much
James T. Green landed his dream job right out of college. But when workplace stress collided with a tumultuous period in his own life, he decided he needed to quit to save his health.
Editor's Note:
This article is part of Exit Interview, a series of conversations about leaving one's career.
James T. Green landed the job of his dreams fresh out of the University of St. Francis in Joliet, Illinois. At just 23 years old, he had a senior graphic-design position in advertising at a major media organization. But after landing in the hospital, not once but twice, he worried that stress might kill him.
Some stress is inevitable. But when a high-stakes work environment collided with a challenging time in his life, Green started suffering debilitating panic attacks. Eventually, as part of his recovery, he chose to leave his job. I spoke with Green about the role work played in the stress he was experiencing, and how he manages stress today, for The Atlantic's series Exit Interview. The conversation that follows has been edited for length and clarity.
---
Catie Lazarus: You landed such a distinguished job right after art school, what was it like?
James T. Green: We essentially cranked out ads for like six or seven publications. I designed flash ads, coded and designed emails, marketing newsletters, and small website updates for my employer and pretty much all of their subsidiaries. My role was pretty senior. I was living my dream—or so I thought.
Lazarus: So, why did you leave?
Green: I'd been there for two years, and I had to go the hospital because I felt like I couldn't breathe. At that time, I had a really, really bad pulmonary embolism. Then a blood clot developed in my leg, shot up to my lungs, and to my brain. It was almost fatal. I ended up going to the hospital twice. One time, the doctors thought I was having a stroke. I did physical therapy, and they realized I didn't have a stroke—I had the symptoms, but I had had a panic attack.
Lazarus: Had you been at work when it happened?
Green: I was getting up to go to work, and, as I went to the bathroom, everything blacked out. I was essentially flatlined for like a minute. My fiancée—now my wife—heard the crash when I hit the floor.
It's so weird to say—I saw what looked like a keyhole, and a lot of what I was seeing was this work, and I wasn't happy. It put a lot of shit in perspective. I got shaken awake and was off to the hospital. The people at the ER said that if my wife wasn't home, I would have died. But when I got out of the hospital, fresh out of surgery, I was still thinking about this job, and I realized it was driving me nuts. The stress at work was pretty much amplifying the issues going on in my body. Not to sound super corny, but I almost died. I had a second chance to get things right. And not to sound super Millennial, but if I am going to do something I better give a shit about it.
Lazarus: When did you know when you were going to quit?
Green: I was having panic attacks still. In this back-and-forth with a client over the smallest, cheapest ad, they wanted this in-depth animation, turned around in a day, and wanted changes, over and over and over, on very minute things. That ad took the cake. I felt dehumanized. In the midst of this, I realized that I was going to resign. I chatted my supervisor and asked, "Can we go over to the corner and talk?" I told her that I was putting in my two weeks.
My supervisor was understanding. We'd chatted out of and inside of work, and my bosses knew I was going in and out of the hospital. They understood I was different when I got back. So, it made the break kind of clean.
Lazarus: How did the stress you were experiencing at work figure in with other stresses in your life at the time?
Green: Before I quit, it was a dark time. My best friend was diagnosed with cancer, and it came back, and it rapidly tore him up, and he died. A couple weeks after that, my aunt—I was really close to her—she suddenly died as well. I was in a deep, dark depression, and tried to commit suicide. My wife said, "You should go to therapy." I definitely give my therapist credit for seeing how [in addition to everything] a high-stress work environment may not be for me.
Lazarus: Did you already have a plan in place in place for what you'd do after you left?
Green: When I got back from the hospital, I started to build up a client base and give people a heads up, just to make sure I had a clean landing. I had a month's worth of cash, and my wife was employed, so she was making money, but the day before I quit, the public radio station WBEZ offered me an assignment, so I had three months of padding.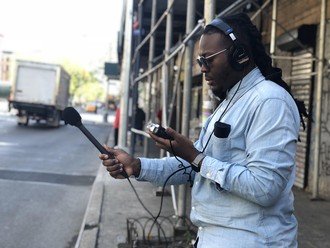 Lazarus: What brought you to podcasting?
Green: I'd listened to podcasts as they had helped me feel less lonely. Essentially, when you are working in advertising and code, it's time looking at a screen. The environment was also very cliquey, and it didn't help that I was one of just a few black people on a predominantly white team. Podcasts felt like a kind of escape and it was a way to envelope myself in a world I wasn't in. So, I wanted to try podcasting.
Lazarus: You're also a musician. Why didn't you pursue that instead of podcasting?
Green: Music is so difficult. I'd futzed around, but it was so difficult. I don't like taking risks, and podcasts, if anything, felt like the perfect balance. I knew how to tell stories because I was already a visual artist. I knew the skills of cutting tape. It felt like the hard skills I had in technology.
Lazarus: How did you make ends meet?
Green: My wife and I are both artists. But she works in tech, for a digital-advertising agency, and she loves it. Right now, I am paying for insurance, and she is definitely the breadwinner.
Lazarus: How long did it take to turn podcasting into a job?
Green: I was pretty much doing that dance for a year and a half. It was a full-circle moment when I really dedicated myself to podcasting. Out of nowhere, I got an email from MTV News. Their representative and I met up for coffee, and he told me that MTV wanted to hire me to make a podcast division. This was the first time my hobby became a capital-J job.
It was a lot of fun, but the whole "pivot to video" happened [when newsrooms reorganized staff to focus on video platforms], and I resigned because I saw the rumblings. I quit MTV and, a week after, I was working at Gimlet.
Lazarus: It's been four years since then. Have you had panic attacks and anxiety?
Green: Oh yes. Not as often. I've been medicated, and therapy has been really helpful, and my career took a real pivot. I don't get as panicked.
Lazarus: Is podcasting less stressful than advertising, or have you changed?
Green: It's how I manage it now. I can sit in it. Like when I was doing my first edit at Gimlet, I told my senior editor and producer about it, and excused myself, and did a lot of deep breaths. I realized these panic attacks were happening because I was nervous, and I wanted to do a good job. To be completely honest, after leaving advertising, aside from being in a crowded subway, they all come from a place of growth rather than pure panic.
Lazarus: Listening to podcasts is one thing, making them is work. Are you still passionate about it?
Green: I thought my passion was making ads. I really thought that was what I wanted to do for the rest of my life—and that's why following your passion is bad advice, because you never really know where your passion is going to end up.