The New York Stock Exchange Has Its First Woman President. Is She on a Glass Cliff?
It may not be a coincidence that the exchange's first female boss will begin her tenure during a particularly daunting period for the organization.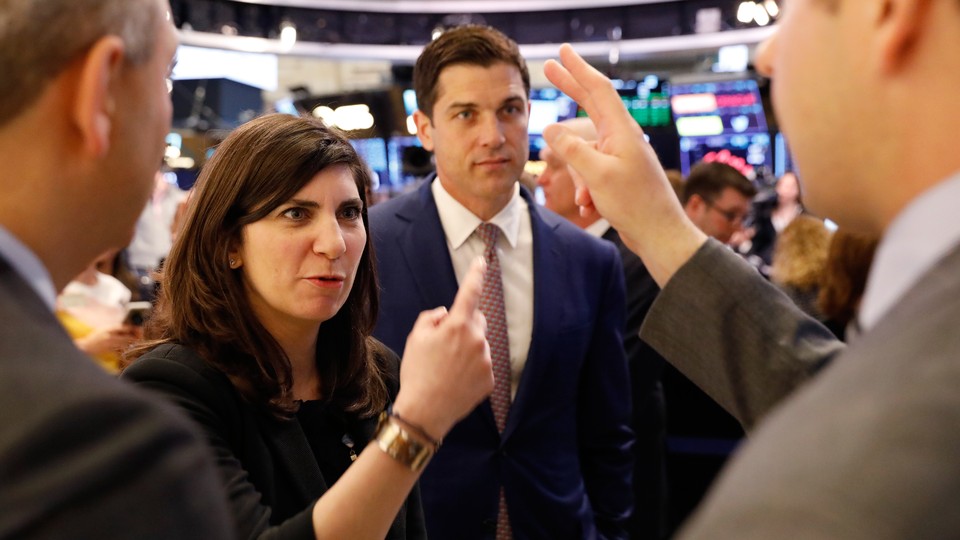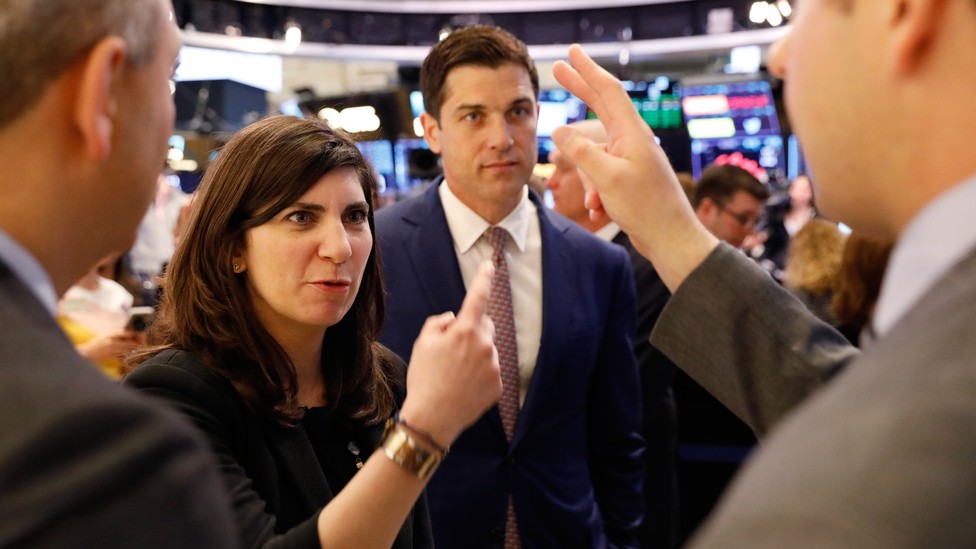 In April, officials in New York City decided to move the "Fearless Girl," the statue commissioned by a financial firm to stare down the Charging Bull of Wall Street, in what became a symbol of female grit, to a spot outside the New York Stock Exchange. Just over a month later, the NYSE announced that Stacey Cunningham, the exchange's chief operating officer, will soon become its president—the first time in the exchange's 226-year history that it will be run by a woman.
The symmetry of it all is delightful to the many voices calling for greater gender equity, especially in an industry which has remained insular and largely male dominated. While the financial industry boasts a higher proportion of women in senior leadership positions, 29 percent, than any other sector, those positions often don't translate to opportunities to helm organizations. The percentage of female CEOs in the industry is only 5 percent, slightly lower than average. While the #MeToo movement has felled executives in media, politics, and restaurants, among other industries, the same hasn't happened in banking. It's possible that this is due to a culture of silence regarding male predation. Earlier this year, Max Abelson of Bloomberg, citing interviews with 20 Wall Street women, wrote, "Some say they've been grabbed, kissed out of the blue, humiliated, and propositioned by colleagues and bosses but have stayed quiet because of cultural and financial forces that are particularly strong in banking."
Cunningham, a 43-year-old with a careful, understated manner, has worked at the exchange for almost her entire career. She interned there while a college student at Lehigh University studying industrial engineering after her father, who worked at a brokerage firm, helped her land a job. Two years later, she became a floor clerk, one of about three dozen women among at least 1,300 men. The disparities weren't just in representation. An article in the Wall Street Journal described the seventh-floor women's restroom during that time as being located "inside an old phone booth." The men's room, by contrast, was described as "palatial," with couches and a bathroom attendant. It may seem a small thing, but such details make clear the fact that until very recently, the presence of women at powerful institutions was an afterthought. Cunningham remained at the NYSE, with the exception of a break to attend cooking school and a stint at NASDAQ. Three years ago, she became the chief operating officer.
In a recent interview with CNBC, Cunningham touched on the historic nature of her ascent only in passing. She acknowledged that banking is male-dominated but added that this "is not something that's been top of mind for me." Last year, she told The Financial Times, "I never acted as though there was a question as to whether or not I should be where I was," but then in a moment of deeper reflection added, "When I look back I think I took some things for granted." Cunningham has mentioned her debt to a previous generation of women in finance, in particular, Muriel Siebert, who was the first woman to join the NYSE floor, in 1967, and became a Wall Street legend, moving around the floor in a multicolored fur-trading jacket. And Catherine Kinney served as a co-president of the exchange during the 2000s.
The CEO of the NYSE's parent company, Jeff Sprecher, evoked that history in a press release announcing Cunningham's new role: "More than a half-century after Muriel Siebert became the first woman to own a seat on the NYSE, Stacey represents a new generation of leadership for the NYSE Group." What neither Cunningham nor Sprecher has emphasized is that her promotion comes at a particularly daunting time for the organization. In the past, going public on the exchange was a sought-after milestone for any entrepreneur. But the IPO market has been somewhat lackluster of late. The people running many of the most valuable companies in the world—the ones known as "unicorns," such as Uber, Airbnb, SpaceX, and Palantir—are choosing to stay private, turned off by the regulatory and financial cost of an IPO, and the added stress of public shareholder pressure. Adding to the challenge are the changes that have been ushered in by technology. In the past, the NYSE and NASDAQ essentially had a duopoly on equities trading, but regulations and electronic trading have broken their hold. The NYSE's share of U.S. stock-trading volume has fallen from nearly 40 percent, a decade ago, to 22 percent.
Cunningham is well aware of these challenges, and says she is ready to face them. Of the unicorns, she told CNBC, "There's a lot of private capital out there—they have options," and vowed to encourage more successful companies to go public. And she said the fragmentation of trading "has gone too far." She hopes to address both by pushing for regulatory change, among other fixes. But the fact that she, the first woman to ever lead the exchange, is the one tasked with helping it endure some of its greatest challenges, may not be coincidental.
In 2005, Michelle Ryan and S. Alexander Haslam of the University of Exeter coined the phrase "the glass cliff," in a reference to their observation that women seemed to be promoted to leadership roles during periods of corporate upheaval, leaving them on precarious footing. Ryan and Haslam studied the performance of companies on the FTSE 100 index and found that companies that appointed women to their boards "were more likely to have experienced consistently bad performance in the preceding five months" than the ones who appointed men. In separate research, they found that students and business leaders were more likely to select a female leader for a hypothetical organization during a time of performance decline.
Though there's debate over whether the glass cliff really exists, the past decade of corporate drama has provided plenty of anecdotal evidence. Erin Callan, who became Lehman Brothers' chief financial officer in 2007, just before the company started facing serious financial troubles, is sometimes said to have been placed on such a cliff. After the company's precipitous decline, the result of many failings including those made long before she took on the role, she was forced to leave her job within months. There's an example that closely mirrors Cunningham's potential situation, too: In 2017, NASDAQ, facing similar challenges in a new age of corporate unicorns and fast-moving technology appointed Adena Friedman as its first female CEO and tasked her with figuring out how the exchange will move forward.
There are plenty of instances outside of finance that reflect a possible glass cliff. When Mary Barra became the first female CEO of General Motors in 2014, the company was in the midst of recalls after an ignition problem had killed more than a dozen people. The glass cliff has even been evoked in politics; when Theresa May became Britain's post-Brexit prime minister, The New York Times ran the headline: " 'Glass Cliff,' Not Just Ceiling, Often Impedes Women Rising in Politics." There are plenty of other examples that seem similar: Marissa Mayer at Yahoo, and the many Democratic women winning primaries in contested U.S. congressional races after one of the party's most notable defeats in recent memory.
It's not clear that the glass cliff—to the extent that it exists—represents a deliberate effort to undermine women. It might even be the case that women are perceived as being especially suited to handle crisis situations. Still, the consequences can be serious: At a time when there are more men named James among Fortune 500 CEOs than women, female leaders aren't especially expendable.
Of course, in Cunningham's case, the NYSE's challenges are nowhere near as serious as those faced by, say, Callan. And finding oneself on a glass cliff doesn't necessarily mean that one will fall. Anne M. Mulcahy, a former Xerox CEO, is often cited as a glass-cliff success, who took over her company during troubled times and turned it around. In Barra's case, GM has recovered well, beating Elon Musk's Tesla at building the first mass-market electric car. Fortune just named Barra number 11 on its list of the world's 50 greatest leaders. If Cunningham is standing on a glass cliff, she may be able to take solace in the fact that there are plenty of other women who arrived there long before and are still standing.