Diplomats Are Getting Away With Abusing Their Children's Nannies
"The shackles introduced by this visa provide the diplomatic employer with incredible power."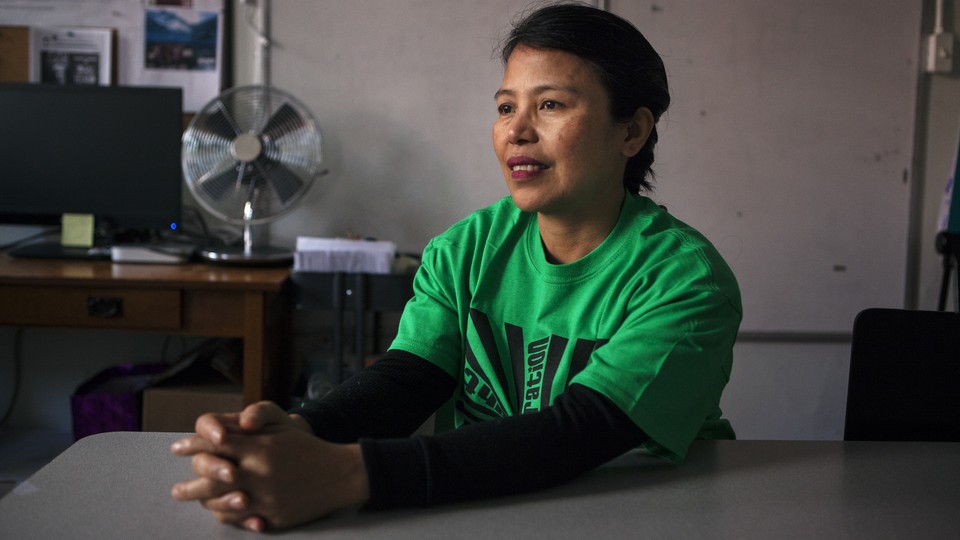 Edith Mendoza was working at Damayan, a migrant workers' organization, when she met a young woman, Sherile Pahagas, whose story was eerily like her own. Both Mendoza and Pahagas were from the Philippines. Both had searched for work on a website called greataupair.com. Both had found work at the home of a German diplomat and his wife, Pit and Mareike Koehler. And both ended up working day and night for less than minimum wage.
Mendoza's ordeal began in the summer of 2014, when the Koehlers responded to her posting on greataupair.com, according to a 2017 civil lawsuit filed by Mendoza and Pahagas. (The lawsuit was dismissed in November 2017, on the grounds of diplomatic immunity.) The family was looking for a domestic worker to take care of their four children and home in West Harrison, New York. During Mendoza's phone interview with them, and reading the contract they sent, the job seemed very appealing, according to a complaint filed as part of the lawsuit.
The Koehlers and their lawyer declined to comment, and directed me to the spokesperson at the German mission. "Please be aware that we are unable to provide further details on this matter out of respect for the privacy of those involved," wrote a spokesperson from the German mission in a statement sent over email. "We provided all information about this legal employment to the appropriate U.S. authority, the United States Mission to the United Nations, Office of Host Country Affairs."
According to the complaint, Mendoza was attracted to the job because of an advertised 35 to 40 hour weeks, at $10.02 an hour, between 7 a.m. and 9 p.m. on weekdays and a Saturday weekend shift, with time-and-a-half pay for overtime. Sundays off, vacation, and transportation. A good job with a diplomat. At the time Koehler was an official with the Delegation of the European Union to the United Nations. Since 2016 he has been a counselor to the Permanent Mission of Germany to the United Nations. Koehler's job at the UN, according to Emily Brease, the communications coordinator at Damayan, was specializing in human rights and child welfare.
Because of Koehler's employment, the family would be sponsoring her for a G-5 visa, designated for personal domestic workers of an employee working for an international organization, such as the United Nations or the World Bank. His status in the United States offered him another right: diplomatic immunity—the legal privilege that means that diplomats and their immediate family members are exempt from criminal prosecution and most civil actions in the country to which they are posted. Originally established because of the need for diplomats to be able to conduct their business freely without fear of retribution by a foreign government, it can in practice mean diplomats enjoy enormous legal freedom unrelated to their immediate work—including, even, freedom from laws that regulate how people must treat those they employ in their own homes.
Mendoza signed the contract in the fall of 2014, according to the complaint. In January of the next year, she told me, she found herself sitting at the Koehlers' dining table for her first dinner in the United States, marveling at the size of their kitchen. Mendoza said that Koehler's wife, Mareike, told her to wake at 6 a.m. the next day: There were five different lunches to prepare, one for each of the kids plus Mr. Koehler. When he had gone off to work and the kids to school, Mrs. Koehler took her on a tour, detailing the tasks Mendoza would be expected to complete, as she alleged in the complaint: a daily thorough cleaning of the six-bedroom home and two-car garage, including vacuuming, laundry, dusting, ironing, food preparation for the family and guests, and occasional shopping, shoveling snow, cleaning the fence, and caring for the pet birds, in addition to her work as an au pair, a live in caretaker for the Koehlers' four children, one of whom was one-and-a-half. This seemed like way too much to do, especially with one of them being so young. "There is also the baby," she told me. "I said baby because he is still young, a one-and-a-half-year-old playful boy, and I need to be aware for his safety."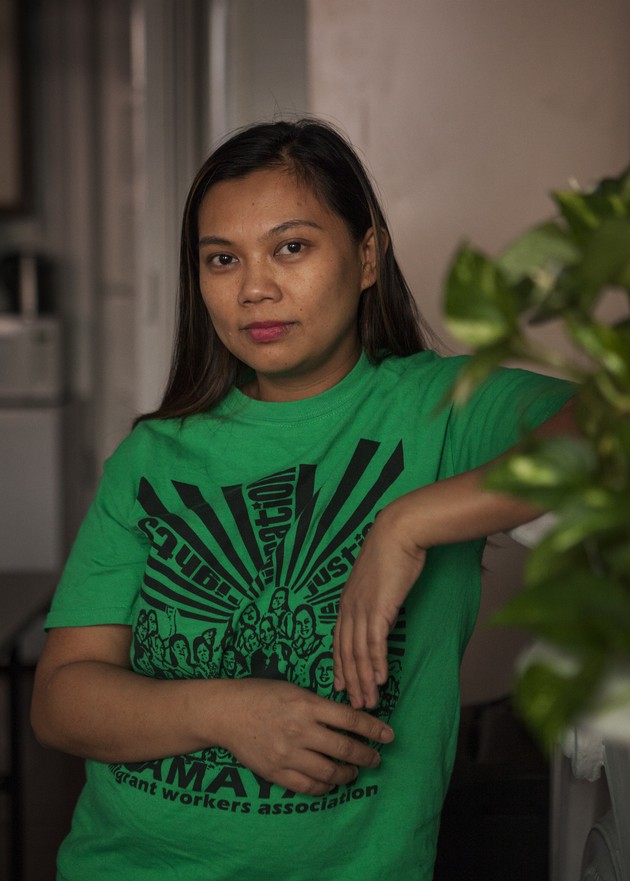 Mendoza said she cleaned without gloves or protection. And the worst part of the job was looking after the Koehlers' pet birds. Mendoza said she used a ladder to reach the high points of the house to sanitize them from bird poop multiple times a day. She was completely overwhelmed by the volume of work. "Mareike wants everything be organized, so it's really hard you know," she told me. "And I'm only one person, only one domestic worker has to do this every day for a long day without eating or having rest. I almost never felt my bed."
According to the complaint she filed, in violation of her contract, Mendoza was working from 6:30 a.m. to 10:30 p.m., Monday through Thursday, and Fridays until past midnight, as well as Saturdays from approximately 7:30 a.m. to 4 p.m., without any breaks during working hours. She was working around 90 hours per week, more than double what she was supposed to, and she wasn't getting overtime pay. Her health started to deteriorate, and she began to get headaches where it felt like her head would go numb, she told me.
Mendoza's experience places her in a small group of victims of labor abuse who arrive on visas for employees of international officials. Research by Polaris, a national anti-trafficking organization that runs the National Human Trafficking Resource Center Hotline and the BeFree Textline, identified 16 potential victims in a one-year period between 2014 and 2015 on the G-5 visa or the similar A-3 visa (which is for the staff of diplomats on an A-1 or A-2). All 16 victims were females doing domestic work, most of whom were located in the Northeast, and 25 percent were Filipina. (Twenty percent of all A-3 and G-5 visas issued over the past five years were to Filipinos, according to Polaris.) All of the victims were domestic workers. When Polaris takes calls, it distinguishes between victims of labor exploitation who are reporting contract disputes, wage and hour issues and other workplace violations, and victims of human trafficking, who experience economic, psychological and physical abuse or coercion under the Trafficking Victims Protection Act (TVPA). Most notably, although there are very few visa holders in this category, all but three of these women were found to be victims of human trafficking, the highest percentage of all visa categories Polaris tracked.
"Trafficking by diplomats has been an issue for decades, although it might not have been called that," said Martina Vandenberg, the founder and the president of the Human Trafficking Pro Bono Legal Center. "Unfortunately the abuse continues and diplomats feel no shame in using their immunity as a shield."
The issue drew attention in 2014 after an incident involving an Indian consular official who allegedly made false statements to obtain a visa for her domestic worker and then did not pay the worker minimum wage. A diplomatic crisis ensued: India claimed that the official had full immunity as a consular officer, though she did not, and then requested to change her assignment so she did. Meanwhile, enormous public pressure mounted in the United States to deny the change in assignment. The official, Devyani Khobragade, was indicted on charges of visa fraud and making false statements. In a 2016 study of the topic, Vandenberg wrote, "the inadequacy of the government's criminal enforcement efforts may be traceable to a troubling conundrum that lurks at the heart of diplomatic relations … Prosecuting diplomats stationed in the United States for their crimes would certainly enhance the rule of law. But it presents a danger of severely disrupting the orderly implementation of the President's foreign policy."
Vandenberg said the State Department has recently gotten better on this problem, especially since the signing of the William Wilberforce Trafficking Victims Protection Reauthorization Act in 2008, an enhancement of the original Trafficking Victims Protection Act in 2000. Under the reauthorization, a consular official's interview for an "alien for an employment based nonimmigrant visa" should educate them about their rights, their right to seek legal redress, and access to victims services.
But there's still a ways to go, she says. Her article analyzed federal cases and found that many diplomatic trafficking cases are never criminally prosecuted. Criminal prosecution for diplomats with full immunity would require a waiver of that immunity, which the U.S. has only requested in two of the cases Vandenberg analyzed. She also thinks that possibly fewer civil cases are filed than reflect the problem—only 28 since 2003, as victims of trafficking are unlikely to come forward. "It is likely that the actual number of domestic workers trafficked by diplomats and international officials is much higher," she wrote.
When asked what is being done to combat the problem, a Department of State official wrote in an email: "The Department of State is committed to protecting the welfare of foreign domestic workers holding A-3 and G-5 visas who are employed by foreign mission personnel in the United States, both in hopes of preventing abuse of these workers and addressing allegations when they arise."
The experience of these workers is in many ways an extreme version of a much larger problem: the vulnerability of domestic workers—women (almost entirely) who work intimately as cleaners and child care providers in a family's home—to trafficking and other labor abuses such as harassment and wage theft. Domestic workers often have little legal recourse—the industry is almost entirely unregulated. They work in isolation from other workers, and in close quarters with their employers. "The women who perform domestic work today, are, in substantial measure, immigrant workers, many of whom are undocumented, and women of racial and ethnic minorities," the National Domestic Workers Alliance wrote in a 2016 report. "These workers enter the labor force bearing multiple disadvantages." The report, which studied the experience of over 2,000 domestic workers, found that two-thirds of live-in workers report making below state minimum wage.
In cases of abuse of domestic workers on diplomat-sponsored and other work visas, the situation is made worse by the fact that the visa is tied to the employer: the employee has nowhere to go. When I asked Vandenberg why diplomats would abuse their workers, she cited an interesting pattern. "We have had multiple cases where domestic workers worked for diplomatic employers in the country of origin and the employer treats that domestic worker reasonably well and has no fear of deportation." But when they come the United States, "they suddenly discover they have unfettered power and can threaten the victim with deportation. … The shackles introduced by this visa provide the diplomatic employer with incredible power."
Over time, Mendoza's headaches become unbearable, she said. She asked Mrs. Koehler to let her go to the doctor, but according to the complaint and what she told me, Mrs. Koehler told her she could not go to the doctor until the family went on vacation. She had no time off to go, only Sundays when many doctors are closed. Against the family's wishes, Mendoza took time off to go to the doctor, she told me. When the doctor told her she had to return for tests, the family warned her if she attended the appointment she would be fired. "I called [my] church," she told me. She says she begged for a way out of the situation. "I told the church to pray for me for some way to rescue from the horrors of that work place." Her prayers were answered, in a way, when her church referred her to Damayan. Damayan provided her with a job, and educated her about her legal rights. "Working there," she said, "I found out my rights."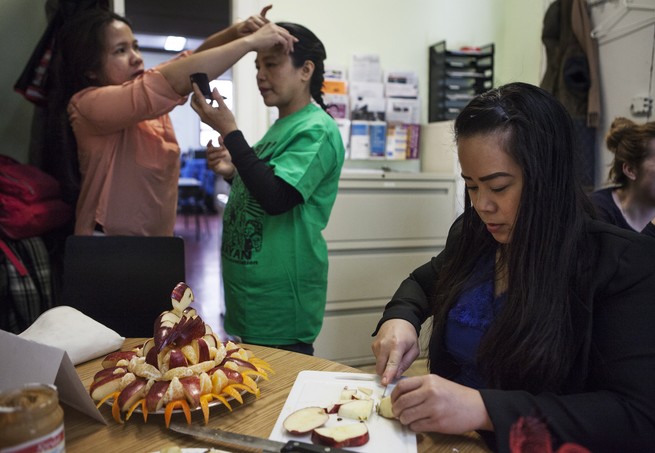 She had always thought her situation was worse than most, so she was shocked to meet Sherile Pahagas, who also had worked for the family, beginning in 2012. According to the complaint they filed together, Pahagas said she worked 100 hours a week for the family with no breaks and less money than she was promised and no overtime. Like Mendoza, she was overwhelmed by the quantity of work, which included taking care of the home, cooking for the family and for guests, driving Pit Koehler to the train station and picking him up in the evening, she told me, and taking care of the four children, all of whom were under 10 at the time. When she complained she said they told her they couldn't afford to pay her more. "I just stayed quiet you know," she said, "and continued working and working." She felt devastated, she told me, but like she had no choice. "I felt isolated because it was my first time stepping in the United States." After she quit, she found Damayan, and Mendoza.
In a case filed by the Urban Justice Center on behalf of the two women, they alleged failure to pay minimum wage, which is required under the Fair Labor Standards Act (FLSA) and New York Law; failure to pay overtime wages and spread-of-hours compensation for work days longer than 10 hours; failure to pay a promised wage; failure to provide pay stubs; and breach of contract. The lawsuit garnered attention in the news, from outlets such ABC News and CBS New York.
According to Pahagas, Mendoza, and representatives from Damayan, the Koehlers returned the lawsuit unopened. Later, in a September 2017 filing on the Koehlers' behalf, the Permanent Mission of Germany to the United Nations asserted that the defendants were entitled to diplomatic immunity and that the attempts of service were inadmissible as a result. The mission, and the Koehlers' attorneys, urged the court to stop proceedings because they lacked jurisdiction, and the case was dismissed in November 2017.
In a letter dismissing the case, the judge explained that the dismissal was on the narrow grounds of diplomatic immunity. "Notably," he wrote, "nothing in defendants' motion to dismiss based on diplomatic immunity challenges the factual allegations of the complaint. … If the allegations of the complaint are true, defendants' conduct was abhorrent and intolerable."
The Department of State is taking further measures to prevent similar problems, such as the launch of an in-person registration program for the support staff of diplomats. Vandenberg also mentioned new reliance by the State Department on the evidence of bank deposits as part of the interview process, which has already been taken advantage of, with employers asking for money back from the employee after they make the payment.  "Where you create a system of accountability, very clever people will find a way through."
Although most civil cases end with a dismissal, like Pahagas and Mendoza's, the filing provides a basis for staying in the United States, because those suing their employers have temporary immigration relief in order to participate in legal proceedings connected with their case. It also provides recourse for when the diplomat goes back to their home country and their status shrinks back to residual immunity, and, as Vandenberg said, "they only have the defenses of a mere mortal." This results in some cases being resolved out of court, because of the threat of future action. For the cases that don't resolve, there is nothing to do but wait. And in terms of large-scale measures, there are provisions for the Department of State to stop issuing these visas to a country or a diplomatic organization. "The truly shameful thing is that no country has ever been suspended for in what some cases are egregious violations," Vandenberg said.
"Edith is a mother along with most of our members, and has been away from home for years to support her family—it is an awful juxtaposition there," Brease, from Damayan, said. Damayan continues to ask Koehler to pay the allegedly stolen wages and attorneys' fees, for a total of over $360,000. "We also want diplomatic immunity to be dismissed as well as a public apology because he did this twice that we know of."
For Mendoza, the result was extremely disappointing. "You know diplomats are covered by their immunity. If they committed crimes it is okay for them—they are protected," she said to me. "But the workers like me are never protected. And, you know, I am also human."