How China's Tech Revolution Threatens Silicon Valley
A look inside Beijing's booming start-up scene shows how ubiquitous the country's tech culture is.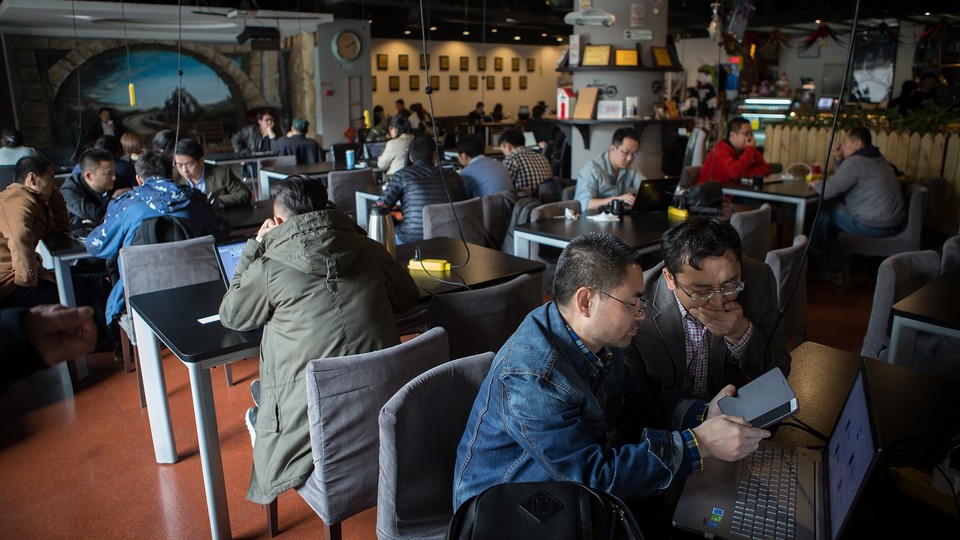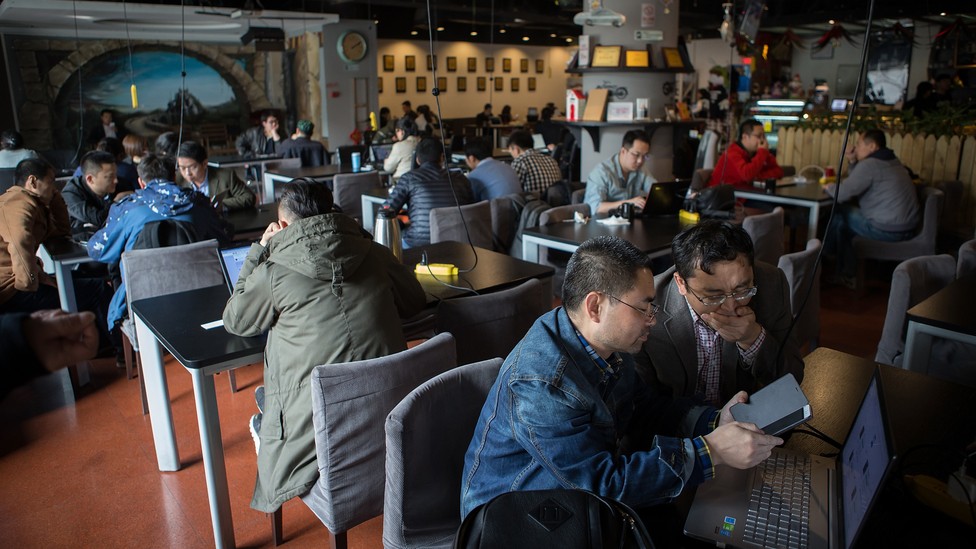 "The spring of investment has come," declares a banner hanging over Zhongguancun Inno Way, a pedestrian walkway tucked behind the high-rise superstores of Beijing's high-tech electronics zone in the city's northwest. Twenty-somethings bustle by clutching coffee and take-out KFC, only the tops of their heads visible as they bury their attention in Chinese-made smartphones. Now the alley—whose Chinese name translates roughly as "Entrepreneurship Street"—is saturated with co-working spaces, cafés, and start-up accelerators.
Inside Garage Café, a dark space on Inno Way filled with bleary-eyed entrepreneurs hunched over laptops, I meet 27-year-old Tian Yang. Tian studied at Sydney University, then worked for two years at the Chinese computer company Lenovo. But he found the job "dry and dull, all the same, everyone on the same track, very boring." Now he is building a social-networking app that uses facial recognition to connect people who look alike. (I asked what people were meant to talk about once they're connected, but he hasn't figured that part out yet.) "I'm not married, there's no big pressure yet," he said, "so I can try this for a year." Other start-ups in incubation at Garage Café include an online-video education site—a growing field—and a consulting service for Chinese people looking to settle abroad, called "Ten Thousand Countries." At lunchtime there's a show-and-tell session for new arrivals, and the café organizes meet-ups with investors. A floor-to-ceiling bulletin board is covered with advertisements for coders.
China's booming start-up scene has become as much a feature of its top-tier cities as traffic and smog. It used to be that college graduates applied for jobs at banks or state-owned enterprises, the proverbial "iron rice bowl" that their parents sought for them after the chaos of the Cultural Revolution. But many of those jobs were unsatisfying: In a 2012 Gallup survey, 94 percent of Chinese respondents said they were unengaged with their jobs. Now, with public and private funding flowing into Chinese start-ups, entrepreneurship has become an appealing alternative for a generation disillusioned with the conveyor-belt career paths of their forebears.
There are plenty of homegrown success stories to inspire them. Where Chinese youth once worshipped at the altar of Steve Jobs, now they look to emulate Jack Ma, Robin Li, and Lei Jun, the founders of e-commerce firm Alibaba, the search engine Baidu, and the phone manufacturer Xiaomi. Alibaba's IPO in the United States in 2014 was the biggest in history, raising $25 billion, and Xiaomi just filed its own IPO in Hong Kong, which is expected to raise $10 billion.
The tech revolution in China is ubiquitous in urban life. I use the messaging app WeChat for work calls and vacation bookings. I pay for a cup of coffee or a ride in a car with a scanned QR code on my phone. I go to work at a rented desk in an "experimental life space" called 5Lmeet, built in an old soy-sauce factory, which offers pop-up cuisine, a cashless, staffless convenience store, and an office space, the entrance gate to which uses face-recognition software to let me in. Every time I come out of a subway stop in Beijing, I have to fight through a mass of the cheap, rentable bicycles that have transformed transportation in the city. Dai Wei, the CEO of the leading bike-rental firm, Ofo—reportedly valued at $2 billion—is 27 years old.
In years past, Chinese companies have faced accusations that, rather than coming up with new inventions, they're simply copycatting U.S.-made technologies for Chinese consumers—a trope that has made it onto the current season of Silicon Valley. As the progenitor of the so-called "four great inventions" (the compass, gunpowder, papermaking, and printing), China has now claimed "four great new inventions"—shared bikes, e-commerce, mobile payment, and high-speed rail. The simplest of fact-checks reveals that none of those originated in China, though they were certainly popularized here.
But China has begun fostering a more creative entrepreneurial culture. In 2015, Premier Li Keqiang unveiled a plan, known as "Made in China 2025," to update the country's economy by investing in advanced industries, through subsidies, low-interest loans and other aid for Chinese companies. Within the next decade, China wants to be the world leader in robotics, artificial intelligence, and clean-energy cars, among other fields. President Xi Jinping's consolidation of power—most recently with the abolishing of presidential term limits—means that policy can reshape economy through a level of top-down control that democracies cannot emulate.
Chinese leaders are looking to young entrepreneurs to spearhead the transformation. It helps that much the world's hardware, such as smartphones and computers, is already made domestically, with many key parts produced in the southern factory metropolis of Shenzhen. Also supporting China's strength is an influx of venture capital into Chinese start-ups, from both home and abroad, and from private investments by rich Chinese individuals who lack safer options given China's volatile stock market and restrictions on investments in housing. Last year, Chinese-led funding accounted for nearly a quarter of worldwide venture capital, a 15-fold increase from 2013, with most of the investment going to Chinese companies, according to a recent Wall Street Journal analysis. During that period, U.S.-led funding doubled.
It's now becoming clear that, in many respects, China has distinct advantages over Silicon Valley as it hopes to become the next nexus for innovation. Ma, of Alibaba, has praised China's stable government and long-term support of innovative industries as good for business. When Mark Zuckerberg testified to Congress last month, one of his notes captured on camera by the Associated Press revealed his argument that Chinese tech companies pose a threat to American competitiveness: "Break Up FB? U.S. tech companies key asset for America; break up strengthens Chinese companies," the document read.
It's not inevitable that the kids of Garage Café are about to eclipse their peers in the WeWorks of San Francisco and Seattle. Bureaucratic red tape and poor intellectual-property law still make it difficult for Chinese businesses to get off the ground and protect their product from copycats. The Chinese government's power over companies is a double-edged sword, allowing it to censor or shut down any start-up that gets too close to sensitive topics, as happened in April when the state agency responsible for media censorship temporarily banned the news app Jinri Toutiao for "broadcasting programs opposed to social morality." And while the government has nurtured tech companies by handpicking individual ones as the stars of given industries (Baidu for self-driving cars, Alibaba for high-tech city infrastructure, Ofo for dockless shared bikes), that level of granular control could prevent more organic ideas from coming to fruition within competitive markets. Meanwhile, a burgeoning trade war with the United States could stymie Made in China 2025 by imposing tariffs on the high-tech manufacturing industries that China seeks to bolster.
None of this seems to have dampened the optimism of the Garage Café crowd. Kaiser Kuo, the host of the Sinica Podcast and the former director of international communications at Baidu, says, "There's no question that China is now very much in the same league as the United States" when it comes to innovation, hardware, and capital flow. Tian Yang, the facial-recognition whiz-kid, described the flood of investment more bluntly: "All you need is an idea, and they will give you money."