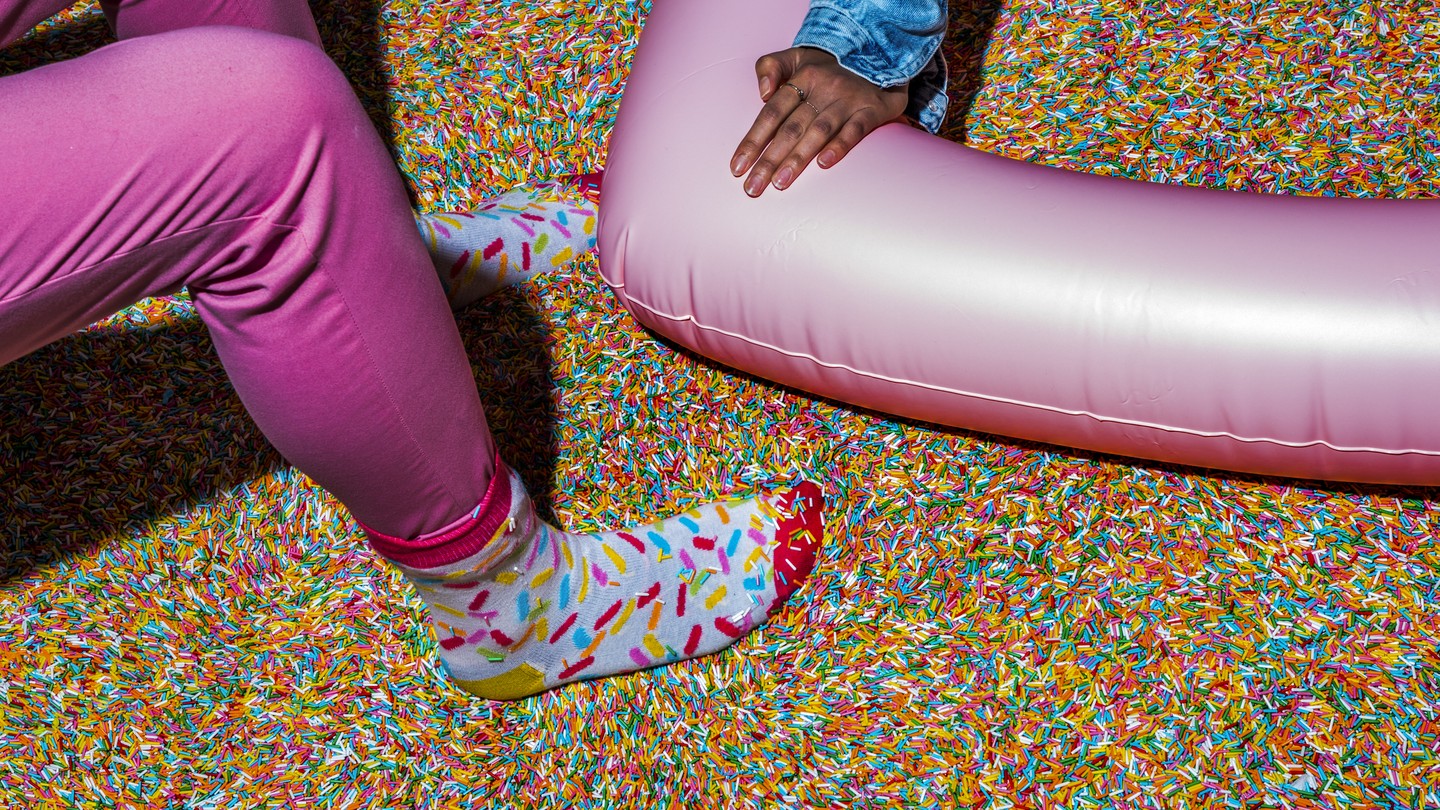 The Post-Millennial Generation Is Here
… and they're working at the Museum of Ice Cream.
To get a job at the Museum of Ice Cream, hopeful future employees show up at the weekly casting call, Tuesdays at noon. They head to the former Savings Union Bank in San Francisco's financial district, where pink banners announce, in minimalist font, the name of the employer-to-be. Inside, there are giant animal cookies on carousel mounts. Gardens of gummies. A minty scent wafting through a jungle of mint leaves. Each day, roughly 1,700 people pay $38 a ticket to march through the maze of rooms, licking pink vanilla soft-serve cones, following instructions from a cotton candy server to text someone in their life whom they consider the "cherry on top," and, all the while, angling for photos. It is as if Willy Wonka had redesigned his factory for the selfie age.
And it's a sold-out hit. What was going to be a summer pop-up in New York City has turned into a frothy cultural phenomenon at a troubled national moment. While the New York museum is now closed, new ones sprouted in San Francisco, Los Angeles, and Miami. Judging by visitors' Instagram posts (including from such Queens of Personal Branding as Beyonce, Gwyneth Paltrow, and Kim Kardashian), you would be forgiven for forgetting there are any employees at all: Mostly, people go to the Museum of Ice Cream to photograph themselves at the Museum of Ice Cream. But just as Wonka had his Oompa Loompas, the Museum of Ice Cream requires a service staff. Each Tuesday, the museum closes to the throngs for maintenance and so that a parade of Pink Army recruits can appear before a casting panel of staffers intent on gently sorting the ice-cream die-hards from the pretenders.
The first question is always the same: "What's your ice-cream name?"
---
A week after having succeeded at one such casting call, Golden Graham was starting his morning shift. Graham is 20 years old, with a voluminous fro. He'd memorized the script and tucked into an all-pink uniform: "Team MOIC" T-shirt, pants, cap, apron. He led a gaggle of parents and kids past a sparkly pink rope to enter the first room, where his role was to play museum hype man. His audience would have to recite a loopy, rhyming pinkie promise and then cheer with him, he explained, to "let the whole museum know we're coming." The kids were too young to get the cheer's reference: "One, two, three… scoop, there it is." A blonde mom exclaimed, "It's an Instagram dream in here!"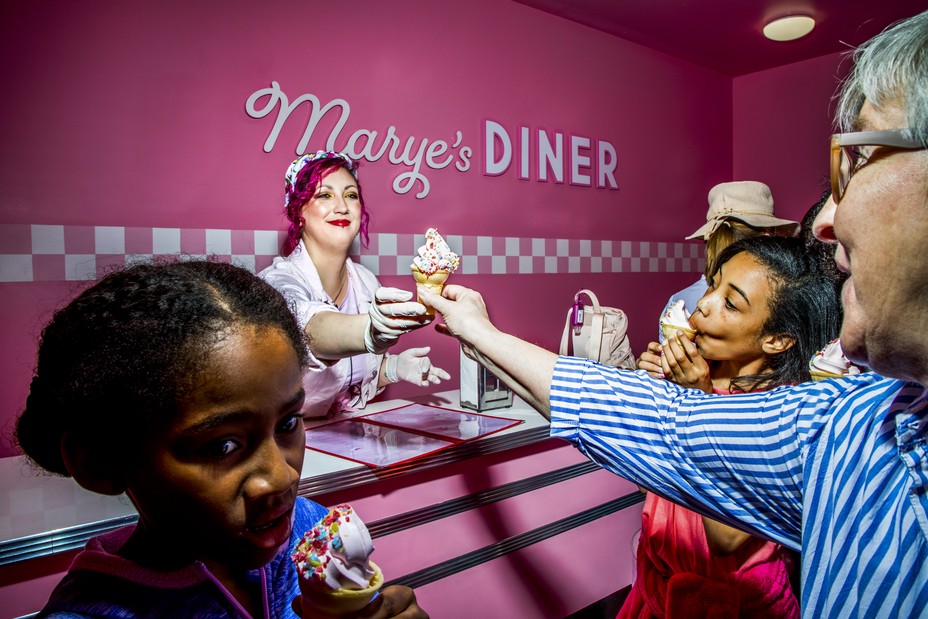 All dreams require upkeep. In fact, it takes 25 staffers on any given shift, drawing from a San Francisco employee pool of 120. Someone must sweep sprinkles back into the sprinkle pool, mop scuff marks off the pink, alphabet-patterned linoleum, and replace the cracked whipped-cream cans on the wall, where people on swing sets have crashed into them. They must offer ice-cream cones and cotton candy and mint mochis at precise moments and subtle crowd control at the entrances to rooms, all while keeping a whimsical tone. (When a tour guide's group has to wait to enter a crowded room, the guide will never explain, "The room is too crowded." She will announce something like, "The unicorns are asleep right now.") It's no surprise that this gig caters to the young: The guides average about 20 years old, which Pew Research Center says is too young to even be called a Millennial. They're people who are into being "photographed and socialed" on the job, as the ad states. They earn $15-an-hour starting wages to do so (one dollar over the city's minimum), part-time work perhaps sweetened by "all the ice cream you can eat." As I ambled through the exhibits to talk with the guides working a recent day shift, I found many of them to be the brand incarnate, talking about it less as a job than an identity. One Miami worker's Instagram post of a staff photo reads: "@museumoficecream is my home away from home! Love every single person in this picture. Thank you @museumoficecream for creating this family."
The first token of the identity is the ice-cream name. A 22-year-old manager (ice-cream name: Chip) explained, "We believe everyone has one in them." Many of them are gloriously witty: Butter Pecanye West. Alicia Key Lime. Bernie Sundaes. Cherry Potter. Some use their ice-cream names as their profile names on Instagram, writing on-brand messaging that could basically double as ad copy ("I had a NeapoliTON of fun tonight"). The Pink Army hashtag their own on-the-job pictures #TeamMOIC: managers doing a choreographed dance routine, the guides posing in the exhibits in shots that are nearly indistinguishable from the ones taken by visitors. Madison Utendahl, the company's full-time head of content and social, in New York, also posts professional shots of the guides at work in the carefully curated Museum of Ice Cream Instagram feed, with its 378,000 followers. Utendahl designs the procession of posts two weeks in advance, she told me in an email, using a consistent "color, texture, and narrative." The result is like a months-long, pastel-hued magazine spread: This social-media presence is nominated for two Webby awards, competing in one category against the Instagram feed of the Guggenheim Museum.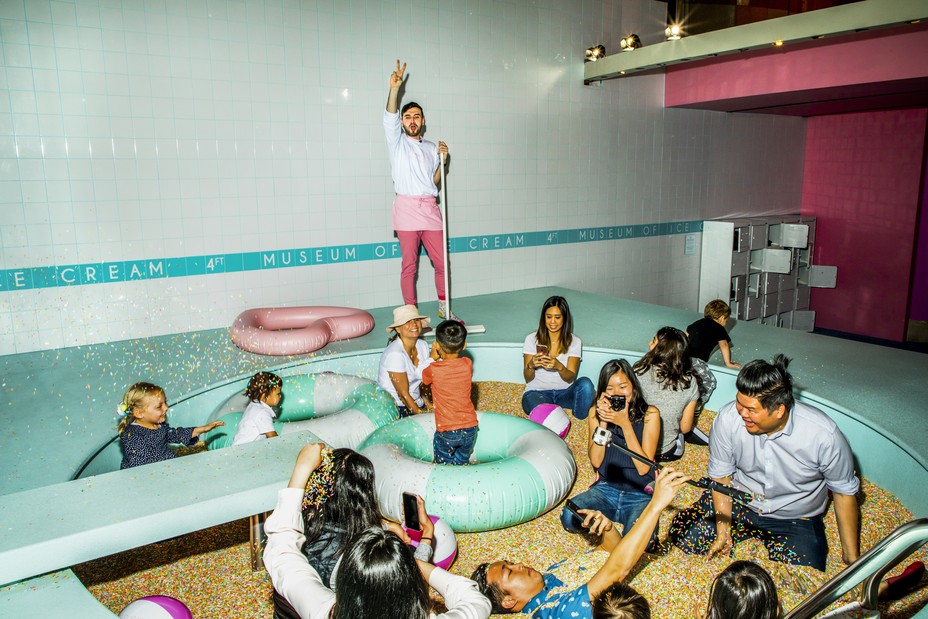 Cowboy Cookie Dough Chris, an aspiring actor, began working at the New York museum in August 2016, when he was 20, and then followed the brand to San Francisco. He sometimes sends photos and videos to Utendahl for consideration for the museum's Instagram Story, the slide show of media that disappears in 24 hours. He loves when his photos are included, and not just for the thrill of it. "That's where I like to build my brand," he says. "It kind of gets my name out there, too."
---
The vibe among Team MOIC seems similar to that of summer camp counselors: coworkers as social clan. This helps keep people psyched, one manager explains: "You need that support in the back, so people will want to come and work this super-high-energy job every single day and not burn out." They start each day with a team meeting and a question of the day (e.g., "Describe the room you grew up in") and end it with another team meeting in which staff members share the day's highlights. A couple arranged the pink magnet letters into "ITS A BOY" in the "Dream" room for a reveal to friends and social media, then came back months later with an infant and spelling "IM THE BOY." A wedding proposal took place in the sprinkle pool. A man in the ice-cream diner recounted his first date with his wife of 50 years in an ice-cream parlor, and his wife marveled, "I didn't know you remembered all that!"
Starting her shift as "lifeguard" at the pool filled with plastic sprinkles, which entails continuously circling the deck with a broom to sweep the errant fake candies back in as quickly as customers can splash them out, Soft Serve Syd described her path to the job more in the language of self-discovery than employment. Syd, who is 25, worked in hospital administration before this, but, she said, "In my 20s, it is my time to explore different things." Plus, "I had a rough patch in my personal life, and I was looking for more joy. It's pushed me as a human being, and I love it."
Syd is one of what staffers call "the OGs"—the people who've worked here since it opened in September. That's longer than most. The general manager—wearing a backwards baseball cap bearing the logo of Stanford's business school, her alma mater—says the average tenure is two months (which, if anyone is keeping track, sets the Pink Army well below the roughly 16-month average job stint for Americans aged 20 to 24, according to the Bureau of Labor Statistics). People's class schedules will change, she says, and they'll drop off. Seasonal reinforcements come in just for the holidays.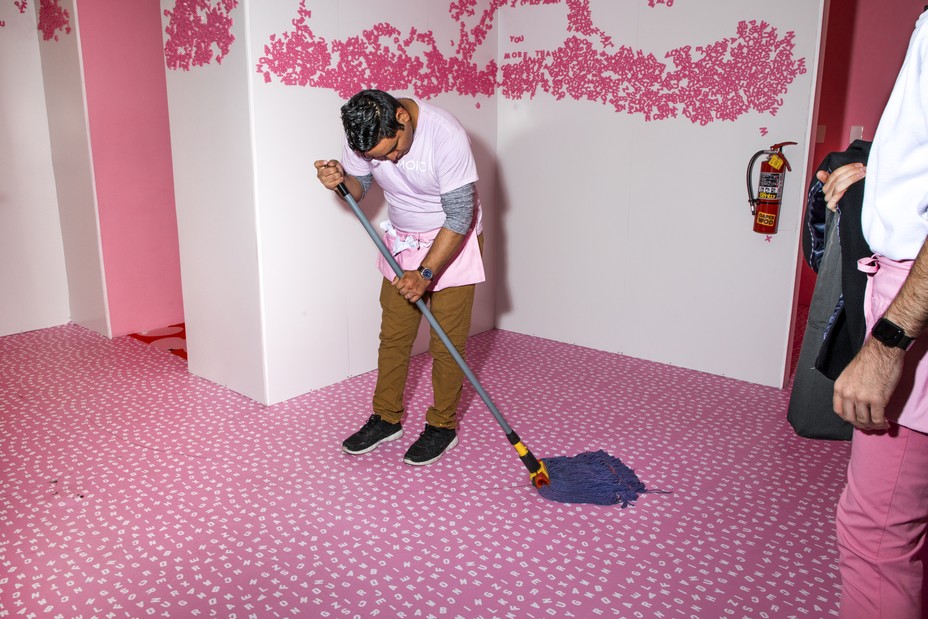 It's also true, of course, that there are easier ways to make just above minimum wage than constantly embodying the ice-cream dream: acting delighted by each visitor's response to "What inspires you the most?" and competing to hear and be heard over the relentlessly pounding pop music in congested rooms filled with sugar-high kids. Gummy Gladis, who I found working in the "mint" room, handing out the mint mochis and squatting to comfort a crying toddler, says she spends the rare moments between catering to visitors dancing "to keep my energy up," or practicing her lines. "Everyone has their threshold for dealing with the public," she says. "Mine is very high."
---
One Tuesday afternoon, I inched my seat closer to the Museum of Ice Cream's founder, Maryellis Bunn, to hear her over the music—The Lion King's "Circle of Life"—blasting through the atrium. Undistracted, Bunn spoke in frenetic bursts of TED Talk-isms: the cities of the future, the evolution of her ice-cream ideology, the horrendousness of white-collar office spaces. Bunn, who has lately been "nomadic," had flown in from New York City earlier that day, and would take a red-eye back that night. She was here to attend the staff pajama party, in which the Pink Army was invited to come in, on their own time, to watch Coco in the sprinkle pool. Bunn wore cherry-printed boxers, fluffy slippers, and a pink blanket draped around her tiny shoulders as if it were an expensive shawl. She asked me, "What's your favorite kind of ice cream?"
Bunn (ice-cream name: Scream, as in, what we all do for ice cream) is 26. She grew up in Laguna Beach, a few years behind the teen stars of MTV's eponymous reality show, which packaged high-school life in beachy, filthy-rich California for Midwestern teen gawkers like myself. (Instagram before Instagram.) Bunn told me she was "always just hustling." As a kid, she sold painted rocks to people heading to church, and then popsicles, at a markup, to tourists on the beach; by high school, she worked as a buyer for a high-end clothing boutique. She went to college at New York University, then worked as the head of forecasting and innovation at Time Inc. for a year before deciding, with a friend, Manish Vora, to launch her first museum. (Her much loftier, long-term goal was to someday build a city from scratch.) She figured many of the retail structures of old needed to be reinvented. Amazon and e-commerce were driving the retail totems of a Millennial childhood—Toys "R" Us, Claire's—into bankruptcy. "What do we do," she asked me, "with all that space?"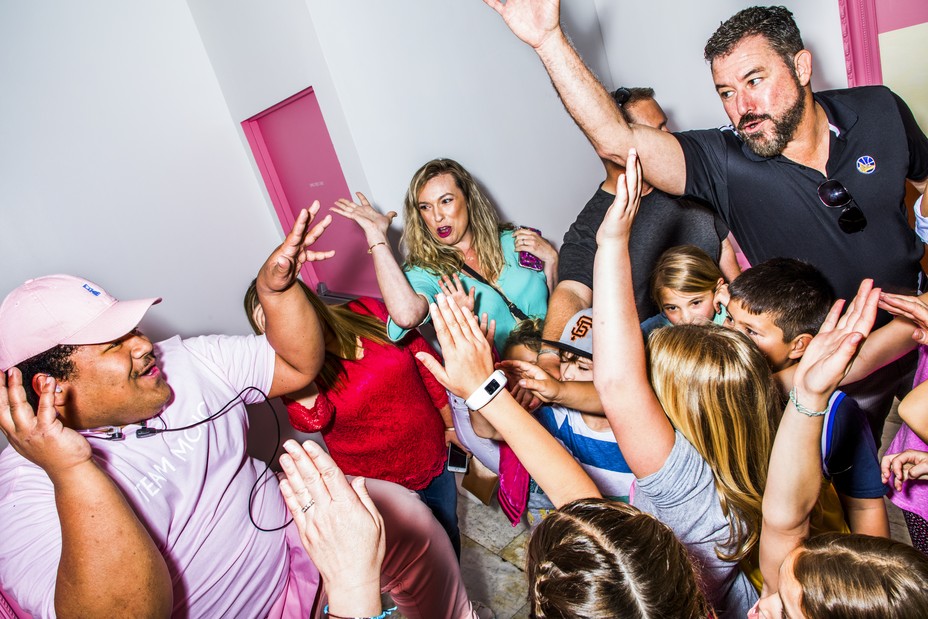 When Bunn scouted this prime location in downtown San Francisco, it was being used to house an Emporio Armani boutique. She saw few customers and a handful of bored employees. Now a Pink Army of 25 employees work the space at any given time, urging hundreds of people to bond over the "common denomination of ice cream." She told me, "It's not so damn serious. I like ice cream, so do you, that's enough." Bunn finds the fact that this social experience is dominated by smartphones to be "bittersweet": She recently posted on her Instagram Story that she'd give free tickets to anyone who'd come without their phones, and got several replies.
At the end of our interview, Bunn had me duck out through a side staircase to avoid the Pink Army starting to arrive for movie night in onesies and blankets. She politely declined my request to view the event, explaining that a reporter's presence might make the guides feel, mistakenly, that the movie night had been staged for PR purposes. "We create safe spaces," she said, and that goes for the Pink Army as much as the public.
---
Recently, managers decided to rename a pair of unicorn sculptures in a rainbow-wallpapered room after activist icons Harvey Milk and Gloria Steinem. During my visit, a guide introduces the sculptures as "Gloria" and "Harvey"—an abrupt injection of social consciousness into an experience whose politics are otherwise sparkle-spangle decline-to-state. The guide follows with a question: "What do you believe in so strongly that you would fight for?"
Overheard:
"Equal opportunity in education."
"Recycling."
"Naps in the afternoon."
Millennials, and whatever we're calling the gen after them, are the most racially diverse generation this country has ever seen, embracing an inclusive, digitally imbued social progressivism. They also embody more somber trends: They are set to face enormous income inequality, with a select few becoming incredibly wealthy, while many more are underemployed, burdened with college debt, and still living with their parents. They are the first generation of Americans who will likely earn less in their lifetime than their parents.
If you think of the Museum of Ice Cream as a temple of Millennial-hood—with few people over 26 on staff—it's one uniquely situated in this economic context. Bunn is the canny #girlboss who trademarks the generation's aesthetic for profit. The full-time managers are polished graduates of Berkeley or Stanford, the region's marquee universities, preparing for careers in, as one told me, experiential design. The reality of the even younger guides, in one of the country's most expensive regions, seems more touch-and-go; they're aspiring actors, models, and miscellaneous undecideds. Some are killing time before starting college or a graduate program in museum studies; others aren't quite sure what they'll do next. An employee told me, frankly, "I've been basically unemployed until now, living at home with my parents." LinkedIn turns up guides with other positions at Chipotle or Victoria's Secret; another said she just nabbed a second job at an IRL ice-cream parlor, because she wasn't sure how long MOIC will stay open.
Given that the Museum of Ice Cream is a pop-up that has kept extending its run, a stint in the Pink Army is by definition fleeting. It seems that, for many in the Army, the ephemerality adds to the excitement; in their eyes, the museum's glamorous trappings and dance parties help it transcend its status as near-minimum-wage service labor. "This place is magical," one told me. In the gift shop that leads to the Museum of Ice Cream's exit, a 25-year-old aspiring 3-D animator in a sprinkle tie tells me he slogs through an almost hour-and-a-half-long commute, by car and train, to get to this job from a cheaper city across the Bay. He sometimes arrives tired. "But once the shift starts, the energy just comes from nowhere. I'm happy, they're happy, everyone is happy!"
Among the displays of MOIC-trademarked goods, one display caught my eye: shellacked sculptures in the shape of whipped-cream cans and chocolate-syrup bottles sat under a glass case, priced at $250 apiece. The placard read, "Artwork by Museum of Ice Cream Founder Maryellis Bunn, Signed, Limited Edition Pieces." Some Millennials turn a profit on the $250 Cool Whip containers; others need to work about 17 hours to buy one.