Beware of Selling Yoga Pants on Facebook
Is the social-media gig economy a form of entrepreneurship, fraud—or something else entirely?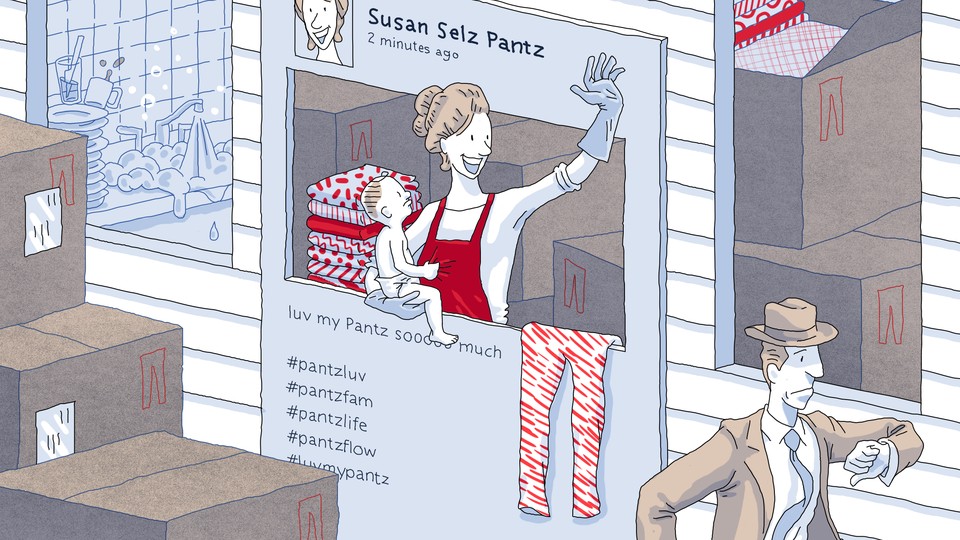 "Hi! I noticed you posted about your cold today. It sucks to be sick. I thought maybe you'd like to try some greens! I love them; I swear, you'll never get sick again!"
I did not want the greens.
This was the third time my friend from college had tried to sell them to me online. She also did things like post statuses about "That Crazy Wrap Thing" that her friends were supposed to pretend were not advertisements. My aunt who homeschools her seven children sells organic cleaning supplies. A poet I know says she sells online for the community it gives her. A young college administrator likes it for the freebies and the friendships. A stay-at-home mom said she was using a lot of makeup anyway, so Younique only made sense.
Multilevel marketing goes by many names. Those being propositioned often think of multilevel marketing as a pyramid scheme or scam; those selling believe the business model is a straightforward way to earn extra income from home. Here's how it works: "Consultants"—sellers for a direct-sales company—solicit new recruits to sell products online, and, in addition to their own sales, those consultants then earn a percentage of their recruits' sales. Those recruits, in turn, then sign up still more online sellers and earn a percentage of their sales, and so on. It's "Avon calling!" for the internet age. And as was the case back in Avon's heyday of the 1950s and 1960s, the majority of sellers are women—many of them stay-at-home mothers.
While there isn't any precise data on how many mothers moonlight as salespeople, websites promoting multilevel marketing work seem to be everywhere online—including one site called Stay a Stay at Home Mom. Kristen Duvall, a self-employed ghostwriter and multilevel-marketing retailer in California, sells both Jamberry and Perfectly Posh products online. She says she makes a few hundred dollars of income each month. Duvall said selling for Jamberry, which sells trendy nail wraps, is fun for her. "It's this community of collectors and fans that swap wraps like baseball cards," she told me. It's true: Collectors can trade a limited-edition wrap pattern for double to triple the amount they originally paid. The same goes for the clothing company LuLaRoe, another multilevel-marketing operation, where limited prints can sell for hundreds of dollars in profit.
The sellers find out about the newly released products and exchange tips to increase sales. They are all working independently, and yet the group also works together as a whole. Each seller is a cog in the wheel, the wheel is part of a much bigger machine, and the entire setup moves toward one goal: the bottom line. But many of the cogs—the salespeople—don't quite see it that way. For them, being sellers is about more than money. "I compare it to a fandom," Duvall said. "It's no different when someone loves a particular sports team or Harry Potter, and they talk about it nonstop."
I saw all this firsthand. For nearly a year, I observed Duvall's group—the Sparky Lil Spitfires—and saw women, and a few men, negotiate the ins and outs of life in direct sales.
---
Multilevel marketing, or MLM, is experiencing a major boom. In fact, according to the Direct Selling Association, there are more MLM companies in 2017 than there have ever been before. One in six households in the United States participates in a direct-sales company. Experts point to both economic forces and social media to explain this outsize success.
Take the clothing retailer DeAnne Stidham, for example. She launched LuLaRoe in 2013, and by 2016, multiple outlets, including Forbes and Business Insider, heralded the company as ingenious. Now, just a year later, the hit pieces—LuLaRoe is known for its colorful prints and leggings—keep coming. A LuLaRoe spokesperson told me that the company has been able to grow so fast due to its "tens of thousands of Independent Fashion Retailers" who work off the brand's "Social Retail" experience.
"Social Retail is focused on creating exciting, personal and engaging shopping experiences for consumers—whether they take place in-person at a Pop-Up Boutique, or online via a social media group or live sale. Our innovative approach is attractive to Retailers because it gives them the freedom to decide when, where and how to sell LuLaRoe—and perfect for consumers, who want to shop in ways that are most convenient for them." The company said it recorded more than $2.3 billion in retail sales in 2017 alone.
Unlike many MLM companies, LuLaRoe requires a hefty buy-in at $5,000. That gets the consultants their stock, and from there, they each work as an individual boutique operator, buying wholesale from the mother company and selling the clothes and leggings for twice the price. Ideally, that looks a lot like Lauren Hefner, who made six figures selling LuLaRoe last year. She walked away from a highly paid management position in health care when she started making more from her side business than she did at her 9-to-5.
"The high start-up cost makes LuLaRoe a business that requires careful consideration and prevents a saturated market," Hefner told me. She cited the company's profits doubling year-over-year sales each month in 2016 and said she makes $25,000 a month, 50 percent of which is profit.
Yet Hefner may be mistaken about market saturation. In just six months, sales consultants for LuLaRoe have shot up from 38,000 to 77,000, according to Business Insider, and most of those consultants are not making much money—if any at all. Partner that with consumer complaints of garments tearing and insider scoops about network moles turning on sellers who discount their merchandise, and what was once a rousing success may soon become a disaster. What's more, most independent retailers agree, if you hope to bring in any income, then LuLaRoe isn't a side business at all. "It is extremely time-consuming," Hefner confirmed. "Consultants manage their own inventory, marketing, invoicing, and shipping. At my volume, it is more than a full-time job."
Of course, Hefner's work-at-home windfall wouldn't be possible without Facebook. "I sell exclusively online through my VIP Facebook page and through parties [arranged online], in which a hostess invites her family and friends to an online or in-person event that I run," Hefner explained. The hostess then "receives rewards in free clothing dependent on how many items her party purchases."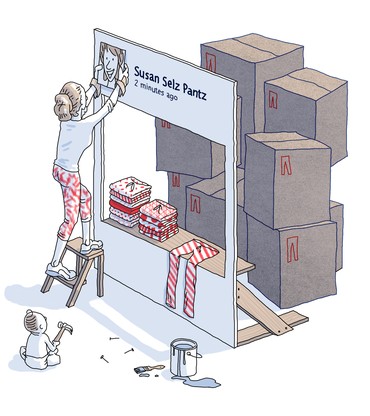 In an uncertain job market and an exploding gig economy, taking a spare hour or two at your convenience to earn some cash is tempting, and using the internet to sell products sure is a lot easier than lugging your wares around. "I never would have walked door-to-door to sell Tupperware or Mary Kay," Jenie Evans of LimeLight told me. "But I have over 5,000 contacts at my fingertips on the internet, and I don't even have to get out of my pajamas to share my products with them."
Like Hefner, Evans is an online-retail success story. After rising to a high level as a popular makeup consultant at Younique, making 95 percent of her sales through social media, Evans switched to its competitor LimeLight during that company's infancy. Evans predicts she'll make anywhere from $250,000 to $500,000 this year. She shot up to the highest levels at LimeLight in mere months and has more than 50 people directly under her, each of whom has people under them. In total, Evans is responsible for recruiting nearly 400 people to LimeLight, and her earnings reflect that. LimeLight did not respond to requests for comment.
Robert Fitzpatrick, a consumer-rights advocate and the co-author of False Profits, says recruitment is an essential part of MLM. "In 18 years, I have never met one person in MLM who earned a sustainable profit without recruiting," he says. "The reward is dependent on the recruiting. You have to move up to have access to the reward. Therefore, you can't make money without recruiting." In fact, joining a multilevel-marketing company when it is new, like Evans did, may be the only way to make any money at all.
For the Sparky Lil Spitfires, sales goals hover around $500 to $1,000 a month. These women may not be raking it in like Hefner and Evans, but they are committed to making their businesses viable. They're scrappy and tenacious, upbeat and optimistic. They build each other up, help each other out, and try for that extra dollar sign every day. Most days they fall short, but they don't let that deter them.
Fitzpatrick says that while the internet has made tiered marketing more efficient, the root of the proliferation of new MLM companies in the past decade really comes from doubts about the strength of the traditional economy. "We now have college students who are faced with a lot of debt, and they're not sure the job market has room for them, so these outside-the-economy solutions seem like a great idea," Fitzpatrick says. What these companies peddle to their retailers—more than goods or even an investment opportunity—is a worldview. They sell an image of self-sufficiency not dependent on the country's economy, but dependent only on the seller's own gumption and perseverance. They sell a dream of economic independence. "The system is completely separate from the mainstream economy," Fitzpatrick explains. "It's unique. It's entirely up to you. You have complete control, so if you don't make the money, it's because of you. The only way you can lose is if you quit. Losers are the quitters; quitters are the losers. People quit because they didn't have enough ambition or enough character."
But the sellers I met all said it's about much more than money. They value the sense of community, friendship, and purpose that comes with being a vendor. Women who join as team members under another seller become bonded like Girl Scouts in a troop. Each subsequent recruit becomes yet another member in a hierarchy within the hierarchy. These sellers then come together day after day online and through phone chats. They get to know each other on a level that goes beyond leggings and makeup. "Being a military spouse, having an MLM business can be a fantastic way to make friends," says Melanie Greeke, a stay-at-home mother in Florida who has sold everything from Scentsy to Younique. "It's common ground. You have a product they like, they contact you, you chat, and build a relationship. I have tons of friends I met this way."
Those on the outside caution against this friendship formula, including William Keep, the dean at the School of Business at the College of New Jersey, who has studied multilevel marketing at length. He says these women are "not making friends; they're buying them."
Consultants, however, are quick to dispute this. "Did I have to spend $99 to make friends?" Greeke counters. "No. I could have done it easily on my own. Did it help me put myself out there? Yes." Duvall agreed. "I joined because I was obsessed and spending a ton of money on the product already," Duvall said. "I stay because the teams I'm on provide friendship I've not found since my sorority days in college."
---
Sparky Lil Spitfires is a Facebook group like any other, but with members all belonging to teams underneath the leader, Jennifer Hosey. They use the group as a gathering point to swap stories, ask questions about new products, and look for advice on how to handle difficult aspects of the business—like how to deal with unruly customers or unreasonably slow shipping. Whenever a Spitfire signs on to Facebook and checks in with the group, she sees a cascade of posts touting Perfectly Posh perks, swag, contests, and fun. Spitfires also have nearly 400 members, many of whom consider one other very close friends. "This little Facebook page has so much heart and soul and love," Patricia Frederickson, a graduate student in Georgia, told me. "Sales is the backbone, sure, but the heart of the group is in the people."
During my time in the group, the Sparky Lil Spitfires did share tidbits from their lives, celebrating triumphs and mourning losses. But, more than anything, they posted about the Perfectly Posh products. Still, for every 10 or 20 product posts, a personal post would appear. "I see prayer requests, photos of kids, sweet dance moves, funny stories," Frederickson said. "If you look through this page, there are sales, but there are also a lot of laughs and a strong sense of community engagement."
She's not wrong. When Brandi Henderson's house burned down while she and her family were on vacation, she lost everything. In that time of turmoil, it was the Sparky Lil Spitfires group that sent her strength, both through kind words and support, and through physical items she needed just to get by day to day. "I love these people more than I love even some of my actual family," Henderson says.
Several of the women in the group are taking care of chronically ill children or partners, and they say the group dynamics keep them going on difficult days. Susan Sweeney has an 8-year-old son with complex medical issues, which forced her to leave her full-time job in 2014. She spends most of her days in and out of hospitals and doctors' offices and said the Posh group saved her sanity. "My husband calls Posh my outlet from the doctors," Sweeney says. "I touch my business daily, even in the hospital. I needed this." But again, it's not all business. "A lot of them are on my personal Facebook," she told me. "They know when I'm at the hospital, they know when things are going all medically wrong with my children, and they are there for me. I can't put a price tag on it."
A lot of the Sparky Lil Spitfires dynamic comes from the group's Perfectly Posh leader, Hosey, who in the MLM world is known as the "up-line." While she isn't technically anyone's boss, every member of her Spitfire group has either been recruited by her directly or been recruited by one of her recruits. Simply put, Hosey makes money off of each person selling in that group because she put in the effort to get them there. Hosey spends multiple hours a week forging connections with her group. She sends out samples with handwritten cards and motivates her team with charisma, a human touch in an online world. Hosey's deep-seated love for her "down-lines"—her recruits, and their recruits, and their recruits—is no doubt enhanced by the profits she pulls down as a result of all their efforts. Nevertheless, her enthusiasm is infectious. "I haven't met a lot of these girls and guys, but I would fight tooth and nail for every one of them," Hosey told me.
The group is a real community. But it is also a classic—if virtual—salesroom. Sometimes the Facebook group page feels like a packed conference room where the top sellers make pitches to the troops to keep morale high, to keep profits up, to keep the product moving, and to keep getting more people to sign up as sellers. Sparky Lil Spitfires members are expected to dial in for all Perfectly Posh group calls and to watch PowerPoint presentations to help them become better salespeople. The sellers are also given worksheets with a dizzying array of columns and rows that intersect at the number of recruits and monetary sales. If a seller recruits a certain number of sellers underneath her, her sales and their sales combined can elevate her within the company. A seller can climb to several different levels, and each level has different escalating requirements and rewards attached. All these charts and numbers depend on both individual sales and team sales. Just looking at the paperwork is intense and confusing, but to those acquainted with the system, it's second nature.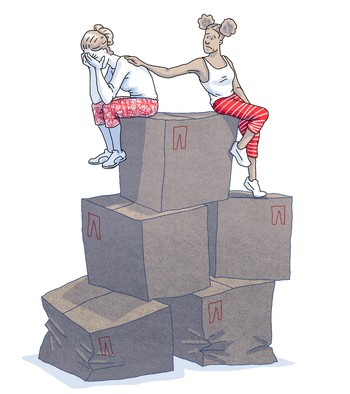 Perfectly Posh is similar to other MLM companies: People who want to be consultants find a friend or an acquaintance who already sells and get in under them. They plunk down $99 for a starter kit, which contains 20 or so products. Then the new consultant is offered the opportunity to go through business training—in the first month of selling, there's a course every day. Over the next 90 days, the courses go down to weekly. Perks—the free Posh products given out for hosting parties, buying products, and selling products—rain down on the participants at this level, which is called Protégé. Consultants earn 20 to 30 percent commission on sales at this stage, and 1 to 6 percent of their down-line sales. Once someone reaches Pink, which is the next level—meaning they sell $500 that month, their team sells a total of $20,000, and the company sells a total of $100,000—consultants start making more money. And on it goes, up—and down—the chain. Finally, if consultants wish to remain in the company, they are required to sell $300 worth of products every six months. The Atlantic tried to reach Perfectly Posh several times. They never returned our calls.
Sellers are also taught how to mine their contacts. First, sellers must go through all their Facebook friends. A live team call went into explicit detail. Split the names up into several groups: friends (best friends, people you hang out with, friends of friends); relatives (in-state, out-of-state, those on your holiday-card list); acquaintances (receptionists, bank tellers, dental hygienists, grocery clerks, coworkers); neighbors (every person on all adjoining streets in the area in which you live, past neighbors you've kept in touch with); kids (parents of your children's friends, people at children's sporting events, church). If that isn't enough categorization for you, sellers must next break down all those categories into four different groups: people who would help you if asked; people who might help you if they saw the product and heard about the benefits; people who might not help you; and people you're pretty sure would not help you no matter what. Keep an eye on that wording. They aren't looking for acquaintances interested in buying from you, but in people who would help you.
There is a point to all of this. Most people immediately want to sell to their close friends and family; the group call advised against this. Those people probably know all the same people the sellers already know. This could lead to a "black hole" in the business as the same people pass the information around and the base never grows. Instead, the call leaders encouraged sellers to pick a few people in their acquaintance pool who might need to hear the sales pitch first before diving in, but who then might be interested. These acquaintances, the logic goes, would know different people than the sellers and therefore could spread the news of the business opportunity outside the seller's original close-knit group.
Hosey is proud of what she has created. She told me that Perfectly Posh has changed her for the better. "I've always been a stay-at-home mom—an educated stay-at-home mom at that," Hosey said. "I have a college degree, as a lot of women on our team do. We choose to stay home and see our kids grow up. I started paying bills after not contributing financially to the family for 13 years. This is not a hobby for me or a way to cure the boredom. My business, this company, this team—they are my passion."
---
MLM can be a way for a lot of women like Hosey to join the workforce. Many sellers are mothers who want to work from home part-time with flexible hours—a combination that is often unique to the gig economy. After all, at many typical American workplaces, there is little to no accessible or affordable child care, there are shoddy family work practices, and there is rampant discrimination—all of which contribute to the hope of selling successfully online. Some even succeed—like Hosey, Hefner, and Evans. But many, many more don't.
And though MLM can seem like a great opportunity for women to carve out a productive work life, it does nothing to change the societal structures that may have forced them in this direction in the first place. Worse, people often become condescending to women who attempt to work from home with the options they have left. Many hold a marked distaste for MLM sales encroaching on their relationships. "I cringe when I see another friend start up an MLM business because it feels so awkward to get invited to things and added to groups I don't want to be in for things those friends should know I would never buy," says Julie Cotton, a stay-at-home mother in Massachusetts, "except they want to make money so they conveniently forget."
"Lots of folks ask, 'Why not buy from your friend rather than a store?'" says Audra Williams, a writer in Toronto. "And the answer to me is that you don't have a personal relationship with the store that will be impacted if you don't like or repurchase the product."
Both Cotton and Williams have been added to multiple selling parties on social media. Neither asked to be there. They aren't the only ones.
"I'm pretty against most MLMs because I saw how my friend was taken for a ride by one," says Elizabeth Hawksworth, a social-media coordinator in Toronto. "She had to shell out something like $1,000 to join a tech MLM a few years ago, and she never got the money back. The company was later taken to court for being shady."
Those who study business models say it's plain to see why people should be leery of MLM operations. "Money has to get from the bottom to the top," says Fitzpatrick, the consumer-rights advocate. "If I recruited you, and you bought $100 of goods and became a distributor, $40 will go as recruiting rewards to the distributor's chain above you. Of that $40, most of it goes to the top of the chain."
For instance, Thirty-One Gifts' brief earnings statement acknowledges that most consultants who sell its handbags and totes will make between $183 and $1,993 annually. This range, however, comes from only "typical participants"—defined as sellers who are active at least five months out of the past year. This means those numbers skew high because all of the sellers on the top tier making six to seven figures will be included in this average, but none of the women who signed on and couldn't make a go of it for at least five months will be counted. Thirty-One Gifts did not return phone calls for comment.
Fitzpatrick defines fraudulent MLM outfits as businesses in which "the profit of the people at the top comes from the losses of the latest recruits." The numbers for Jamberry say the average sales consultant makes slightly more than $200 a month for an average of seven months out of the year. Still, there is little public data on how many consultants making that much sustain those numbers, or how many are new consultants who sign on, sell for a few months, and then drop out when their friends and family stop buying. Jamberry did not respond to an interview request. At Young Living, a company that sells essential oils, 94 percent of sellers are in the lowest tier. The average monthly income for that level is a mere $1. For sellers on all 10 levels, the annual average remains only $25. Requests for comment from Young Living went unanswered.
"They have bought a story," Fitzpatrick says. "It's a beautiful story, a self-indulgent story, a miraculous story—that in 2017, with all its job insecurity, there is, in America, an alternative, and that alternative is not run by Wall Street or the government. It's a kind of mass hoax. It's a psychological sale first, then an economical sale, and the two work together. The scheme tells you that the cause of the failure is not the system, but you: that you didn't work hard enough at it."
We want to hear from you. Please email your response to letters@theatlantic.com.