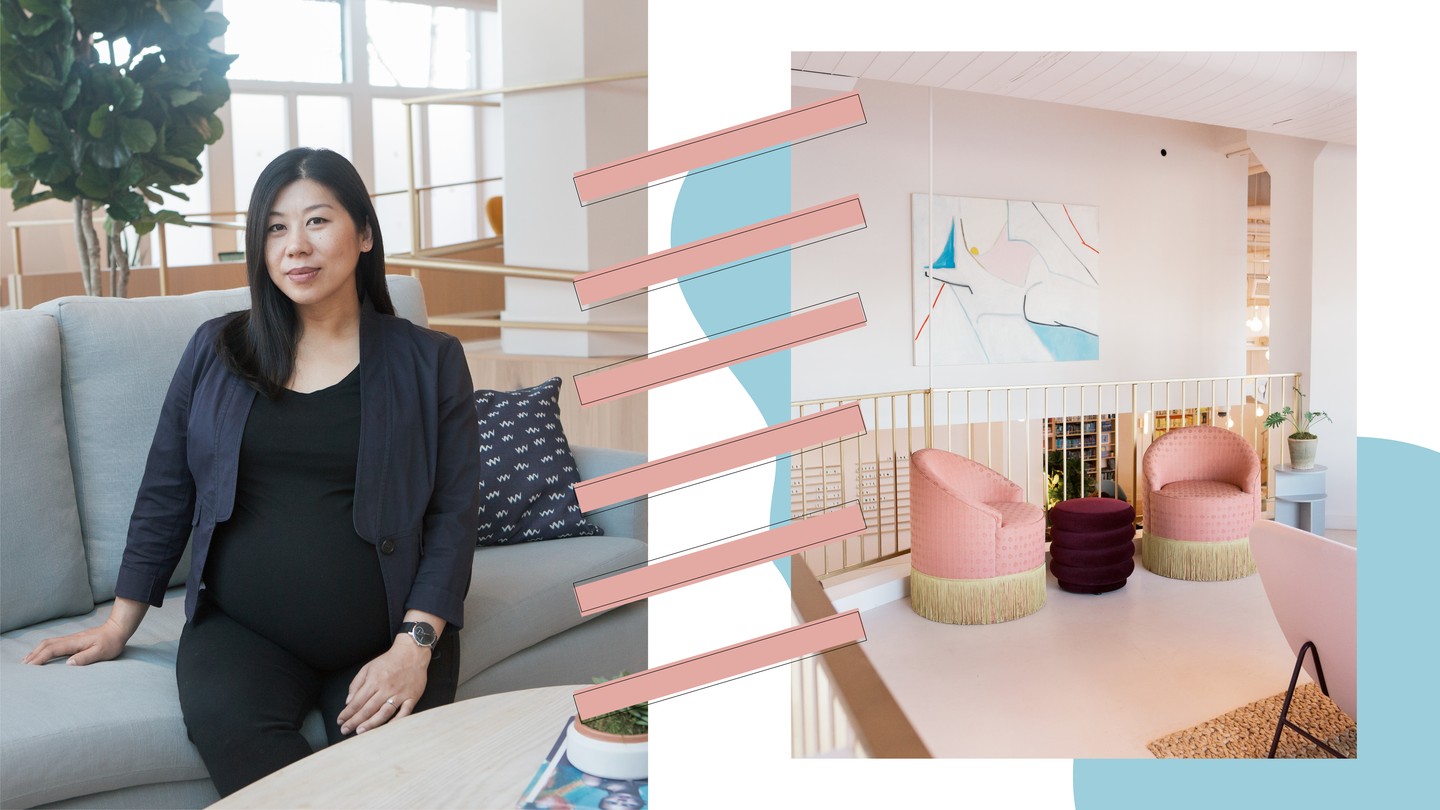 What Does a Workspace Built for Women Look Like?
There are more women than ever working in office buildings, but only a quarter of architects are female. Enter Alda Ly.
So many moments of female togetherness take place in proximity to a toilet. A couple of years ago, during early design meetings for The Wing, a women's club that calls itself a space "between Work and Werk," bathrooms were discussed at length; the whole place is a kind of ladies' room. "Nobody had done a women-only co-working and event space before," Alda Ly, the architect who directed the project, recalled."It was a lot of sitting around the table and brainstorming, 'What does that look like?'"
True gender equality requires a good deal of new construction. Materials were selected to optimize female comfort, furniture would be suitably proportioned; there would be spaces to socialize and others in which to retreat. A separate "Beauty" room was to be walled off from the toilets, for relaxed primping. The Wing's first location opened in Manhattan's Flatiron district, in 2016, and since then the clubs have been kept between 73 and 74 degrees, appreciably higher than New York's mandated temperature of at least 68, and flouting typical guy-bod preference. (The Wing's contractor, a man, still has a habit of lowering it to 70 when he comes by.)
Such are the concerns of designing for an emerging market's needs, as women—likelier than those of previous generations to have attended college, and to take on white-collar jobs—are filling a rising share of seats in new kinds of work spaces. Yet at a moment when, from blueprints on, more buildings are being reconfigured and reapportioned to take women into account, only a quarter of all architects in the United States are female; a recent survey by Dezeen, a design magazine, found that among the world's hundred biggest firms, women run three. "There's a lot of partnerships—men and women, husband and wife," Ly, who last January started her own firm, Alda Ly Architecture and Design, said. "But there's not that many firms run by women without partners." Even those who ascend to the highest levels may have to deal with weird flak. Five years ago, Zaha Hadid—the first woman to have won the Pritzker Prize, the top honor in architecture—was forced to respond to public criticisms that her mock-up for Qatar's Al-Wakrah stadium, which will host the 2022 World Cup, resembled a "vulvic bulge." (The inspiration was a dhow, a boat traditionally found in Qatar.) "What are they saying?" Hadid wondered to a reporter for Time. "Everything with a hole in it is a vagina?" After Hadid died, in 2016, Princeton University Press published a book called, Where Are the Women Architects?
So it's almost by default that Ly, who is 38, has been called upon to bring a feminist's eye to a new array of spaces. Lately, she can be found helping The Wing expand westward: A Washington, D.C., site is opening April 12th, to be followed by clubs in Los Angeles and San Francisco, among other cities. She has also worked on the Pennovation Center, an "idea factory" at the University of Pennsylvania meant to "inspire innovation" (it has a bar); open-plan offices for Triple Canopy, an arty-intellectual magazine supported by the Andy Warhol Foundation; a shop for a bespoke 3-D printed headphones; and communal housing. A new client is Bulletin, a millennial-run store that sells products from female-owned online vendors ("Nasty Woman" slippers, vibrators, embroidery that says "Put the seat down you fucker"); Ly has been hired to design Bulletin's brick-and-mortar flagship, in Manhattan's Union Square.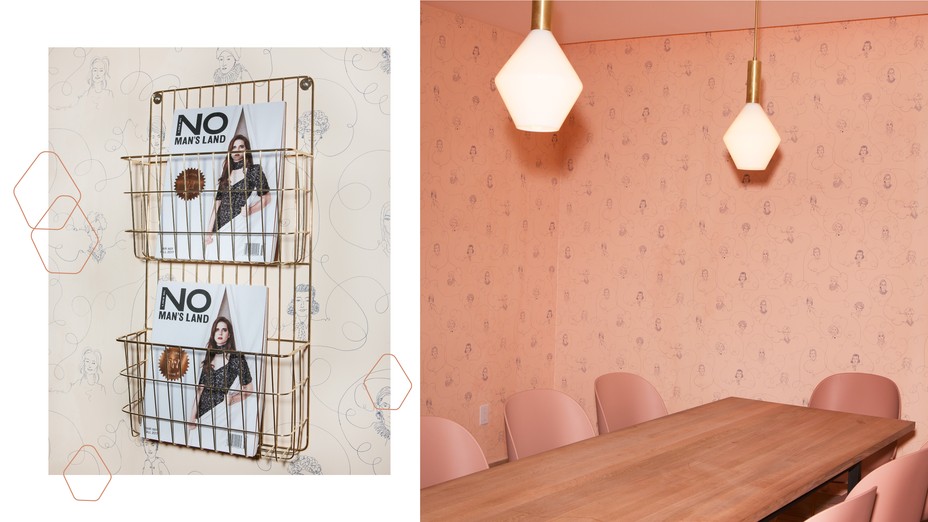 The Bulletin project is in its early stages, and the other day, Ly sat down with the company's executives to share ideas over breakfast. She has long, straight black hair, which she'd pulled into a low ponytail; she wore a collarless black leather jacket, a large-faced black watch, and wool slipper booties. She was 38 weeks pregnant, and munched on granola. "I love these bowls," she said between spoonfuls. Looking at slides that Ly and her team had pulled from Pinterest, Ali Kriegsman, Bulletin's chief operating officer, in a beanie, observed, "It's like a makeover show." She pointed to an image showing a space filled with herringbone tile. "I like this," she said. "It's refreshing. It's cool." Ly reminded about the noise of click-clacking heels on ceramic floors; too much, she warned, and "It will feel like a kitchen—or a bathroom." Kriegsman nodded, undeterred. "It doesn't feel bathroomy to me, though." Bulletin was open to embracing a locker-room vibe. "What I like about the tile is that it has this kind of sanitary, non-rustic feel to it," Alana Branston, the CEO, with a creamy blonde bob, said. "I like cleanliness. Aesthetically, I feel like it's on brand." After they left, Ly said, "Pinterest is a blessing and a curse for architects. It really gets them"—the clients—"excited and engaged. But you see a lot of the same thing over and over. It's kind of an echo chamber."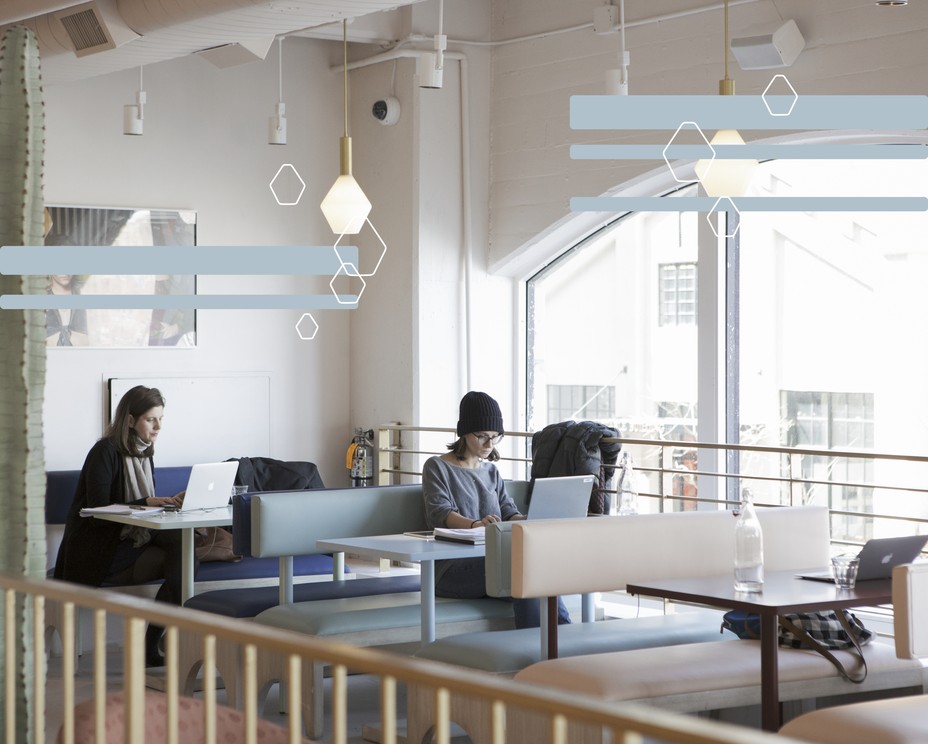 Ly's parents were Vietnam War refugees—their own parents fled the Communist Revolution in China—who made their way to New Zealand, where Ly was born. In the late 80s, they moved to a suburb of Los Angeles ("The architecture was as plain as possible," Ly told me) and the family worked in restaurants, electrical-outlet factories, wherever they could get jobs. Her dad was a church janitor, and then became a contractor. "The fun thing we would do on Sundays was go to open houses in the fancy neighborhoods," she recalled. That gave her an inkling of what might be even more fun: "I love building stuff." Ly put herself through college, at UC Berkeley (her first job was folding shirts at JCPenney), and later went to Harvard's Graduate School of Design. "I've always been a really visual and spatial person growing up, so it just made sense for me," she said. "Everything is a problem to be solved."
Solving for feminism in architecture, Ly believes, is a matter of making room for choice. "It's having areas for women to have privacy, or to work in big groups," she explained. To see, to be seen, to burrow down into work—all things men and non-binary people tend to find useful, too. (The underside of gender-specific spaces is now of interest to the New York City Commission on Human Rights, which has launched an investigation into The Wing on the basis of possible discrimination.) But there are some design features that are explicitly and thoughtfully female: "Like having a pumping station," Ly went on. "Those are the obvious things that help. Especially now, as I know—and I'll need it."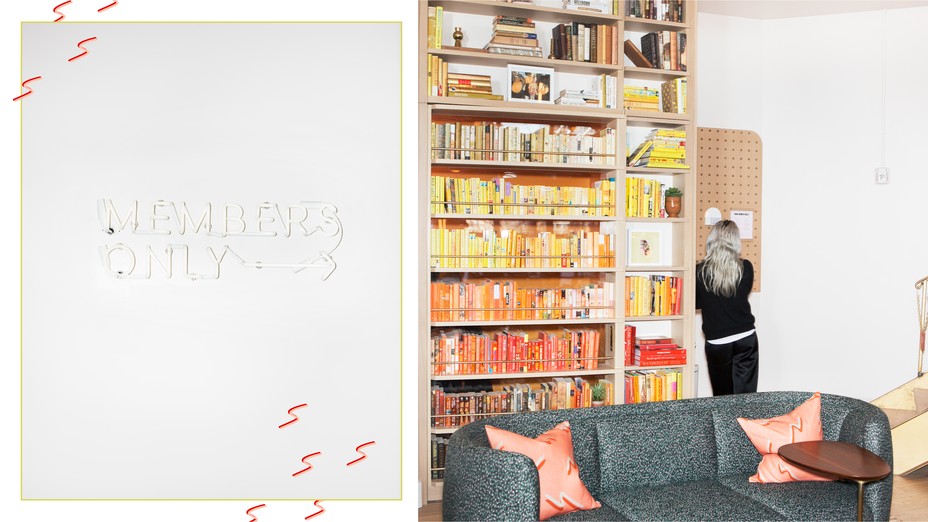 On a morning in March, Ly arrived at The Wing's Brooklyn outpost, which had been in business for a week but awaited final touches. Stopping at The Perch, the club's coffee bar, she put down her purse, took out a large notepad, and turned to a blank page. She was there to complete the punch list—an inspection of the remaining details specified in the contract. Dozens of women had already made themselves comfortable in pink lounge chairs; they worked, drank lattes, slipped into "telephone booths" hidden behind shelves stocked with books by female authors. (The vintage dial phones inside were merely decorative.) Ly's style is chic and sleek, and at The Wing, with its particular brand of for-profit feminism (access to a single location costs $2,350 a year), the ladylike touches can seem rather literal—the pink, the florals, wallpaper of naked women embracing. There are tucked-away rooms, arches everywhere, curved staircases.
"We'll see how long this trend lasts," Ly said, of the conspicuous roundness. "But for me, it's not the pink, it's not the curves." It's about offering a variety of spaces in which women feel comfortable. This is different from the man-cavey environments of certain start-ups, she added. "There are other things that get them excited. Foosball tables, beanbags, beer pong. For us, it's not about toys. We're not trying to give you free food. We're just trying to make you feel comfortable."
Ly was greeted by Nora Cady, a Wing employee who handles site openings; she wore jeans and blue socks patterned with seductively-posed nudes. The two reviewed their agenda. Creating an environment to satisfy every woman's liking is an imperfect science. In the SoHo club, for instance, some patrons insisted that it was too cold in the conference room, and fussed with the thermostat. "They would try to adjust it themselves," Ly said.
"Women would just touch every control we had," Cady explained. "It was a control thing." Her crew changed the system. "We had to lock them out."
Cutting into the soft-hued scene, a pair of men walked by, one holding a ladder. Ly apologized. "What they've done in the past when a man comes in, is that they have to announce it, 'We're having some work done, there's a gentleman coming through.'" These guys were HVAC subcontractors, who had to be escorted at all times by a woman on staff. (At the Colony Club—a social club for women established in the early 1900s—men could be admitted as guests, but they had to remain in The Strangers' Room.)
As Ly set off on her nitpicking tour, it turned out there was another man around: Scott, the fire-safety officer on duty, in a black suit, who sat in the lobby drinking coffee from a paper cup. Noticing Ly, he pointed to some loose wires above the front door. She thanked him and turned to an associate: "Make sure you put that down." Scott told her that in the early 90s he'd been a bartender at a restaurant that had previously occupied the space. "It was a place for couples to come that weren't married," he said. Now he was keeping to himself. "I'm just trying not to make anybody ill at ease." Ly smiled at him and continued about her business.