Rich People Are Ruining Wine
… and Napa Valley is forever changing as a result.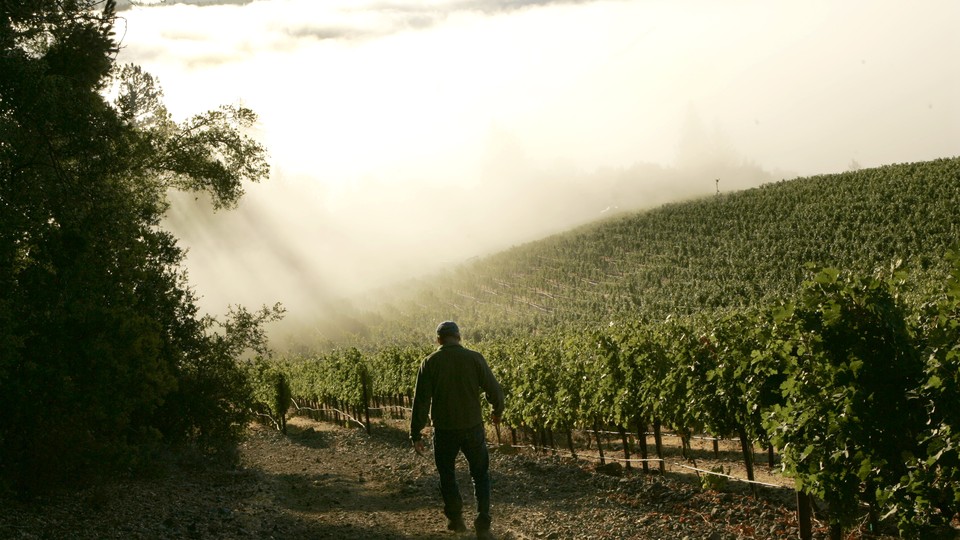 Seven years ago, Donald Trump bought a vineyard and winery in Albemarle County, Virginia, a few miles south of Monticello. The property had belonged to the ex-wife of John Kluge, the late founder of Metromedia (which later transformed into Fox News) and once the richest man in America. Kluge's 1,300-acre property went to his former wife, Patricia, in a divorce settlement, and it was she who had the vineyard planted and a small winery built.
According to Trump's son, Eric, his father doesn't drink and bought the property because "wine's sexy." In so doing, Trump joined the ranks of a relatively new class in America, the "lifestyle vintner," a type of hobbyist investor who makes money in another field and then buys into wine, mostly for the social and financial cachet. Trump is but the most famous of them; the owners of thousands of smaller enterprises across the country—wine's now made in every state in the union—qualify as well.
Vintner is a word that implies a knowledge of vines, husbandry, and winemaking, and a significant amount of physical labor. Not so the lifestyle vintner. It is a somewhat deprecating honorarium for mostly wealthy individuals with none of the above. Their surnames hover artfully on bottles of cabernet sauvignon and chardonnay, all deeply punted and impressively expensive.
These bottles are social entrées of a sort, often representing a quick, handy makeover. Former labels—oil man, developer, sports mogul, tech entrepreneur, financier—are jettisoned for a new title redolent of European nobility. Those defined by their accumulation of money turn their backs on that past, benefiting from a kind of lay transubstantiation in which wine washes any previous grubby associations away.
Lifestyle vintners' websites sag with paeans to nature, viticulture, and terroir (as well as, of course, themselves). But few truly embody the back-to-the-land credo of the '60s and '70s that made world-famous places like Napa Valley, now first choice for American lifestyle vintnerhood. I have been writing about Napa since the mid-'80s and have watched this increasingly glamorized culture change the nature of the valley for the worse. The wines have become—with notable exceptions—standardized, and the gap between real agriculture and the glamorized version has grown.
This has proved to be a very lucrative distinction. Napa wine accounts for only 4 percent of California's total, but in conjunction with tourism and related industries generates about $13 billion a year, according to trade-group estimates. Though it's impossible to say precisely how much revenue is earned by lifestyle vintners, it is considerable—and made possible in large part by capable immigrant labor.
Thanks to the rise of the lifestyle vintner, the market is now glutted with new wines in a numbingly similar style. Critics generally favor them, most costing well over $100 a bottle, and as a result many of the richest American palates have developed a taste for alcoholic, overripe cabernet. Napa still has its small, inspired producers, but also mega-companies—Constellation, Treasury Wine Estates, Kendall-Jackson, Gallo—that churn out bottles for nationwide distribution.
Lifestyle vintners have also left their mark on Napa's landscape. Most refer to themselves with straight faces as "farmers," even as "environmentalists," while more trees are cut on surrounding mountainsides for yet more vineyards. They loudly praise the valley's exemplary past and glorious future while exploiting its present. For instance, a prominent computer-boom beneficiary named Mike Davis has spent more millions on his sprawling new winery than will likely ever be recovered through wine sales. Since the Napa Valley floor is all planted, only the hillsides are available for new vineyards. And Davis is bent on scraping out a vineyard high on Howell Mountain that would adversely affect a precious wildlife preserve, one of the state's most biologically rich remnants. (Davis did not respond to an interview request.)
There's been a clamor over similar plots of land as a changing climate has prompted vintners to get the most out of Napa before possibly having to move on to the Pacific Northwest or the Rockies. Many lifestyle vintners are developers who resent objections to their plans by members of the community. Such names are common on labels. One—Craig Hall of HALL Wines—has been in a decade-long struggle with a local community that's trying to prevent his cutting of some 14,000 trees on more than 2,000 acres in a remote part of the county.* A Dallas developer and former co-owner of the Dallas Cowboys, Hall, like Trump, has bounced back from bankruptcy and moves among high-risk investments.
Hall's new project in Napa would partially deforest a 2,300-acre untrammeled swath of land.* This destruction wouldn't be for something useful like growing food, but rather for yet more derivative wine beyond the financial reach of most people. Locals fear that mansions will follow, as they so often do in California. (Hall declined to be interviewed for this story, and a representative of his referred me to the county's public records about the new project.)
After several disputes like this, social discord has grown steadily in the valley. Thousands of Napans signed a petition to put an initiative on the 2016 ballot to increase regulation of timber cutting in the hills. But a phalanx of trade groups—the Napa Valley Vintners (the host of an exclusive annual wine auction), the Napa Valley Grapegrowers, and the Winegrowers of Napa County (a coalition of corporations and wealthy individuals)—opposed it. The industry's sway was clear when the county disqualified the initiative on a technicality.
A similar initiative is back on the ballot this year, but as lifestyle vintners leave their mark on the landscape, the influence of a different type of vintner is receding. Salvestrin Vineyards lies at the end of a dirt driveway just up Highway 29 from its antithesis, HALL. Its white-frame farmhouse was built in 1879, adjacent to a vineyard that was planted in 1859. The owner today, Rich Salvestrin, is blue-eyed, burly, and burnished by the California sun. His grandfather came to the area from Northern Italy, via Ellis Island. "He helped neighbors with their vines, and bartered his labor for the use of a horse," Salvestrin said. "My father took over, and in 1950 bought a tractor. I've been tied to this land for as long as I can remember."
Salvestrin worked in the vineyard growing up and is a useful case study in the opportunities and difficulties of small winemakers in Napa Valley. Salvestrin Vineyards is 18 acres—less than it used to be, as he sold some acreage to the local school—adding value to the crop by turning it into wine that is sold at a much higher price. But there construction stopped. The operation supports his family, including three daughters, and his parents who still live in the house. As for current tensions between development and agriculture, Salvestrin says, "We're at the tipping point. This place should be about the wine." More and more people are thinking just that.
---
* An earlier version of this article stated that Hall seeks to cut down 28,000 trees. That was the original number of proposed trees; after public debate, Hall reduced the number to 14,000 trees. We regret the error.

* An earlier version of this article mischaracterized the extent of deforestation, and said the property had never been damaged by forest fires. The property was damaged in a wildfire last year. We regret the error.