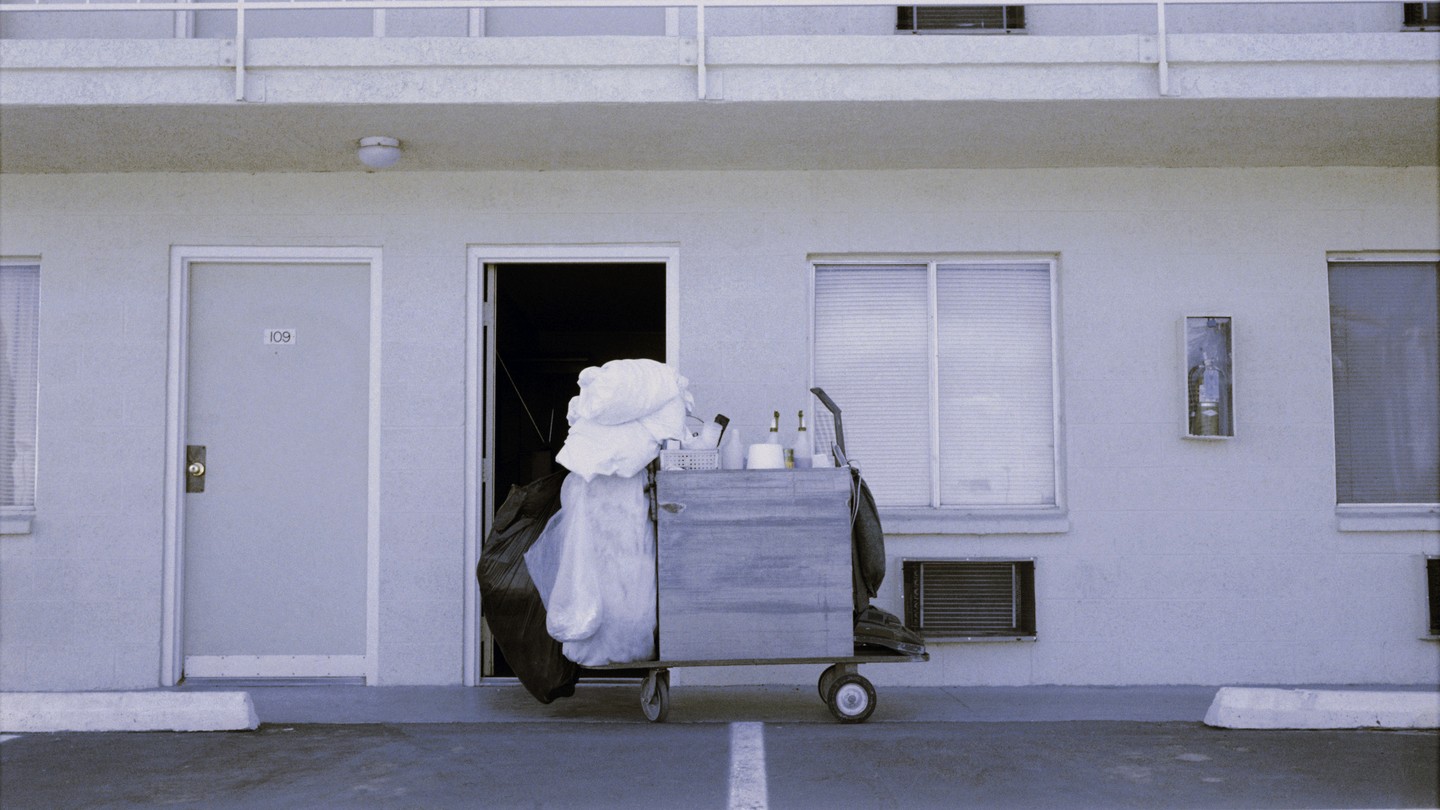 A Horrifying Path to America for Hotel Workers
Racida Eslabon came to the U.S. expecting to send money back home to the Philippines. She still hasn't told her mother what happened after she arrived.
Four people in need of work went to the first meeting and gave the man money, but Racida Eslabon was the only one who made it to the United States. She had already worked in a factory in Japan, and when she got back to the Philippines, she wanted to leave again so she could send money home to her mother, who was sick. She had been trying to get a job through a placement agency but with no success, so it seemed like very good luck when she met Alfred Briones in June 2008.
Eslabon's decision to pursue a job through Briones, made in desperation in the Philippines 10 years ago, began a chain of events that left her trapped in fear and debt. She was eventually able to escape and obtain a T visa, a type of visa reserved for trafficking victims who have cooperated with law-enforcement investigations and would face extreme hardship if removed from the U.S. An applicant must submit evidence that she meets these requirements, typically including a declaration from federal law enforcement or government officials that she has faced trafficking and been helpful to law enforcement. In Eslabon's case, the Department of Labor's Wage and Hour Division provided Eslabon with a certification, based on its investigation of her experience and conversations with her. The details in this account are drawn largely from this certification, as well as The Atlantic's interviews with Eslabon.
Briones worked for a placement agency in the Philippines bringing workers to the United States though a U.S. counterpart, Coastal Ventures, in Destin, Florida. Briones told Eslabon he could get her a job working as a housekeeper in Miramar, Florida, according to Eslabon—all she had to do was pay him about $600 to $700 within a week's time to get the visa interview at the U.S. Embassy. And she had to decide quickly; otherwise, he said, he would offer the job to someone else.
To Eslabon, the job—a cleaner at a hotel—seemed worth the risk. According to the contract she received, it promised 40 hours a week at $7.50 an hour, plus $11.25 for overtime, though she would have to pay $75 dollars a week for the home she would share with other female Filipina workers, $7 dollars for utilities, and $15 for transportation to and from work. After this initial payment, her visa would be renewed at no extra cost every six months. She hurried to get the papers and the money together to meet Briones at a mall in Quezon City in the Philippines.
Eslabon's story is illustrative of a hole in America's labor protections—a hole into which desperate foreign workers can fall. Originally, Racida Eslabon entered the United States in 2008 on an H-2B visa, a temporary work visa to the United States. The visa is tied to a single employer (Eslabon's visa reads "Holiday Inn DBW Coastal Ventures"), though many of these employers aren't employers so much as recruiters, bringing workers to the United States for temporary low-skill jobs at other companies. In today's fragmented, contractor-heavy economy, many hotels, restaurants, and other facilities no longer directly employ their workers. This employment arrangement may seem strange, but "it is very common for hotels in the U.S. to contract with labor recruiters in the Philippines (and other countries like Jamaica) to recruit temporary seasonal workers on H-2B visas," said Laura Berger, formerly of the City Bar Justice Center, a New York–based pro bono legal organization that represented Eslabon in her immigration case. This leads to situations like Eslabon's, in which no one takes responsibility for the imported workers and they often face exploitative work conditions.
Eslabon is not unique in having placed her faith in a recruiter. According to a report from Polaris, an anti-trafficking organization, "Foreign nationals who have paid large recruitment and travel fees to labor recruiters often become highly indebted." Because of this debt, traffickers can maintain control and manipulate victims by leveraging the fact that the visa is tied to the job. Nearly every single victim of labor trafficking and labor exploitation that the organization identified involved a recruitment operation like the one that brought Eslabon to the U.S. In another report, Polaris found 124 trafficking cases and 510 labor-exploitation cases in the hospitality sector between 2014 and 2015. Eighty-one percent of the trafficking cases involved foreign workers. Additionally, because victims lack knowledge about where they are, their rights, and language fluency, they are often unable to easily extricate themselves from the situations the recruiters have placed them in.
The first sign for Eslabon that something was wrong was that Briones always seemed to want more money. First, an extra $200, because she needed another document because she'd be working at a hotel, according to Eslabon and the DOL certification. When Eslabon passed the interview in August of 2008 and was approved for an H-2B visa through Coastal Ventures, he asked for another $7,500. This was an impossible sum. But she had already booked her flights and was ready to go, so she asked her uncle if she could borrow the money. She put up a property as collateral and borrowed money from someone else, according to the DOL certification. The loan had an interest rate of 25 percent, Eslabon said, and she is still paying it off.
When Eslabon arrived in Florida, nothing was as she thought it would be. Coastal Ventures Management told Eslabon that she had to pay another $250 dollars as a deposit for housing, according to Eslabon and the DOL certification. (Multiple efforts to reach Coastal Ventures representatives for comment went unanswered. And despite providing Eslabon with a certification for immigration purposes, the DOL has not pursued any enforcement action against Coastal Ventures, according to Eslabon's attorney. Coastal Ventures has since dissolved its LLC.)
She felt she had no choice but to give him the money, even though, she told me, "this is the only money I had since I left the Philippines and I had not eaten yet." She got to the apartment and was horrified to find that instead of other women, as she was promised, there were no Filipinos who spoke her language, and there were men, with multiple people to a room, and only one bathroom for the six residents, she told me. "I cannot do this," she said to me. "It is not our culture and not appropriate." And the home had no cookware, no bed, no internet, no phone. "When I read the contract," she told me, "you dream in the U.S. you are going to live in a home." But this was not a home, though it was expensive. At $75 per person per week, not to mention utilities and transportation fees, Coastal Ventures was likely making money off of their employees. Suzanne Tomatore, the co-director of the Immigrant Justice Projects at the City Bar Justice Center, said this is a common strategy: "A contractor will charge well above market rate, putting up six people in a two bedroom and charging everyone." The employees are told they have to live in that particular apartment.
Life in the apartment also came with rules. The employees had a 10 p.m. curfew. At night, representatives from Coastal Ventures would come and check to make sure the tenants were at home. They told her if she broke curfew or any of the house rules, she would get a letter, and after three letters she'd be sent home, according to the DOL certification. They told her she couldn't leave the state without permission, she said. When she did leave later on to visit a friend, without permission, the agency called her multiple times to warn her not to say anything about her work, she said. When she asked to move later, she told me they insisted she still pay them the transportation fee even though she wasn't using the shuttle they offered to and from the house. "One thing that I thought distinguished Racida's case was the scrutiny that her employers put her through—even checking in every night to make sure she and the other employees were in the apartment by 10 p.m.," said Berger. "But the threats, poor living conditions, low pay, and false promises made by the original recruiter are pretty standard in these cases of Filipino clients with H-2B visas."
In May 2008, right before Eslabon met Briones, PhilStar, a Filipino news outlet, reported that the National Bureau of Investigation (NBI), a government agency in the Philippines responsible for high-profile crimes, had arrested a colleague of Briones. The reporter called the colleague a "female large-scale swindler who has victimized more than a dozen applicants looking for jobs in the United States." According to the article, the applicants "had paid more than P6 million [over $100,000] as fees." The article makes reference to Briones, the human-resources manager for the company that had allegedly committed these crimes, but says that according to the NBI, Briones was not charged, investigated, or arrested. The NBI did not respond to request for comment on the case. Attempts to locate and contact Briones were unsuccessful.
The morning after Eslabon moved in September 2008, she started work at Marriott's Courtyard Sandestin at Grand Boulevard, in Miramar Beach. There were about 50 other H-2B workers there, according to the certification. Although her contract promised 40-hour weeks, it was September, low season in Florida, and the hotel could only offer few hours, sometimes as few as 10. One week she only worked one day, according to the DOL certification. "Florida is seasonal," Eslabon said. "So you cannot blame the hotel. They try to give us more hours but they don't have customers, so what we are going to do?" When she asked for more work, she said the agency told her she was "talking too much," because they were supposed to handle all communications with the hotel, she said. No matter the hours, she still had to pay the agency the same fees for rent, transportation, and utilities, which could total as much as $147 per week, according to a paycheck from the agency. The paycheck, dated September 24, 2008, shows Eslabon earning a net pay of $53.64 after these deductions, below minimum wage. The company also charged her $500 dollars for renewing her visa every six months, according to the DOL certification. Hungry, she ate food off discarded room-service plates, also according to the DOL certification. Once, she says, she remembers being in a drugstore and needing medication and crying, until someone took pity and purchased the medicine for her. Worst of all, she said, "I couldn't send money to my mom. I didn't know what excuses I was going to tell them." She told her family nothing about what was happening to her here, not wanting to worry them.
When I asked Marriott specifically about this case, it replied, "We don't have any information related to the incident you've referenced, so we aren't able to verify whether it is true or accurate," through a press representative, Barbara Delollis. There are structural reasons that hotels, for their part, turn to companies like Coastal Ventures for workers. "There are a variety of arrangements companies make these days as they outsource different functions for very legitimate business reasons," said Michael Lotito, co-chair of the Workplace Policy Institute at the management-side labor law firm Littler Mendelson. Lotito, who cautioned he was not speaking about a specific company or situation, explained that "in the hospitality industry it is not unusual" for a company to look for temporary workers through a recruiter, especially as "occupancy swings from 50 percent to 100 percent."
This dynamic exposes chains like Marriott to labor markets in which workers are much more likely to have been trafficked or otherwise abused. Delollis stressed that as of this year Marriott employees were required to undergo training that teaches the signs of human trafficking. "The protocol is to have employees 'see something, say something,' and to report information directly to management, who will assess the situation and work with relevant parties, including law enforcement as necessary." She said that two employees reported human trafficking within three months of the training. She also said that the brand has been working to combat this issue since 2006.
I reached out to the American Hotel and Lodging Association, an industry group, to ask about combatting this problem on a larger scale. "We do not have any comment at this time," they told me through a press representative.
Berger, Eslabon's lawyer, says that relationships between subcontracted employees and employers are prone to abuse, and that employers often do not scrutinize how the subcontracted employees are treated. "I think that subcontracting for labor is a direct contribution to labor exploitation and trafficking because the most important thing for the contractor is the price," she argues. Often, subcontractors offer low prices to hotels, and can do this because they pay low wages and charge fees to employees. And while Berger says that this is because many hotels fail to do "due diligence," there is also little federal or state oversight.
The Fair Labor Standards Act, which governs minimum wage and overtime, was created in 1938. "Unless you have been living under a rock you know the workforce has changed dramatically," Lotito said. In 2015 and 2016, in order to address these changes to the economy, David Weil, the Department of Labor wage-and-hour administrator at the time, issued new guidance for the concept of "joint employment," which would classify contract employees as employees, making both the subcontractor and the employer responsible for the contract employee. Labor advocates saw this as a move in the right direction; industry groups and proponents of smaller government saw it as an overstep for an executive agency, and a step backwards in terms of allowing companies to set their own hiring practices without fear of lawsuits. Secretary of Labor Alexander Acosta overturned these guidelines in June, but nothing has come in their place. "Under Acosta that guidance is being revoked, but there is no substitution for the guidance," said Lotito. In December, the Republican-controlled National Labor Relations Board (NLRB) voted to overturn a similar Obama-era ruling, which held companies responsible for illegal activities committed by their subcontractors. That reversal, however, was itself reversed in late February because of a board member's recently uncovered conflict of interest. That leaves the issue open to possible congressional action.
In 2011, the DOL issued two denials of applications for more H-2B workers for Coastal Ventures. One was a 2010 request for applications for 70 maids and housekeepers for a Hilton in Sandestin, and the other a request in the same year for 50 workers for a Marriott in Panama City Beach. Both denials were related to a new (at the time) federal ruling that required Coastal Ventures to also submit paperwork from the employer (the hotels) as part of the applications.
Eslabon saw no way out. Every time she tried to pick up supplemental work, Eslabon says, Coastal Ventures threatened to deport her. Finally, in 2010, Coastal Ventures said that she couldn't renew her visa, and in 2011 said she had to leave and come back in order to work, Eslabon says. But she was scared to fly without a visa. She finally escaped with the help of a friend to a job in Virginia, where she stayed for three years. She then moved to Queens, New York. The whole time, she says, she believed that Coastal Ventures was still looking for her: She felt she had to change her phone number, and she was terrified because she was here illegally, didn't know what to do, and didn't trust anyone. During that time, she said, "my heart [was] empty." But in New York, she connected with an organization, Safe Horizon, which referred her to a lawyer who could help.
When Eslabon agreed to speak with me this winter, she wanted to make sure the interview wasn't for television. Eslabon said she didn't want her mother to see her, because she never told her she had been trafficked. She did call her mother, however, after her T visa petition was finally granted last year, allowing her to stay in the United States. "It was a blessing for me," she said.