Gary Cohn Reaches the Breaking Point
Trump's top economic advisor almost quit after the president's handling of Charlottesville. Now he's resigning over a populist rebellion in the White House.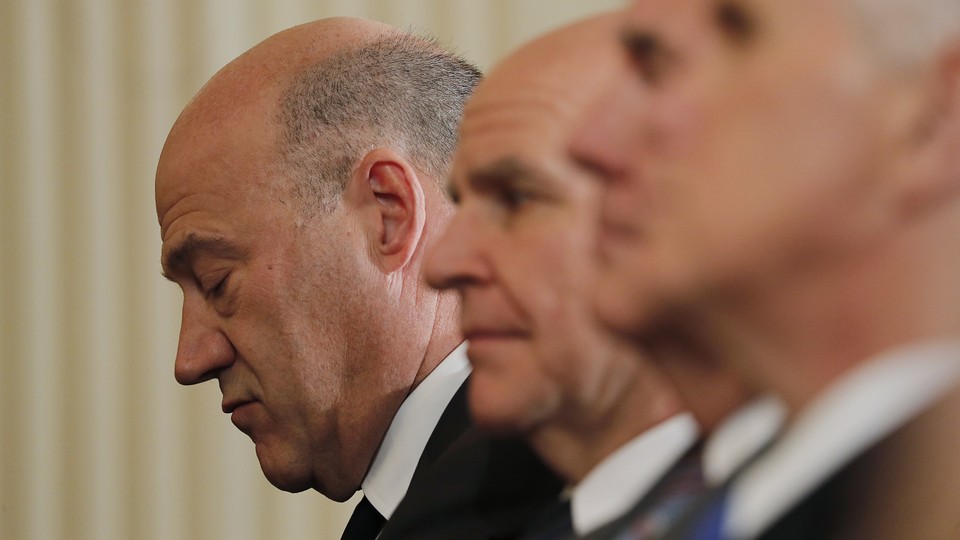 Gary Cohn, President Trump's top economic adviser and the director of the National Economic Council, will resign from the White House, according to multiple sources.
Neither the White House nor Cohn has offered an official reason for the resignation—the latest in a string of noteworthy departures from an administration that appears to be descending into chaos.  But it's hard to ignore the fact that Cohn's departure comes in the disorderly aftermath of Trump's announcement that he will enact stiff tariffs on steel and aluminum imports. The president's tariffs decision was reportedly made over Cohn's strenuous objections and without input from most of the president's economic advisers. According to NBC News, Trump made his announcement in a fog of frustration, following the resignation of Hope Hicks, his longtime aide.
Cohn had reportedly threatened to step down before, most notably last August after the Charlottesville protests. After President Trump said there were "very fine people on both sides" of the violence that ended in the death of a woman protesting neo-Nazis, Cohn said he felt "enormous pressure" to resign. Then, just the threat of his departure was enough to send financial markets plunging. As of Tuesday evening, stock futures point to a large loss when markets open on Wednesday.
As the former president of Goldman Sachs, Cohn was widely seen as a White House surrogate for Wall Street interests, charged with reining in the president's nativist instincts. As a candidate, Trump spent months railing against the effects of globalization and trade, promising to protect steelworkers and miners. But in his first year, the president's economic policies seemed effectively interchangeable with those of any typical Republican leader, like Mitt Romney or Paul Ryan. He oversaw massive deregulation of businesses and signed a corporate tax cut whose benefits have accrued overwhelmingly to the largest corporations and their shareholders.
Indeed, the White House is already framing Cohn's resignation as the inevitable departure of a man who has accomplished all he came to do—cut taxes on big companies. "Gary has been my chief economic adviser and did a superb job in driving our agenda, helping to deliver historic tax cuts and reforms and unleashing the American economy once again," the president said in a statement to The New York Times.
Cohn's departure marks a new chapter in the turf war between the White House's free-market globalists and its nationalist flank. After Steve Bannon was fired and the president signed the corporate tax cut, it seemed that Cohn and other free-market advocates had persuaded Trump of the virtues of conservative economic theory. But Trump's new tariffs—and the way they were conjured without any formal decision-making process—may signal Trump's new willingness to defy his advisers and the Republican Party to pursue a radical agenda that few economists can explain, much less defend.
Trump has spent much of the last year pointing to the stock market as a report card for his presidency. By threatening a trade war and allowing the resignation of Wall Street's de facto ambassador to Washington, he has chosen another path that could threaten that pro-business narrative.