Why Public Media Has a Sexual-Harassment Problem
Hollywood was one thing. But inoffensive, taxpayer-funded media?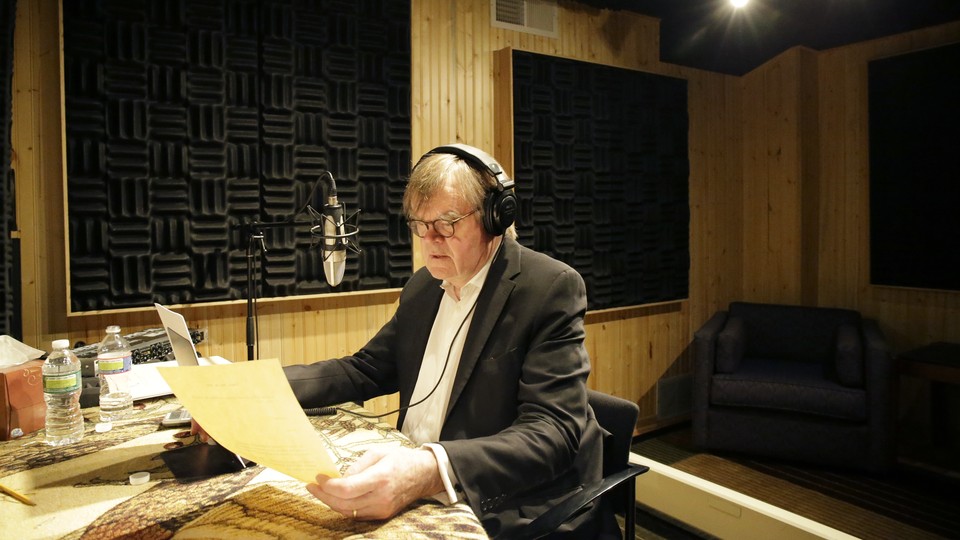 In a recent letter to listeners, Minnesota Public Radio's president, John McTaggart, depicted damning allegations of sexual harassment against Garrison Keillor, the recently ousted host of the popular show A Prairie Home Companion. "If the full 12-page letter or even a detailed summary of the alleged incidents were to be made public, we believe that would clarify why MPR ended its business relationship with Garrison," he wrote. The statement is likely geared toward shocked fans, some of whom criticized the station for severing ties with Keillor over what he said was a "more complicated" version of events. McTaggart's letter may quell some of MPR's critics, but it doesn't answer the bigger question many listeners have: How could Keillor and so many other beloved public-media stars have gotten away with such inappropriate behavior for so long?
Within the span of a few weeks, accusations against other high-ranking and well-known figures have surfaced in the public-broadcasting realm, leading to their dismissal or suspension from organizations including NPR, WNYC, and WBUR. There was David Sweeney and Michael Oreskes and Charlie Rose. And John Hockenberry, Tom Ashbrook, Leonard Lopate, and Jonathan Schwartz. There's something odd about how many of the allegations of sexual misconduct in the media industry have come out of public media—with its reputation for thoughtfulness and civility. Hollywood was one thing, with its legacy of casting couches, hypersexualization of women, and clear gender imbalances—but gentle, egalitarian public radio?
The industry's swift and aggressive response has been notable. Stations have been quick to cut ties with those accused of sexual harassment. That stands in contrast to the choices made by other organizations who have sometimes chosen different and less severe forms of censure, such as the reassignment of Glenn Thrush at The New York Times or the six-month sabbatical taken by Pixar's John Lasseter.
According to the Corporation for Public Broadcasting (CPB), a nonprofit formed in 1967 to act as a steward for the federal government's investments in public broadcasting, the purpose of public media is to "provide programs and services that inform, educate, enlighten, and enrich the public and help inform civil discourse essential to American society." And that mandate requires the "development of content that involves creative risk and that addresses the needs of unserved and underserved audiences, especially children and minorities." This guiding premise tasks public media with upholding a higher moral standard than for-profit media, and many presume that by virtue of working there, its employees adhere to those standards too. That's part of what makes these allegations so difficult for audiences to stomach.
Public media is donor-based, meaning these outlets must appeal for their audiences' support. In recent years, individual giving has increased for local public-radio funding and broadcasts such as PBS NewsHour. That may be part of what's driving dismissals in public broadcasting. A donor-supported model "gives people a sense of ownership and investment that I think is different," Pete Vernon, a staff writer covering media for the Columbia Journalism Review, told me. When it comes to stations trying to manage the fallout of sexual harassment, they "understand how bad the optics are on this, and they understand their listeners are now incensed about it." They also understand that, especially for smaller stations, their livelihood can depend on their ability to court donations.
Public media is made up of a large constellation of local, independent radio and television stations, which receive federal funding to help them provide free programming and services to their local audience. These stations can differ vastly in size, audience, and resources. Some choose to become member stations to national outfits such as Public Broadcasting Service (PBS) or NPR, which give them access to additional programming. But often smaller stations find themselves strapped for cash, which can inhibit the ability to build up human-resources departments, or train staff and leadership about how to create an inclusive and safe work environment. Many of the outlets implicated in recent harassment allegations certainly don't qualify as small or under-resourced, but if stations aren't effectively managing these problems when they're still tiny, they can wind up with big problems as they grow.
At WNYC, for example, the newsroom grew to around 70 workers up from three, in the span of about 20 years, according to The New York Times.* But even as the station drew in more revenue and grew its staff, some current and former employees told The New York Times that human resources simply didn't keep pace. Now, after the firings of John Hockenberry, who hosted The Takeway;  Leonard Lopate, who hosted The Leonard Lopate Show; and Jonathan Schwartz, who hosted programs on American musical standards; Laura Walker, the president of New York Public Radio, has called for a review of HR policies related to harassment retaliation and discrimination. At a board meeting following the accusations of sexual harassment, Walker said that she was "profoundly pained and sorry" that the WNYC workplace "did not, at times, live up to the values our programming embodies."
While many people I spoke with say public media's harassment problem isn't worse than other segments of media, it's clear that the systems in place to cope with issues of sexual harassment have been woefully inadequate. Julie Drizin, the executive director of Current, a nonprofit publication focused on public media, says that the lack of robust human-resources departments that would include training and specific reporting mechanisms in instances of harassment may be a part of the problem, at least at some stations. "A lot of corporations invest a lot more in HR. I think that's one of the things that separates public media from other kinds of media," she says.
Still, even with its well-known deficiencies, public media doesn't quite fit the stereotypes of a male-dominated, hostile work environment. Vivian Schiller, the former CEO of National Public Radio, told me that public broadcasting, particularly NPR, has long been considered a space where women can thrive. "When I was there, most of the leadership was women," Schiller said. In fact, four women, Cokie Roberts, Nina Totenberg, Linda Wertheimer, and Susan Stamberg, are often referred to as the "founding mothers" of NPR. And the organization's most recent data on newsroom makeup shows that more than half of newsroom employees are women. The fact that a culture of harassment and bullying were allowed to fester for for years, all while women sat in positions of power and control, makes the issue all the more confusing. But if you consider the discord on other issues, such as between public media's stated commitment to diversity and its predominantly white audiences and newsrooms, it's clear that the overarching vision of public broadcasting often doesn't manifest in real and critical ways.
Schiller told me that she was shocked by the wave of allegations, and even more so by the fact that so many at NPR had remained quiet about them for so long. "My experience with the NPR newsroom is that they had absolutely no hesitation to speak out about things that they felt weren't right, unfair, or that were bothering them," she said. She sees the recent upheaval in a positive light—an indication that public media is going to be a leader when it comes to coping with these issues. "There is a seriousness of purpose to make things right, and to try to fix whatever systems were and weren't in place that allowed this to happen," she said.
For now though, most stations I spoke with are still in the process of conducting investigations to determine just how far issues of discrimination go, and what systems have allowed them to flourish. As public broadcasting attempts to cope with its #MeToo moment, leadership will have make sense of the dissonance of widespread sexual harassment in a space known for nurturing women's careers.  They may find themselves facing other contradictions, as well— such as persistent racial inequality in a space that has a mandate to be thoughtful about diversity. Stations have an opportunity not only to contend with individual harassers or failing policies, but to also think broadly about how to create newsrooms that live up to the values public media purports to uphold.
---
*This article originally mischaracterized the size of WNYC's newsroom. We regret the error.