America Finally Sees Meaningful Wage Growth
The first jobs report of the year beat economists' expectations, and provided the biggest boost in earnings since 2009.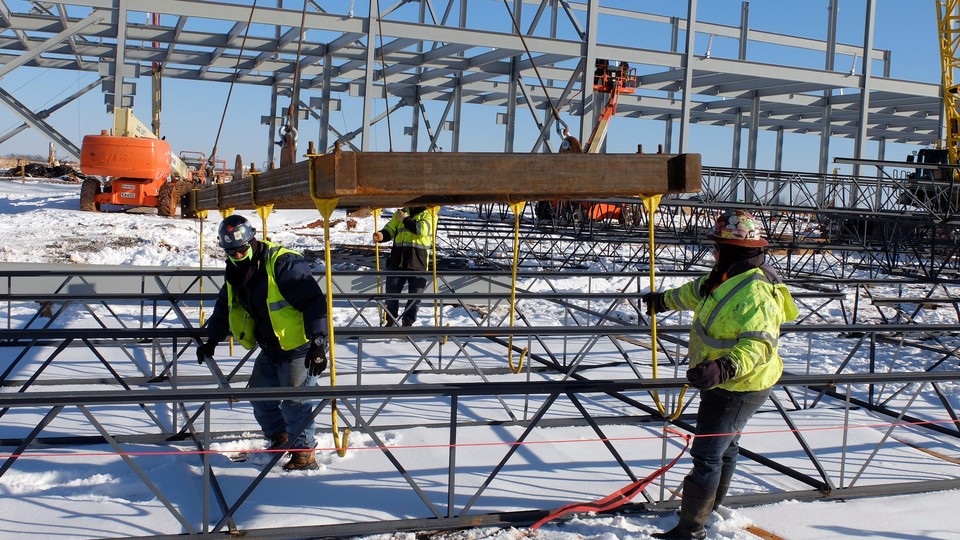 In January, the U.S. economy added 200,000 jobs while the unemployment rate held steady at 4.1 percent, according to the Bureau of Labor Statistics. The number slightly beat analysts' expectations: Economists surveyed by The Wall Street Journal anticipated around 177,000. But the biggest story of the month was the uptick in wages, which grew 2.9 percent from the previous year—marking the biggest jump in earnings since 2009.
Slow and meager advancement in wages has been a concern in what is otherwise a mostly healthy economy. In 2018, economists hope to finally see some meaningful, long-term growth on this front. Earnings increased by about 2.5 percent in all of 2017. That performance is not especially impressive for an economy that's been growing for the better part of a decade. January's performance may indicate that this year will be stronger. Over the month, earnings ticked up by 9 cents, making the 12-year growth rate 2.9 percent. That's the greatest wage growth the U.S. economy has seen since May 2009.
Still, labor-force participation remained at 62.7 percent for the fourth straight month—the lowest levels seen since the 1970s. And the share of underemployed workers—those who are working part-time when they'd rather be working full-time—also ticked up slightly, to 8.2 percent from 8.1 percent.
At the end of 2017, the president touted a milestone for black unemployment, which ticked down to its lowest level on record—6.8 percent. But that level was still significantly above that of whites, and while the gap between the two groups had narrowed, black unemployment still remained nearly two times as high. In January, the unemployment rate for black Americans went back up, landing at 7.7 percent. In the meantime, unemployment for whites ticked down further, to 3.5 percent—expanding the disparity once again.