The Stock Market Just Took a Historic Nosedive—Why?
Sudden stock crashes are notoriously difficult to explain. But rising wages and incipient inflation seem to be scaring investors.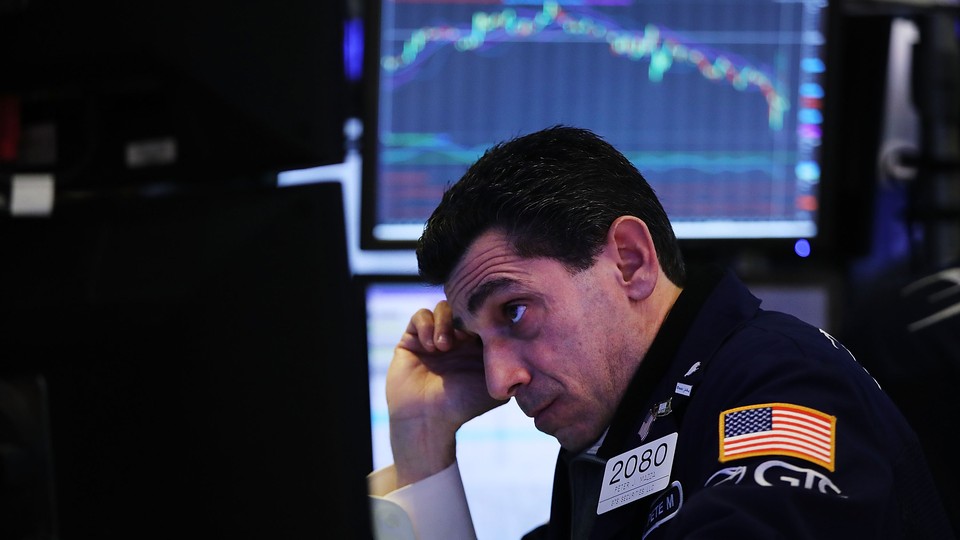 The Dow Jones Industrial Average plunged more than 1,000 points on Monday. This was the largest nominal decline in the history of the index, and the first time that the Dow has lost more than a thousand points in a single day of trading.
This means the Dow suffered its first-ever four-digit point loss just hours after the Super Bowl witnessed its first-ever four-digit offensive output. I am not suggesting causality here—I am insisting on causality here.
That's a joke. But it's no more serious than many of the attempts to explain the daily gyrations of the stock market, a public synthesis of millions of investment decisions by millions of people reacting to myriad news stories while guessing at the trading behavior of strangers they will never meet. Stock nosedives such as this create a vacuum of chaos and confusion into which creative theories flood, often unhelpfully. For example, CNBC hosts reportedly suggested that the market was "testing" Jerome Powell, the new chairman of the Federal Reserve. It seems unlikely that institutional investors coordinated a trillion-dollar pop quiz for Powell, just to test his reflexes.
There is a less creative explanation: There are some large-scale investors (such as brokerages with large accounts) that are nervous about incipient inflation due to clear signs of strong wage growth. These investors are also concerned that the Federal Reserve might raise rates, thus making it more expensive for companies to borrow and invest money. Higher inflation, higher wage growth, and less corporate investment would mean smaller profits for corporations. Since the stock market is fundamentally a collective bet on the future profitability of publicly traded companies, these factors would altogether predict that investors would be willing to pay less to own a share in a typical company than they were a week ago.
This shows that, unfortunately, Wall Street and Main Street do not always move forward in tandem. The stock market has soared in the last nine years, as slow wage growth has constrained labor costs for large corporations. But when wages rise quickly, that can threaten to eat into corporate profitability. On Friday, the Bureau of Labor Statistics reported that annual wage growth hit 2.9 percent, its highest figure of the current expansion. Hours later, the Dow dropped precipitously.
Monday's decline will certainly be terrifying to some investors, particularly if they just recently got into the market. Trading activity on the website E*Trade in November and December represented two of the three best months in the company's history, suggesting that many retail investors have piled into the market recently. Monday was a scary day for them, as well as anyone who was planning on soon cashing out any retirement savings they'd stockpiled in the market.
But there are severals reasons to withhold panic. First, while this is the largest points decline in Dow history, there have been several worse days in the last 15 years by percentage terms, including September 17th, 2001, and September 29th, 2008. Second, even after Monday's fall, the index is still higher than it was in November 2017.
---
The Dow Jones Industrial Average, February 2015–February 2018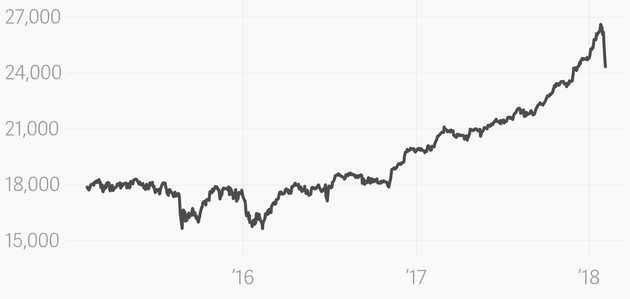 ---
Third, and most importantly, this has been one of the most astonishing bull markets in stock-market history. Since March 2009, the Dow has almost quadrupled in value. More recently, its historic last 12 months has been driven by a strong global economic expansion that should continue. As Michael Cembalest, the chairman of market and investment strategy at JP Morgan, told me last fall, "The percentage of countries in major expansion mode is about as good as it can get."
Finally, President Trump has insisted that the economy is a flawless report card that validates his tumultuous term. But the last two trading sessions demonstrate perfectly why it's so dangerous to attach any presidential reputation to economic indicators. The thing about the stock market is it goes up and down, sometimes by eye-popping margins, and the president almost always has nothing to do with the final figure.