Cities Have to Get Creative When Uber and Lyft Won't Release Trip Data
Researchers must devise workarounds, sometimes even recording the cost and travel time of their own rides.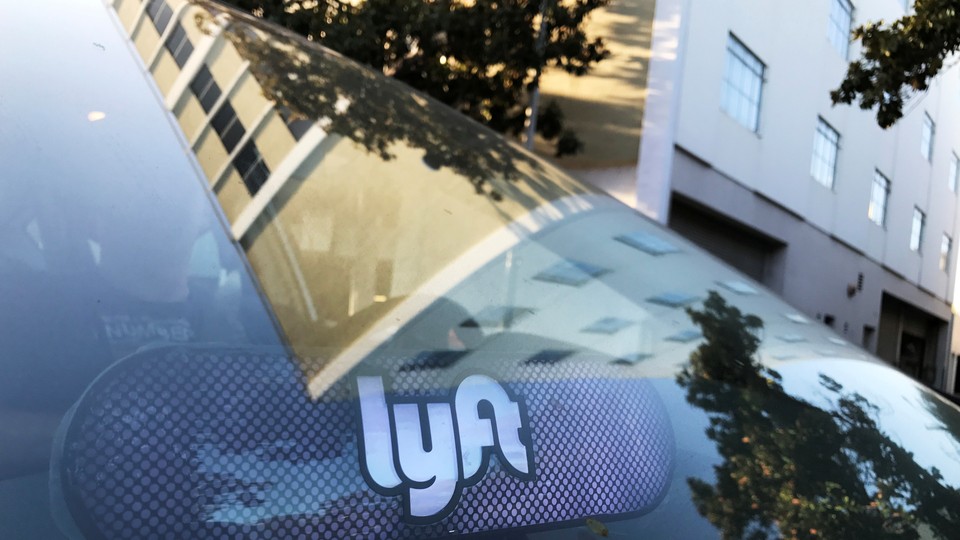 They'd cut back on traffic, ease air pollution, and complement public transit. Or so they said.
But the effects of Uber, Lyft, and other transportation-network companies ("TNCs," in wonk-speak) are proving more complicated on city streets. In New York City, rapid growth in on-demand vehicles roving the roads—with and without passengers—is contributing to markedly slower traffic, as numerous analyses of Taxi and Limousine Commission data by Bruce Schaller, a transportation consultant and former NYC Department of Transportation official, have shown.
It's an old saying that you can't manage what you can't measure, and because Uber and Lyft carefully guard raw trip data, the kind of analyses Schaller produces is hard to produce in many cities. At the 97th annual meeting of the Transportation Research Board this week, Schaller moderated a panel of experts from San Francisco, Chicago, New York City, and Boston on the importance of capturing on-demand mobility data—and how researchers are getting creative about gathering it.
San Francisco is by some measures the third-most congested city in the nation, but public officials found that ride-hailing companies weren't all that helpful in figuring out exactly why. "There is lots of happy talk about collaboration," said Joseph Castiglione, a panelist at the conference and the deputy director for technology, data, and analysis at the San Francisco County Transportation Authority (SFCTA). "But the type of information they claimed to be willing to share was not entirely useful."
---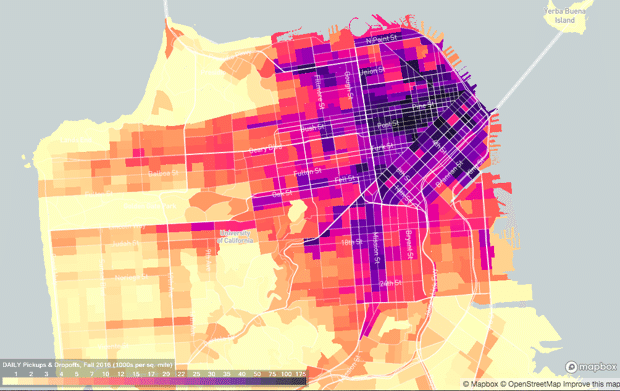 ---
So researchers got savvy. After their requests for citywide trip data were apparently rebuffed by Uber and Lyft, researchers at Northeastern University built a software script that scraped reams of TNC vehicle-location information by sending automated data requests to Uber and Lyft's platforms. San Francisco County Transportation Authority staff then cleaned, modeled, and mapped that information to estimate where, when, and how many daily trips occur.*
Their analysis found that more than 170,000 vehicle trips are made by TNCs within city limits on a typical weekday, which is about 15 percent of all car trips, and 9 percent of all trips, across different modes. "That's a floor estimate," Castiglione said—that is, it's conservative. They also found that the vast majority of TNC trips are heavily concentrated in San Francisco's northeast quadrant, which is already the densest, most congested part of the city, as well as the area best served by public transit, bike lanes, and walkable streets. Future studies will examine the extent to which TNCs might be adding to traffic and/or contributing to declines in Bay Area transit ridership.
In traffic-clogged Boston, Alison Felix, a transportation planner at the Metropolitan Area Planning Council (MAPC), a government-created agency, said that her city has also struggled with a scarcity of meaningful data from Uber, Lyft, and other ride-hailing companies. "The impacts of these services are not fully understood," she said. "But they are most likely impactful."
So the MAPC conducted a rider-intercept survey to study the issue. Of the nearly 1,000 TNC passengers surveyed in fall 2017 around the Boston metro area, more than 40 percent said they would have taken public transit if Uber or Lyft had not been available, and 12 percent said they would have walked or biked. Most cited speed and convenience as the main reasons for choosing an on-demand ride over buses or trains. "The responses to those questions provide strong evidence that TNCs are pulling from, not complementing, public transit," said Felix.
To be sure, the battle for riders that Uber, Lyft, and other TNCs are winning isn't particularly hard-fought. Service cuts and performance declines on many transit systems—especially bus networks—offer passengers little reason to stay loyal. In some cities, the rise of ride-hailing may be as much a statement on the quality of public transit as anything else. Schaller estimates that, in 2018, the number of annual for-hire vehicle passengers (which includes ride-hailing and the ever-shrinking pool of taxi trips) will outstrip the number of bus riders nationwide. "[This] shows the acute need for public transit to provide the same level of prompt, reliable and comfortable service that's attracting people to TNCs," he said via email.
That's part of the story in Chicago. There, rail-transit performance and ridership are strong, but buses are another story. Joseph Schwieterman, the director of DePaul University's Chaddick Institute for Metropolitan Development, told an audience at the TRB conference that in some cases, TNCs may be "filling a void" where bus service has fallen short of neighborhood needs. Without much TNC data to draw on, Schwieterman and his research colleagues studied the trade-offs between time and cost that riders make when choosing between transit and UberPool in the Chicago area—by actually making 50 real-life trips themselves.
The results are about what you'd expect: UberPool tends to win on time, while the Chicago Transit Authority tends to win on cost. The most time-saving UberPool trips were between residential neighborhoods where rail stations don't generally extend, and where bus-service gaps are the widest.
It's a good thing that TNCs are mobilizing passengers in transit-scarce neighborhoods. And Chicago isn't the only place that's happening—similar patterns have emerged in New York and San Francisco, where Uber and Lyft rides are also serving lower-income neighborhoods and neighborhoods of color more than yellow cabs used to. On-demand mobility is also proving to be transformative for many underserved population groups, including the elderly, the disabled, and people in need of medical care.
Ride-hailing doesn't have to end up leaving cities worse off. Asked for comment, Chelsea Harrison, a Lyft spokesperson, emphasized the potential benefits of its Lyft Line carpool service. "[A]s more people choose to share the ride we'll be able to even further reduce congestion and carbon emissions while making transportation more affordable for everyone," she said. (Uber did not respond to a request for comment.)
But public officials are responsible for ensuring that future. After initially battling (with mixed success) to regulate Uber and Lyft like taxi companies, many cities have since embraced ride-hailing services as an antidote to car dependence. Now a growing body of research is proving that, overall, this isn't the case. "It's the job of city and transit officials to chart the path to incorporate TNCs into city transport networks in ways that work for everyone, including other motorists, delivery companies and bus riders," Schaller said via email.
What might that path look like? Based on these studies and others, it seems the best defense is a good offense: High-quality public transit may be the only way to keep more-affluent riders onboard. Second, putting a tax on TNC trips, as Chicago has done, may also discourage unnecessary solo trips and raise funds to keep transit top-notch. Policies like congestion pricing—for which Uber has expressed vocal support—may do the same. And third, as creative as they are, studies like these make a clear case for the need for more data from on-demand companies themselves.
---
This post appears courtesy of CityLab.
*This article originally stated that the San Francisco Municipal Transit Agency was involved in collecting trip data, and omitted the involvement of researchers at Northeastern University. We regret the error.