Trump's Biggest Economic Victory Yet
The Senate quickly confirmed the president's pick for the next leader of the Federal Reserve.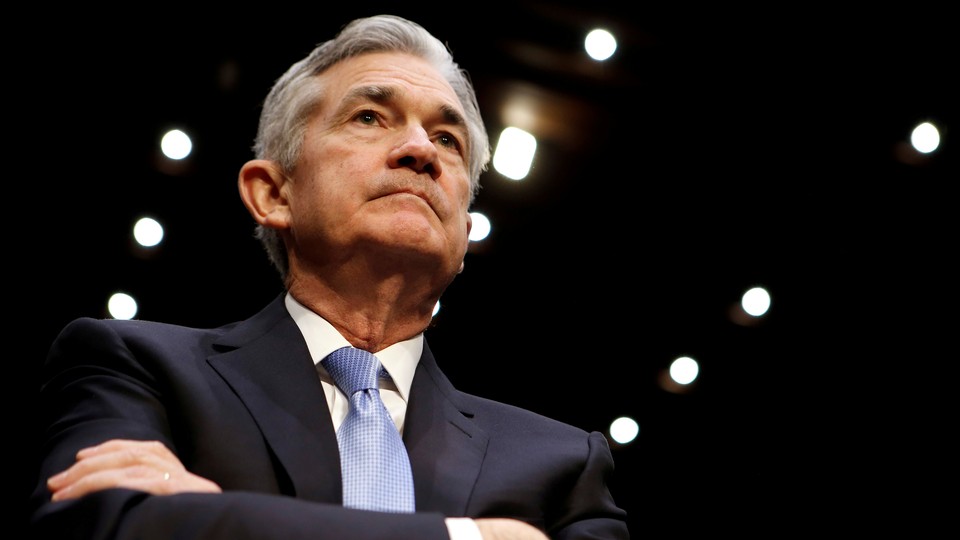 On Tuesday, the Senate quickly and easily made Jerome Powell the 16th head of the Federal Reserve Board with an 84 to 13 vote. Powell will officially begin his stint as the leader of the nation's central bank in February.
The speed and ease of the confirmation of Trump's nominee isn't much of a surprise: Selecting Powell, instead of more conservative or hawkish options such as Kevin Warsh and John Taylor, was seen as a sensible compromise that could ensure a swift and painless vote. Powell offers qualifications that appease both the GOP and Democrats: He's a moderate Republican with a track record as a Fed governor of supporting the previous Fed chair (and Obama appointee) Janet Yellen, while remaining open to the idea of deregulation, according to statements he's made in the past—a key Trump goal.
Tuesday's uneventful path to confirmation stands in stark contrast to Yellen's experience in 2013. After harsh criticism from many Senate Republicans, mostly centering on concerns that she would keep interest rates low, Yellen was confirmed with a much narrower margin: 56 to 26. While few Senators spoke up against Powell during his hearing, Senator Elizabeth Warren, who cast a dissenting vote along with eight other Democrats, expressed concern about the nominee's willingness "roll back critical rules that help guard against another financial crisis."
Powell's ascent to the Fed's top job is a departure from historical norms in a few notable ways. Trump's choice to replace Yellen with Powell marks the first time in modern history that a Fed chair who completed her first term wasn't offered a second. The departure is even more striking given the fairly bipartisan assessment that the economy has consistently strengthened—with a historic period of job growth, falling unemployment, and increasing GDP—under Yellen's tenure.
Moreover, at the time of her nomination, Yellen's qualifications for the role of Fed chair were stronger than Powell's are now. Prior to chairing the Fed, Yellen, who has a doctorate in economics, had served as the chair of the Council of Economic Advisors, the president of the San Francisco Fed, and as a Federal Reserve vice chair. Powell, a lawyer and banker, will be one of the first Fed chairs in recent history to not hold a Ph.D. in economics, a degree that many economists, most notably Alan Blinder of Princeton, have said is essentially a prerequisite for the job in modern times.
Not all of Trump's Fed nominations have gone as smoothly as Powell's. Also on Tuesday, Senate Democrats grilled Marvin Goodfriend, a conservative economist from Carnegie Mellon who criticized the Fed's actions under Yellen. During his confirmation hearing for one of the board's vacant governor seats, senators including Sherrod Brown and Elizabeth Warren, both Democrats, asked Goodfriend pointed questions about his predictions that the Fed's policies after the economic crisis would lead to runaway inflation—a problem that never manifested. Elizabeth Warren stated that she wouldn't vote to confirm Goodfriend, adding, "I think based on the kind of judgment you have demonstrated, American families are very lucky that you weren't on the Fed board over the last several years."
Trump's nominees can move ahead without the blessing of Senate Democrats, since Republicans hold a majority. With a new Fed chair in place, and more likely to follow, Trump has successfully completed a major step in influencing the direction of the country's monetary and economic future by moving his appointees into positions of power.
Still, Powell's Fed, at least in the early days, will look a lot like Yellen's—he supported just about all of her policy decisions and never cast a dissenting vote against her in Federal Open Markets Committee meetings during her tenure. That means a continuation of cautious interest-rate hikes and a slow unwinding of recession-era interventions. That formula likely pacifies Democrats who wanted Yellen appointed for a second term; it also appeals to conservatives who are now enjoying growth in both the stock and job markets—an upswing that was borne of Yellen-era policies.