​​​​​​​Can Indian Manufacturing Be the Next Chinese Manufacturing?
The country has quietly become the world's sixth-biggest auto producer. But it'll need to do better if it's to join the top tier of global powers.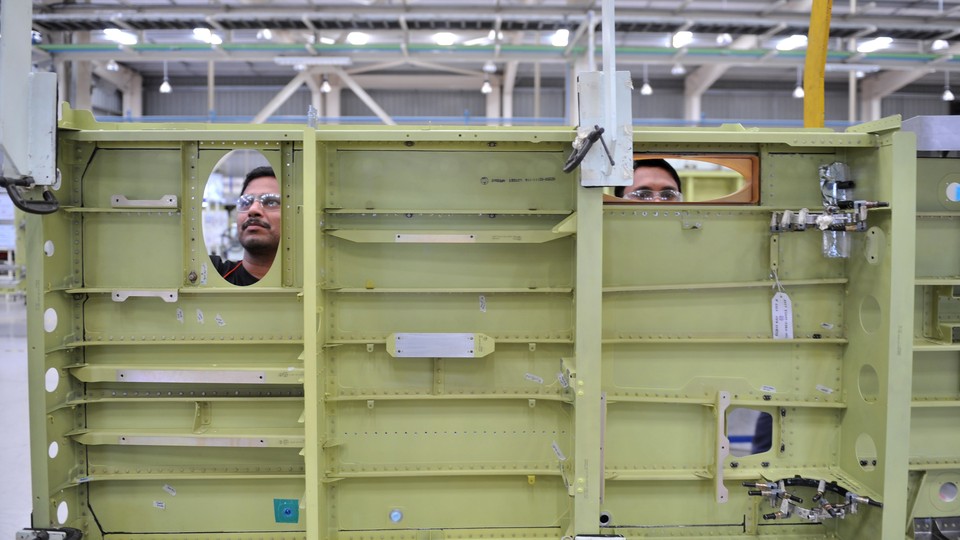 Not long ago, India's underwhelming manufacturing industry was symbolized by its best-known car: the Ambassador. Modeled on a British car from the '50s, the boxy Hindustan Motors sedan dominated Indian roads for decades. Well into the 1990s, it was to India what the Lada was to the Soviet Union or the Trabant to East Germany, testimony to the technological shortcomings of an economy cut off from the world and shaped more by bureaucrats than by market forces.
Manufacturing in India still faces problems, including poor infrastructure, red tape, disconnectedness from global supply chains, and restrictive labor laws that have stymied the growth of business and limited economic dynamism. Nonetheless, over the past decade, hardly noticed by much of the world, the country's auto industry has quietly scripted a success story. The land of the clunky Ambassador now houses one of the world's major automobile industries. In terms of output—nearly 3.8 million cars a year, according to the most recent figures—India now nearly matches South Korea, an automobile powerhouse, and is on track to catch up with Germany.
This story holds lessons for Asia's third largest economy. If automobiles, and by extension manufacturing more broadly, take off in India, the country may be able to generate many of the jobs required to employ the 12 million new entrants to the labor market each year. If manufacturing fails to thrive, India's economic future could come into question, and along with it the country's dream of emerging as a global power.
A manufacturing enclave in the high-growth state of Gujarat provides a glimpse of the industry's possible future. Ford Motor Company's sprawling, 460-acre facility can churn out 240,000 vehicles and 270,000 engines a year. Nearly two dozen suppliers have set up shop next door, creating a just-in-time manufacturing ecosystem. The plant manager at the time of my visit, Kel Kearns, a former Royal Australian Air Force flight lieutenant, said the highly automated Ford facility is "more like what you'd see in North America or Europe than traditionally in Asia-Pacific."
It's hard to overemphasize the importance for India of getting manufacturing right. While the country's world-class information-technology sector put it on virtually every global boardroom's agenda, Indian manufacturing trails that of East Asian powerhouses such as South Korea and Taiwan, or even much smaller economies like Vietnam or Bangladesh. As a percentage of GDP, manufacturing in India contributes only about 17 percent, essentially unchanged from the amount it contributed at the advent of economics reforms back in 1991.
To put this in perspective, manufacturing accounts for 29 percent of economic output in China and South Korea, and 27 percent in Thailand, according to World Bank data. Moving millions of workers from farms to factories has played a pivotal role in reducing poverty and raising living standards across East Asia.
It should come as no surprise, then, that India seeks to raise manufacturing as a percentage of GDP from 17 percent to 25 percent, and to create 100 million jobs within a decade. Shortly after his 2014 election, Prime Minister Narendra Modi launched the "Make in India" campaign with the avowed goal of transforming India "into a global design and manufacturing hub."
Against this backdrop of patchy industrialization, the relative success of India's car industry reveals how a once-closed sector gradually—and without receiving much attention—became the world's sixth-largest automobile manufacturer. Ford is just one of many firms with a presence in India. Suzuki, Toyota, Honda, Hyundai, Volkswagen, BMW, General Motors, Mercedes Benz, Mitsubishi, Renault, Audi, Nissan, and Skoda all manufacture in the country now. They add to the variety of models available from India's dominant domestic makers: Maruti Suzuki (a pioneering joint venture now majority-owned by Japan's Suzuki), Tata Motors (which includes Jaguar Land Rover), Mahindra and Mahindra, Hindustan Motors, and Premier Automobile. That list does not include manufacturers focused on the motorcycle and scooter markets that still account for the vast majority of vehicle sales in India.
Even before India's economic opening in 1991, a state-led experiment planted the seeds of India's auto flowering. In 1981, the state-owned enterprise Maruti Udyog sought an international partner to manufacture subcompact cars for India's growing middle class through a government-licensed joint venture. Suzuki was selected the next year, and the partnership flourished. The first car, a boxy white knockoff of the Japanese-made Suzuki Fronte, rolled off a factory floor outside Delhi in 1983.
The Maruti Suzuki brand remains India's top seller; even the tiny Maruti 800 still lives on in the restyled Alto 800. But it was not until the mid-1990s, after liberalization, that India opened the automobile industry to major investment by foreign manufacturers. That's when the major U.S., Asian, and European automakers, faced with stagnating home markets, began streaming into India.
In the 2000s, Indian automakers began to look abroad. Tata Motors acquired Jaguar Land Rover from Ford in 2008, and by 2012 had turned the loss-making company around. Mahindra and Mahindra took a majority stake in Korea's Ssangyong Motor in 2011, and in the Italian design house Pininfarina S.p.A. in 2015. As a showcase for the industry, India's Auto Expo took off internationally in 2008, receiving accreditation from the Organisation Internationale des Constructeurs d'Automobiles, a Paris-based trade group. I attended in 2010, and was blown away by the scale and variety on display, from the micro-sized Tata Nano to sleek Audi sedans to Mahindra and Mahindra SUVs to motorcycles of every variety.
By the early 2000s, supplying to global car manufacturers for their local as well as global supply chains had helped India emerge as a high-quality global source for auto components. (Think radiator caps and the like.) The Chennai-based Sundram Fasteners won Japanese quality awards and became the first Indian company to supply General Motors. But India had not yet emerged as a global auto hub in the way that Thailand and South Korea had become, and lagged far behind China. In 2004, India produced a little under 1.18 million cars, while South Korea produced 3.12 million. By the end of 2016, India's 3.68 million produced had nearly caught up with South Korea's 3.86 million.
India's urge to industrialize reflects its ambition to join the front ranks of the world's powers. But it also reflects a more pressing concern: About 50 percent of India's employed depend on agriculture for a living, but, according to the World Bank, the country's small and unproductive farms contribute only 17.4 percent of GDP. With 12 million Indians coming of working age each year, the country needs to ensure there are enough jobs to employ its fast-growing and youthful (by global standards) workforce. This means creating jobs across a wider range of occupations, unshackling manufacturing from artificial constraints that have limited its growth, and also training workers for available opportunities.
India's automobile industry created 25 million jobs between 2006 and 2016. It accounts for 7 percent of GDP and employs, directly or indirectly, around 19 million people. It has the potential to spur more extensive industrialization, just as it has in every major country that has emerged as an auto powerhouse.
Indeed, the auto industry boasts one of the highest "employment multipliers" of any industry in the U.S., meaning it helps create jobs even beyond the realm of manufacturing. While the structure of the industry in the U.S. differs significantly from that in India, it's nonetheless useful as a point of comparison. According to the Ann Arbor, Michigan–based nonprofit Center for Automotive Research, each U.S. vehicle-manufacturing job creates nearly seven other jobs across the U.S. economy (ranging from supply-chain manufacturing to dealers to finance to after-market services and others). As the case of Maruti Suzuki illustrates, the involvement of foreign manufacturers has provided technology that can bring Indian parts and vehicles up to global standards, and therefore make them export-ready, another major benefit.
For all these reasons, the auto industry offers a special opportunity for Indian manufacturing, and one shared with other advanced manufacturing industries such as defense, steel, aircraft, and shipbuilding. Defense and shipbuilding have been the targets of recent policy reforms—similarly geared toward spurring growth in large industries that can have powerful knock-on employment effects. And for aircraft, not India's traditional strength, change may come soon: Lockheed Martin has just proposed to relocate its entire F-16 production line to India, and is now signed up with the Tata group as its partner. (Whether the Indian government selects this aircraft is of course another matter.)
Car manufacturers have bet on the expansion of India's domestic market. Ford estimated in 2015 that India's compact-car segment, which has accounted for around 45 percent of the passenger-vehicle market, would grow from 1.1 million in 2014 to 1.6 million in 2018.This figure still looks small compared to the size of India's population, because passenger vehicles do not yet dominate Indian roads. But it also indicates India's vast room for further growth as its middle class expands and seeks to transport families more safely by moving up to a car from a scooter or motorcycle. In 2016, Americans bought more than 17.5 million passenger vehicles (meaning cars and SUVs); the Chinese bought a little over 28 million.
Of course, not everybody believes that India will be able to replicate the manufacturing success of its East Asian peers. Even assuming that further (and long-overdue) reforms advance expeditiously, India's manufacturing prospects will intersect with global technological and economic trends. Changes have been unfolding worldwide that raise questions about whether a focus on manufacturing can bring prosperity. Around the world, the rise of automation has raised quality standards and productivity, but at the cost of jobs. The rise of 3-D printing has only just begun, and could affect supply-chain considerations to an as-yet-unknown extent. These two trends alone are just in their infancy.
For the developing world in particular, there are concerns about the prospect of "premature deindustrialization," to cite the Harvard economist Dani Rodrik's work. The term describes a downturn in the share of manufacturing in developing countries well before their economies match those of wealthier nations. Rodrik attributes this in part to the effects of trade and globalization—competition from China and other major manufacturers on the global market—which suggests that India (and sub-Saharan Africa for that matter) would have a hard time patterning its growth on China's labor-intensive strategy.
These developments, while potentially destabilizing, are no reason for Indian officials to stop trying to promote manufacturing. Morgan Stanley's Ruchir Sharma, reflecting on the implications of technological change, notes in his Rise and Fall of Nations that the robotics revolution "is likely to be gradual enough to complement rather than destroy the human workforce." He ventures that "new jobs we can't yet imagine" will help fill the gap. Development institutions like the World Bank, along with management consultancies like McKinsey, continue to see opportunity for India to do more to reform laws and policies that inhibit manufacturing's growth, whether for the domestic market or for export. In 2016, a World Bank report recommended policy changes to help the countries of South Asia, with India a notable focus, benefit from rising wages in China that result in the relocation of apparel sourcing and the potential for job growth. The same year, McKinsey Global Institute issued a set of recommendations that included "Manufacturing for India, in India" in its top five "opportunities for growth and transformation."
McKinsey believes that the technological impact on India may take some time to be fully felt. In a recent discussion paper focused on labor, the firm's researchers cite scenarios in which it could take "two decades or more" for automation to hit more than half of work in some countries, which means India has a window in which to ramp up its manufacturing sector as a job-creating engine before automation becomes more widespread.
India has big ambitions for its place in the global order—and seeks to amp up its economy up to help deliver that transformation. The automobile sector has its own part to play in this vision. India's "Automotive Mission Plan 2026," a joint vision of the country's government and car makers, aims for the auto industry to become one of the world's top three, contribute 12 percent of India's GDP, make up 40 percent of India's manufacturing sector, and generate 65 million jobs by 2026. These goals are part of India's larger quest to emerge as a major industrial power.
If it succeeds, it will likely secure the place it seeks as a leading global power. Like the Hindustan Motors Ambassador, India's status as a country perpetually on the brink of arrival—but never quite there—might at last belong to history.
---
This article has been adapted from Alyssa Ayres's book, Our Time Has Come: How India Is Making Its Place in the World.