If Google Were Mayor
A sister company of the tech giant wants to help develop—and then collect data on—a waterfront neighborhood in Toronto.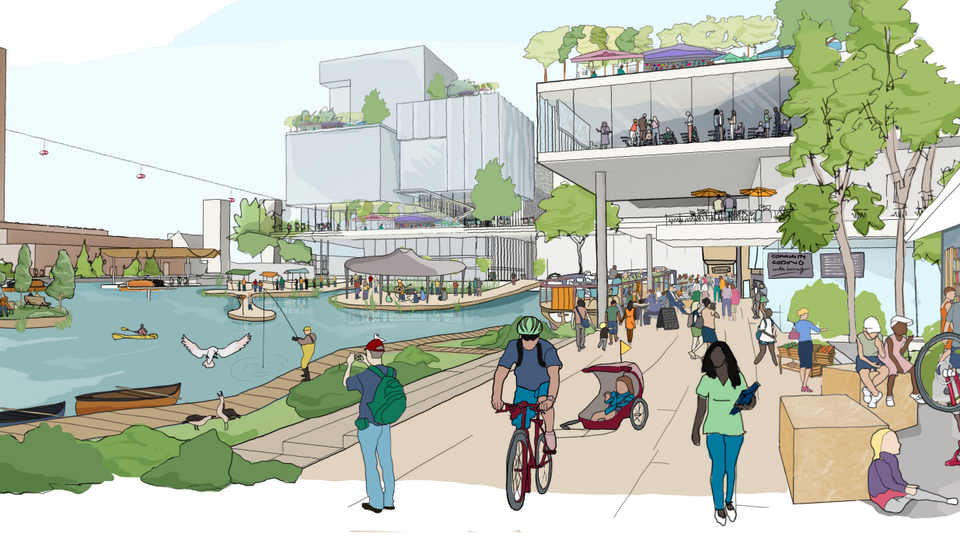 At this year's Consumer Electronics Show, there are more vendors listed as selling "smart cities" technologies than gaming products or drones.
That's a break from the past. The annual mega-gathering of the tech world—which started in Las Vegas on Tuesday—was once a parade of TV screens, smartphones, and other personal electronics. But CES's dazzling displays have increasingly focused on cities themselves, and the profit potential they present to technology companies. The question, as always, is where that leaves the people who live in them.
From that perspective, perhaps no other project in the world has drawn as much curiosity as "Quayside," a 12-acre slice of Toronto waterfront in line to be developed by Sidewalk Labs, the urban-tech-focused subsidiary of Google's parent company Alphabet. Launched in 2015 by its CEO, Dan Doctoroff, and a number of other Michael Bloomberg affiliates, Sidewalk Labs makes much of its urbanist bona fides. The company is now primarily focused on turning the patch of Toronto-owned land into what it calls the "world's first neighborhood built from the internet up."
That could mean nearly anything, based on the 196-page vision document Sidewalk Labs prepared that responded to (and won, last fall) a public request for proposals. In working with Waterfront Toronto, the public entity that owns the land, to develop Quayside, Sidewalk Labs would reimagine five dimensions of urban life—housing, energy, mobility, social services, and shared public spaces—with an aim to "serve as a model for sustainable neighborhoods" around the world.
A self-contained thermal grid would recirculate energy from non–fossil-fuel sources to heat and cool buildings, while a food-disposal system would keep food waste out of landfills. For cars and trucks, Quayside would be less hospitable than other areas in the city: Part of the neighborhood would prohibit non-emergency vehicles entirely, while bike-share stations, transit stops, and cycling and walking paths—kept useable through the Canadian winter with sidewalk snow melters and automated awnings—would offer "efficient alternatives to driving, all at lower cost than owning a car." An autonomous transit shuttle would rove some streets. (Waymo, a leading developer of self-driving-vehicle software, is also an Alphabet subsidiary.)
Buildings would be largely prefabricated using eco-friendly materials, to cut back on waste. With a "strong shell and minimalistic interior," they could be adapted to multiple uses, morphing from residential to retail to industrial, and back again. To support such a futuristic vision, Quayside would test a novel "outcome-based" zoning code focused on limiting things like pollution and noise rather than specific land uses. If it doesn't bother the neighbors, one might operate a whiskey distillery in the middle of an apartment complex.
With its generous tree canopy, bike lanes, and bustling storefronts, the Quayside pictured in the vision document looks like "quality urbanism as we might know it," Wellington Reiter, an architect and executive director of Arizona State University's University City Exchange—an initiative focused on integrating campus developments into Phoenix's larger urban plan—told me. In many ways, it's not an especially futuristic vision: In the 1960s, out-there architects explored the idea of implementing modular housing at scale. Microgrid technology and snow-melting sidewalks are not new. And planners have long dreamed up dense and walkable developments that mixed retail, housing, and light industry. Save for the driverless cars, perhaps, these outward-facing innovations are familiar New Urbanist fare.
---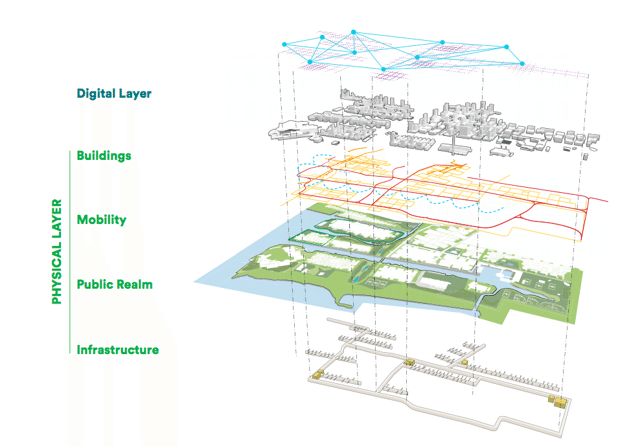 ---
This might be a way for Sidewalk Labs to emphasize how different Quayside will look from, say, Masdar or Songdo, two "smart cities" planned from the top down in Abu Dhabi and South Korea that have fallen far short of their tech-utopian promises.
Rohit Aggarwala, who leads urban policy implementation at Sidewalk Labs, is addressing the CES crowds in a panel this week—one of many ways Alphabet is raising its profile at the convention this year. Aggarwala resists the term "smart city" when describing his work. "It reflects this early–21st century arrogance, that all that's gone before is obsolete," he told me in October at CityLab Paris, a conference run by CityLab, a sister site of The Atlantic. He feels the term is also too closely associated with software products focused on wringing maximum efficiency out of cash-strapped city services. Smart tech or not, citizens still must decide how to use the tools that are available to them, Aggarwala said: "We are not the people of Toronto. We need them to help us figure out how to apply this."
Yet what has drawn the most concern and curiosity with regards to Quayside is a uniquely 21st-century feature: a data-harvesting, wifi-beaming "digital layer" that would underpin each proposed facet of Quayside life. According to Sidewalk Labs, this would provide "a single unified source of information about what is going on" to an astonishing level of detail, as well as a centralized platform for efficiently managing it all.
Kitchen appliances switched on too long, overflowing trash bins, and high-traffic park benches could be monitored and addressed by this digital layer. So could changes in air quality and spikes in noise levels. Each passing footstep and bicycle tire could be accounted for and managed. This ocean of data could inform urban planning, research, and new software development, including a special platform by which Quayside residents could access public services.
It's the kind of all-seeing urban omniscience that would stir the heart of any utopia builder. But to whom, and how, would this data be made available? And what would such an arrangement mean for any Quaysider who doesn't wish to be monitored? In Toronto and beyond, the depth and details of the data collection have sparked public debate. At the first public forum on the project, and in a list of questions related to the project compiled by the journalist Bianca Wylie at Torontoist, privacy questions and fears have come up again and again.
So have issues like inclusion and access. Toronto's affordable-housing shortage rivals that of many pricey American cities. Aggarwala asserted that, to be successful, Quayside must be home to a representative sample of Toronto's economically and ethnically diverse population. It's not hard to imagine affluent and digitally savvy Torontonians lining up to move into this futuristic, data-driven community. But the city could face thorny ethical issues if it wants to provide, say, subsidized housing to low-income residents. Those residents might not have a choice in how much privacy they give up to call Quayside home, even if they don't like the terms of use. The same could be said for anyone who uses its public spaces.
It is not yet certain that Quayside will ever be built, at least not in the state currently imagined. Sidewalk Labs has committed $50 million and one year's worth of engagement to develop a plan for execution. Either the company or Waterfront Toronto could still decide to back out, though the two partners have also formed a third entity, called "Sidewalk Toronto," devoted to bringing the lakeside property to life.
Pamela Robinson, a professor of urban planning at Ryerson University in Toronto, wonders if that blended entity could risk blurring public and private interests during the planning process. "Both sides must perceive some value in this arrangement," she said—she's just not sure what that value is. (When contacted for this article, Sidewalk Toronto did not provide any comment.)
For many of the attendees poring over the makings of "smart cities"—sensors, cameras, and cars—at CES this week, the role of technology in urban life is obvious: It is a moneymaker. For Sidewalk Labs, layering technology beneath a neighborhood may also prove a savvy way of extracting new value from land—which is, to say, a new way of "developing" it.
What about everyone else? Quayside might offer a blueprint for more-sustainable cities. It may also be a real-estate play for an immensely powerful and influential tech giant. Until more planning takes place, judgment may need to be reserved. A calendar of future meetings and forums, devoted to hammering out public priorities and private interests, is expected in the coming weeks.
Robinson sees the Quayside project as a natural evolution in the ways technology has inserted itself into urban planning, from the automobiles of the 1950s to the "smart" technologies of the early 2000s. The difference is that now—with a growing housing-affordability crisis, increasingly traffic-clogged streets, and a changing climate to contend with—all the easy solutions have been exhausted. "We need to find new ways of working," she said. "The challenging parts are ahead."
---
This post appears courtesy of CityLab.