Food Deserts Exist. But Do They Matter?
America's healthy-eating disparities might have more to do with income and class than with geography.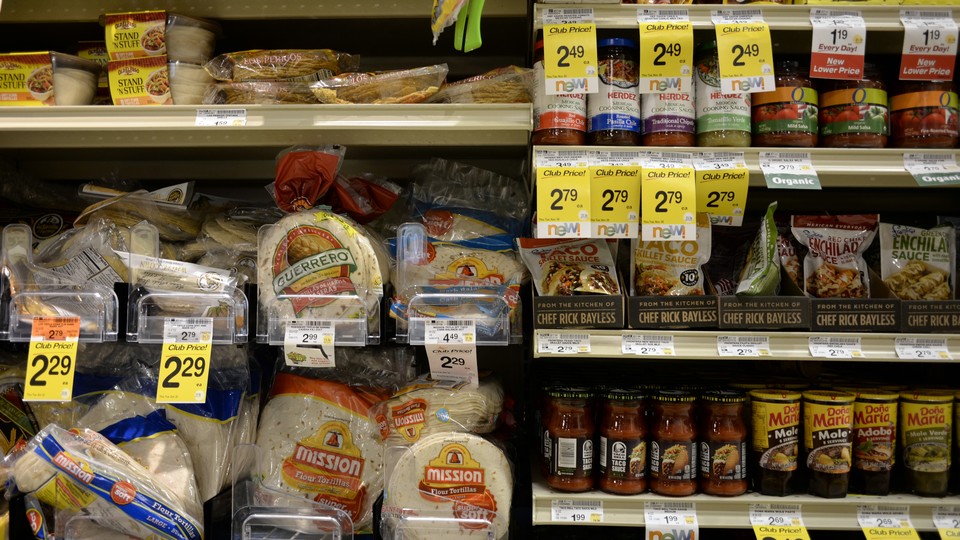 Too many Americans are overweight and eat unhealthy food, a problem that falls disproportionately on poor and low-income people. Many have blamed the existence of "food deserts"—disadvantaged neighborhoods that are underserved by quality grocery stores, and where people's nutritional options are limited to cheaper, high-calorie, and less-nutritious food.
But a new study by economists at New York University, Stanford University, and the University of Chicago adds more evidence to the argument that food deserts alone are not to blame for the eating habits of people in low-income neighborhoods. The biggest difference in what people eat comes not from where they live per se, but from deeper, more fundamental differences in income and, especially, in education and nutritional knowledge, which shape people's eating habits and in turn impact their health.
To gauge the quality of food and nutrition by income groups and across different geographies, the study uses data from the Nielsen Homescan panel on purchases of groceries and packaged food-and-drink items between 2004 and 2015, which it then evaluates in terms of the U.S. Department of Agriculture's Healthy Eating Index. It examines the gap between high- and low-income households: that is, those with annual incomes of $70,000 or more, and with incomes of less than $25,000 per year.
The study reinforces the notion that food deserts are disproportionately found in disadvantaged neighborhoods. It finds that more than half (55 percent) of all ZIP codes with a median income below $25,000 fit the definition of food deserts—that's more than double the share of food-desert ZIP codes across the country as a whole (24 percent).
Furthermore, the study documents the disturbing extent of nutritional inequality in America. Across the board, high-income households benefit from better, more nutritious food. They buy and consume more of four very healthy types of foods: fiber, protein, fruit, and vegetables. They also consume less of two of four unhealthy ones: saturated fat and sugar. (Their consumption of sodium and cholesterol is basically the same as that of lower-income households.)
Indeed, the groceries of higher-income households are considerably healthier—in statistical terms, almost 0.3 standard deviations healthier—than those of low-income households, a gap that expanded substantially between 2004 and 2015. Overall, high-income households purchase one additional gram of fiber per 1,000 calories than low-income ones, which is associated with a 9.4 percent decrease in Type 2 diabetes. They also buy 3.5 fewer grams of sugar, which correlates with a 10 percent decrease in death rates from heart disease.
That said, there are some striking similarities in food consumption between high- and low-income households. They both mainly shop at grocery stores, no matter where they live. High-income households spend 91 percent of their grocery dollars at supermarkets. Low-income households spend just slightly less, at 87 percent.
---
Supermarket Expenditure Shares by Household Income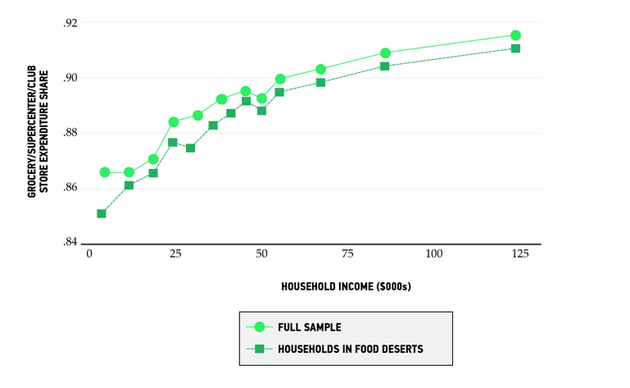 ---
Shopping Trip Distances by Household Income