Boutique Fitness Studios Are Remaking Urban Neighborhoods
Wellness, not drinking and dancing, now defines the character of many city blocks.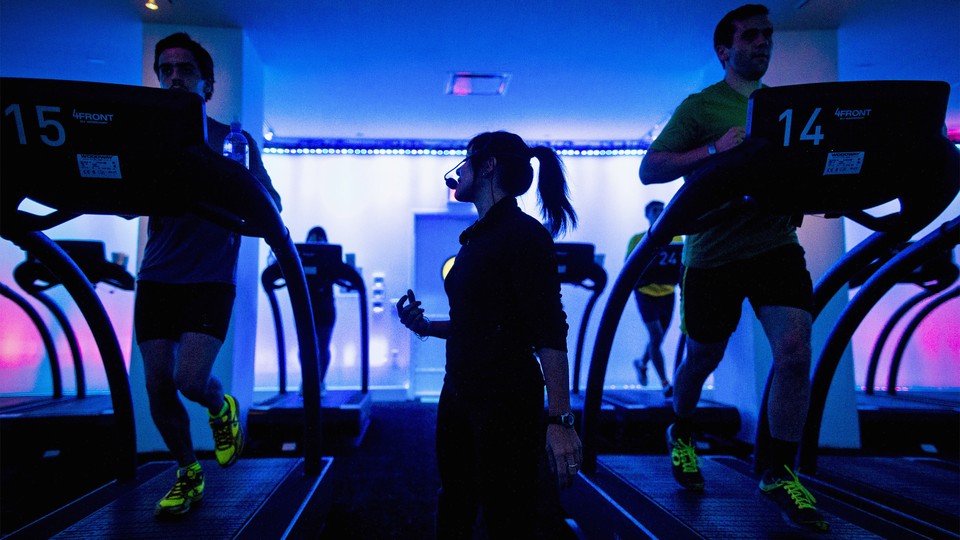 Back in the 1970s and '80s, Lower Manhattan was known for two things: its nightlife, and being a haven for artists, musicians, writers, and intellectuals. Bars, pubs, and clubs that were popular 30 years ago such as Studio 54, Max's Kansas City, Area, Danceteria, and Palladium have since become the stuff of legend. People smoked, drank, did drugs, and stayed out late. Working out and healthy living seemed like the last thing on their minds.
Today, the very same streets are teeming with fitness-obsessed urbanites lining up at a myriad of "boutique fitness studios," such as SoulCycle, Flywheel, Barry's Bootcamp, CrossFit, CorePower, and Orangetheory, to name just a few. "Athleisure" shops and purveyors of green juice and acai bowls stipple the streets between them.
Indeed, the fitness industry has experienced an incredible boom in recent years. Health-club revenue topped $81 billion worldwide in 2015, according to the International Health, Racquet and Sports Club Association (IHRSA). That same year, more than 150 million members visited some 187,000 health clubs. Boutique fitness studios in particular have been attracting millions of dollars in investment capital. For example, in 2011, Equinox (the upscale gym with scads of urban locations across the country) and SoulCycle (which hosts sessions with stationary bikes) were purchased by the real-estate development firm Related, in part to enhance real-estate development projects across Manhattan.
These boutique studios are most prevalent in major cities. SoulCycle, one of the pioneers of the boutique fitness industry, has 17 locations in Manhattan and 3 more in Brooklyn. Those make up majority of the state's 29 total studios. Outside of New York City, too, SoulCycle studios tend to crop in top-tier neighborhoods. In Los Angeles, for example, there are a number of studios in desirable areas, such as downtown, Hollywood, and Santa Monica. Chicago has a studio downtown in the Loop; Boston has one in the picturesque Beacon Hill area; and in San Francisco, there are studios in the bustling SoMa and Marina districts.
Pure Barre—a strength-training studio where classes are focused around a ballet bar—has clusters of studios in urban areas such as New York City, San Francisco and Los Angeles; Houston, Dallas, and Austin; Orlando and Miami; Boulder and Denver. A glance at the location maps of these and a few other leading fitness studios shows their disproportionate concentration in major metro areas.
---
The Locations of Pure Barre Studios in the U.S.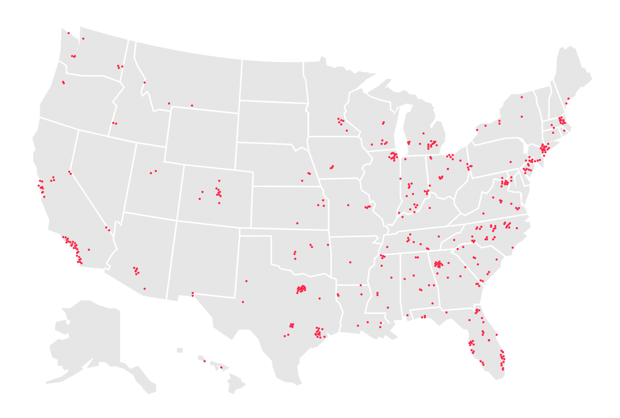 ---
Charting the location of fitness trainers and aerobics instructors provides another lens into the geography of the fitness revolution. More than 250,000 people were employed in these fields as of May 2016, according to the Bureau of Labor Statistics. And employment in these occupations is projected to grow by another 10 percent between 2016 and 2026.
California leads the nation in the sheer number of fitness instructors, with more than 30,000 in all. That's almost double the number of instructors than in each of the next five leading states: New York has about 18,000, followed by Texas (14,800), Florida (13,870), and Illinois (13,350). But these figures are a function of these states' large populations. A metric called a "location quotient," or "LQ," provides a better gauge of how states actually measure up, by comparing the percentage of a metro area's workers who are fitness instructors to the percentage nationwide, and then expressing those two figures as a ratio. The leading states on this measure are Virginia and Massachusetts, which both have LQs of 1.58—meaning that the proportion of workers there who are trainers or instructors is a little more than one-and-a-half times the national average. Colorado (1.56), New Jersey (1.51), and New Hampshire (1.50) are not far behind.
As the map below shows, there appear to be two broad fitness belts, according to this metric—one across parts of New England and the Mid-Atlantic, and the others along parts of the Plains, the Rockies, and the Northwest. The Deep South and the Midwest have the lowest ratios for fitness trainers and aerobics instructors. These places are among those with the highest levels of obesity as well. In this way, the urban fitness revolution reflects the large and growing divide in Americans' health and well-being, no less because the classes themselves are expensive—at many boutique studios, the cost of entry is anywhere between $30 and $40 a class, if exercisers don't buy them in bulk.
---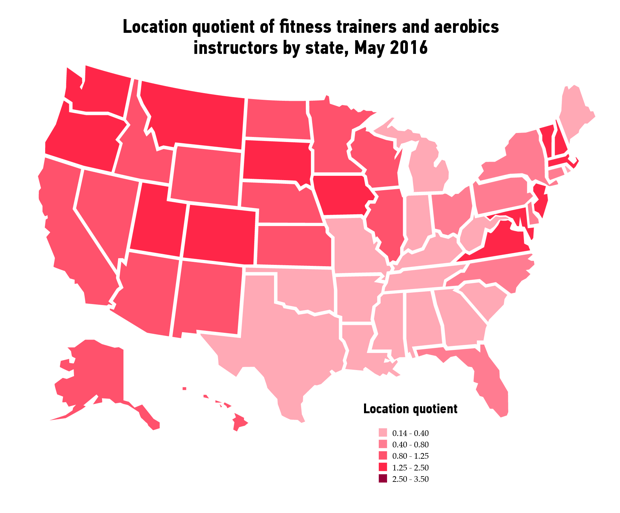 ---
Fitness trainers and aerobics instructors are even more concentrated at the level of the city. It's no surprise that large metros like New York City, Chicago, Washington, D.C., and Los Angeles contain the greatest number of them. But looking at LQs to control for population, smaller places, including a number of fitness-oriented college towns, come to the fore. San Rafael, California—just across the bay from San Francisco in upscale Marin County—tops the list with a high LQ of 3.4. Also among the top 10 are Eugene, Oregon (2.6), which is home to the University of Oregon and is often referred to as "the running capital of the world"; Lynn-Saugus-Marblehead (2.5), a coastal boating, sailing, kayaking and fishing mecca outside of Boston; and Boulder, Colorado, home to the University of Colorado and a gathering place for runners, cyclists and skiers.
There are many things to like about the urban fitness revolution. Working out is surely a better way to live than smoking, drinking, and staying out all night. It's also a way to forge community and escape the potential loneliness of everyday urban life. As one Toronto-based trainer, who owns a CrossFit gym in the city's Liberty Village area, says, "It's about having a few hundred members who get to belong somewhere… It's the rise of the community gym."
The urban fitness boom also helps to upgrade routine jobs by introducing more-personalized service-oriented jobs to the market. The median yearly salary for fitness trainers and aerobics instructors across the U.S. is $42,780. It is as high as $50,000 in Seattle, Boston, and Los Angeles, and more than $67,000 in New York City. While these instructors make considerably less than the knowledge and professional workers many of them coach, they take home a much larger salary than tens of millions of the nation's service workers, the majority of whom make about $32,000 a year.
But there are some more-insidious elements to the urban fitness revolution. For one, the obsessive focus on staying fit reflects the growing pressure that many urban professionals face to look young and in shape. Exercise can also be a means of generating the physical stamina and mental focus required for long hours of knowledge work. As such, it is bound up with the relentless trends of the knowledge economy, which creates a lifestyle of continuous improvement. Indeed, this is built into the very mantra of many urban fitness studios: Many of them pledge not just to change your body, but to "change your life" and help you "find your soul."
---
This post appears courtesy of CityLab.