The U.S. Economy Added 2.1 Million Jobs in 2017
But job growth in 2018 likely won't be as robust.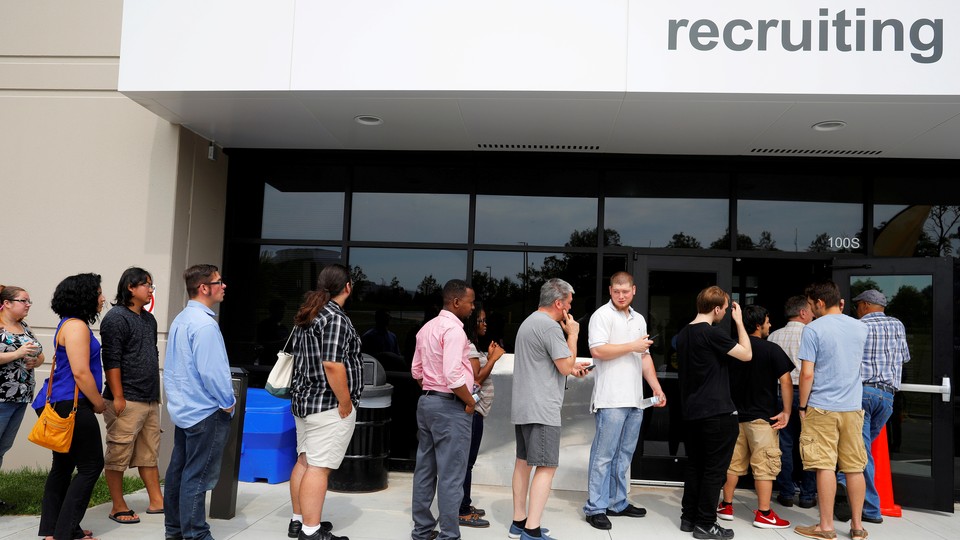 In the final month of 2017, the U.S. economy added 148,000 jobs, while the unemployment rate remained at 4.1 percent, according to the Bureau of Labor Statistics. All told, an additional 2.11 million jobs were added in all of 2017—a performance that will be hard to repeat in 2018.
As the economy has steadily improved, adding jobs for one of the longest consecutive streaks in modern history, many experts have wondering when the impressive growth would stall. With the unemployment rate at its lowest levels in 18 years, and job growth already slowing from 2016 to 2017, this year's growth could be significantly more lackluster. And while unemployment has ticked down significantly, there are still tons of missing workers: December's report showed that the labor-force participation rate was still at 62.7 percent, still well below historical norms.
December's performance fell short of economists' expectations that an additional 190,000 jobs had been added during the month, according to a Bloomberg survey. December's performance marks one of the few months in 2017 that job growth didn't top 200,000. In 2018, surpassing the 2 million mark isn't a sure thing, and months that fall short of the 200,000 mark will likely be more common.
It's expected that job growth will wane after several years of brisk growth. While 2018 may not be able to deliver the impressive job-growth figures that Americans have become used to, there are still important areas of the economy that could, and need to, improve. In December, wages ticked up by 9 cents, bringing 2017's overall wage growth to 2.5 percent. While that's better than previous years when wages were flat, earnings haven't been improving at the rate that most economists would expect in an otherwise healthy economy. And earnings growth is what makes a difference to Americans in their day-to-day lives.