How Basic Economics Could Solve Manhattan's Traffic Problems
It's simple: Charge people to bring cars onto city streets during rush hour.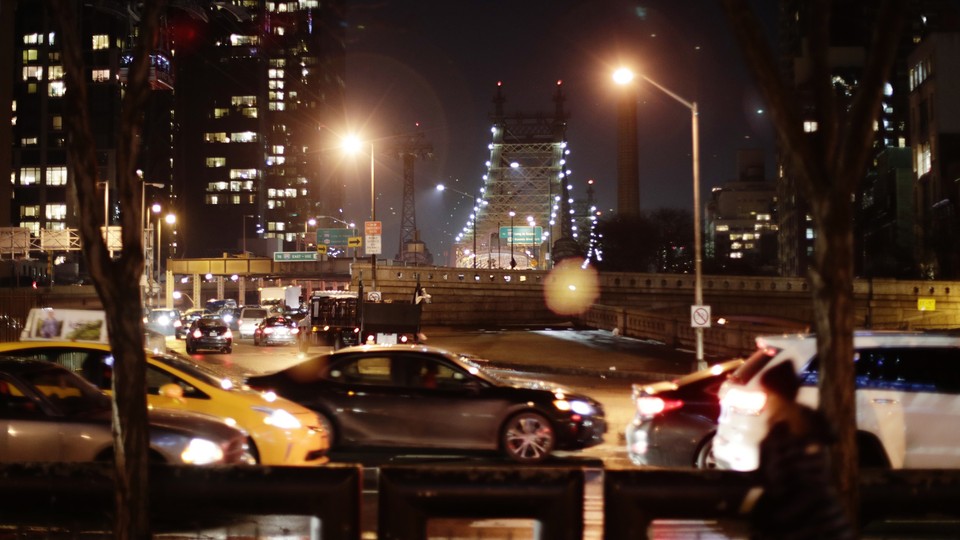 The worsening traffic in New York City is a personal inconvenience, an environmental blight, and an economic drag—possibly to the tune of $20 billion. That's the latest projection by the Partnership for New York City, a group that represents businesses, of the annual loss for the metro area over the next five years if nothing is done to unjam cars.
Congestion pricing—essentially, tolling cars to enter crowded streets during rush hours—is widely viewed by transportation advocates and researchers as an essential intervention into the city's growing transportation crisis. It's an idea that's succeeded elsewhere—since London cordoned off a fee zone in 2003, the number of cars entering its city center has declined 44 percent. Congestion pricing was last seriously attempted under Mayor Michael Bloomberg in New York City in 2008, but there's still no precedent in the U.S. for such a system.
That could soon change, if a report by Fix NYC, a traffic advisory panel appointed by New York Governor Andrew Cuomo in October 2017, turns into law. Released last week for review by the New York state legislature, the report recommends a plan, with three phases, for smoother streets and more transit revenues. It suggests a charge for driving into Manhattan's core. One possible number: $11.52 for personal vehicles. Here are the three phases.
Phase One: Fix What's Broken
Between cheaper gas prices, population growth, unreliable transit, and the rise of ride-hailing apps, average speeds in the central business district of Manhattan slowed by more than 17 percent in 2016, to 6.8 mph.
Phase one, which the report recommends starting immediately, involves identifying improvements for transit connections between New York's central business district and the outer boroughs. That means restoring the subway to a state of good repair, for which no one should hold their breath. (That Herculean task could take billions of dollars and decades of work.) But there are faster and more affordable fixes, too, such as improving bus service and introducing new express bus routes to poorly connected neighborhoods. The Bloomberg administration called for this when it pushed for congestion pricing. Local advocacy groups have continued to demand the same. (And—why not?—the city could throw in some streetcars, too.)
Phase one also suggests reforming the city's much-criticized parking-placard program, reviewing parking laws for Manhattan tour buses, and stepping up enforcement by the NYPD of moving traffic violations—a potentially rich source of revenue for the city and state.
---
New York City's Parking-Ticket and Moving-Violation Revenues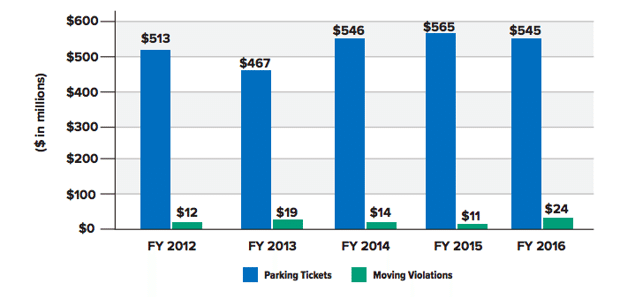 The Fix NYC plan is only the start of a political process; the state legislature must debate and approve the details before any of its contents become law. There is no precedent for a true congestion-pricing scheme in the U.S., and the idea has failed in New York City before. But this time, the political calculus is different, and the pressure is overwhelming.
---
This post appears courtesy of CityLab.