The New York Times's Glenn Thrush Dilemma
A top leader at the newspaper says it took an ultra-nuanced approach in deciding how to handle allegations against a star reporter.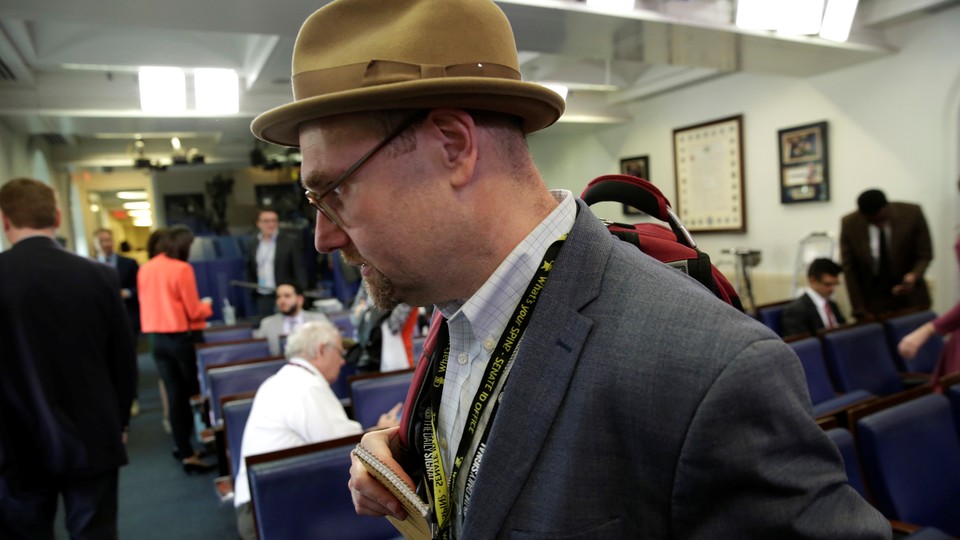 America's newspapers and magazines have doggedly covered the nation's reckoning with sexual harassment in recent months—yet there's ongoing debate about how well those newsrooms are handling their own scandals.
Dozens of reporters and editors gathered at the Newseum in Washington, D.C., on Tuesday to talk about gender inequity and sexual misconduct in American newsrooms, and the extent to which newsroom culture has lagged behind coverage.
One panel conversation turned repeatedly to the topic of Glenn Thrush, the New York Times reporter who was suspended last year after the publication of a Vox story that contained allegations of inappropriate behavior against him. (Thrush apologized in a November statement for "any situation where I behaved inappropriately," but said he recalled events differently than they were described in the Vox story.)  In December, the Times announced, after a month-long investigation, that Thrush would return to the newsroom, but would be removed from the White House beat. Speaking at the event on Tuesday, Carolyn Ryan, an assistant managing editor at the Times, described a thorough and transparent process leading to that decision—a characterization that was quickly challenged by another reporter in the room.
"I want to challenge you on the notion that you were truly transparent," said Paul Farhi, a media reporter for The Washington Post. "There is an extensive report which you have not made public. Your top management was not available for interviews. And I'd like to know why and why this is a good way to explain to the public what you're doing in the face of a harassment case."
Ryan said that the report Farhi referenced was kept confidential because it contained interviews between a Times lawyer and several employees, and those interviews were conducted with the expectation that they would not be made public. She also suggested that the union representing Thrush pushed to keep details of the investigation private. "So it's not like every last detail is going to come out, but what we have talked to people about in a lot of detail is the process," Ryan said.
"In all kinds of behavior—ethical transgressions, journalistic infractions, journalist performance—we do draw lines," Ryan later added. "And we have a responsibility to do that. The industry more broadly is having a hard time figuring out where some of those lines are."
She said that she understood that some people appreciated the "nuance" of the decision to keep Thrush on staff, while others believed it was a bad idea to let him return to the newsroom. Erring on the side of nuance made sense, she said, in a situation where Times brass knew it would be under a microscope no matter what the outcome.
"The people who worked most closely with Glenn in the bureau—men, women, young, old—were supportive of him and did believe that he could contribute and hadn't seen the kind of behavior that had been described," Ryan said. "I keep kind of dancing up to the line here, but I think this is a conversation that not only are we having more broadly at The New York Times, but that we had as we were trying to figure out the punishment."
The journalist who first reported the allegations against Thrush, Vox's Laura McGann, also addressed the room at the Newseum event. Her comments came during a discussion about dating in the workplace.
"We all sort of nodded that the place we should be thinking about is consent versus non-consent, and that's really hard to litigate," McGann said. "I just want to push ourselves on—is that what we want to be doing? That's something I've been struggling a lot with."
McGann's story about Thrush set off a robust debate among journalists—in part on the matter of whether the women featured in the article had truly consented to their sexual encounters with Thrush.
"I don't see this uprising of 22-year-old women saying, 'I want the right to sleep with my boss,'" she added. "That's not happening. So I feel like overwhelmingly the problem here is more powerful men are putting women in a bad position."
One of the women in the room who nodded in agreement with McGann was Addie Zinone, a former Today show production assistant who says she was the victim in an affair with Matt Lauer that she believed was consensual at the time—she was 24; Lauer was 43—but who later viewed their relationship as an abuse of power by Lauer.
"I was an intern-turned-PA, so that power dynamic was completely imbalanced," Zinone said. "He was always incredibly professional. He always presented himself that way. Until he didn't."
And for decades, women in newsrooms were asked or forced to keep mum about their own experiences with sexual misconduct at work. Many kept quiet. Until they didn't.