There's a Sexual-Harassment Epidemic on America's Farms
Many of the women who work in agriculture often have few options but to put up with abuse on the job.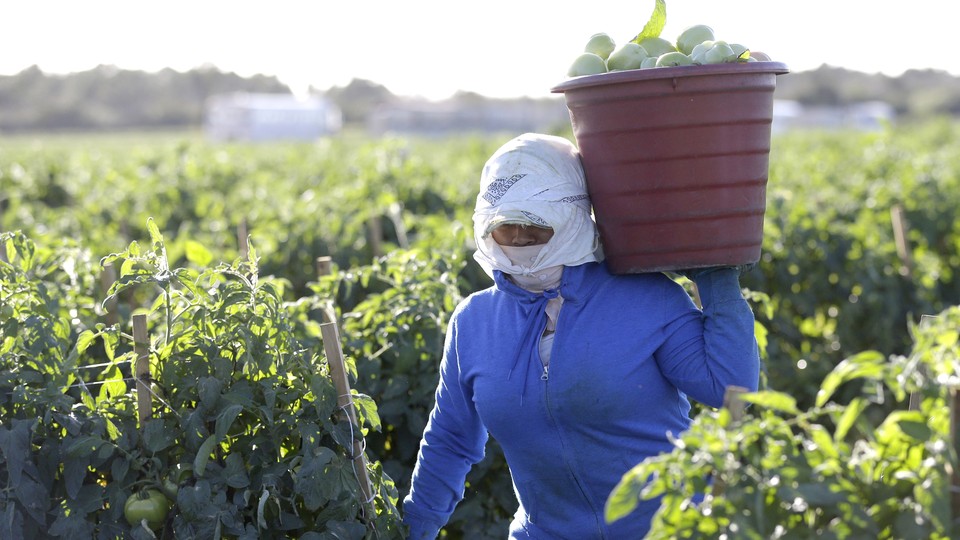 Marlyn Perez had no choice but to take the job at C&C Agricultural Farms in Clewiston, Florida. She was new to farming, new to America, undocumented, and desperately in need of money.
Perez had just come from Guatemala. She had worked briefly at another farm in North Carolina, harvesting sweet potatoes, but when she got to C&C, a farm located in a remote area called Devil's Garden, she "saw pretty quickly this was a different situation." When she didn't receive her full pay the first week, she went to the crew leader, Reyes Tapia-Ortiz, who told her he couldn't do anything about it. "This is what I'm paying you. There's no way to negotiate it differently," she told me over the phone through a translator from the Coalition of Immokalee Workers (CIW), a farmworker-rights organization. Tapia-Ortiz could not be reached for comment.
The work was grueling, Perez and six other workers alleged in a 2014 lawsuit against Tapia-Ortiz, C&C, and the farm's owners, Ernesto Ruben Cordero Jr. and Carlos Rodriguez. Ten- to 12-hour days with the threat of no pay from Tapia-Ortiz if they didn't work the shifts he assigned, including those at night in the packinghouse and overtime, according to the lawsuit. No breaks except for a short pause for lunch, no bathroom nearby, no shelter from the Florida sun. Pesticides burned their eyes, according to the lawsuit, which also said the workers had limited access to food and water, and were instead charged $2.50 for beer and $1.50 for soda, as well as $7.00 for lunch by Tapia-Ortiz's common-law wife. The workers were also charged for transportation to and from the farm by Tapia-Ortiz, $5 a day.
Perez told me that when she asked the owner about the pay situation, they said she had to figure it out with Tapia-Ortiz, who was a contractor hired to recruit laborers, and when she brought it up with him again he became angry. He told her she had no rights and no papers, so she shouldn't complain.
Undocumented workers without papers and workers on temporary visas are extremely vulnerable to exploitation in the workplace. This exploitation takes many forms, including unfair labor practices, working without fair pay, and sexual harassment and assault. The agricultural industry in the United States is full of workers who are undocumented or on temporary work visas, people who are particularly vulnerable to exploitation. A report by Polaris, an anti-trafficking organization that runs the National Human Trafficking Hotline and the BeFree Textline, on the typology of modern slavery, found that 91 percent of the cases involving modern-day slavery in agriculture involved foreign nationals. The organization, which used data from the hotline and textline to generate the report, defines modern-day slavery as human-trafficking situations where workers are coerced, forced, or victims of fraud. Many of these workers are on "guest-worker" visas, or temporary work visas associated with an employment role, as is common with agriculture workers, who come on a visa called the H-2A. In another report, Polaris identified nearly 300 H-2A visa holders who had been potential victims of labor trafficking and exploitation in a 12-month period. Eighty-five percent of the victims worked in agriculture, with Florida being the state where the most cases were reported.
Perez kept pushing for what she believed she was owed. As the situation escalated, Tapia-Ortiz sexually harassed Perez, according to the lawsuit. In 2011,  she says, he promised to pay her more if she had sex with him, grabbed her from behind, and fondled her breasts. In August, according to the lawsuit, she says when she rejected his advances and threatened to call the police, he threatened to get her deported. In the fall of 2011, according to the lawsuit, he made sexual advances while she was working in a secluded area among tall tomato plants. After she rejected him, he showed her his pistol in his waistband, she says. He would often wave a rifle or show the pistol to the workers to threaten them, according to the complaint. "Truly I did feel very intimidated and very fearful. I just arrived and I didn't know anything about the laws or who to call or what I could say or how to say it," Perez said to me.
One thing she did know: The money was not enough. According to the case, she was making on average $35 a day. (The gender pay gap exists even at the very bottom of the labor market—the men on the farm were making an average of $45, according to the lawsuit.) What she wasn't spending on food or rent she was sending back home. "My family was really desperately in need of financial support and I was worried about them," she said. She felt it was hard to bring it up with other workers because the crew manager was always lurking, and when she did ask about it the others repeated the same refrain: He has papers and you don't, so there's nothing you can do. She threatened to quit; he threatened to kill her if she did, she says. "I was really scared and felt like I couldn't leave," she said.
In recent months, stories of sexual harassment and assault have been flowing on a daily basis from the entertainment, media, and tech industries. But low-wage workers, who are disproportionately women of color, are extremely susceptible to harassment in the workplace, and their stories receive far less attention. According to data compiled by the Center for American Progress (CAP) from the U.S. Equal Employment Opportunity Commission (EEOC), more than one-quarter of sexual-harassment charges were filed in industries with large numbers of low-wage service-sector jobs. This is particularly stunning given that low-wage workers often have few other opportunities, and may not have much padding if they lose their jobs in response to filing a complaint. The analysis by CAP found that almost three-quarters of the harassment cases include an allegation of retaliation.
In a 2012 Human Rights Watch report, nearly all of the farmworkers interviewed said they had experienced sexual violence or harassment or knew someone who had. In 2010, a study found that of 150 Mexican women working in the Central Valley in California, 80 percent had experienced sexual harassment. "Eighty percent—that's a pandemic," Noelle Damico, from the National Economic and Social Rights Initiative, told me. After explosive allegations of sexual assault against the Hollywood mogul Harvey Weinstein, Alianza Nacional de Campesinas, an association of farmworker women, submitted a signed letter of solidarity with the women of Hollywood: "We wish that we could say we're shocked to learn that this is such a pervasive problem in your industry. Sadly, we're not surprised because it's a reality we know far too well."
"The history of agriculture in the U.S. always been one of sexual violence," said Mónica Ramírez, the president of Alianza Nacional de Campesinas, who comes from a family of farmworkers. "On farms, conditions are ripe for it."
"This entire industry was founded on a system of slaves, who were brought over and who suffered more greatly than we do even today, " said Nely Rodriguez, a former farmworker who now is a senior staff member and leader of the Coalition of Immokalee Workers (CIW). "Those roots remain generation after generation," she told me over the phone through a translator.
In the second half of the 19th century, on the heels of the Mexican–American War and the abolition of slavery, Mexican immigrants grew as a share of the American agricultural workforce. Tens of thousand of migrant workers traveled between the U.S. and Mexico with few restrictions.
In 1942, the U.S. and Mexico created the Bracero Program, which allowed for millions of Mexican men to come across the border for short-term work, predominantly in agriculture. Although the program has long been abolished, the modern guest-worker visas perpetuate the industry's reliance on inexpensive, plentiful foreign labor in agriculture. The H-2A visa, a temporary work visa issued for seasonal agricultural work, offers limited protection to workers, creating a power dynamic that sets the stage for labor exploitation and sexual harassment. Recruitment is a major pressure point with this visa, which permits an employee to only work for a single employer. If a worker is unhappy and wants to quit, her only way out is to leave the country altogether. "The H-2A program is very difficult program because the employer has control," Damico said. "When you put that much control in the hands of an employer the situation is ripe for exploitation, through it doesn't mean it happens all the time."
For agricultural workers who are totally undocumented, the situation is even worse. In 2010 the Southern Poverty Law Center interviewed 150 immigrant women who were undocumented or spent time as undocumented workers in agriculture and food-processing jobs; all of them said harassment was a problem, and the majority had experienced it. Like Perez, these workers often don't know their rights and work in isolation. "They are in different parts of the country and don't even know where they are. Particularly for a migrant relying on a crew leader or someone to literally drive them state to state," Ramirez said. They are reliant on the job to meet their basic needs for food and shelter, and they don't speak English, and often don't speak Spanish, but an indigenous language, such as Mayan. "They can't access information to be able to get help. We have this huge problem with the immigration system and individuals don't have a pathways. Perpetrators use their migration status to victimize them."
For Perez, relief came with a flyer for the Coalition of Immokalee Workers, given to her by a woman in a store. She called a hotline and two women came to her home. In April 2014, Perez and six of her co-workers at C&C Farms filed a federal lawsuit against the farm, its owners, and Tapia-Ortiz, alleging violations of four federal statutes, including the Trafficking Victims Protections Act, as well as various state-law claims. All seven workers were named only as John and Jane Does in the initial complaint because they feared for their safety.
In 2015, the workers settled with the farm and its owners—but not Tapia-Ortiz—for full payment of back wages plus an equal amount in damages (the total sum to be paid was not disclosed). The attorney who represented the farm and its owners declined to comment beyond confirming in an email that "the matter was resolved fairly to the mutual satisfaction of the parties without any liability admitted" by his clients. But although the farm and its owners did not admit liability, they agreed to change practices on the farm by hiring laborers directly instead of through contractors and implementing new policies in regard to sexual harassment, according to a press release issued by the law firm that represented the workers. The farm has since gone out of business.
Tapia-Ortiz, meanwhile, did not participate in the lawsuit. After being personally served with the complaint against him in April 2014, neither he nor any attorney representing him ever appeared in the case.  In June 2016, the court awarded a default judgment against Tapia-Ortiz—a finding of liability based on his failure to appear—to the five workers who alleged that Tapia-Ortiz recruited them to the farm job. In February 2017 those five workers were awarded $3.5 million in damages from Tapia-Ortiz. The claim has yet to be paid, according to Susan French, the lawyer for the workers and the Coalition of Immokalee Workers.
There are signs of change in the industry. Organizations such as Alianza Nacional de Campesinas and the Coalition of Immokalee Workers have stepped in and pushed for important reforms and efforts within the industry. The Coalition of Immokalee Workers has developed the Fair Food Program to ensure major food suppliers purchased tomatoes from farms with good practices. It is a worker-developed partnership among farms, farmworkers, students, the faith community, and corporations. "We took deep experiential knowledge of what the issues are and turned that into a code of conduct and then went on to create all the necessary mechanisms to really change that power dynamic," Rodriguez, the former farmworker and leader of the Coalition of Immokalee Workers, said.
Fair Food farms have a code of conduct and a series of mechanisms for workers to report sexual harassment and a monitoring system to make sure farms comply. The effort also leverages the power of large corporations to help individual farmworkers. There are 14 companies on board so far, including Walmart, McDonald's, Subway, Whole Foods and Trader Joe's. The system could be easily adapted to other industries, and CIW has already introduced it to dairy farms in Vermont. It represents hope for workers in an industry where, for generations, there's been very little.