Europe's Message to Silicon Valley: Tech Is Not Special
The EU's highest court ruled that Uber isn't just an app—it's a transportation company.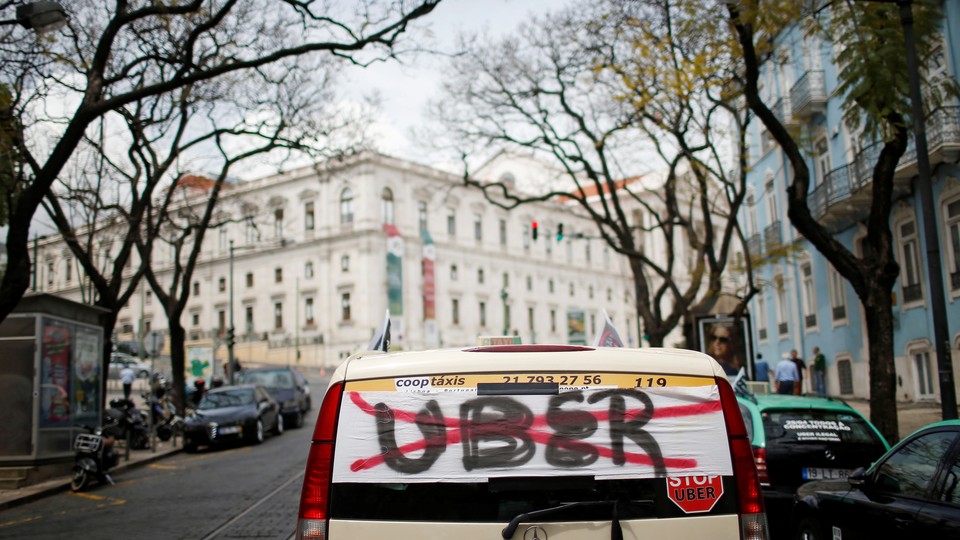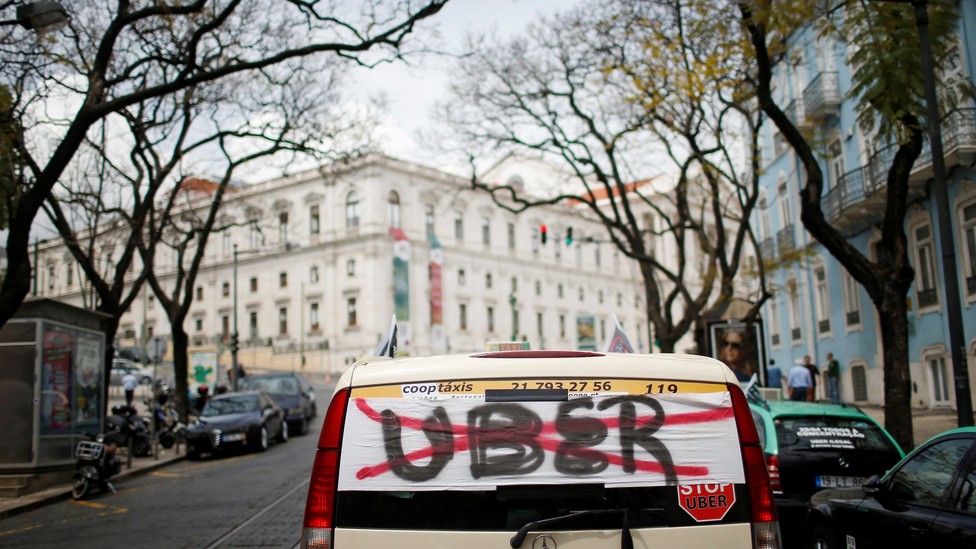 What is Uber? The company's standard answer is that it is a technology company—an app that matches people who want to get somewhere to people who will take them there for money. This is not wrong.
But, as the European Union's highest court told the company on Wednesday, that answer is incomplete. Whether Uber likes it or not, it is, officially speaking, a transportation company.
The consequence of this designation is that, within the borders of the EU, the company will be regulated just like any other transportation company. That's a big deal. It's a big deal for Uber (which will now have to play by any rule a European city sets for transportation companies) and it's a big deal for the platforms that, like Uber, depend on the labor of people who aren't full-time employees.
First, the implications for Uber: The ruling "places a significantly larger regulatory burden on Uber, if they want to operate in any European city, and it also can severely restrict their growth, depending on the city," says Arun Sundararajan, a professor at NYU's Stern School of Business and the author of The Sharing Economy: The End of Employment and the Rise of Crowd-Based Capitalism. How might it prevent Uber from growing at the rate it has in the past? If, for example, a city has or imposes a cap on the number of professional drivers permitted within its limits, that cap would apply to Uber. The same goes for any city's law requiring that drivers must be considered employees and not contractors, which would force Uber to either get out of town or make sure its drivers are classified properly.
In an emailed statement, Uber insisted the decision will not do much to change the way it's already operating in Europe. And its CEO, Dara Khosrowshahi, tweeted that the ruling was "Not a setback, since we've already changed our approach in the EU to follow transportation laws and work with professional drivers." What he's referring to is the fact that the specific service that was at issue in court—it's called UberPop, and it was open to drivers who didn't have taxi licenses—has been discontinued in most major European cities, and has been replaced by a service with licensing requirements.
It makes sense, from a PR perspective, that Uber might want to mitigate any impression that this is bad news for it. But, in a way, from the company's position, the ruling might not even seem like a big deal, relatively speaking. "This is a significant ruling for Uber, but given everything that's going on in Uber's life, maybe it's not the most significant blow that they've received this year," Sundararajan says. 2017 has no doubt been a busy year for the company's publicists, who have had to make the best of a very public battle over who would run the company, a sexual-harassment scandal, a lawsuit over racial and gender discrimination, and a secret tool it used to trick the authorities. It also got banned from London. That's not a promising series of events for a company that reportedly wants to go public in 2019, and Sundararajan says running Uber is "certainly the hardest CEO job in tech at this point."
One of the many challenges of that job is to change the image of the company shaped by Travis Kalanick, Khosrowshahi's predecessor, who was pressured to step down this summer by board members after presiding over a string of controversies. "Travis Kalanick's style of engagement was more pugilistic—everything was a battle to be won," Sundararajan says. "But Dara Khosrowshahi is trying to create a 'kinder, gentler' Uber that is seen as an entity that is more worthy of the public trust." Establishing that reputation is important, Sundararajan says, if Uber is to earn the trust of regulators moving forward.
Wednesday's ruling also carries implications that reach beyond any one company. By deciding to treat Uber as a transportation company, the EU's high court might be suggesting that other similar platforms, such as Airbnb, could be regulated similarly in Europe. This means that companies that depend on independent contractors (who generally get fewer benefits and legal protections, in both the EU and the U.S.) for their labor might be required to hire people as full-time employees.
Sundararajan says that while this development may be welcomed by a group of dedicated drivers who go from not having benefits to having benefits, it will disappoint a larger group of people who will now have a tougher time driving occasionally for money on the side. "I think the right path there isn't to say, 'Well, everybody needs to fit into the full-time employee bucket,'" Sundararajan says. "Rather, we want to decouple some of the nice things that are available exclusively to full-time employees and spread them out broadly across a workforce that's participating in these non-employment work arrangements." Such "portable" benefits are frequently suggested as one remedy to the increasingly precarious and shaky nature of work for many millions of people.
U.S. courts are still sorting out these questions, too. I talked to Shannon Liss-Riordan, a lawyer who has been representing Uber drivers in California and Massachusetts who say they should be classified as employees rather than contractors. While the EU's decision doesn't have any bearing on U.S. courts, Liss-Riordan says, "I think it is important because it is another tribunal that has found that Uber is a transportation service, rather than just a technology company, as it has claimed." Like in the EU, that designation matters greatly in the U.S. for how the company—however courts decide to classify it—treats the people who drive the cars that show up when its users tap the screens of their phones.