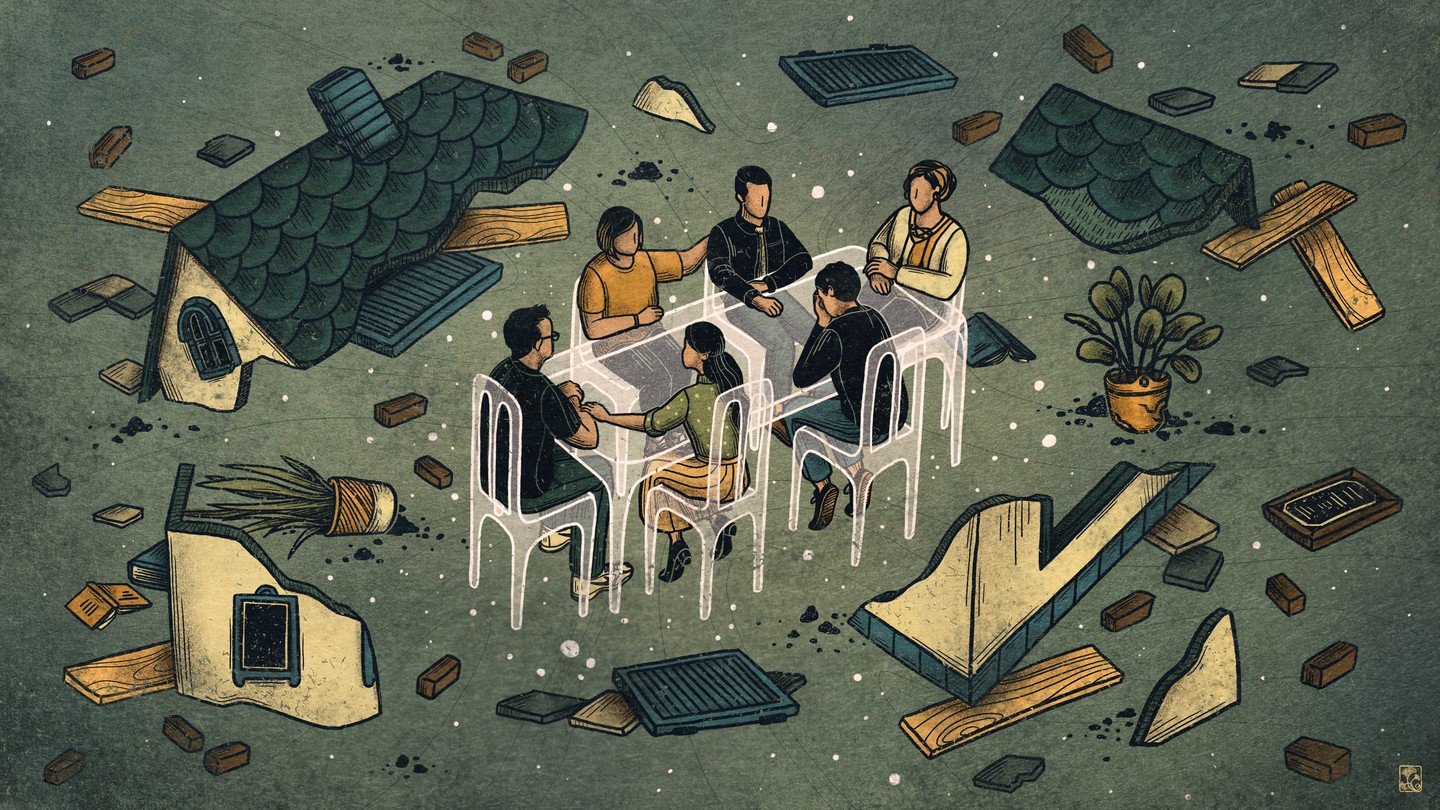 The Never-Ending Foreclosure
How can the country survive the next economic crash if millions of families still haven't recovered from the last one?
GLENDORA, California—In retrospect, refinancing their home was a bad idea. But the Santillan family never thought that it would lead them to foreclosure, or that they'd spend years bouncing among hotels and living in their car. The parents, Karina and Juan, never thought it would force three of their four children to leave the schools they'd been attending and take classes online, or require them to postpone college and their careers for years. They did not know they would still be recovering financially today, in 2017. "Having lived through everything I see life differently now," Karina Santillan, who is now 47, told me. "I'm more cautious—I probably think through financial decisions three, four, five times."
In the big picture, the U.S. economy has recovered from the Great Recession, which officially began a decade ago, in December of 2007. The current unemployment rate of 4.4 percent is lower than it was before the recession started, and there are more jobs in the economy than there were then (though the population is also bigger). But for some, the recession and its consequences are neverending, felt most strongly by families like the Santillans who lost jobs and homes. Understanding what these families have experienced, and why recovery has been so evasive, is key to assessing the economic risks the nation faces. Despite ever-sunnier economic conditions overall, the Great Recession is still rattling American families. When the next economic crisis hits, the losses could be even more profound. "There are people who still, to this day, are trying to get back on their feet," Mark Zandi, the chief economist of Moody's Analytics, told me. "These households are slowly finding their way back, but they're still on a journey."
Their struggles are present in the economic data, if you look closely enough. The labor-force participation rate, which measures the share of working-age adults who either have jobs or are looking for them, fell sharply during the recession, and remains at a decades-long low, at 62 percent. Lower-income families aren't just not doing better; they are actually doing worse: The average household income of the bottom 20 percent of Americans fell $571 between 2006 and 2016, according to Census data, while for the top 20 percent of Americans it grew by $13,749.
The housing market, too, has not fully recovered from the recession. Although population growth means there are 8 million more households in the country than there were in 2006, there now are 400,000 fewer homeowners. Before the recession, the homeownership rate in the United States was 69 percent, according to the Federal Reserve. Now, it's 63 percent. A drop of six percentage points may seem small, but it represents a tremendous amount of pain and suffering for the millions of families who once had homes and no longer do. These are all families, like the Santillans, who saw the money they had accumulated disappear, who saw their credit scores ruined, who have not caught back up to where they once were.
Perhaps worse, millions of families like the Santillans essentially put their lives on hold for years during the recession, figuring out how to survive rather than how to thrive. The foreclosure crisis and subsequent recession didn't just deplete families' wealth—the instability it caused also meant that families like the Santillans lost out on years of productive economic activity. For example, the family's oldest son, whom they call Juanito to distinguish him from his father of the same name, graduated from high school in 2009, the year the family lost their home. His grades suffered as he watched his family struggle to hold on financially, and though he wanted to attend college, he knew the family couldn't afford it. This year, Juanito, who is now 27, finally enrolled in the film school he had wanted to attend in 2009.
A foreclosure is a one-time event, but for many families it's something that never ends, wrecking years of their lives and the hopes they once had. The story of the Santillans' foreclosure illustrates the way that the recession changed the American economy, and for millions of Americans, forever changed their lives. Some nine million families lost their homes to foreclosure or short sale between 2006 and 2014. But many lost more than that: They lost their momentum, too. Families like the Santillans had been moving up a ladder towards the American Dream, and fell off into a deep pit. They're still at the bottom of the ladder a decade later, trying to get back to where they had been.
Karina and Juan Santillan bought their home, a single-story bungalow in West Covina, 20 miles east of Los Angeles, for $152,000 in 1999. Juan, the solemn patriarch who feels more comfortable conversing in Spanish than English, had worked for two decades at an ink manufacturing plant in Commerce, California; Karina, who has a heart-shaped face and a strong faith in God, sold insurance. For a few years, everything was going well—their finances were stable enough that they put their two older sons, Juanito and Isaac, two lanky and talkative all-American kids, in private school.
A few years after they bought their home, the Santillans say, people started knocking on their door selling financial products. It was easy money, the Santillans were told. Borrow against your house, it's sure to gain value. The Santillans refinanced their home in 2003, taking out an adjustable rate mortgage, which opened them up to the instability of changing interest rates. Records show they took out an additional mortgage in 2004, but Karina says she has no recollection of taking out a second mortgage. They refinanced again in 2004. They used the money to remodel their home, which they figured would give it more value. As housing prices in the region soared, they refinanced one more time, in 2005, borrowing $396,000 from New Century Financial Corp., which would itself file for bankruptcy two years later. At the time, their house worth less than $300,000, according to Zillow.
In retrospect, they didn't look closely enough at the terms of the paperwork they were signing, they say now. They didn't realize how much the amount they owed each month could change suddenly, depending on interest rates. Before they refinanced their home, their monthly payment was $1,200. By the time they lost their home, the payments had risen to $3,000. They contacted a company that said it would be able to save their home, and paid the company $6,800, only to lose their home anyway. (The proprietor of that company, Jose Casares, lost his license to practice business in California in 2012 as a result of a lawsuit against his company, court records show. "It is the Lord who will avenge us from your lies," Karina wrote to him in an email in 2009. Casares did not respond to a request for comment.)
The payments would have been high even if both Karina and Juan had been working full-time. But Karina's work selling insurance dried up as the housing bubble burst in 2007. Then the ink manufacturing company where Juan worked cut everyone's pay 10 percent. They first fell behind on payments beginning in 2007, and received an eviction notice in early 2009. To keep their home, they would have had to pay $447,431. They moved out of their home on June 29, 2009, when their children were 10, 13, 16, and 18.
Their story is not unlike many of those who lost their homes during the recession. The foreclosure crisis was particularly concentrated among black and Latino families, who were targeted by high-cost lenders. One study found that Latino families were 78 percent more likely and African American families were 105 percent more likely than white borrowers to have high-cost mortgages. Many of these families were first-time homeowners who wanted desperately to own a house, and had limited access to more-traditional financial products.
These families tended to be more vulnerable than other middle-class families in the economy—as first-time homeowners, they had less savings, less education, and fewer connections than families who had owned homes for decades and accumulated wealth through real estate. Because of these disadvantages, and because of the variable nature of their loans, these families were more likely to fall behind on payments than higher-income borrowers with more-stable loans.
A foreclosure set them back them even further. Academic studies point to the many negatives associated with foreclosure: Families in foreclosure have more frequent emergency-room visits and worse mental-health outcomes. Their children do worse in school and have higher truancy rates. They are more likely than other families to rely on the social safety net. Losing a home can also mean becoming disconnected from the community where you lived, and the connections that might have helped you find a new job or get a loan, Roberto Quercia, the director of the Center for Community Capital at the University of North Carolina at Chapel Hill, told me. It's for these reasons that many of those families are still struggling today. White families had largely recovered financially from the Great Recession by 2013, according to the Federal Reserve, while even today, the median income for black and Latino households has still not reached 2007 levels.
For the Santillans, the instability associated with foreclosure has lasted for years. After renting an apartment for a few months and then bouncing around at the homes of friends and family, they checked into a motel for a few nights so they wouldn't have to keep asking family for help. They thought it would be a brief stay, but they ended up staying in various hotels like the Red Roof Inn and the GuestHouse Inn for the next two and a half years. All six of them would pile into one room, with two of the boys sleeping on the floor and everyone vying for bathroom time. They could rarely stay at a hotel longer than 28 days—many establishments have time limits—and so would have to pack up their bags every few weeks and find a new place to live. "I think the worst part of it was not having your privacy, your own room, we all had to share one big room," Karina told me. "And not having a place to call home during Christmas."
The Santillans had to stay in hotels because their credit was so bad from the foreclosure that landlords wouldn't rent to them. The conventional wisdom is that a foreclosure will ruin your credit for a few years, but often the damage can last much longer. In many cases, these are families who, prior to the foreclosure, had income that varied from month to month. They sometimes took out loans or borrowed against their homes to smooth over that unpredictability. But going through a foreclosure shuts off those other avenues of credit at the same time these families are losing all the equity they put into their homes. "It makes it really hard to get back on your feet," Laurie Goodman, co-director of the Housing Finance Policy Center at the Urban Institute, told me. "It's incredible how long it actually takes families to recover." For example, 52 percent of the consumers against whom foreclosures were filed in 2005 still have VantageScore credit scores below 620 in 2015, she said.
Staying in hotels led to even more turmoil. Because the family chose hotels close to Juan's workplace, they were far from the West Covina school district, and Karina was worried that if she told the school district they were homeless, her children would be taken away. So the three youngest children left the schools they'd been attending and enrolled in an online school. They did their school work in hotel rooms or in Starbucks, where they could reliably get free WiFi. The children were prohibited from telling their extended family or friends what was going on, and their friendships slowly eroded as they tired of evading questions about where they were living and why their friends couldn't come over. "We started to get isolated from everybody, and ended up becoming a little island," Juanito told me.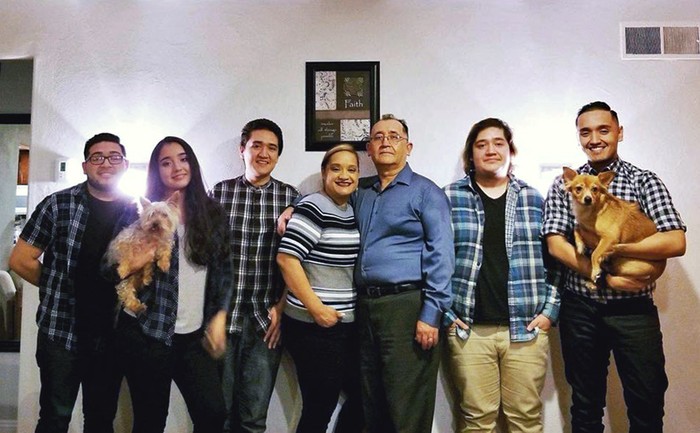 Few of the hotel rooms had kitchens, so the family would split fast-food value meals from McDonald's. To save money, Karina gave up her cell phone, which made it difficult for potential employers to contact her. To make matters worse, they had missed a tax payment around the time they lost their home, and found out in 2011 that they owed back taxes to the IRS. The government garnished Juan's already meager wages for about nine months.
Having only one car, which Juan needed to get to work, meant that the rest of the family would be stranded for the day in whatever hotel they were staying. This meant interacting with shady characters very different from the neighbors they'd lived next to for years. One drunken man pounded on their door in the middle of the night, certain that Juanito had been talking to his daughter. Someone else stole their license plate right off of their car in a hotel parking lot. Two times, police looking for a different Hispanic middle-aged man put Juan in handcuffs until they could confirm he wasn't the man they were seeking. When money got really tight, the family camped in the mountains above Los Angeles.
Perhaps hardest was watching as family and friends went on with their lives, while the Santillans' lives felt essentially paused. Isaac, the second-oldest, for example, had to stop attending school his senior year and take online classes, watching while his friends made senior-year memories, graduated, and went onto college. "If I let it, it could bring me down, me not graduating high school or college and them going to their careers," Isaac, who is now 25, told me. He applied for more than 100 jobs during the time the family was homeless, at places like Walmart and Taco Bell, but got none of them. He had dreams of being a personal trainer or working in fitness, but had to put them aside. In the course of a few years, he went from a normal teenager worrying about grades and sports to an adult isolated from all his friends and concerned with how to help keep his family afloat. He dealt with things that had been unimaginable, somehow contracting Hepatitis C and then recovering, his skin tinted yellow, in a shared queen-sized bed in a Red Roof Inn.
The end of their nightmare came slowly.
Karina finally found a full-time job in October of 2013. For one of her initial job interviews, the family was so low on money that they had slept overnight in their Chevy Suburban, and Karina freshened up in a McDonald's bathroom before the interview. She began selling auto insurance, and then, when health-care exchanges were launched in late 2013 under the Affordable Care Act, she also began selling Obamacare plans. She encouraged her three oldest children, none of whom was working at the time, to get trained to sell Obamacare, and they studied together in hotel rooms, eventually passing the test to become insurance brokers.
By the fall of 2014, Karina, Juanito, Isaac, and Giovanni were all working selling Obamacare, and the family's finances had stabilized. They started looking again for apartments, and in October of 2014, they finally found a small single-family rental in Glendora, not far from their old home. They were so excited to finally have a place of their own that the first night they got the keys, they slept on the hardwood floors on blankets, rather than in a hotel room with a bed. They'd sold all their furniture years ago. Moving into a place where they had a kitchen and some privacy was an almost indescribable relief. Karina posted pictures of scrambled eggs she made on Facebook, puzzling friends who didn't know that the family had been homeless for two and a half years, because being able to cook in her own kitchen again filled her with joy.
Karina started a business in 2015, Branch Network Insurance Solutions, and all three boys work there now, selling insurance. The business is doing well, and the Santillans say that the ordeal made their family stronger and bolstered their faith in God. Because of their faith, they feel like everything happens for a reason.
But they're still not back to where they were before they lost their home. Had they not lost their home, it's possible that Juanito would be finished with film school and in a career, rather than just starting school; that Isaac would be working in the fitness industry, rather than selling insurance; that any of the three boys would be living on their own, rather than still sharing a house with their parents.
The fate of Juan's sister's family, who lived a few blocks from the Santillans in West Covina, put this fact into sharp relief. That family did not lose their home, and their children, who are the same age as Isaac and Juanito, graduated from high school and went onto college. One of their children is now a registered nurse. The other is about to finish college. By contrast, none of the Santillan children yet have a postsecondary degree.
The economy continues to be shaped by the experiences of the millions of Americans who, like the Santillans, made little economic progress for years. People who entered the labor market for the first time during the recession—like Juanito and Isaac and millions of other Millennials— made lower wages and were less able to save money than previous generations. These earnings reduction can last up to 15 years. "The entire Millennial generation has suffered to some degree," Zandi, of Moody's, told me. "They're stunted in their financial and economic development." Young people from lower-income families who had an especially hard time finding good, steady jobs, a recent study found.
It's not just Millennials who lost ground during the recession. Anyone who was unemployed for a long period of time during those years—around 8 million people lost their jobs then—may never get back to where they were before losing work, Till von Wachter, an economics professor at UCLA, told me. There weren't as many good jobs created after the recession, and some people's skills atrophied during their unemployment.
The Santillans are now just happy to be living in a home, rather than in a hotel. They're working on their credit and now meticulously document their finances and stay on a budget. "We don't splurge too much because you don't know what tomorrow will hold," Karina told me. Juan's company only returned his pay to where it had been before the recession this year.
They have thought about trying to buy a home again—they're spending much more on rent than they would like to—but after going through their ordeal, they're very cautious. This, too, is not unusual. Going through a foreclosure often makes people less likely to want to be homeowners again. Ken Rosen, the chair of the Fisher Center for Real Estate and Urban Economics at Berkeley, calls this "post-foreclosure stress syndrome."
According to his data, Millennials like Juanito and Isaac in particular are not buying homes at the rate people their age once did. Among 30-to-34-year-olds, the homeownership rate, at 45.9 percent, is 11.5 percentage points lower than the peak rate for that same age group, which was in 2004. Among 25-to-29-year-olds, the homeownership rate, at 32.7 percent, is 9.1 percent lower than the peak rate in 2006. This could be because people in this age group have post-foreclosure stress syndrome and don't want to buy homes, or just because they weren't able to acquire the wealth that they might have been able to acquire in the absence of going through a foreclosure.
This has negative implications for the economy, too: Had the pace of homebuilding returned to a more historically normal level, there would have been $300 billion more in the U.S. economy last year, boosting the gross domestic product by 1.8 percent, according to Rosen. "The failure of the housing sector to recover is the main reason we have subpar economic growth," Rosen told me. There are, of course, many other reasons the economy is still sluggish: Household net worth dropped by 18 percent during the recession, there are more low-wage, insecure jobs than ever before, and the recession may have accelerated the automation that has replaced many once-stable jobs. But the foreclosure crisis and resulting instability for millions of families also played a big role. The brittle state of these families' finances, and consequentially, of the current economy—means that the country is much less prepared to weather another recession, when it inevitably comes.
The Santillans try not to go through those what-ifs, and say it's not worth it to obsess over what would have happened if they had never refinanced their home, or if Karina's work hadn't dried up, or Juan's wages had remained constant. Maybe they would have been able to build more wealth through homeownership, or send their kids to college, or allow their children to build enough savings to feel comfortable marrying and having their own kids. Thinking about how they are still economically behind where they were a decade ago doesn't do much good, they say.
But they learned what many American families did during the financial crisis—that while America prides itself on being a place where people can climb up the economic ladder, it's also a place where people can fall fast, and far. "We just can't forget, that in any given moment, things can change," Karina told me. This has implications beyond the fates of these individual families. The American economy thrives when people are in the jobs they want, being as productive as they can, and when they feel financially stable enough to make purchases that will raise their standard of living. The aftermath of the foreclosure crisis and recession means that many families have not felt secure like that in a long time.