The Places That May Never Recover From the Recession
The Rust Belt isn't the only region left behind by the economic recovery. The suburbs of the American west are struggling, too.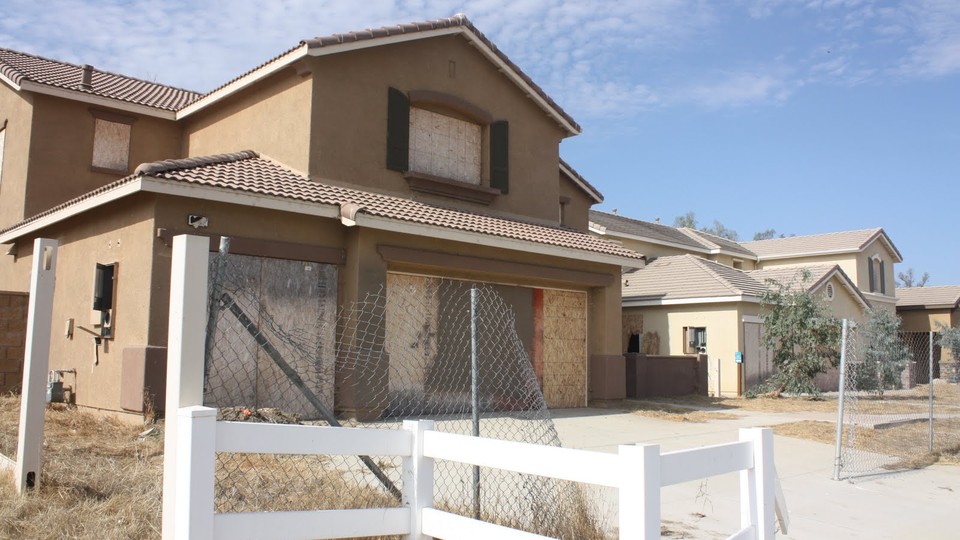 HEMET, California—Many cities across America are doing better today than they were before the recession. This is not one of them. A decade after the start of the Great Recession, it struggles with pervasive crime and poverty. "We're still recovering—we were really hit hard on all levels," Linda Krupa, the mayor of Hemet, told me. A fifth of the population lives below the poverty line, up from 13 percent in 2005.
Hemet is not alone in its troubles. A report released this year by the Economic Innovation Group, a research group started by Silicon Valley entrepreneurs, found that one in six Americans lives in what the group calls "economically distressed communities" that are "increasingly alienated from the benefits of the modern economy." Such communities have high shares of poverty, many housing vacancies, a large proportion of adults without a high-school diploma, high joblessness, and a lower median income than the rest of the state in which they are located. They also lost jobs and businesses between 2011 and 2015.
Many of these distressed communities are located in Rust Belt states like Ohio, New York, and Michigan. They include Youngstown, Buffalo, and Flint. In the months after the 2016 election, there was a lot of conversation about how people living in these areas felt left behind by the changing economy and the prosperity in the rest of the country.
But there's another type of left-behind community that's gotten far less attention. These towns are located in the suburbs of the American west, in regions hit hard by the housing crisis—Southern California, Las Vegas, and Arizona. Hemet, a suburb of Riverside, California, with a population of 84,000, ranked eighth on EIG's most distressed small-and-mid-sized-cities list. In Hemet, according to the group's report, employment fell 15.5 percent between 2011 and 2015, while it grew 9.4 percent nationwide. The number of businesses in Hemet dropped 4.8 percent over that time period. The median home price, at $237,000, is still 30 percent lower than it was in 2006.
Why hasn't Hemet found surer footing? For one thing, the region where Hemet is located was decimated by the housing crisis, with among the highest foreclosure and unemployment rates in the nation; many families are still recovering. But Hemet's problems are also the result of structural changes in the economy—changes that have been underway for decades but were masked by the heady days of the housing boom. Middle-class jobs have been disappearing while high-wage and low-wage jobs have grown—but in different geographic locations. High-wage jobs are often located in big cities, while low-wage jobs are in relatively cheap locations like suburbs and small cities. This dynamic changes the housing markets of these cities, too, with big cities getting more expensive as more high-wage workers migrate there, and low-wage workers leaving cities to seek more affordable housing in the far-away suburbs they can afford. Now that the dust of the recession has cleared, it is evident that the geography of poverty has changed in America. Hemet is emblematic of just how fast—and just how dramatically—this has happened.
I first visited Hemet in 2010, when, as a reporter for the Los Angeles Times, I stumbled across a one-time luxury development that real-estate agents were, at the time, calling a "gated ghetto." Dozens of families in the community, called Willowalk, had lost their homes to foreclosure and investors had swooped in, bought up the properties, and rented them out, often not checking references and not maintaining the properties. Homeowners were shocked when renters with Section 8 vouchers moved in next door.
When I returned to Hemet this November, I assumed that the development would have bounced back in the seven years since. The houses are huge and Willowalk features a community pool, a lake, and walking trails, all features that, in California's booming real-estate market, would make the development seem like a steal. But not much has changed in the seven years since I first visited. If anything, the situation has gotten worse for people who remained.
"The crime level just keeps getting higher," Toni Willden, who bought her home in 2005, told me recently, about Willowalk. The gates that keep out nonresidents get broken once or twice a week, she said. Just about everybody in town knows the code to the gates anyway—I got it by asking the clerk at the hotel where I was staying. Another woman, Amy Aschenberg, whose family in 2014 bought a five-bedroom home overlooking a pond, told me that she and her husband realized they'd made a mistake soon after buying their home. The gated community was filled with renters, who didn't keep up their homes and who hosted parties late into the night, especially in the summer. Home burglaries—in the middle of the day—happened with alarming regularity. "I would never have moved here if I had known what this place was," Aschenberg, 36, told me recently.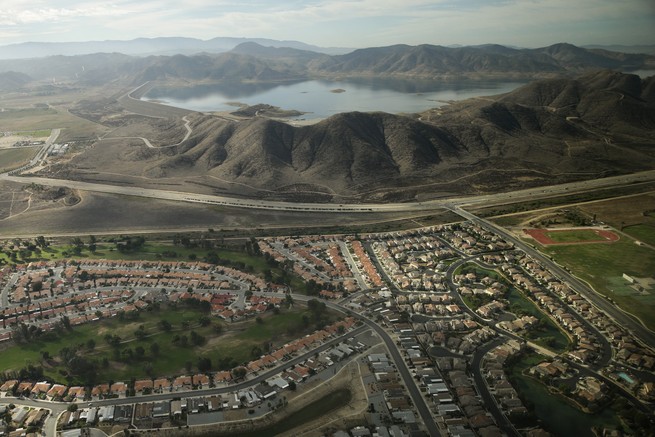 This gated community is an example of how some neighborhoods that were once middle-class are becoming poorer. "The lack of construction in coastal cities has forced people who are marginally educated and low-income to move inland," said John Husing, the chief economist of the Inland Empire Economic Partnership. Median rents in Hemet rose just five percent between 2009 and 2016; in Los Angeles, they rose 20 percent, according to Census data.
Krupa, the mayor, has said that the recession caused Hemet to transition from a retirement community to a low-income community because of the influx of new, poor residents. In the suburbs of the Riverside-San Bernardino metro area, including Hemet, the number of people living below the poverty line grew 63 percent, to 596,310, between 2007 and 2016, according to Elizabeth Kneebone, the research director at the University of California-Berkeley's Terner Center for Housing Innovation. In the suburbs around Las Vegas, the change was even more dramatic: There, the poor population grew 126 percent between 2006 and 2016, according to Kneebone. "It's the new normal that suburbs are going to be struggling with poverty," she said.
Hemet problems are in some ways particular to the areas that suffered the most during the housing bust. Suburbs far away from Los Angeles, Las Vegas, and Phoenix, where people bought homes during the "drive til you qualify" housing boom, were plagued by a high number of foreclosures in the bust. After the homes went through foreclosure, they were purchased by investors and rented out, creating new, low-cost rentals. Before the recession, 63 percent of homes in Hemet were owner-occupied, today just 54 percent are, according to Census data.
Renters aren't necessarily bad for a neighborhood, but the transition of a neighborhood from one of homeowners to one of renters can be disruptive. When a home is lost to foreclosure and then changes hands a number of times, it can upset the community ties in a neighborhood, according to Husing. When homeowners live in their own homes, they are invested in the community, and their own fortunes are bound to those around them. When they live far away and are renting them out, they're often less able to put time into maintenance and upkeep. "Detached single-family rental housing tends to really upset the social structure of communities," Husing said. "Many times they never get back."
Research by Deirdre Pfeiffer, a professor at Arizona State University, found that after investors bought up single-family homes and rented them out in the Phoenix suburb of Chandler, Arizona, the neighborhoods had more service calls to police about violent crime. Husing did a similar study in San Bernardino, the next county over from Riverside, and found that in one city, Ontario, it was 47 percent more likely that police would be called to single-family rentals than to owner-occupied homes, 25 percent more likely that the fire department would be called to single-family rentals, and 36 more likely that the city would have to take out code enforcement actions on single-family rentals than owner-occupied homes.
The problem is not the influx of renters, necessarily, but instead the absentee landlords who don't keep up homes. I talked to a woman named Domenica Azzolini, who moved into a big house in Willowalk after losing her home to foreclosure. She moved in without seeing the rental because she was desperate for a place, only to find that the floors were unfinished concrete, and that there was black mold growing in the bathroom. Her landlord refused to fix either, so Azzolini paid for the repairs out of her own pocket. The deteriorating upkeep of some neighborhoods like Willowalk has led to an exodus of those who can leave. The Lopezes, the family of first-time homeowners in Willowalk I had profiled in 2010, walked away from their home and moved to another town. "It got so bad that we had to move," Maria Lopez told me.
Lower-income neighborhoods typically have higher crime rate than higher-income neighborhoods, and an influx of low-income renters has tracked with an uptick in crime in Hemet. According to FBI crime data, in 2016 in Hemet there were more motor-vehicle thefts (623), robberies (170), and aggravated assaults (398) than in any other year in the 21st century. "I've seen the community really go downhill since the recession," Jim Ollerton, a lifelong Hemet resident and member of the Hemet Planning Commission told me. "The community is still suffering with a lot of quality-of-life criminal activity." He recently voted against a new planned condominium in Hemet because he thinks the city has too many rentals.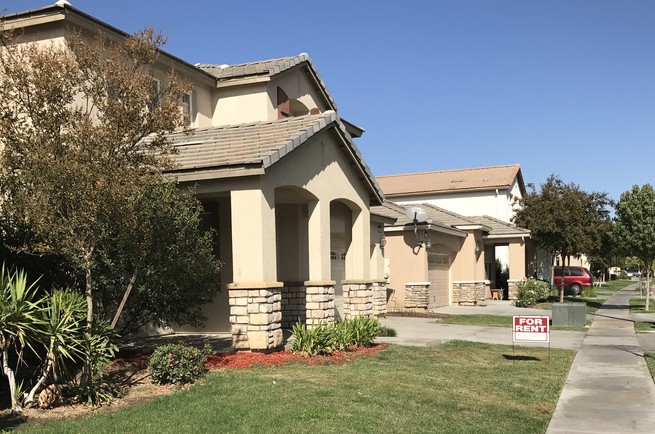 Of course, the challenges in places like Hemet aren't just caused by an uptick in low-income new arrivals. People who have lived in these areas for years are also struggling. It's not that there aren't jobs: In the last five years, the Inland Empire, as the area encompassing Riverside and San Bernardino counties is called, had the second-fastest rate of job growth in California, after San Francisco. But these jobs aren't the kind that give families a comfortable middle-class life; rather, they are low-paying and unstable. The fastest-growing industry in the Inland Empire between 2011 and 2016 was warehousing and storage, which more than doubled employment. Other fields that saw big growth were food service and health care. The pay isn't great in any of these fields—in the Inland Empire, the 40,000 or so food-preparation workers make an average of $24,000 a year; the 55,000 material movers make $29,000, and the 30,000 people working in health-care support make $34,000. "It is the whole nature of this economy not delivering rising real incomes to people in those types of jobs," Husing said.
It's not random chance that has concentrated these jobs in places like the Inland Empire. Well-paying jobs for people with college educations are increasingly located in cities. Meanwhile, jobs in retail, manufacturing, and warehousing have suburbanized as companies move to places with cheaper land and labor."The types of jobs that are more suburbanized tend to be lower-paying," Kneebone said. And the Inland Empire is essentially one big suburb. The Riverside–San Bernardino area has the worst annual average private-sector wage of the top 50 metropolitan statistical areas in the country, at $40,000 in 2015.
The inflated wages in the construction and finance industries during the housing boom gave suburbs like those in the Inland Empire a few good years in which people could live a middle-class life. Now that lifestyle is out of reach for many, a fact Tricia and Rich Powe know all too well. Before the recession, they did well for themselves—he worked in manufacturing, she was a mortgage counselor.
But they both lost their jobs during the recession, and then lost the home they'd bought in Corona, a suburb of Riverside, in 2008. After a long spell of unemployment, Rich found a new job in manufacturing three years ago, but he began as a temporary worker, and even though he was recently brought on as a full-time employee, he makes $6.25 an hour less than he did before the recession. They haven't been able to accumulate any savings, and are still paying off loans; Rich for his daughter's college education, Tricia for school. "We're living paycheck to paycheck," Tricia told me. "If we lost our jobs, we'd be in trouble."
In the end, Hemet is stuck. The city itself can't convince companies to pay better wages, and it has no control over the rents in big cities that are pushing people out to the suburbs. It has tried to force absentee landlords to keep up their homes, but has limited resources to do so, and struggles to smooth over its transition from a community of homeowners to one of renters. Like many other suburbs and small cities across the country, the economic tide has turned against its residents, leaving them seemingly no path back to vitality. As Hemet and many suburbs like it are finding, growing poverty can lead to even bigger problems—lower tax revenues, fewer businesses able to stay put, worse services like schools and police. This, of course, makes them even less attractive for people who have other choices about where to live. Over time, the situation only gets worse. As nearby cities prosper, and the recession appears as just a bump in the road in the rearview mirror, distressed areas are still there, unable to move ahead.