The Dispiriting Saga of a Private Cul-de-Sac in the Bay Area
For progressive politics, San Francisco was once a city upon a hill. Now it's rich people squabbling over one.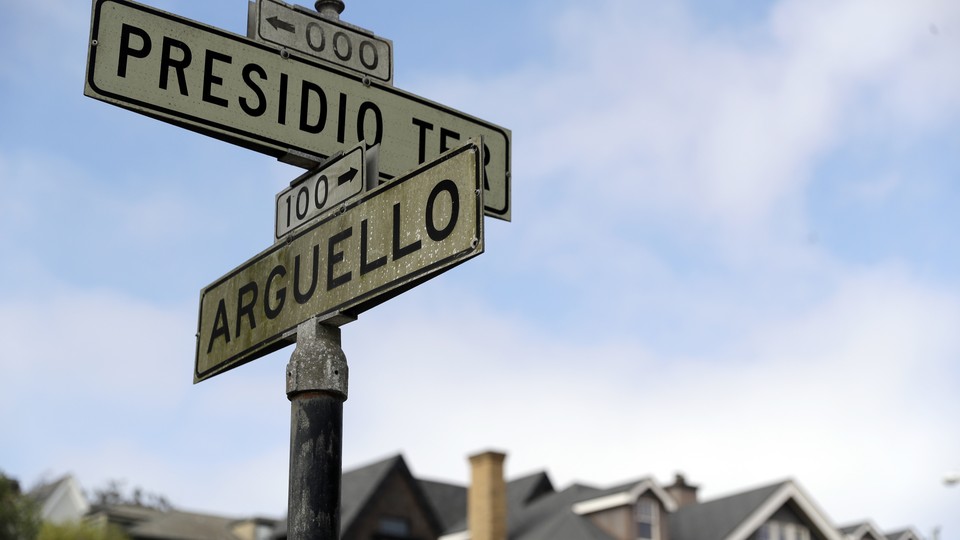 In August, after decades of failing to pay property taxes on their private cul-de-sac in the hills of San Francisco, residents of Presidio Terrace were rudely awakened to the fact that their street no longer belonged to them. It had been sold at auction, perfectly legally—and the well-heeled homeowners would have to deal with whatever profiteering came of it.
As I noted at the time, there was some deeply satisfying irony here for anyone who has railed against the elitism of San Francisco's housing market. But as of last week, the universe has returned to its usual order: The Presidio Terrace Association got its street back.
The homeowners' association had sued the street's buyers and enlisted a battalion of influencers to appeal to the city to reverse the sale. Among them was Senator Diane Feinstein, who used to live on the street. "In the United States, no one should lose property at the hands of the government without knowing it," she wrote to the city in October on behalf of her old neighborhood. San Francisco officials caved, and reversed the tax-default sale—the first such reversal by the city in decades, and possibly ever, according to the San Francisco treasurer's office. After casting his vote in support of the homeowners' association, San Francisco Supervisor Mark Farrell called the San Jose couple who'd purchased it "speculators … attempting to extort San Francisco residents that I represent into a quick $1 million payday," according to the San Francisco Chronicle.
Tina Lam and her husband Michael Cheng are that couple. Both Asian immigrants who would have once been banned from the neighborhood by its early racial covenant, they'd purchased the street for $90,000 at public auction in 2015, where it had wound up as many lesser tax-owed properties do. The Presidio Terrace HOA had apparently forgotten to provide the city with an updated billing address for some 30 years, causing them to default on a $14 annual property tax on their gated street and common green areas. By 2015, they'd racked up nearly $1,000 in outstanding fees.
After Lam and Cheng picked up the property, they spent a couple of years considering their options—charging for parking, say, or selling back the cul-de-sac at profit. That's how Presidians found out the street was no longer theirs: The couple sent an agent door-to-door to assess the community's interest in repurchasing the cul-de-sac.
When the story broke, the internet relished the optics of Bay Area mansion-owners suddenly beholden to a new landlord. But it was also symbolic of all kinds of depressingly antidemocratic trends. Homeowners' associations have often stepped in to buy property off the hands of cash-strapped cities, but they're infamously shadowy about how they operate, even for members—which is why it isn't that crazy that the residents had been poorly informed of their shared delinquency. Furthermore, cities sell off public assets to developers, investors, and universities all the time, for all kinds of reasons. Citizens are frequently not informed of these (often more worrying) transactions, either.
For now, Presidio Terrace belongs to its residents again. Their victory isn't cause for celebration, though. The city's highly unusual tax-sale reversal smacks of preferential treatment. It's hard to imagine elected leaders going to bat for, say, each homeless individual who has had property seized by the city. Farrell, the city supervisor quoted above, is also the author of Proposition Q, a controversial measure approved by San Francisco voters in 2016 that allows the city to clear homeless camps given 24 hours' notice.
But the saga of Presidio Terrace may not be over yet. Although the city promised they'll get their $90,000 purchase price back, Cheng and Lam have said they plan to sue. For progressive politics, San Francisco was once a city upon a hill. Now it's rich people squabbling over one.
---
This post appears courtesy of CityLab.