Patagonia, REI, and the Politics of 'The President Stole Your Land'
Brands are aware that in a hyper-partisan climate, it can be conspicuous not to weigh in on heated debates.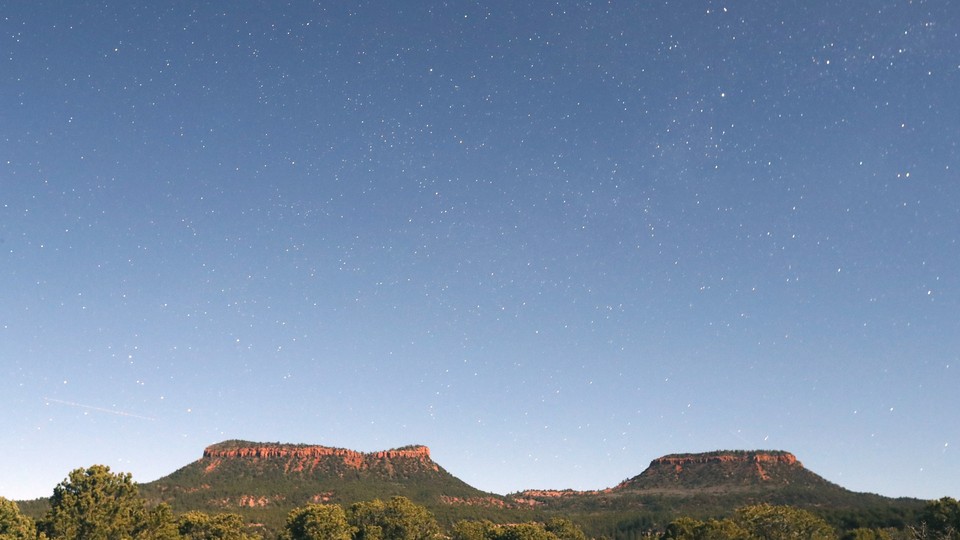 On Monday, President Donald Trump greatly reduced the size of two national monuments in Utah, shrinking Bears Ears by more than a million acres and cutting the size of Grand Staircase–Escalante almost in half.
Later in the day, some private companies shared their feelings about public lands.
Patagonia, the outdoor-clothing retailer, responded by showing visitors to its website a black page with large white text that read, "The President Stole Your Land." Under that heading, the company called Trump's move "illegal." Those who just came for a fleece sweater could click through to the usual website; the more politically inclined could navigate to a brief on the company's reasoning (footnoted, no less) and suggestions of nonprofits to donate to.
REI, another outdoor brand, took a less combative stance, putting a graphic on its website that read "We ❤️ Public Lands." Clicking through on that image directed visitors to a corporate statement on Trump's decision expressing earnest concern and—perhaps unusually for a company that sells rain slickers and metal sporks—detailing its policy analysis. The company called the Trump administration's four-month review of national-monument land "hasty" and asserted that the president's action "undermines the integrity of the Antiquities Act." (Neither Patagonia nor REI responded to interview requests.)
This is the year 2017, when clothing brands issue analyses of 1906 regulations governing public lands and accuse the president of breaking the law. Patagonia and REI's digital strategies are reflective of two broader truths about what advertisers must consider in a hyper-partisan environment: First, choosing a side on a controversial political issue can be a great (but risky) way to get good PR. And second, not choosing a side is a still a choice, and one that consumers may judge brands harshly for.
REI seems to be aware that taking a political stand risks alienating shoppers who support Trump and his public-lands policy—hence its hard-to-disagree-with profession of love for public lands and its carefully worded statement affirming its "nonpartisan commitment" to preserving them. Budweiser, seeing itself in a similar position earlier this year after releasing a pro-immigration Super Bowl ad, insisted it too was apolitical: "There's really no correlation with anything else that's happening in the country," an executive told AdWeek.
Aimee Drolet Rossi, a professor of marketing at UCLA's School of Management, was not surprised that Patagonia and REI—as well as North Face and Arc'teryx, two brands that are donating money in support of preserving public lands—decided to take a side in this particular political debate. She says that both brands are well defined—as selling clothing to outdoorsy (i.e., liberal) types—and this made their calculation easy. "I don't even know that it's politics so much as, 'Of course that brand should be supportive of efforts to preserve the environment,'" she says. In other words, it would seem strange for companies whose catalogs regularly feature rock climbers not to take a position on national monuments. (It was similarly on-brand when websites such as Google and Wikipedia used their own online real-estate to protest the Stop Online Piracy Act and the Protect Intellectual Property Act in 2012.)
One other thing that made both companies' decisions unsurprising is their corporate make-up. Patagonia is formally registered as what's called a B Corp (short for "benefit corporation"), meaning it is committed to not just profits, but also the wider well-being of society and the world. REI, meanwhile, is a privately owned cooperative that does not report to traditional shareholders but instead to the employees and shoppers who own a stake in it. Both organizational arrangements provide room for more mission-driven corporate strategies.
Where companies tend to run into trouble these days, Drolet Rossi says, is when they make a political play but have a more vaguely defined brand. She points to an ad that Pepsi put out earlier this year (and that I wrote about at the time) for which it was widely lambasted. It depicts the model Kendall Jenner making peace between protestors (their cause left a mystery) and police by presenting an officer with a can of Pepsi. "It's a little riskier for them to take on an issue that's only tangential to what the product does," Drolet Rossi says.
Are these calculations unique to the present moment? In some sense, yes, Drolet Rossi says. She notes that Jimmy Fallon's poor ratings have correctly been attributed to his unwillingness to address politics on his nightly show. "It seems weird that Jimmy Fallon gets up there and doesn't comment on some of the absolute craziness that's happening politically," she says. A choice not to talk politics, these days, is more conspicuous than a choice to address it head-on.
But Drolet Rossi thinks that other things have led to this particular moment in take-a-side advertising. "It isn't just that the political situation has changed," she says. "I actually think it's more that the ability to target and segment has so improved, dramatically, that you can weigh in to certain political issues with less concern about backlash." Basically, with more data gathered from social media and online behavior, companies know their customers better than they used to—though, as the Pepsi backlash illustrates, they're still figuring people out.