What's at Stake in the Fight Over the CFPB
"There come times when even the most savvy or knowledgeable consumer is still going to get burned."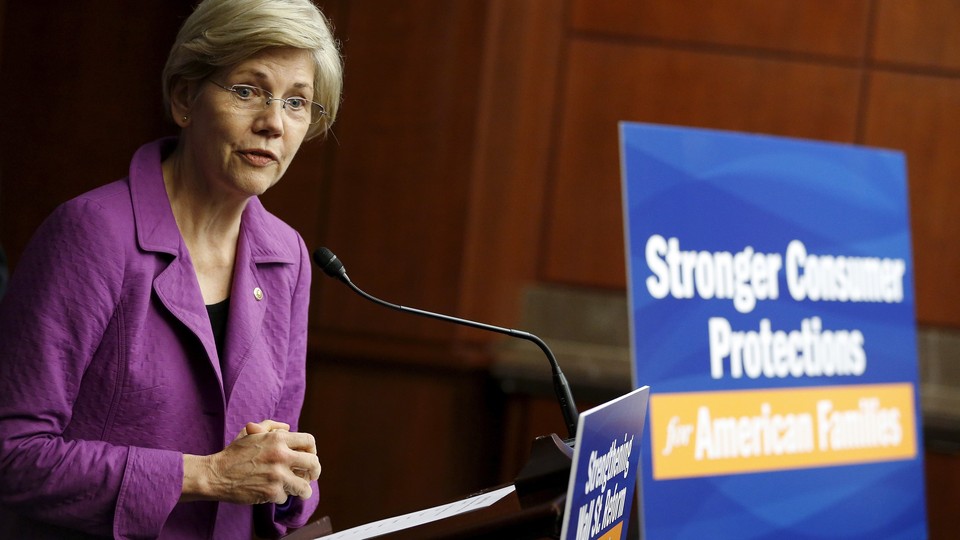 It can be hard to fathom just how intertwined Americans' lives are with the country's financial industry. About 178 million Americans have at least one credit card, according to the Federal Reserve. Forty percent of adults under the age of 30 are paying off student loans. A record 107 million (43 percent) of adults have car loans. And about 80 percent of American adults have a credit score. The safety of the financial products that these hundreds of millions of Americans use fall under the purview of the Consumer Financial Protection Bureau.
Prior to the founding of the CFPB, disputes between individual customers and their banks could be daunting and expensive pursuits. The financial industry has never been known for its transparency or accessibility, and banks managed to sneak all types of dangerous, expensive, or exploitative provisions into the fine print of contracts on everything from credit-card applications to mortgages. The subprime-debt crisis highlights just how badly that can turn out for everyone. While state-level consumer protections existed and banks were regulated by entities such as the Federal Deposit Insurance Corporation and the Office of the Comptroller of the Currency, the CFPB was the first federal regulator to take a critical look at such a wide variety of banking practices with an eye toward fairness and protection of consumers above all else.
And yet, few Americans know much at all about the agency. A 2013 poll of 1,000 people done by a progressive nonprofit, Americans for Financial Reform, showed that only about 40 percent of Americans hadn't heard of the CFPB or had no opinion about it. It doesn't seem like awareness improved much with time. In a small but representative survey of around 500 adults conducted in 2017 by the financial product–recommendation website CreditCards.com, approximately 81 percent said they didn't know enough about the agency to have an opinion about it.
However, in the past few weeks, the CFPB has gotten a bit more attention than usual. With the resignation of its leader, Richard Cordray, an ongoing lawsuit, and the appointment of an acting director who has openly called for the destruction of the agency, the bureau has been the latest entity sucked into a dramatic standoff with the Trump administration. But with other major battles over issues like taxes and health care brewing, is fighting over this tiny, relatively new agency worth it?
The fact that many Americans seem unaware of the Bureau's work isn't itself evidence that the Bureau's work isn't valuable. In fact, the agency's low profile says nothing of its impact, and everything about how much easier the agency has made settling disputes with financial companies, says Joel Wertheimer, a civil-rights lawyer from New York. "Normally for a consumer to get a settlement, private lawyers like me have to find this case, find out about it, negotiate a settlement, they take a third of it, then they have to send out notices, get people to opt in, and administer the fund," he told me. That of course, is a process that benefits Americans who have the time, knowledge, and often money to pursue their grievances. But Wertheimer, and millions of other Americans who received settlements, often don't have to do any of that.
Wertheimer told me that he recently opened his mail to find a check in the mail for around $1,600. "I sort of didn't believe it," he said. The notice that came along with the check said that he was receiving the payment in relation to "a debt-protection program offered by Citibank." Wertheimer had opened up a credit card with Citibank when he graduated from college and vaguely remembers language about a credit-protection program. "I thought that was something I needed," he remembers. It turns out that Wertheimer's was one of the 7 million accounts that the CFPB determined fit the criteria of deceptive marketing and unfair billing practices at Citibank—where so-called "add-on" programs didn't offer that much protection at all, and suckered customers into paying for the extraneous services with misleading promotions. Wertheimer's $1,600 check came from the $700 million fine the Bureau levied against the bank for its practices—and he didn't have to do anything to receive the money he was due.
These sort of day-to-day transactions and practices are ultimately what can hurt customers, sap their money, and leave them with little recourse. The CFPB was created explicitly with the intention of fixing that. Gene DeSantis, a now semiretired consumer lawyer, spent much of his career working on shoring up financial protections for people in the state of New York. Many of the issues he worked on, including things like mandatory-arbitration clauses and transparency initiatives, are problems that the bureau now tackles at a federal level. Still, despite his expertise in consumer law, DeSantis says he found himself with a dilemma that only the CFPB could tackle.
When DeSantis's son went to college, he gave him a credit card from TD Bank to use in case of emergency. His son is really responsible, he told me, so he didn't worry about him racking up an insane bill on something silly. DeSantis spends about five months every winter in Park City, Utah, where he likes to ski. When he heads out to Park City, he temporarily forwards his mail to ensure that he won't miss anything while he's across the country. But while in Utah, he got a call from a debt collector who told him they were calling about an overdue amount on the credit card he'd given his son. After being connected with the bank, he found out his son spent about $150, on car maintenance and gas. "I'd never even gotten a bill," DeSantis said.
Given his profession, DeSantis was inclined to fight the bank on this. He learned that there was a clause in TD Bank's credit-card policy that said that it wouldn't allow credit-card statements to be forwarded, supposedly for his own protection. Because the bank refused to engage in this fairly common practice (which he said all of his other banks provided) a $150 charge had been collecting interest and penalties for months before the debt-collection agency called him. Now the bill was double the amount.
The bank told him he was liable, despite the fact he wasn't receiving his bills. He wanted to sue, but his credit-card contract also included a mandatory-arbitration clause. "The only place I could turn to was the CFPB," he said. Within a week, DeSantis says, the bureau had acknowledged his complaint, reached out to the bank, and TD Bank had agreed to accept his payment for the original charges and waive the additional fees and interest. "No matter how much you think you know, and how well versed you are in the law, there come times when even the most savvy or knowledgeable consumer is still going to get burned," he told me. "That's what happened to me."
These sorts of stories—and the amounts of money they represent—may seem a bit small-bore, but together they amount to some $12 billion that banks or other financial institutions took in under terms that were later deemed unfair, and that they had to repay to Americans who would otherwise have been without much hope of recouping lost money. The bureau's mandate, and relative freedom to pursue it, hasn't exactly endeared the agency to the financial industry or the politicians who nurture (and benefit from) close ties with Wall Street.
The fight over the future of CFPB didn't start when Richard Cordray, the agency's first director, stepped down to reportedly run for governor of Ohio. It started almost as soon as the idea for the agency was conceived. "There are a lot of intense feelings about the CFPB and there always have been," says Nick Bourke, the head of consumer finance at the Pew Charitable Trust. In creating the agency, the Dodd-Frank Act gave the bureau and its leadership an unusual amount of autonomy. The CFPB's director is nominated by the president and confirmed by the Senate. After that, he or she can't be forcibly removed during his or her five-year term. And the agency isn't subject to congressional appropriations, since its funding comes from the Federal Reserve. It's the agency's independent structure, along with the fact that it was the brainchild of a progressive senator, Elizabeth Warren, and was founded under a Democratic president, that irks many Republicans. For many conservatives, who accused the Obama administration of government overreach and heavy-handed regulation, the CFPB stands out as a glaring example of the previous administration's failings. "It was a foolish idea for Congress, in the Dodd-Frank Act, to create a regulatory body like the CFPB and make it completely independent of all the controls usually imposed under the Constitution," Peter Wallison, a fellow at the conservative think tank, the American Enterprise Institute, told me via email.
It of course doesn't help that the agency has been aggressive when it comes to creating new regulations, which have included new rules for payday lenders, prepaid debit cards, and mandatory-arbitration clauses. And then there are enforcement actions, which have cost financial firms billions of dollars in fines and restitution. Aside from Republicans, the most vocal critics of the CFPB have been financial firms and their lobbyists.
Republicans have spent much of Cordray's tenure attempting to fight the Bureau for these reasons. In 2016, they scored their biggest victory yet when a judge ruled that the agency's structure, namely the freedom of its leadership, was unconstitutional. That is to say, the uproar over the seemingly small question of who will lead the CFPB is just the latest battle in an ongoing war.
Right now, Republicans are seemingly winning. Last week, Tim Kelly, a federal judge, sided with the Trump administration in a question of who should lead the Consumer Financial Protection Bureau right now. The decision was the first of many legal decisions in what could be a prolonged lawsuit about who is at the helm of the agency. And that won't be the end of it. Even after the matter of a temporary leader is settled, a new long-term leader will still need to be nominated and confirmed within six months. Trump recently said that he would nominate a new director in "upcoming weeks."
Even though the acting director, Mick Mulvaney, who currently also leads the Office of Budget and Management, says that his intent isn't to gut the agency, his previous criticisms, along with the fact that Trump would install a leader who has so publicly attacked an agency to lead it, don't bode well for the agency now or in the future.  As one of his first acts as acting director, Mulvaney put a 30-day freeze on hiring, regulation, rulemaking, and payouts to consumers.
Right now the freeze leaves work such as the agency's $10 million fine against the bank Santander for illegal overdraft practices and its lawsuit against the student-loan servicer, Navient, in limbo. These two actions, in particular, represent some of the bureau's most common and impactful work, according to Bourke. In addition to Santander, the bureau is responsible for levying fines against Wells Fargo for its fake-account and auto-coverage scandals. And as student-loan debt has ballooned and the Trump administration has rolled back protections for some debtors, the agency has increased its scrutiny of the banks and financial entities servicing that debt. In addition to Navient, the Bureau fined Citibank more than $5 million for misleading customers about its student-loan repayment practices.
There are dozens of open enforcement actions that won't see much progress for at least a month, which will delay affected customers from recouping their money. In both the short- and long-term the agency faces risk from instability. "Any system needs rules," says Bourke. "If a new director comes in and slashes and changes the existing rules, that creates a lot of chaos that can actually be bad for the companies."
Thus far, there are a few common threads of Trump's administration, including a push for deregulation, a close relationship with Wall Street, and a commitment to undoing everything that can be credited to Obama. None of those mix well with the past work of the bureau. While the acting director of the CFPB doesn't have the power to totally shutter the agency, loyal Trump appointees at the helm for the foreseeable future doesn't bode well for it.