The Second Life of Sears's Massive Distribution Centers
New projects in the shells of former Sears warehouses reveal much about America's urban history—and its future.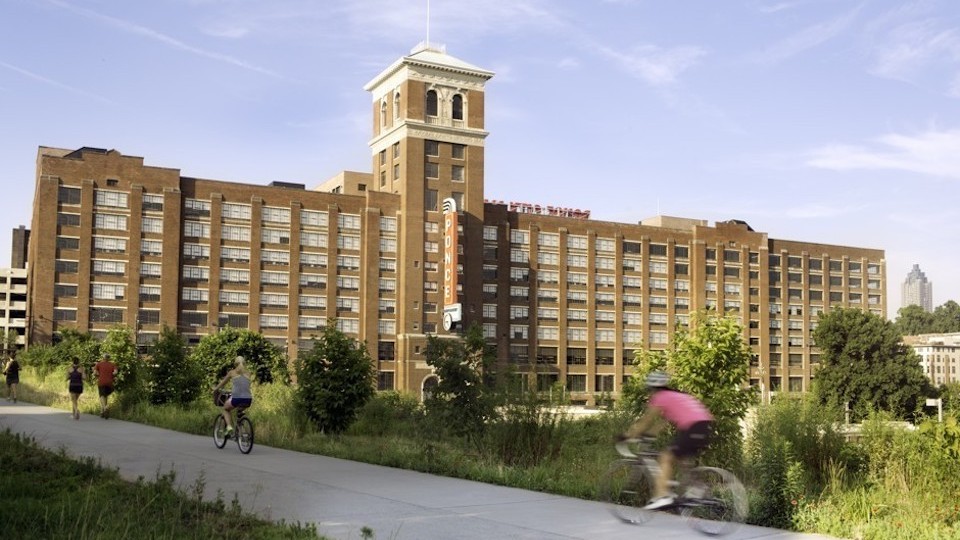 The collapse of retail has left empty department stores scattered across the American landscape. It's been especially hard for Sears, the once mighty retailer. But while the shells of the chain's big-box stores sit empty in suburban and exurban strip malls, a few relics of the company's past are now thriving for the first time in decades.
In the 1920s, Sears built several "plants" across the country. These were unfathomably large warehouses and distribution centers with ground-floor stores, built when Sears was primarily a mail-order company. As urban areas suffered and depopulated in the middle of the 20th century, so did these massive buildings. But today, six of the seven remaining plants have been resurrected in the image of the contemporary city. The first wave of rehabilitations came in the late 1990s, when Boston's plant was converted to the Landmark shopping center and offices, and Dallas's plant became loft-style apartments. Seattle's plant, like an imperial palace retooled for a conquering emperor, became the global headquarters for Starbucks.
While those reuse projects were forward-thinking in their day, the more recent plant rehabilitations place a greater emphasis on mixed-use development and place-making strategies that integrate them into their neighborhoods. The Midtown Exchange building in Minneapolis and Ponce City Market in Atlanta have become defining structures in their cities, representing the benefits of postindustrial urban revival and the persistent challenges of gentrification.
This dynamic will only become more vivid with the rehabilitation of the last remaining plant, in L.A.'s Boyle Heights, which will begin construction next year. When it is complete, the Mail Order District will contain an almost cliché collection of new-economy uses, including "creative offices," live/work lofts, a food hall, an active rooftop, and an exhibition space, all encased in a shell that dates back to 1927. This will be the logical conclusion to the current chapter in the history of Sears's plants, which have always been emblematic of their times. During nearly every phase of their existence, these buildings have followed remarkably similar paths in their respective cities, contouring to the largest forces in American urbanism over the past century. The four most recent projects, in particular, make clear just how universal the tropes of postindustrial urban regeneration and gentrification have become, such that they now read like a formula.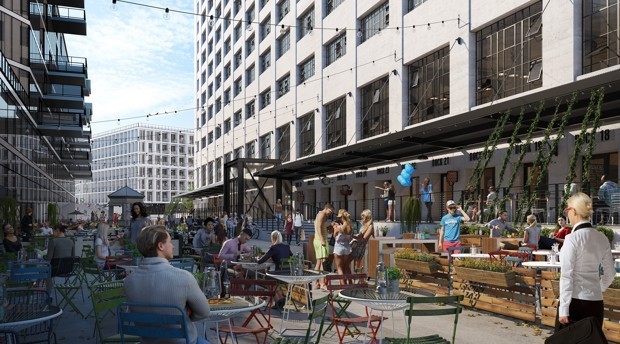 In the 1920s, Sears had its own formula for adapting to an urbanizing, upwardly mobile population. Robert Wood joined the company as chief executive in 1925, and immediately refocused the mail-order behemoth on brick-and-mortar stores. That year, the company added ground-floor retail stores to four of its distribution plants. In addition to building hundreds more stores, Sears built six more plants before the '20s were out. As a hybrid of store and warehouse, the plants were the physical embodiment of the company's pivot from rural-focused mail-order catalogues to urban and suburban retail stores.
The plants' locations also speak to this transitional moment. They were built at what was then the edge of town, adjacent to rail lines. Land was cheap and parking plentiful in these areas, but they were still closer to the urban core than many early car-oriented bedroom communities, says Jerry Hancock, an amateur Sears historian.
Plants were among the largest buildings by square footage in their cities, if not the largest outright. They usually clocked in at a million square feet or more. Their art deco flourishes and iconic "Sears towers"—not to be confused with the company's eventual headquarters in Chicago—made them local landmarks. (The towers, Hancock explains, were built to hold the plant's cistern, providing maximum water pressure during break times on the warehouse floor, when hundreds of workers would use the bathroom at the same time.)
These features—their size, locations, and proximity to railroads—became liabilities for the plants during the urban crisis, starting in the 1960s. Ground-floor retail stores became difficult to sustain in increasingly impoverished, dangerous neighborhoods, while business boomed at suburban shopping centers. Multistory urban warehouses no longer made financial sense for Sears as rail transportation lost ground to trucking, and many rail lines near the plants were decommissioned. Sears closed most of the stores and warehouses in its plants during the 1980s and '90s, well before the retailer began its current tailspin. These forces spelled the end for the plants in Chicago, Philadelphia, and Kansas City, which were demolished during this period.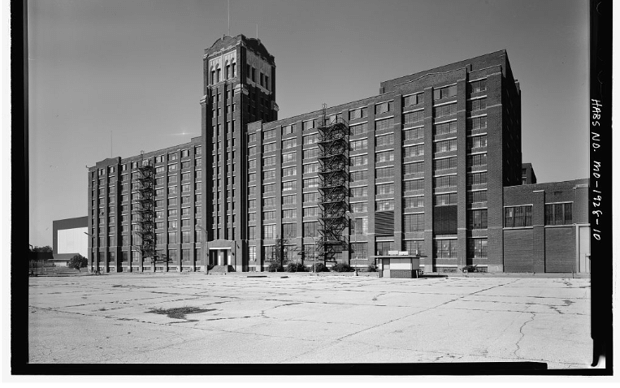 The Minneapolis plant shuttered in 1994 after a long, slow decline. The crack epidemic had hit the plant's Midtown neighborhood particularly hard. "At one point The New York Times did an article calling the neighborhood 'Murderappolis,' so it was going down fast," said R.T. Rybak, the mayor of Minneapolis from 2002 to 2014. "When Sears pulled out, there was this massive hole in the second largest building in the state"—the largest being the Mall of America, where Sears had opened an anchor store just two years prior.
During his term as mayor, Rybak and community groups were committed to salvaging the building and to improving the quality of life for neighborhood residents. "We thought, 'We want to get someone to attract jobs, and to create equity.'" When it opened in 2006, the Midtown Exchange building largely stayed true to this vision, becoming the new headquarters for the nonprofit health-care provider Alina, and including 178 units of affordable housing. But the building's main draw, which has grown to become a major tourist attraction in Minneapolis, is the Midtown Global Market. This food-and-crafts hall includes 45 vendors from 22 different cultures, nearly all of whom are people of color, and many of whom are immigrants, Rybak said.
The Midtown Greenway, a rails-to-trails project that runs alongside the plant, has helped ensure the success of the Midtown Exchange building, providing a steady flow of hungry promenaders, and a commuting alternative for the people who live and work there. Remarkably, the following two plants to be rehabilitated, Atlanta's Ponce City Market, completed in 2014, and Memphis's Crosstown Concourse, opened this summer, are also right next to their cities' rails-to-trails projects.
The symbiosis of post-industrial infrastructure seems particularly palpable at Ponce City Market, whose food-and-market hall is to the BeltLine what Chelsea Market is to Manhattan's High Line. Both are owned by the developer Jamestown, and have become focal points for tourists exploring each city's linear park and the rapidly transforming neighborhoods they pass through. From a financial perspective, both are runaway successes. While declining to give any financial statistics, Michael Phillips of Jamestown said Ponce City Market is the second most requested Uber destination in Atlanta, after the airport.
Like Chelsea Market, which contains offices for YouTube and Google, Ponce City Market is a mini tech hub, playing host to the headquarters of MailChimp and other startups. The building's new rooftop amusement park and its forthcoming second phase, which will add more office and residential space, as well as a hotel, should make the complex even more appealing to the start-up set.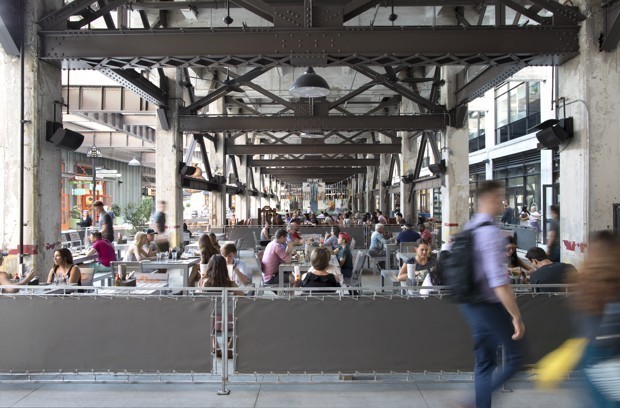 Development has boomed around both the Atlanta and Minneapolis plants, which also has a new hotel next door. And with Memphis' Crosstown Concourse at 98 percent capacity a month after opening, its neighborhood seems on track for the same.
There's a flipside to these development booms in impoverished, industrial neighborhoods. The median home value in the Midtown Exchange building's Census tract increased 39 percent between 2000 and 2013, and the proportion of the population with a bachelor's degree or higher went from 15.8 percent to 24 percent. Powderhorn, the neighborhood in which the Midtown Exchange building is located, was the only Minneapolis neighborhood whose white population increased between 2000 and 2013, a recent study found.
That experience is familiar to residents of the Old Fourth Ward, which contains Ponce City Market as well as Martin Luther King Jr.'s childhood home. That neighborhood, which was only 4 percent white in 1990, is 55 percent white today. Median home prices in the Old Fourth Ward have grown 13 percent more than the Atlanta average since January 2013, according to Zillow. A recent report on gentrification in BeltLine-adjacent neighborhoods describes the Old Fourth Ward as "ground zero of the BeltLine development's hot market." While the plant rehabilitations in Atlanta and Minneapolis are not responsible for all of the demographic changes in their neighborhoods, they, like the linear parks nearby, are important catalysts for high-end development.
"The rents have gone through the roof," said Mark Pendergrast, author of City on the Verge, a book about urban development in Atlanta. "The entire point of the BeltLine was that it was supposed to help bring back this derelict corridor, and help bring back neighborhoods, and it has done that. But it has also driven people out who can't afford it. It has driven out people it's supposed to be helping."
To their credit, the developers behind the Atlanta and Memphis plant rehabilitations have, like the coalition behind the Midtown Exchange building, tried to mitigate the impacts of their own popularity. Twenty percent of the housing units at Ponce City Market are below market rate, a rare success as Atlanta struggles to build the 5,600 units of BeltLine-adjacent affordable housing it promised. And at Crosstown Concourse, a whopping 630,000 square feet of space is reserved for health care, education, and arts uses.
By contrast, the Mail Order District in L.A. does not include any below-market-rate housing across its 1,030 live/work units. In an email exchange, Karin Liljegren, the project's lead architect, said that some of the units will be small so as to be "affordable by design." She also noted that the project will not directly displace any residents, and will add much needed housing supply to an area in desperate need of it.
Still, some neighbors in notoriously gentrification-averse Boyle Heights aren't happy about the plans. And if past is precedent, the new development could create conflict between longtime residents of this working-class Latino neighborhood and the "creative" young professionals who will be moving in. The visual and demographic change coming to East L.A. will likely be jarring: The Mail Order District is just one in a slate of mega projects that will abut the soon-to-be denuded L.A. River, a "cement to trails" project that could blow the BeltLine out of the water.
Just as the plants were initially built in areas with a special confluence of attributes, their reincarnations are immersed in a matrix that's valuable again today. Rail access has become trail access, and industrial architecture has become a potent neighborhood branding tool. The massive floor plates and high ceilings of these buildings are perfect for all kinds of contemporary uses, from ground-floor food halls, to startup offices, to industrial-chic lofts. Inner city addresses, somewhere between downtown and sleepy residential neighborhoods, are once again in demand—not for heavy industry but for highly mobile residents and businesses in search of abstract traits like character and authenticity.
Most of Sears's shuttered suburban stores will not have such vibrant futures. These boxy islands in oceans of asphalt don't have the deco design flares, or linear park access, or proximity to booming downtowns that the plants enjoy. Neither will Amazon's massive exurban warehouses, if the new retail king ever faces the same grim fate it helped foist upon Sears. But if the life cycle of the Sears plants offers any lesson, it's that it pays to consider how the leftovers of a past economy can shape the next one.
---
This post appears courtesy of CityLab.