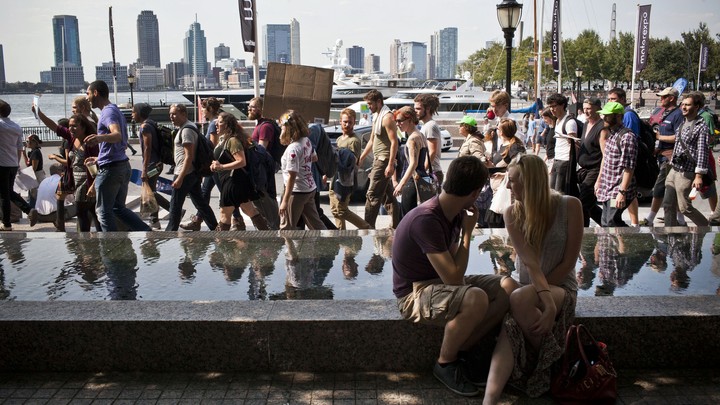 When Emily Kirkland, a self-described climate-change activist, was attempting to come to terms with the fact that she has what she describes as "direct access" to a trust fund worth hundreds of thousands of dollars, she did what many of us would do: She turned to the internet.
And that was how she discovered Resource Generation, the almost 20-year-old nonprofit that works with wealthy people between the ages of 18 and 35 to encourage them to devote a portion of their financial assets to left-wing causes including addressing the economic divides between the haves and the have-nots, and race and gender discrimination.
"[Before] I found Resource Generation, I felt deep confusion about how to align my values around social justice, equity, political equality with the resources I have access to because of my family's wealth," says Kirkland, 26, who grew up in New York and California, and now lives in Phoenix where she works in communications for progressive causes. "It never crossed my mind that such an organization could exist."
Resource Generation's literature describes it as "the only organization in the U.S. helping young folks confront and unpack class privilege and get organized around redistribution, not charity." The Boston Globe, more wittily, once observed it's an organization for people "uncomfortable with having fortunes in a world of misfortune." The organization encourages members to think beyond quick fixes, and instead concentrate on using their money to get at the structural issues causing harm.
"One of the key principles is to address the root cause of the issue. There's lots of ways to get at it. Like, 'Why are people food insecure?' Are they not making enough money? Do they not have enough access to benefits? So you could support community groups that are fighting for an increase in the minimum wage, and that can help with food insecurity," explains Iimay Ho, Resource Generation's executive director.
Resource Generation might be unique in its approach, but it is not alone. A combination of the outsized wealth created by Silicon Valley businesses and the philanthropic community's desire to reach the children of Baby Boomers—who are, according to consulting firm Accenture, set to pass an estimated $30 trillion in inheritances over the next 30 to 40 years—is leading to an explosion of interest in younger donors. These efforts range from the traditionally philanthropic, like 21/64, a nonprofit that works with high-net-worth families to encourage multigenerational philanthropy, to others that are, like Resource Generation, overtly political. On the right, Chase Koch, the son of Charles Koch, has sponsored programs for adult children of conservative donors who attend the Koch network's twice-yearly meetings. One participant: Rebekah Mercer, the daughter of the conservative donor Robert Mercer and a political power in her own right.
People who join Resource Generation initially meet one-on-one with either a volunteer or staff member at one of the 17 chapters located across the United States, and are encouraged to attend monthly meetings of a practice group, where they discuss everything from what constitutes "enough" money to social-justice philosophies. There is no minimum income or wealth requirement for joining—if someone thinks he or she is wealthy, that is enough for the organization. It also offers more-traditional services, such as investment and personal-finance education, as well as coaching on how to navigate familial and societal secrecy around money.
Resource Generation is perhaps best known for partnering with the organization Wealth for Common Good (now part of Patriotic Millionaires, a group of high-net-worth individuals concerned about income and wealth inequality) to create a website and social-media campaign for members of the 1 percent who wanted to express solidarity with the other 99 percent of the population during Occupy Wall Street in 2011. Called "We are the 1 percent. We stand with the 99 percent," supporters posted their pictures and a (usually) handwritten index card with their story. "I am a 19-year-old college student at one of the most prestigious colleges in the country, and will graduate with no debt," read one woman's post.  "I've always been told it's crass to talk about my wealth. But it's time to talk about it."
As for Kirkland, she says she immediately began upping her giving on joining Resource Generation, and recently donated $80,000 to the Haymarket People's Fund, a Boston-area organization that makes grants to community groups working on social-justice issues such as racial injustice, criminal-justice reform, and immigrant rights and services. "Resource Generation promoted discussion about what it means to have enough money, but even more important, it was a place to talk about social-justice philosophy and what it means to shift not just wealth, but power," she says. "It was a space to outline a vision of philanthropy to shift money and power back to communities to address the problems that traditional philanthropy seeks to solve."
Resource Generation is almost certainly benefiting from the dismay on the left with the Trump administration. The organization's annual fall conference, which usually attracts about 80 attendees to attend such presentations as "Leveraging Privilege: Redistributing Wealth, Land and Power," sold out with more than 100 attendees, with more still on a waiting list. According to Ho, "We're seeing a surge of wanting to get involved and recognizing this is a moment for wealthy people to step up."
We want to hear what you think about this article. Submit a letter to the editor or write to letters@theatlantic.com.
Helaine Olen is a writer living in New York
. She is the author of
Pound Foolish
and the co-author of
The Index Card
.