Why There Are Pop-Ups for Everything Now
Temporary shops were once emblems of scrappy entrepreneurialism. Today they tend to be marketing efforts from giant corporations.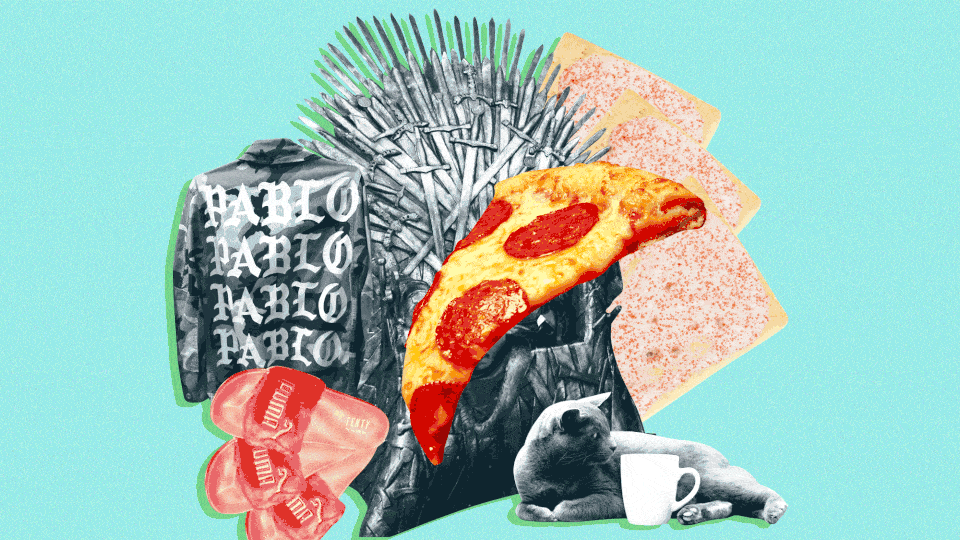 The term pop-up, most often used to mean a small, temporary shop for selling or showing off products, first cropped up in the early 2000s. It's since been applied far beyond traditional retail. There are pop-up pizzerias, Game of Thrones bars, concert-merch outlets (followed by pop-up concerts), Pop-Tarts bars, cat cafés, even—for pop-ups need no longer be material—pop-up email newsletters.
Where did pop-ups come from, and why are they so abundant now? Even as commercial rents soar, forcing many urban storefronts to close, large brands are noting brick-and-mortar's advantages and the wide possibilities for consumer data–tracking in the real world.
But first, some necessary taxonomy: There are two types of pop-ups, one homegrown and one more corporate. The former involves, say, a lone entrepreneur who scopes out a bustling brunch spot and puts up tentpoles and tables to sell her line of handbags. It's a form of business that is flexible, creative, and timeless. The second category is, by now, more visible: Google pops up donut shops to promote its new internet-connected speakers; Bulgari invites models to a popcorn-themed fashion pop-up in Paris.
It's this more corporate sort of pop-up that has mushroomed in recent years. The goal is not so much immediate revenue as it is promotion and data collection, mapping the internet's capacity for surveillance onto physical retail space. Pop-ups of this variety, as ad people assure clients, can help more-traditional retailers "tap into 'massclusivity'"—giving even large numbers of customers the feeling that what they're getting is a distinct, limited-time-only experience that can't be replicated. As one 2010 consumer-psychology paper noted, pop-up retail tickles the parts of one's brain that likes new things. The tighter the time frame, the reasoning goes, the longer the lines.
Not coincidentally, retailers have turned to pop-ups at the same time that traditional retail has crumbled and e-commerce giants have surged. And it probably goes without saying that market oracles most often view pop-ups as a prime strategy for courting Millennials. Suzanne Palentchar, the brand director in charge of a skincare pop-up put on by St. Ives (which is owned by Unilever), says its SoHo location offered "a place where the Millennial shopper is out and about and seeking new trends, and wanting to try new things, and open to new experiences." The leaders of Storefront, a pop-up rental business that seeks to be the "Airbnb of retail," refer to the art of "going offline." These in-person experiences are aggressively curated: When Storefront was staffing a pop-up for the rapper Kendrick Lamar in SoHo it put on earlier this year, it sought out individuals who "were appropriately gorgeous and a classic representation of young NYC."
The trend is attractive enough that an entire cottage industry around pop-ups has reached maturity. Joy Fan, the chief creative officer for Storefront, and Melissa Gonzalez, the founder of the Lion'esque Group, a pop-up strategy and design firm, both say their clientele has shifted more to large, established companies like Google and a host of venture capital–backed start-ups looking to grow rapidly. Individual entrepreneurs "will always be a relevant market" for pop-ups, says Fan, and "we educate all of them to be able to understand what it means to host a pop-up and actually go into brick-and-mortar. But I would say more of these e-commerce [brands] … are definitely the largest trend for us."
Big brands have long used pop-ups like this, to a degree—Target helped pioneer the form in 2002, floating a holiday shop in the Hudson River and promoting new fashion lines in Rockefeller Center—but the entries of Amazon and Google signal a saturation point. Online giants know that brick-and-mortar stores still account for more than 90 percent of retail sales. Indeed, Amazon has doubled the number of its new pop-up stores in the last year. Despite their name, Amazon Pop-Ups appear to have no expiration date and look more like, well, stores in malls. (Amazon did not respond to a request for an interview.)
Amazon started experimenting with physical retail two years before its first brick-and-mortar bookstore made national news in 2015, and rolled out more storefronts in 2014 to let passersby tinker with Kindles and Echos. Google opened a pop-up in SoHo last year to show off its devices—but none of them were for sale. For larger companies, physical stores are far more useful for data collection and brand diplomacy than for hard revenue. The Unilever pop-up, for example, featured a vending machine that spat out free product samples in exchange for email addresses, St. Ives purchase history, and skin type.
Gonzalez, of the Lion'esque Group, agrees many of her clients are looking to position their pop-ups more as intelligence outposts than traditional stores with inventory. Her company recently launched a subsidiary, Field Test, that designs pop-ups with sensors that track consumers as they, say, wander a pop-up model home, noting what products make them pause, what rooms they linger in, where they dally and where they hurry through. GGP (formerly General Growth Properties), one of America's largest mall operators, recently partnered with the Lion'esque Group to open storefronts prioritizing this type of "experiential" data tracking over onsite sales.
GGP happened to have suffered a 32 percent decrease in profits this year over last, as foot traffic at suburban malls continued to taper off. This points to an explanation of the pop-up craze that doesn't have as much to do with brand-building and consumer psychology: The pop-up-ification of shopping has coincided with the coming-apart of traditional retail and real estate, both in suburbia and in cities. SoHo's where Storefront helped Kendrick Lamar set up his New York pop-up, and the neighborhood was an early hub of branded pop-ups in the 2000s. Rents there have reached such extreme heights that vacancies are cropping up left and right; some retailers' flagship stores, traditionally loss leaders that serve important marketing purposes, have had to close or negotiate side deals with landlords. The New York Times called a rash of luxury-store closures in Greenwich Village the latest example of "high-rent blight." In these shops' place, many businesses sign short-term leases to test the market. The building owners cut them deals just to get anyone to fill the space, for any amount of time. "I absolutely see that," Fan says. "We're getting more calls back [from landlords], when maybe a year ago they were very strict about not looking at short-term."
It's led one real-estate broker to wonder openly if such arrangements are anything more than "kind of a band-aid" for a larger rent crisis in lower Manhattan. In cities across the country, overhead is high enough that The Wall Street Journal has noted a new breed of business: the "permanent pop-up." (Market pressures have pushed short-term instability past retail into office space: WeWork, a shared-workspace start-up founded in the wake of the recession, buys up unused office space and leases it in premium month-to-month parcels to everyone from freelancers to IBM. Its model thrives in high-rent periods; last year, it surpassed the tech conglomerate Alphabet as the country's largest leaser of new offices.)
But perhaps the story of the pop-up is better captured in the history of a single building. In 1885, the entrepreneur J. J. Haverty opened his first shop in Atlanta, Georgia, "that was sort of a pop-up itself," according to Kyle Kessler, an Atlanta architect who studies the area. The store eventually grew into the furniture retailer Havertys, which now brings in $820 million a year in revenue. The small building Haverty left behind has most recently spent a few months as a café, a shoe store, and a vegan joint. Except for those short-term ventures, and the eight hours in July when Kendrick Lamar's pop-up drew hours-long lines of fans from neighboring states, the building, Kessler says, has been mostly vacant for the last 10 years.