The U.S. Economy Reaches Lowest Unemployment Rate Since 2000
In October, the country added 261,000 jobs, picking up after a short slump.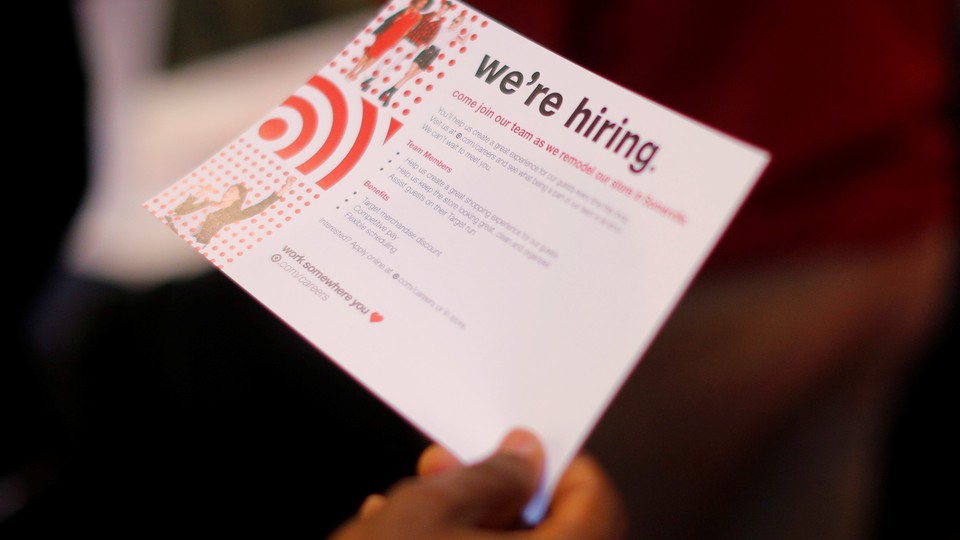 In October, the U.S. economy added 261,000 jobs, according to the Bureau of Labor Statistics. That reverses the job losses sustained during September, after two major hurricanes struck the South, at the time, leading to the first job decline in seven years. And the unemployment rate ticked down slightly lower, to 4.1 percent—the lowest rate since December 2000.
October's report is certainly better than September's, but job growth was still slightly lower than expected. Economists expected an addition of over somewhere between 300,000 to 325,000 jobs during the month, according to surveys from The Wall Street Journal, CNN, and bank economists.
Despite missing expectations, this is a significant rebound. Last month, the economy lost 33,000 jobs, the first decline in seven years, following hurricanes Irma and Harvey, according to initial figures. That reading was later revised to show an addition of 18,000 jobs. The slump was primarily felt in restaurants, bars, and construction operations. In October, employment in the food-service-and-beverage industry rose significantly, showing signs of recuperation from the storms. There were also few signs of economic distress rippling out from the fires that have consumed portions of Northern California.
While the highlights of the report—jobs added and unemployment rate down—were fairly strong, there are still some causes for concern. Wage growth and labor-force participation remain below the levels most economists would expect at this point, and in October labor-force participation slumped slightly to 62.7 percent. Wages, which jumped 12 cents in September likely because of a drop-off in low-wage jobs in the South after the Hurricanes, declined by one cent.
October's report repeats a general trend of recent jobs readings, showing an economy that is generally strengthening, with some concerning and important exceptions that have yet to be figured out.